There was no time for hesitation.
It didn't matter that Chelsea Whitaker had already put in a full day of work, that she'd been up since 4:30 a.m. that day. When the shots rang out at around 9 p.m. last Thursday, the Dallas Police Department detective was sitting on her couch at home, trying to decompress after a shift that included the arrest of a fugitive.
Then the call came, and she sprang into action. No time for delay. It's the job.
You probably remember Whitaker best as the scrappy floor leader for the 2005 Baylor women's basketball team that captured the program's first national championship. Turns out she was born to assist. Growing up, Whitaker never planned on joining the police force, but at the same time she understands how she was eventually drawn to it.
"My dad is a retired firefighter, my mom is a retired juvenile probation officer, my brother is a firefighter," Whitaker said. "But I had no idea that this is what I'd do. After college, I played (basketball) overseas for a couple of seasons, then when I came back to the states I did real estate for a quick minute.
"But that didn't work out, and the Dallas police were hiring. I thought it would be cool to serve my city. I understand why I'm here now, it makes sense, but at the time I just needed a job."
She joined the DPD in 2007, and worked her way up to detective. She and her team serve high-risk warrants to fugitives who have committed acts of violence, like sexual assault or murder.
It's a job fraught with peril on a daily basis. Yet it's hard to be prepared for the chaos that ensued last Thursday, when 25-year-old Micah Johnson ambushed a Dallas protest and shot and killed five police officers.
Within an hour of the first shots, Whitaker found herself lying on the roof of a downtown hotel, wearing a protective vest and helmet and toting a rifle. She was tasked with scanning the area for additional snipers.
"You can't compare it to athletics, but I do think you learn a lot from athletics and in a way it prepares you for that moment," Whitaker said. "When you're playing, you're just going, going, going and doing, doing, doing. I know for me it was always easier to play basketball than to watch someone I care about play. You feel more in control, even though you don't know what's going to happen."
At this point, Whitaker pauses, then exhales. "Nothing compares to the sacrifice those five officers made," she said.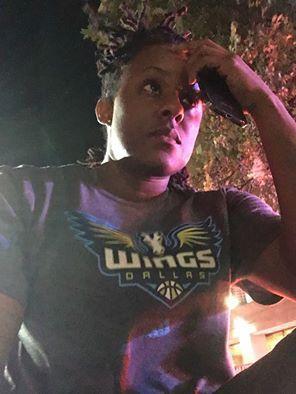 There may not be a more emotional hot-button issue in America today than the fractured relationship between police and the black community. Whitaker owns a unique perspective. She's Dallas born and bred, she's a black woman, and she's a police officer.
Whitaker shares that perspective often in lengthy posts on her Facebook page. Written almost as journal entries, the posts offer a window into Whitaker's service with the DPD, as well as her thoughts, feelings and opinions on current events. Often the writings are raw and emotional. Many times they're poignant.
Most of all, they're honest.
"I embrace it," Whitaker said. "I say things, and people both black and white tell me that they appreciate the balance that I show. From my perspective, it's my responsibility to educate as best I can. I talk to minority kids and try to educate them on what officers are thinking in a certain situation. And I talk to my white detective coworkers about the black perspective. … If your walls are up, you're not listening, you're not learning."
Sometimes people don't want to hear Whitaker's take. She's experienced rude treatment both online and in person. She has encountered citizens who refused to believe she was a police officer even after she showed her badge.
It goes with the territory, but that doesn't mean it doesn't hurt. The stress is real.
Fortunately, Whitaker possesses a support system of people who care for her, family and friends who pray for her and check on her and offer words of encouragement. That includes her old Lady Bear family. In the aftermath of last week's shootings, Whitaker said she received countless calls and texts from her old coaches and teammates, including head coach Kim Mulkey, assistant Jennifer Roberts, and players Sophia Young-Malcolm and Chameka Scott.
"We're a sisterhood," Whitaker says.
Count me among those who feel educated and enlightened after reading Whitaker's Facebook entries. Her insights are rich and layered, and occasionally bring to mind ideas I hadn't considered.
For instance, I've been pulled over more times than I can remember for speeding violations, and I'm usually seething with either anger or disgust in those moments. But I had never considered something Whitaker illuminated in a recent post, that it's a good idea for drivers to keep their hands on the steering wheel as the officer approaches the car, thus revealing that they're not holding a weapon. I've got several cop friends, but it never occurred to me that they might be frightened or nervous in those situations.
It offered a stark lesson in the relentless dangers that police face. Yeah, it's a traffic stop for you and me. A nuisance. To the police, it's a potential life-or-death situation.
Whitaker finds some semblance of catharsis in her social media diary. But the stress doesn't fade away when she clicks the blue "post" button. The risk of the job lingers. The up-close, often ugly, visions of crime can't be written away. Truth is, she doesn't even share them all.
When I talked to Whitaker on Tuesday afternoon, she had slept about six hours since the shooting. She thinks she's handling everything about as well as she can, but "obviously it's still affecting me," she said.
Still, she rises and puts on the uniform. Another day awaits. She looks for ways to help, to give, to serve, to assist.
Even while working her usual detective shifts, Whitaker has attended law school, though she took a break from classes for the summer. She has completed a year's worth, and envisions another life as an attorney someday.
"I'm just trying to be the change that people can see," she said.
Keep your head up, Chelsea. We see you.