It's been two years since Baylor faced Connecticut on the hardwood. It's been even longer, nearly five years to be precise, since the Lady Bears hosted the 11-time national champ Huskies inside the Ferrell Center.
Thursday night Baylor plays host to UConn, the No. 1 team in the country, a matchup that will mark only the seventh time these powerhouse programs have faced off against each other. These two teams first played each other in San Antonio in the 2010 Final Four. It's the only time these programs have met in the NCAA Tournament as the five other games took place during non-conference action.
In this six-game history, UConn holds a 4-2 advantage over the Lady Bears.
Since that first meeting in 2010, the Huskies went on to at least a Final Four appearance every year since, a trend that started for UConn in 2008, and five national championships for 11 total. Baylor won it all in 2012 with a 40-0 record and advanced to the Elite Eight five times.
In anticipation for the 8 p.m. tipoff between these two teams, here's a look back at their previous six contests.
UConn 70, Baylor 50 – April 4, 2010 in San Antonio
Connecticut's Maya Moore put up 34 points and 12 rebounds and Tina Charles added 21 points and 13 rebounds as the Huskies won their 77th straight game with a 20-point victory over Baylor in the 2010 Final Four.
Freshman Brittney Griner finished the contest with 13 points, six boards and five blocks. Morghan Medlock led the Lady Bears in scoring with 14 points.
The Lady Bears worked to cut UConn's lead to three five minutes into the second half, but it was Moore who helped the Huskies pull away again as she netted six of Connecticut's next eight points. This was Baylor's first trip to the Final Four since 2005 when the Lady Bears won it all.
UConn 65, Baylor 64 – Nov. 16, 2010 in Hartford, Conn.
Baylor nearly put an end to Connecticut's 79-game win streak as the Lady Bears fought back from a 15-point deficit in the second half. The Huskies, however, had the answer and held off Baylor in the final minutes.
Brittney Griner netted 19 points in addition to seven rebounds and nine blocks, while freshman Odyssey Sims had 17 points and six boards. Meanwhile, Melissa Jones pulled down a game-high 14 rebounds. It was Maya Moore again who led the Huskies with 30 points.
Baylor 66, UConn 61 – Dec. 18, 2011 in Waco
In the first meeting between these two program in Waco, the fans packed the house, tying a Ferrell Center record of 10,627 fans. The matchup was sold out weeks prior to the game.
Brittney Griner flirted with a triple-double as she finished with 25 points, nine boards and nine blocks to become the Big 12's all-time leading shotblocker. UConn led at the half, 34-28, behind 56 percent shooting from the floor.
While Odyssey Sims played great defense on Bria Hartley and scored 23 points, it was a 3-pointer by Terran Condrey that gave the Lady Bears a 58-56 advantage, a lead they wouldn't relinquish.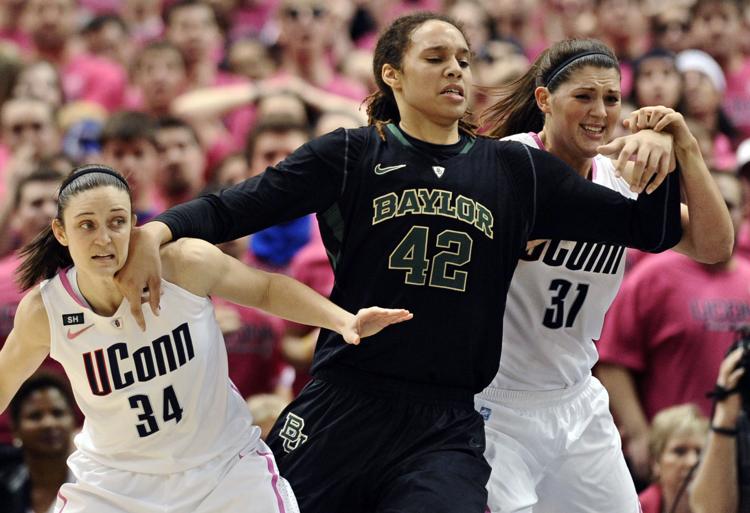 Baylor 76, UConn 70 – Feb. 18, 2013 in Hartford, Conn.
After a slow start in the first half, Baylor stormed back in front of a sold-out crowd of 16,294 at the XL Center to top the Huskies, 76-70, on the road. Against a UConn team that takes pride in its defense, Baylor put up 50 points in the second half alone.
Brittney Griner moved to eighth on the NCAA all-time scoring list as her 25 points against Connecticut helped her surpass the 3,000-point mark in her career. Brooklyn Pope added 18 points, nine boards and three steals, while Odyssey Sims had seven assists and nine points with zero turnovers.
In the second half, after Baylor took its first lead of the game at 30-29, UConn regained control to go up 41-34. Baylor fought back and eventually led 44-43.
UConn 66, Baylor 55 – Jan. 13, 2014 in Waco
Led by Breanna Stewart's double-double of 18 points and 11 rebounds. Connecticut put an end to Baylor's 69-game home winning streak with an 11-point victory.
Odyssey Sims finished with 20 as her 3-pointer with 10:54 to play pulled Baylor to within one of the Huskies, but UConn scored 16 of the game's last 22 points to pull away.
Freshman Nina Davis finished with 11 points and 17 boards on the day for a double-double.
UConn finished with four in double figures with Stewart, Stephanie Dolson, Bria Hartley and Moriah Jefferson.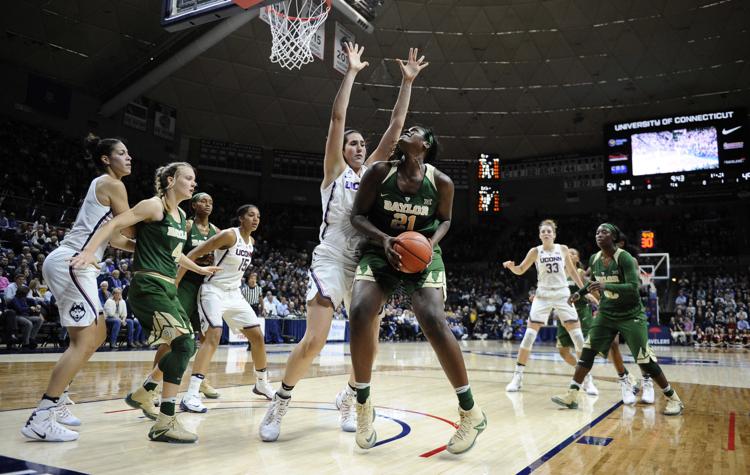 UConn 72, Baylor 61 – Nov. 17, 2016 in Storrs, Conn.
Connecticut used a 16-2 run down the stretch to pull away for the 11-point victory.
Point guard Crystal Dangerfield led the way for the Huskies with 19 points as Napheesea Collier, Katie Lou Samuelson and Gabby Williams also finished in double digits.
For Baylor, Alexis Jones, Kristy Wallace and Alexis Prince combined for 43 of the Lady Bears' 61 points.
One of Wallace's 3-pointers gave Baylor a one-point lead but UConn regained control at the half. Baylor threatened again with just over seven minutes left in the game, but Connecticut took over to pull away.