It was a crazy, chaotic Saturday for the Baylor football team as thunderstorms forced the spring game to be moved from McLane Stadium to the Allison Indoor Practice Facility.
Though a lack of indoor seating closed the game to the general public, the players settled into a groove as they whipped through a crisp 70-play scrimmage that lasted an hour.
Baylor coach Matt Rhule liked their focus and commitment despite the last-minute change of venue.
"The mentality from our players is they wanted to play in the rain up until the lightning," Rhule said. "We're playing at 12, we're playing at 12. That was the guys' mentality, so I liked the way they approached it. That's why we have a great facility like this so we can come inside and family, friends, media, recruits, everybody was able to get here and watch it. And the guys can show off all the work they've put in."
While numerous players were unavailable due to injuries, the scrimmage was an opportunity for players to show how much they've progressed during spring drills.
Most of the attention was focused on the younger players. Freshman quarterback Jacob Zeno popped off a long touchdown run. Redshirt freshman Gerry Bohanon threw a sharp touchdown pass to sophomore tight end Christoph Henle. Redshirt freshman quarterback Preston Weeks fired a bullet for a touchdown to redshirt freshman receiver Bralen Taylor.
While junior Charlie Brewer is established as the starting quarterback after leading the Bears to a 7-6 season, it's important for the young quarterbacks to develop to add security to a vulnerable position. Unlike most practices, Rhule allowed the defensive players to hit the quarterbacks during Saturday's scrimmage to make it more game-like.
"They all have talent," Rhule said. "The hardest part is learning how to function within the offense, handling this, handling that. I think you saw some toughness from Gerry. He got hit a bunch of times, but he made plays and he moved the ball down the field. And Zeno got hit a couple times, but he moved the ball down the field. And same thing with Preston. So I feel really good about the mindset and where that position is laying out."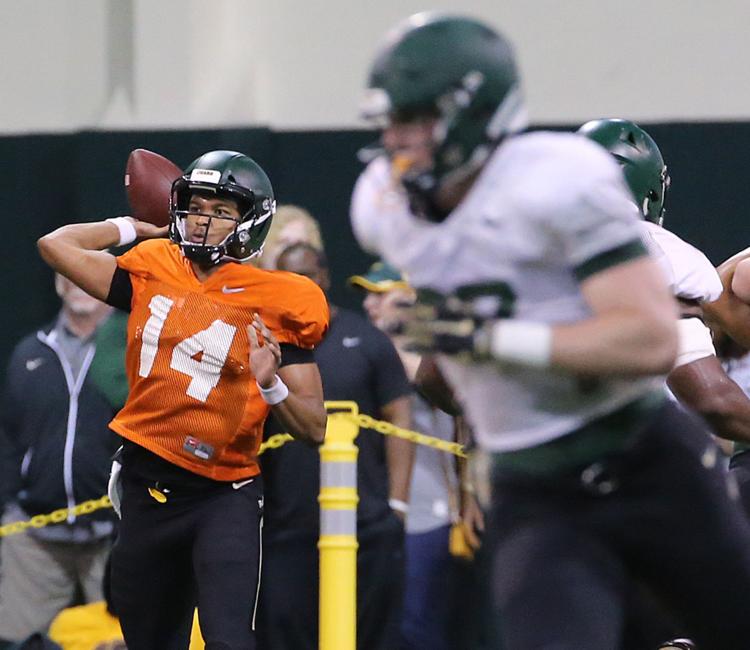 Brewer is coming off a sophomore season in which he completed 61.5 percent for 3,109 yards and 19 touchdowns, but he wants to improve a lot of areas of his game. With two years of college football under his belt, he's continuing to mature.
"Just the mental side of the game is something I've really tried to work on," Brewer said. "Just knowing every situation where to go with the ball, what do I need to check and stuff like that. If I can be sharp with that stuff, it will help us win a lot of games."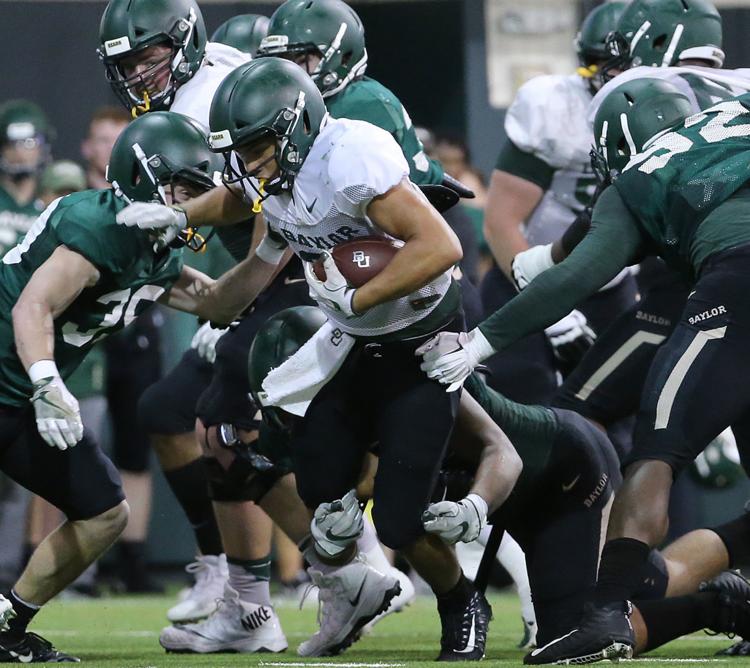 The offensive line wants to provide better protection for Brewer after the Bears allowed a Big 12-high 39 sacks in 13 games last season. Baylor offensive line coach Shawn Bell has made his players learn several positions up front so they'll be flexible to move in the fall if necessary.
"It's gotten a lot better," said Baylor senior center Sam Tecklenburg. "As a whole unit, the offensive line has got together and really jelled nicely. It's still a work in progress for all of us just getting in the right protection and stuff like that. From week one of spring to now it's been a really good change, and we're going to get all summer and all fall camp and we'll have it right by the first game."
Rhule is hoping 6-6, 293-pound Jake Fruhmorgen will have a big senior year after not seeing as much playing time as expected last season following his transfer from Clemson. Working at both center and tackle, Fruhmorgen showed enough promise to be named Baylor's most improved offensive player during spring drills.
"He's gone from a guy who was trying to figure out where he's at and who he is, to he's been a really good starter for us and he's done a lot of really good things for us," Rhule said. "I like where his mindset is. A lot of guys don't want to go over and learn how to play center. I think he did it willingly. So he can play tackle, he can play center, he's got flexibility for us. I think we have eight to 10 guys right now that can go in and be starting offensive linemen."
Fifth-year senior defensive end James Lockhart was named the most improved defensive player this spring following a junior season in which he made three tackles for loss and a sack.
With the Bears losing veteran defensive linemen like Greg Roberts and Ira Lewis, they need other players to step up to assist all-Big 12 junior James Lynch.
"This offseason especially I've just shifted my mindset," Lockhart said. "Every day in practice, I just try to work on one thing whether that's doing a pass rushing move consistently, watching film, and taking criticism from the coaches and just trying to build off that and have a good day."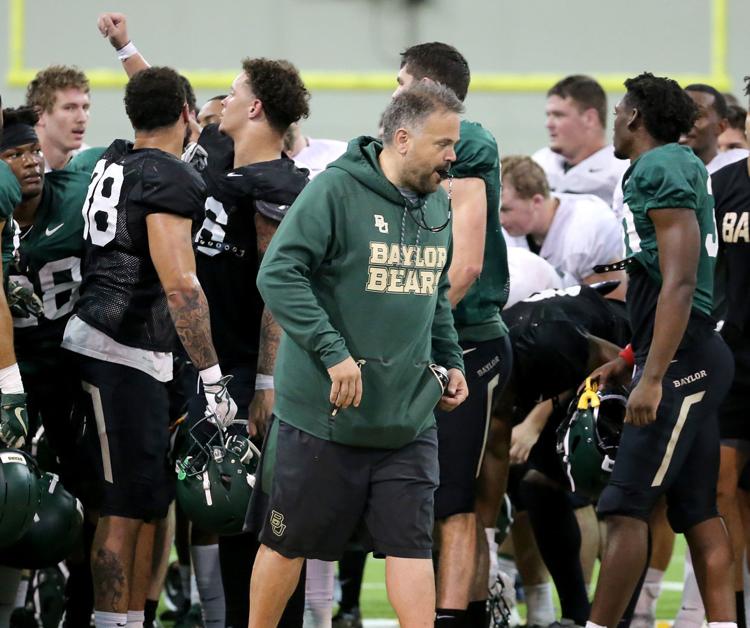 Team unity has been a major theme for the Bears. When one unnamed injured player didn't show up for a 6 a.m. practice Friday and two others barely got there on time, Rhule postponed the practice until later in the afternoon. His goal is to make every player on the team accountable.
"Two injured guys showed up at 5:59 for a 6 a.m. practice," Rhule said. "One guy wasn't here that's injured. So I sent everybody home. I went to Magnolia Table and had biscuits. Players came out and ran their own practice, and then we brought them back at 3 o'clock and we practiced. As I told our players, the standard is the standard. I'm just trying to up the standard every year."
Several other spring awards were handed out at the scrimmage, including defensive back Jairon McVea as most outstanding walk-on, defensive end Jackson Shupp for community service, Tecklenburg for academics, linebacker Clay Johnston for Fellowship of Christian Athletes, and safety Henry Black for the spirit award.
Rhule hopes the improvements his team has made this spring will lay the groundwork for higher level summer preseason practices. After going from 1-11 in his 2017 debut season to last year's Texas Bowl, Rhule wants to see his team make another leap forward this fall.
"We're still somewhat of a young-minded team," Rhule said. "We're trying to mature. And what I mean by that is you can't do what you're asked to do when it makes sense to you. You have to also do it when it doesn't make sense to you. You have to be part of a team. We're not quite there, we're getting closer. And I'm just going to have to really count on some of our older players to push us over the hump. It's time to grow up as a football team, grow up as a program and have a championship mindset where we attack everything."