As Frisman Jackson looks around Baylor's wide receivers room, he realizes he's a lucky man.
Even with veterans Denzel Mims and Chris Platt out following hand/wrist surgery, Baylor's wide receivers corps is stacked.
Young guys like Tyquan Thornton, Josh Fleeks, Jackson Gleeson and R.J. Sneed are getting a lot of reps this spring, and have a chance to contribute heavily in the fall.
"Anytime you get those guys quality reps with the ones, and they're out there throwing with Charlie (Brewer), I think it's good for the program and their development," Jackson said. "I think they've been battling. Guys have gotten better every single day. We've been up and down a little bit, but these last couple of days I thought we made some plays and made some strides in the right direction."
Both Mims and Platt are expected to be ready to practice this summer. That's welcome news because Mims is the Bears' top returning receiver after making 55 catches for 794 yards and eight touchdowns last season while Platt made 36 catches for 511 yards and a touchdown.
Getting Platt back is a bonus after he received a sixth-year medical redshirt from the NCAA for a knee injury that kept him out the last eight games of the 2017 season.
"It's big for our program," Jackson said. "Chris brings leadership, he brings a veteran mentality. He knows how to work, he knows what the expectations are. He wants to win, so anytime you get that combination of a guy in the room and can get it for an extra year, you want to take advantage of it."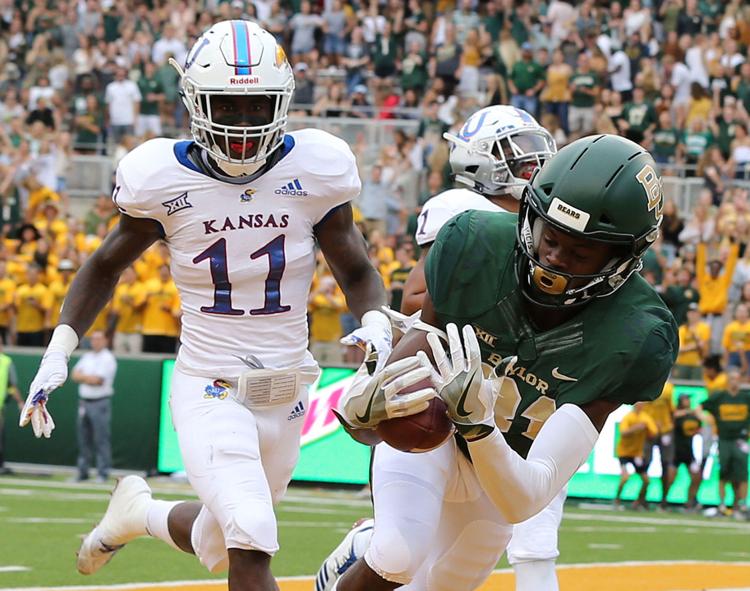 Thornton showed some of his potential as a freshman last year as he made 20 catches for 354 yards and three scores. He's got the speed to burn any secondary in the Big 12.
"He's got everything you want in a receiver," Jackson said. "He's tough, he's competitive, he wants the football. He can run. I just like the energy he brings. He's got enormous potential. He showed flashes of it last year and he's just got to pick up where he left off. He's got high expectations for himself and we've got high expectations for him."
Fleeks is also set to play a bigger role after making 14 catches for 126 yards as a freshman, while Sneed hopes to stay healthy after injuries plagued him for the last two years. After redshirting last year, Gleeson wants to show the speed his teammates and coaches have seen in practice.
"Jackson ran a 4.3 (seconds in the 40) for us, so he's probably the fastest dude in the room," Frisman Jackson said. "But the worst thing he did was run a 4.3 because I want him to run a 4.3 every single time. That's the big thing, and just being physical, playing with an edge. That's one thing (Jalen) Hurd had, he played with an edge. People felt him out there."
One of Baylor's biggest surprises last season was the maturation of wide receiver Marques Jones, a former walk-on who made 21 catches for 242 yards and two touchdowns. Coming into his senior year, the Baylor coaches want him to be one of the team's most visible leaders.
"It's like a running joke with us," Jackson said. "Marques caught the first touchdown pass of the year and he caught the last touchdown pass of the year. He finishes the game with four catches for 80 yards, and we don't know how the heck he got it.
"But Marques is smart. He's one of the smartest dudes on campus, first of all. He's going to get everybody lined up, he's going to do the right thing. I told him he's just got to go take that leadership role. He showed last year he can be a playmaker, now go be a leader."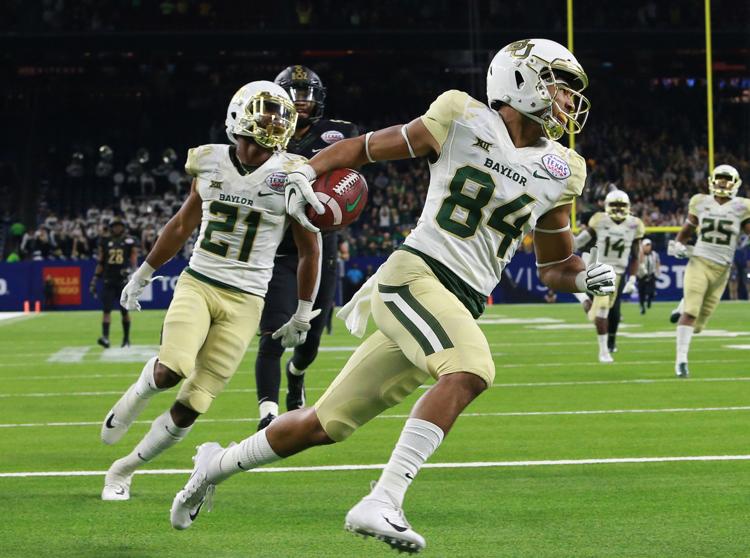 Jared Atkinson is looking to play a bigger role as a junior after redshirting last year. He's a big target with wheels.
"Not many times you get a guy who's 6-4 and 220 pounds that runs a 4.4 that has great ball skills and has some toughness to him," Jackson said. "When the light's on he's got to go play."
Redshirt freshman Bralen Taylor moved from tight end to wide receiver where he is a big target at 6-7 and 241 pounds. Now Jackson wants him to become a more physical receiver and use his size to his advantage.
"For him, it's just about having that confidence to go out there and do it, and to be physical," Jackson said. "I want to see him pick up a corner and grab him and throw him off the field. Just do it one time. If they call it, Coach (Matt) Rhule can get after me. But I just want to see him play physical and tough, and if he can do those things he'll have a chance."
With so much speed and size at receiver, quarterback Charlie Brewer is hoping to complete more deep passes. Confidence that the Bears can consistently hit big plays has grown throughout the spring.
"Charlie has full control of the offense and is looking great every day," Sneed said. "We can run past any DB, which is good for us. Tyquan is probably the fastest player in the Big 12. It's a lot better than past years, and it goes to the speed we all have."