Nobody is ready to proclaim that the Texas Longhorns have returned to the national powerhous…
Few people outside of the Baylor locker room would have believed that Matt Rhule's team would have a shot to reach a bowl in his second year on the job.
It's a big climb from one win to six. The Big 12 traditionally has too many powerful teams for a rebuilding squad like Baylor to jump into the bowl mix.
With its last-second win over Kansas State last weekend, Baylor took a much-needed step toward its goal. To really shift the process into overdrive, a win over a top 10 team would be a major boost to the Bears' hopes.
The Bears will get that chance Saturday when they face No. 9 Texas at 2:30 p.m. at DKR-Texas Memorial Stadium in Austin.
A win over the surging Longhorns (5-1, 3-0) would place Baylor (4-2, 2-1) a game away from the six wins needed for bowl eligibility. After wins over Kansas and Kansas State at McLane Stadium, the Bears have a chance to show the rest of the conference that it can compete with a hot team on its own turf.
"Texas is a really good team," Rhule said. "They are a team that is clicking on all cylinders. They have wins over three top 25 teams. Our guys have to come out and play very confident. We have to completely focus on ourselves."
Enamored with the Texas Longhorns, Charlie Brewer wore a Vince Young jersey as a kid growing up in Austin.
This game will feature two high-profile former Austin high school quarterback rivals. Baylor's Charlie Brewer led Lake Travis to the Class 6A Division I state championship in 2016, a year after Texas' Sam Ehlinger guided Westlake to a berth in the state title game in 2015.
"He's done some spectacular things (at Lake Travis) and continued to do that at Baylor," said Ehlinger this week. "We love competing against each other. Much respect to him, one of my good friends, and I look forward to seeing him on Saturday."
After a shaky start, Ehlinger has improved dramatically, playing a major role in Texas' ascendance to the top 10. In last week's 48-45 win over Oklahoma, Ehlinger threw for 314 yards and two touchdowns while rushing for 72 yards and three scores.
For the season, Ehlinger has completed 65.3 percent for 1,499 yards and 11 touchdowns with two interceptions.
"Sam is a great competitor," Rhule said. "He brings a lot to the table in terms of his ability to run the football. He can run zone read and scramble and he is extremely accurate, and he takes advantage of his big receivers. He is playing very well and is in a system that allows him to excel."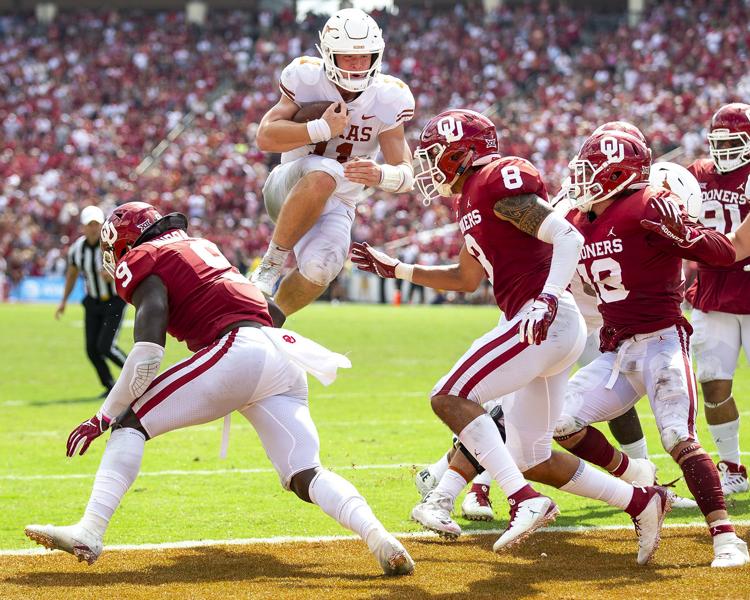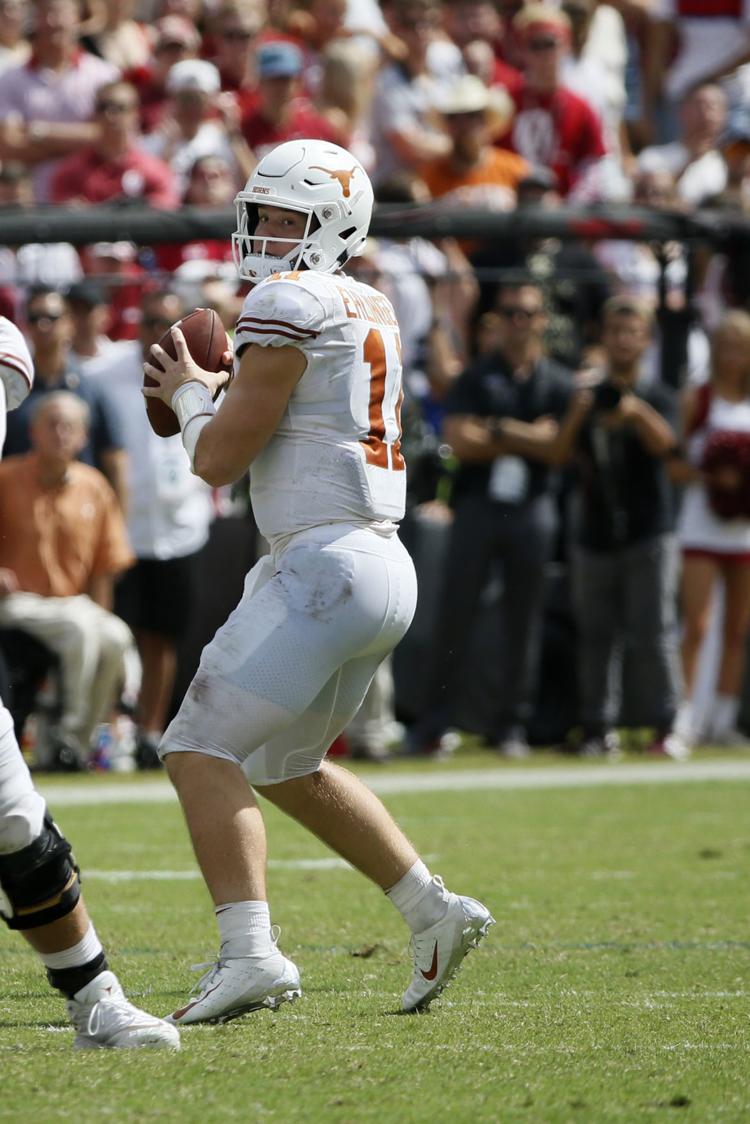 Not only will the Bears have to contend with Ehlinger, they'll face talented receivers Lil'Jordan Humphrey and Collin Johnson, who have made four touchdown catches apiece. Keaontay Ingram and Tre Watson have combined for nearly 600 yards rushing.
Stopping the Longhorns from making big plays will be a key for a Baylor defense that's been burned by both the pass and the run.
In Baylor's 66-33 loss to Oklahoma two weeks ago in Norman, quarterback Kyler Murray averaged 40.3 yards on six touchdown passes. In last week's 37-34 win over Kansas State, the Bears couldn't stop the Wildcats from breaking big runs as Alex Barnes finished with 250 yards and three breakaway touchdowns.
"We just have to play better on defense," Rhule said. "Against the teams we're facing, if you don't do your job they're going to hurt you. Against Texas, we have to be more gap sound and tackle better. We're not getting production out of the linebacking corps that we have to get, and we've had some serious busts on the defensive line."
Forcing turnovers will also be important for the Bears. After going three games without forcing a turnover, the Bears came up with three last week as safeties Jairon McVea and Christian Morgan made interceptions and Chris Miller recovered a fumble on a Kansas State kickoff return.
"Turnovers are important," McVea said. "We always talk about the toxic differential, how we want to have more turnovers forced than the other team and be positive in that aspect because it helps us win. Whenever someone gets a turnover, everyone else wants to get one."
A lot of skepticism surrounded the Texas Longhorns when they were ranked in the preseason To…
Now entrenched as Baylor's starter, Brewer has passed for 696 yards in the last two weeks. In last week's win over the Wildcats, Brewer hit 30 of 44 for 296 yards and a touchdown and also rushed for a score.
Texas coach Tom Herman has been impressed by the weapons in Baylor's offense. Last week, Jalen Hurd made 11 catches for 135 yards and rushed for 56 yards on eight carries. Wide receiver Denzel Mims made eight catches for 90 yards, including a spectacular 21-yard touchdown catch.
Sophomore running back Trestan Ebner recorded his first 100-yard rushing performance. With John Lovett returning this week after sitting out last week following concussion protocol, the Bears will be a full strength in the backfield.
"They've opened up the offense a little bit more, that's undeniable," Herman said. "That's a credit to their coaching staff, too, for recognizing the personnel that they have and the fact that they've got a really, really good quarterback."
On Saturday, with the Baylor Nation watching, sophomore running back Trestan Ebner rushed fo…
When Matt Rhule arrived at Baylor in December of 2016, the Bears' list of committed recruits…
In a conference as explosive and offensively creative as the Big 12, the ability to hang big…
In Baylor's case on Saturday, it needed both. It needed the regulars and the rookies. It needed the full-timers and the interns.