Matt Rhule knew exactly what he was walking into when he left a successful Temple job for a Baylor program that was making headlines for all the wrong reasons.
When Baylor hired Rhule in December 2016, the roster was decimated and the 2017 recruiting class was down to one commitment amid a sweeping sexual assault scandal.
Everybody's worst fears were realized when the Bears finished 1-11 in Rhule's debut season. But even amid such a dismal season, Rhule began reforming the program off the field and saw some promising signs on the field.
Rhule might have seemed out of his mind when he boldly said Baylor would make a bowl in 2018 following last year's season-ending loss to TCU. But it showed his faith in his players and coaching staff, and the vision he had for the program.
"I saw the guys getting better as the year went on," Rhule said. "I saw them block out the noise and hanging in there. I saw them all off season. We'll go back at the end of the year and look back on some missed opportunities and say, 'Dang, we think we could have done better.'"
Well, the Bears did get better in 2018. A whole lot better.
Rhule is the Tribune-Herald's choice for Big 12 coach of the year after the Bears improved from one win last season to 6-6 this year, capped by Sunday's announcement that the Bears will face Vanderbilt in the Texas Bowl in Houston on Dec. 27.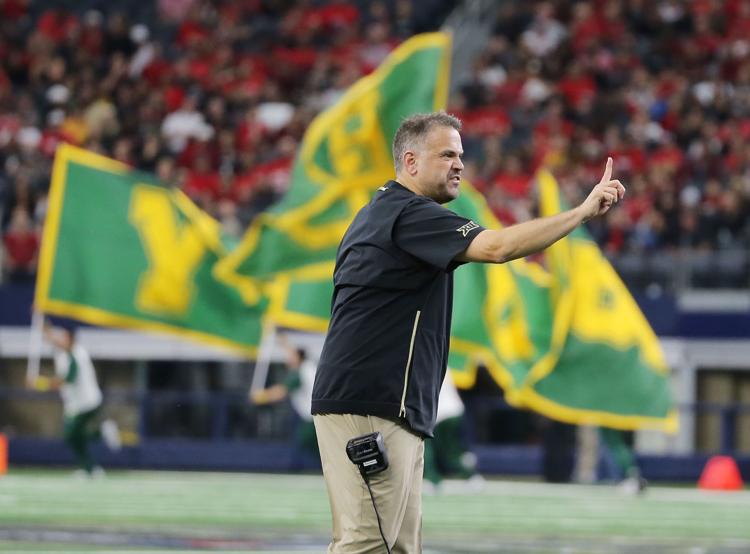 Thanks to their five-game improvement, the Bears matched Florida and Syracuse for the biggest turnaround among Power 5 conference schools this season.
The Bears reached a bowl for the eighth time in the last nine years, but this one is especially gratifying for the seniors who played for three coaches and saw the program dragged through some unfathomable lows.
Rhule made them believe in themselves and set a positive tone the program needed.
"Well, you know, we're led by a great man," said Baylor senior offensive lineman Blake Blackmar. "We were all able to see the things we did last year and see how close we were to winning some games and doing a lot of good things, and we just never quite sealed the deal.
"We've made a ton of progress and big strides. To be able to seal the deal and go to a bowl game now is really a turning point for the team and hopefully for how we're going to lead Baylor going forward."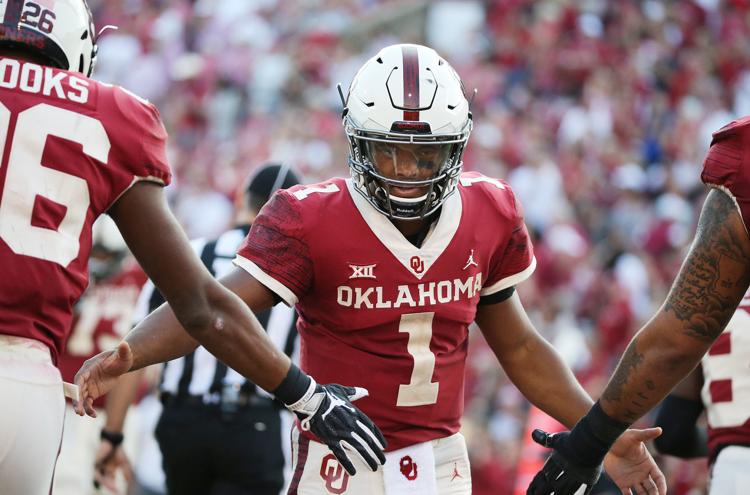 Oklahoma quarterback Kyler Murray is the Trib's choice for Big 12 offensive player of the year while West Virginia linebacker David Long is the defensive player of the year.
Following 2017 Heisman Trophy winner Baker Mayfield wasn't easy, but Murray has arguably delivered a better season while leading the Sooners to their fourth straight Big 12 championship and a return trip to the College Football Playoff against Alabama on Dec. 29.
Displaying dynamic athleticism, Murray made himself into a Heisman finalist by leading the nation in passing efficiency as he's completed 70.9 percent for 4,053 yards and 40 touchdowns with just seven interceptions.
"He's played explosive and handled it well like I expected he would," said Oklahoma coach Lincoln Riley. "He's done a great job of handling the different situations we've been in. The fun thing is he's still getting better."
Not only has Murray burned teams with his arm, he's a dangerous quarterback with his feet. With his incredible quickness and escapability, Murray ranks seventh in the Big 12 with 892 yards rushing and 11 touchdowns.
"His speed is pretty remarkable," Riley said. "He's pretty selective but when he decides to go, he puts fear into people. He's got great quickness and he's elusive. When he kicks into an extra gear, he's tough to handle and tough to catch."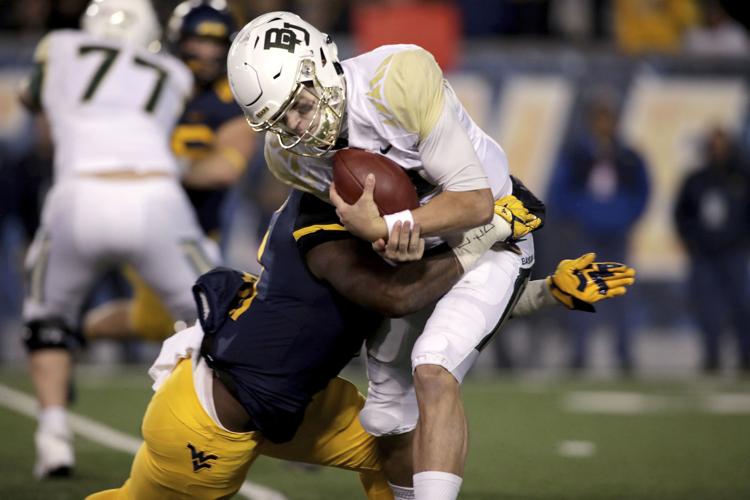 West Virginia's defense showed considerable improvement this season, and a big reason was the play of Long. The fourth-year junior linebacker leads the Big 12 with 18.5 tackles for loss while ranking third in the league with eight sacks and fourth with 97 tackles.
WVU coach Dana Holgorsen wasn't surprised by Long's superb season after he made 76 tackles with 16.5 for loss as a sophomore last season.
"David Long is the leader of our defense and as good of a linebacker as I've seen in college football," Holgorsen said. "People are well aware of where he's at because they have to account for him on every single play. I've never coached a guy who has his ability to get off a block and get around a block and make plays, especially in the backfield. For him to have that many tackles in the backfield is impressive. He's an intelligent linebacker."
Kansas brought up the bottom of the Big 12 again, leading to fourth-year coach David Beaty's firing. But running back Pooka Williams did all he could to improve the Jayhawks' fortunes, earning the Trib's offensive freshman of the year.
Fresh out of Hahnville High School in New Orleans, Williams ranked second in the Big 12 with 1,125 yards rushing while averaging an impressive seven yards per carry and scoring seven touchdowns.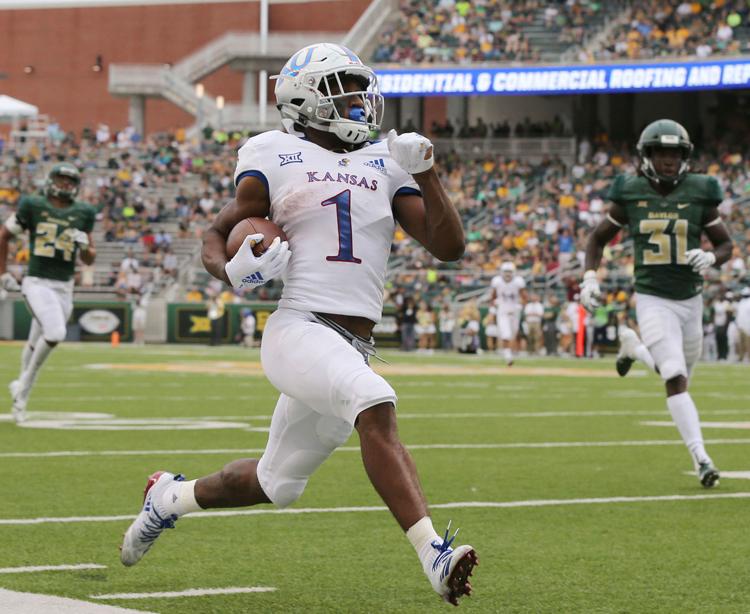 The 5-10, 170-pound Williams showed his versatility by making 33 catches for 289 and two touchdowns while also returning 11 kickoffs for 246 yards.
"We obviously knew Pooka Williams was a really good football player, but he's exceeded expectations," Beaty said. "For a freshman coming in, he's had electrifying runs, and I was fortunate to witness it and be with him. He has versatility and the best hands on the team. His hands belong on a 6-5 guy, and he's not tall at all. He's also a better person than a player, which speaks volumes about the type of kid he is."
The offensive newcomer of the year is Baylor receiver Jalen Hurd, who showed his versatility on the field by leading the Bears with 69 catches for 946 yards and four scores while rushing for 209 yards on 48 carries and scoring three touchdowns.
Hurd transferred from Tennessee to Baylor for his senior year to develop his wide receiver skills after playing running back for three years for the Volunteers. But he ended up seeing time at both positions because he wanted to help the Bears any way he could.
Hurd showed how much he valued the team when he insisted on playing after a first-quarter knee injury against Texas Tech. Hurd will miss the Texas Bowl after undergoing knee surgery.
"He got banged up and I told him that he probably shouldn't play because he has a big NFL future ahead of him," Rhule said. "He hurt his knee, but he wouldn't come out. He was going to play a lot of tailback, but he couldn't. He went out there and caught three balls and made some great blocks. It was one of the more selfless acts for this team."
Texas Tech cornerback Adrian Frye is the defensive freshman of the year after leading the Big 12 with five interceptions and 18 passes defended.
Iowa State sophomore safety Greg Eisworth is the defensive newcomer of the year upon transferring from Trinity Valley Community College. Eisworth leads the Cyclones with 84 tackles while intercepting a pass and breaking up three others.
---
2018 TRIBUNE-HERALD ALL-BIG 12 FOOTBALL TEAM
Offensive player of the year: Oklahoma QB Kyler Murray
Defensive player of the year: West Virginia LB David Long
Coach of the year: Matt Rhule, Baylor
Offensive newcomer of the year: Baylor WR Jalen Hurd
Defensive newcomer of the year: Iowa State safety Greg Eisworth
Offensive freshman of the year: Kansas RB Pooka Williams
Defensive freshman of the year: Texas Tech CB Adrian Frye

First team

OFFENSE

Pos
Player
School
Cl
Ht
Wt
Notable
QB
Kyler Murray
Oklahoma
Jr
5-10
195
Heisman Trophy finalist
RB
Alex Barnes
Kansas State
Jr
6-1
225
Big 12-high 1,355 yards rushing
RB
Kennedy Brooks
Oklahoma
Fr
5-11
205
942 yards, 11 TDs in conference
T
Dalton Risner
Kansas State
Sr
6-5
309
Returning all-Big 12 lineman
G
Ben Powers
Oklahoma
Sr
6-4
313
Three-time all-Big 12
C
Zach Shackelford
Texas
Jr
6-4
305
Led improved UT O-line
G
Dru Samia
Oklahoma
Sr
6-5
303
Repeat all-conference lineman
T
Yodney Cajuste
West Virginia
Sr
6-5
321
Tremendous pass protector
TE
Grant Calcaterra
Oklahoma
So
6-4
221
Receiving, blocking threat
WR
Antoine Wesley
Texas Tech
Jr
6-5
200
Big 12-best 88 catches, 1410 yards
WR
Tylan Wallace
Oklahoma State
So
6-0
185
Biletnikoff Award finalist
AP
Pooka Williams
Kansas
Fr
5-10
170
League-high 1,660 all-purpose yards
K
Austin Seibert
Oklahoma
Sr
5-9
214
15 of 17 field goals

DEFENSE

DE
Charles Omenihu
Texas
Sr
6-6
276
League-high 9.5 sacks
DE
Ben Banogu
TCU
Sr
6-4
249
17 tackles for loss
DT
James Lynch
Baylor
So
6-4
285
5.5 sacks, 9 TFL
DT
Daniel Wise
Kansas
Sr
6-3
290
12.5 tackles for loss
LB
David Long
West Virginia
Jr
5-11
221
League-high 18.5 TFL
LB
Joe Dineen
Kansas
Sr
6-2
230
Big 12-high 147 tackles
LB
Kenneth Murray
Oklahoma
So
6-2
238
2nd in Big 12 with 140 tackles
CB
Adrian Frye
Texas Tech
Fr
6-1
175
Big 12-high 18 passes defended
CB
Kris Boyd
Texas
Sr
6-0
195
17 passes defended
S
Caden Sterns
Texas
Fr
6-0
205
4 picks second in league
S
Kenny Robinson
West Virginia
6-2
198
So
75 tackles, 3 interceptions
P
Kyle Thompson
Kansas
So
6-4
210
League-best 43.3 yards

Second team

OFFENSE

Pos
Player
School
Cl
Ht
Wt
Notable
QB
Will Grier
West Virginia
Sr
6-2
212
3,864 yards, 37 TDs
RB
Justice Hill
Oklahoma State
Jr
5-10
190
930 yards, 9 TDs
RB
David Montgomery
Iowa State
Jr
5-11
216
1,092 yards, 12 TDs
T
Cody Ford
Oklahoma
Jr
6-4
338
Outstanding pass protector
G
Jack Anderson
Texas Tech
So
6-5
320
Paved way for explosive offense
C
Johnny Wilson
Oklahoma State
Jr
6-3
304
Came into own in 2018
G
Josh Sills
West Virginia
So
6-6
320
Complemented OT Yodny Cajuste
T
Lucas Niang
TCU
Jr
6-7
328
TCU's best O-lineman
TE
Trevon Wesco
West Virginia
Sr
6-4
274
Unheralded WVU weapon
WR
Marquise Brown
Oklahoma
Jr
5-10
168
75 catches, 1,318 yards
WR
Lil' Jordan Humphrey
Texas
Jr
6-4
225
79 catches, 1,109 yards
AP
Jalen Reagor
TCU
So
5-11
194
1,342 all-purpose yards
K
Clayton Hatfield
Texas Tech
So
5-10
171
17 of 19 field goals

DEFENSE

DE
Jordan Brailford
Oklahoma State
Jr
6-3
250
9 sacks, 16 TFL
DE
Reggie Walker
Kansas State
Jr
6-0
244
12.5 tackles for loss
DT
Corey Bethley
TCU
So
6-2
291
Force on defensive line
DL
Jaquan Bailey
Iowa State
Jr
6-2
251
7 sacks, 12.5 tackles for loss
LB
Gary Johnson
Texas
Sr
6-0
230
15.5 tackles for loss
LB
Curtis Bolton
Oklahoma
Sr
6-0
218
Third in league with 130 tackles
LB
Clay Johnston
Baylor
Jr
6-1
226
Fifth in Big 12 with 95 tackles
CB
Parnell Motley
Oklahoma
Jr
6-0
177
3 picks, 10 breakups
CB
Jeff Gladney
TCU
Jr
6-0
183
14 passes defended
S
Greg Eisworth
Iowa State
Jr
6-0
198
Team-high 84 tackles
S
Ridwan Issahaku
TCU
Sr
6-1
196
74 tackles, 2 interceptions
P
Drew Galitz
Baylor
Sr
6-0
221
2nd in Big 12 with 42.4-yard average