Primarily playing a three-man front this season, Baylor's defensive linemen will face more pressure than ever to hammer the quarterback.
But that's a challenge they're eager to accept.
The Bears have set a goal of amassing 40 sacks this year, which is 15 more than last season when they ranked eighth in the Big 12.
With so much experience up front and an offseason in which they all added muscle, they're looking forward to proving themselves with three defensive linemen instead of four.
"The three-man front is something we did last year, but we're just doing more of it now," said Baylor senior defensive tackle Bravvion Roy. "We know what we've got to do. We're probably going to get double teamed, so we've just got to win with three."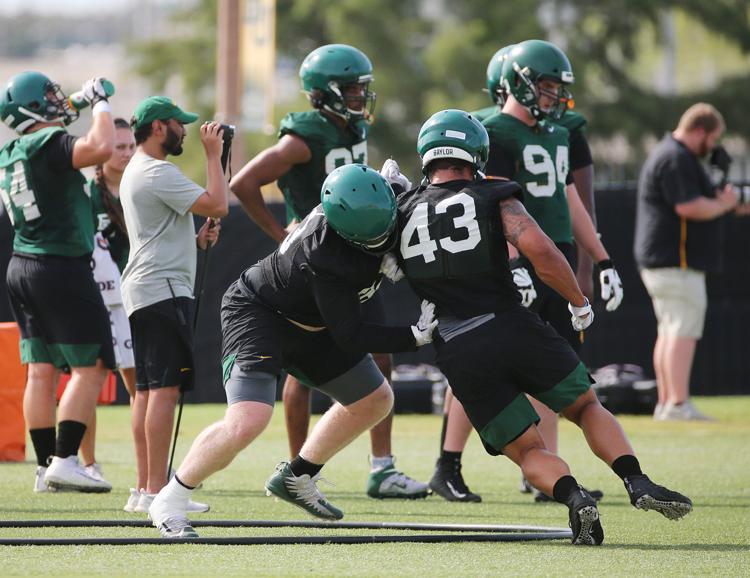 Baylor will run a 3-3-5 defense to get more speed on the field, which is a necessity against the Big 12's explosive offenses. Roy will be joined on the starting defensive line by returning all-Big 12 junior end James Lynch and senior end James Lockhart.
"We got D-linemen chasing plays 60 yards down the field," said Baylor defensive line coach Frank Okam. "James Lynch yesterday chased our receiver all the way down, and was only five yards behind the receiver. So that just tells you the work they put in this summer and the effort they can put in play-in and play-out. That's something that's definitely exciting for us."
Baylor's defensive line is built around the quick, dynamic Lynch who led the Bears with 5.5 sacks and nine tackles for loss as a sophomore last season. While Okam likes Lynch's speed and nose for the football, he's challenged him to play more physical this season.
"The thing I really want James to improve on is physicality," Okam said. "He's a very athletic player and a very intuitive player, and he's very fast as far as how he reads football. If we can add a little bit more power with that, I think he has a chance to be really elite."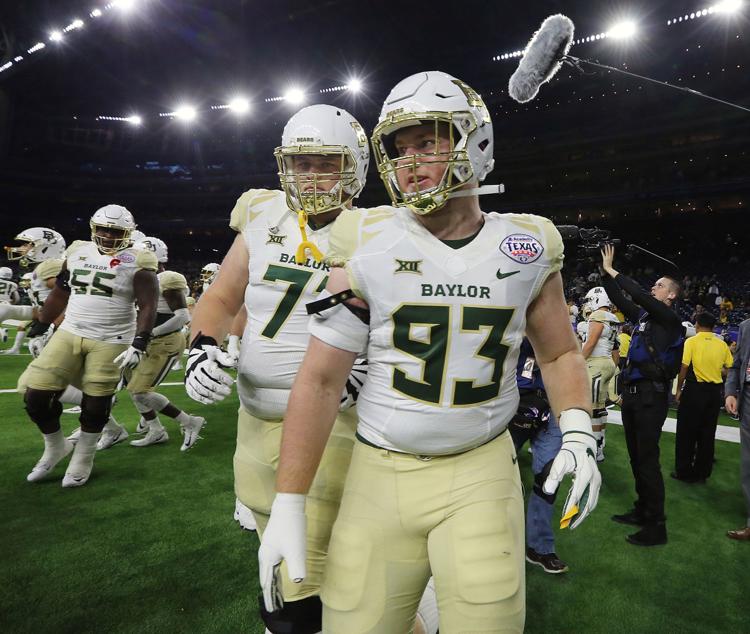 Lynch said he's added strength to his 6-4, 290-pound frame and is looking forward to becoming a more complete lineman. He's also made an effort to improve his leadership skills because he knows the younger defensive linemen see him as a role model.
"It was kind of weird at first whenever we came to fall camp, people look at you and call you an old head," Lynch said. "But it's nice knowing people look up to you because I know now that everything I do people look at. It puts a burden on me, but it kind of motivates me to make sure I'm not doing something wrong and making sure I'm showing the young guys how to do things."
After transferring from Texas A&M, Lockhart wasn't as productive as he wanted to be last season following 2017's redshirt season.
But nobody on the defensive line improved as much as Lockhart during the spring, and his intensity has carried over to preseason workouts this summer.
"The greatest thing I've seen from Lockhart is confidence," Okam said. "He's really confident in his ability, and confident players are usually good, talented players. He's always had the skill set since he was at Ennis (High School). So this is about all the maturation coming together, and he's done a great job of making sure he's confident, comfortable and explosive, and he's violent."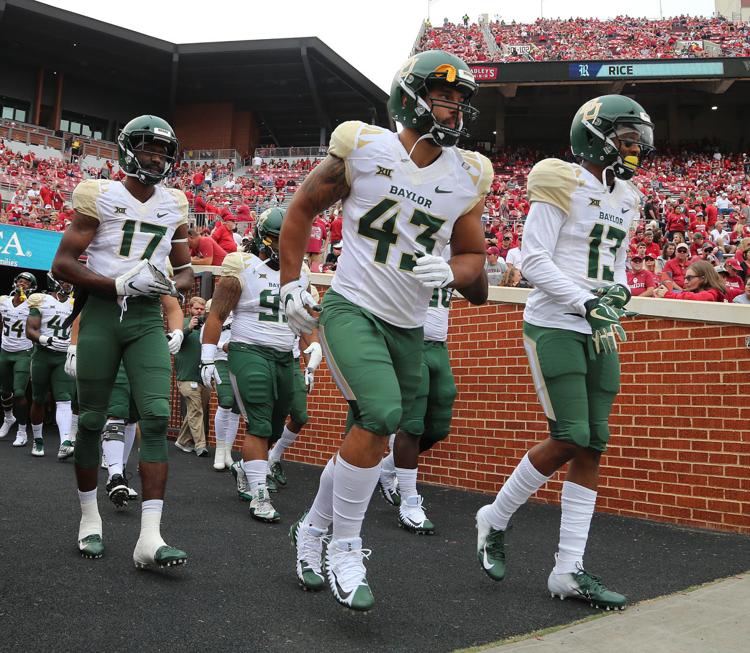 Like Lockhart, Roy also expects a more productive senior year after collecting 1.5 sacks last season.
"I know what I can do," Roy said. "My goal is to be All-American, and I know I can do that. So I just have to live up to the expectations, and that's what I'm planning to do."
With Big 12 offenses running plays at a dizzying pace, developing defensive depth is vital. Okam likes the way younger linemen like Niadre Zouzoua, Chidi Ogbonnaya and Rob Saulin have come along since spring drills.
"Everyone knows about James Lynch, Bravvion and James Lockhart, but the guys I think have made a significant jump are Niadre Zouzoua, Chidi Ogbonnaya and Rob Saulin," Okam said. "Those guys have really done a great job at the next tier of competing and trying to learn to play football the right way."
Saulin moved to the defensive line last year after previously playing offensive line and tight end, and has shown great progress since the spring.
"He's a guy who played basketball in high school," Okam said. "For me, I always try to look for when I recruit defensive linemen are guys that have natural agility. He's been able to bring that over to defensive line play, and we've been able to play him at every position on the defensive line because of that."
Former Baylor tight ends coach Joey McGuire joined Okam as a defensive line coach in the spring, and they've worked together beautifully.
"I love it," McGuire said. "No. 1, as a coach, you always want to learn, you always want to challenge yourself. Before I came here, I spent 18 years on the defensive side of the ball, so that's kind of where home is. When you coach offense, it's very cerebral and it's kind of a thinking man's game. Defense is very aggressive, get off the football and get after the quarterback."
McGuire, who led Cedar Hill High School to three state championships as a head coach, has brought more knowledge to the defensive line room, and he's a vocal presence on the practice field.
"If you were at practice, you'd see Coach McGuire yelling all the time and getting us all pumped up," Lynch said. "Coach O and him together are amazing."
Lynch and his fellow defensive linemen want to play with a high motor all the time and make quarterbacks feel uncomfortable every minute of the game. He believes Baylor's defensive experience will pay off.
"We've been battle tested, I'll tell you that," Lynch said. "On defense we have a lot of guys who've played and we know what to expect and know what has to happen for us to be where we want to be."