Displaying some Houdini-like moves, Baylor quarterback Charlie Brewer is one of the best scramblers in the Big 12.
When protection breaks down, Brewer often avoids sacks and extends plays with his feet. But the Baylor offensive linemen don't want to make Brewer work so hard this fall.
"I don't like when Charlie's on the ground," said Baylor sophomore offensive tackle Connor Galvin. "I take it personal. It makes me mad. It's been very important this spring since day one to now, we have to protect him."
After allowing a Big 12-high 39 sacks in 13 games last season, the Bears would like to decrease that number by a significant margin in the fall.
Better protection for Brewer will allow Baylor's offense to operate more smoothly, which should translate into better down-and-distance situations and more deep passing opportunities. That's been the Bears' focus throughout spring drills as they head toward Saturday's spring game at noon at McLane Stadium.
"Coming out of last year, the No. 1 thing we have to do is protect the quarterback," said Baylor offensive line coach Shawn Bell. "It's unsatisfactory the way we protected the quarterback last year. Our whole mindset is on that, so we've got to continue to improve in that area every day leading up to Saturday."
During Baylor coach Matt Rhule's first spring in 2017, Baylor barely had enough healthy offensive linemen to get through practices. But Bell has 14 offensive linemen in his room now, which has allowed him to rotate them at different positions on the line throughout the spring.
There's a method to this madness: By learning multiple offensive line positions, players will be ready to step in at different positions if somebody is injured. Additionally, they'll have a full understanding of each player's job.
"We don't just teach this position, we teach a system," Bell said. "Once you understand the system you can play any one of those positions. We've been trying guys at right side, left side, inside, outside and center. Our goal is to find the five best guys, and those are the guys who will be leading us through the fall."
The Bears return three offensive line starters, including Galvin at left tackle, Johncarlo Valentin at left guard and Sam Tecklenburg at center. Bell is counting on Tecklenburg and Jake Fruhmorgen to be vocal senior leaders since 2018 seniors Pat Lawrence and Blake Blackmar are gone.
"That was a challenge when they left the room, was who was going to be those vocal leaders," Bell said. "Sam Tecklenburg has always been a guy who has done everything right. He's always led through his actions. It's never been an issue with him leading, but now he's that vocal voice for us. As seniors, him and Jake Fruhmorgen have really taken another step going into their senior year."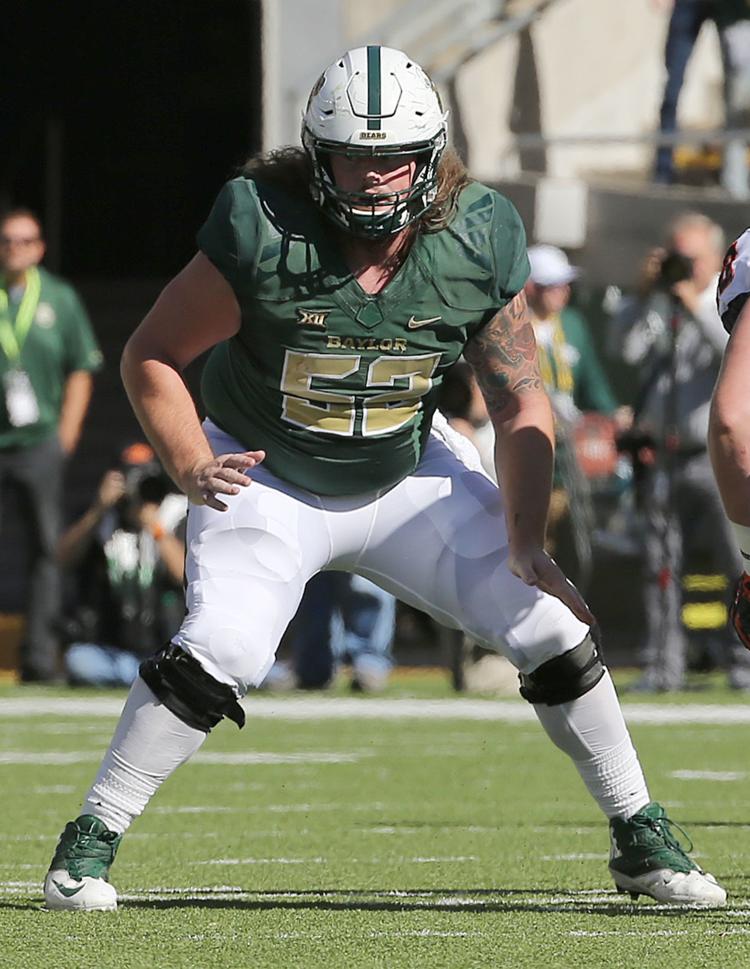 After transferring from Clemson, Fruhmorgen saw some action last year, but will be counted on more heavily this season. At 6-6 and 293 pounds, he has the size and strength to be a dominating offensive lineman.
Though offensive tackle appears to be Fruhmorgen's most natural position, Bell has been experimenting with him at center.
"It's improved his leadership ability because now he's making calls and he's really had to understand the whole offense," Bell said. "Jake is a tremendous athlete. He can do a lot of things. He's really able to get off the line in pass protection."
Valentin has practiced at right guard and tackle, while younger players like Henry Klinge, Casey Phillips and Jason Moore have also played on the right side this spring.
"It's a whole multitude of people, but we know losing Blake and Pat, we've got guys on the left side coming back, so we have to definitely solidify that right side," Bell said.
After starting at left tackle as a true freshman last season, Galvin is one of Baylor's most promising young linemen. The experience he gained should make him better equipped to protect Brewer this season.
"It's extra pressure, but it's all good," Galvin said. "Last year helped me a lot understanding what I need to do. It made me learn what I have to do faster to perform in the game."
Like all of Baylor's returning offensive linemen, Galvin has improved his strength in the weight room during the offseason. Bell hopes more strength and experience will make them more effective pass protectors and run blockers in the fall.
"Coach (Joey) McGuire, who's on the defensive side now, looked at me in the huddle and said 'Oh my gosh, we look like a completely different team, just the size and the structure of what we have up front," Bell said. "And I think that's a credit to (Baylor strength coach) Jeremy Scott and his staff and what they do."
Bell has made his offensive linemen understand that how they perform this spring is important because some players might not get as many reps in the fall once the pecking order is established.
"That's what we've challenged them is that this spring you've got to take advantage of every rep because in the fall you may not get them," Bell said. "In the season, the best guys are on the field and the rest of the guys are watching. This is a chance where every rep you get, whether it is five or 25, you've got to take advantage of every one of them."