Enamored with the Texas Longhorns, Charlie Brewer wore a Vince Young jersey as a kid growing up in Austin.
When Young left for the NFL after leading the Longhorns to the 2005 national championship, Brewer replaced that jersey with Colt McCoy's No. 12.
Brewer was like a lot of kids who celebrated the Longhorns during that extraordinary period in their football history. But his Texas football roots spread much deeper than most.
His father, Robert Brewer, was the Longhorns' starting quarterback in the early 1980s, earning the 1982 Cotton Bowl offensive MVP after leading Texas to a win over Alabama. His grandfather, Charles Brewer, was a Texas quarterback in the 1950s. Charlie's uncle, Rob Moerschell, followed Robert Brewer as Texas' starting quarterback.
"Charlie got it from all angles," Robert Brewer said. "It was very natural for him to be a Longhorns fan. We didn't stick it down his throat, but that's all there was to eat on the table."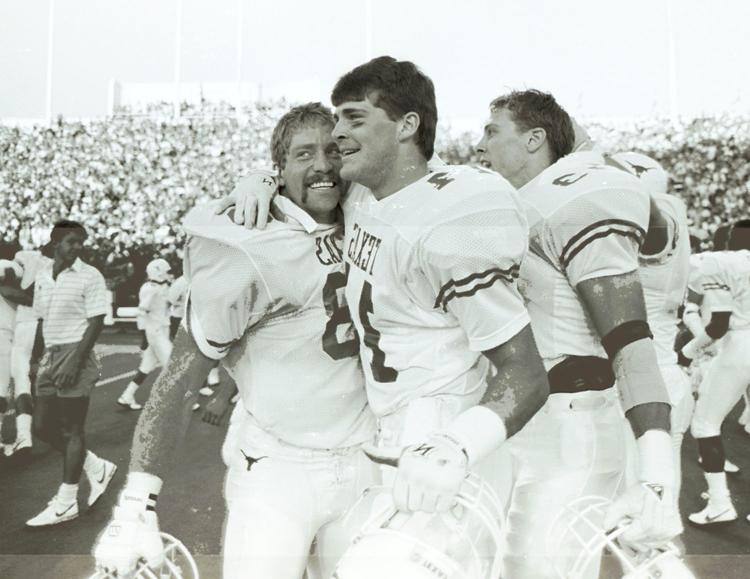 On Saturday, Charlie Brewer will come into DKR-Texas Memorial Stadium wearing No. 12. But it won't be the burnt orange like McCoy wore a decade ago. Brewer will be wearing Baylor's green and gold, and he will be dead set on beating a team he used to love.
Now entrenched as Baylor's starting quarterback midway through his sophomore year, Brewer has the Bears headed toward bowl eligibility with a 4-2 record. A win over the No. 9 Longhorns on their turf would be monumental for a rebuilding Baylor program.
As low-keyed as Brewer is, he admits it's special to be playing back home in Austin for the first time in his college career.
"I'm definitely excited for this," Brewer said. "I'll have a bunch of friends and family there, so that will be cool."
Among his family planning to attend the game will be his father, mother Laura, sister Katie, and older brother Michael, a former quarterback at Texas Tech and Virginia Tech. Their loyalties will be with Charlie.
"It's kind of weird for us in terms of the emotions it brings," Robert Brewer said. "You love your school but you love your kids more."
"I never thought I'd be wearing Baylor colors to a game," Michael Brewer said. "But here we are, and I'm fired up about it."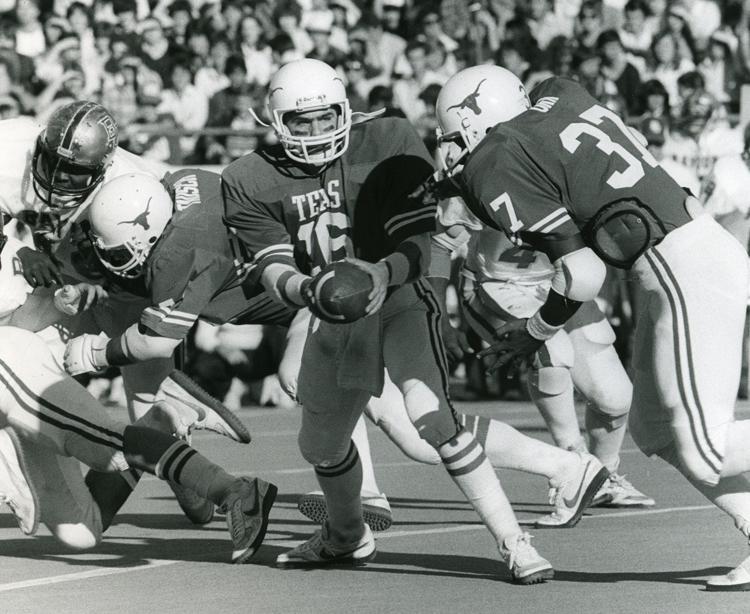 That family support system is important to Charlie, and he's well-schooled in the football history that preceded him. He's watched old films of both his grandfather and father play for the Longhorns. He's proud that he was named after his grandfather.
"Grandpa was a quarterback and defensive back, and he's probably the best athlete in the family," Charlie said. "He's way more athletic than my dad. My dad's not that fast. My brother got my dad's speed, I got my grandpa's. My brother got the short end of the stick on that."
Watching his dad play for the Longhorns, Charlie saw a quarterback skilled at operating a run-oriented offense with the ability to make the clutch throw. His 30-yard touchdown run on a draw play in the fourth quarter keyed Texas' 14-12 win over Alabama in the 1982 Cotton Bowl.
"I've seen the tape of that game, it was pretty cool to watch," Charlie said. "He was pretty good, actually. He could throw the ball around."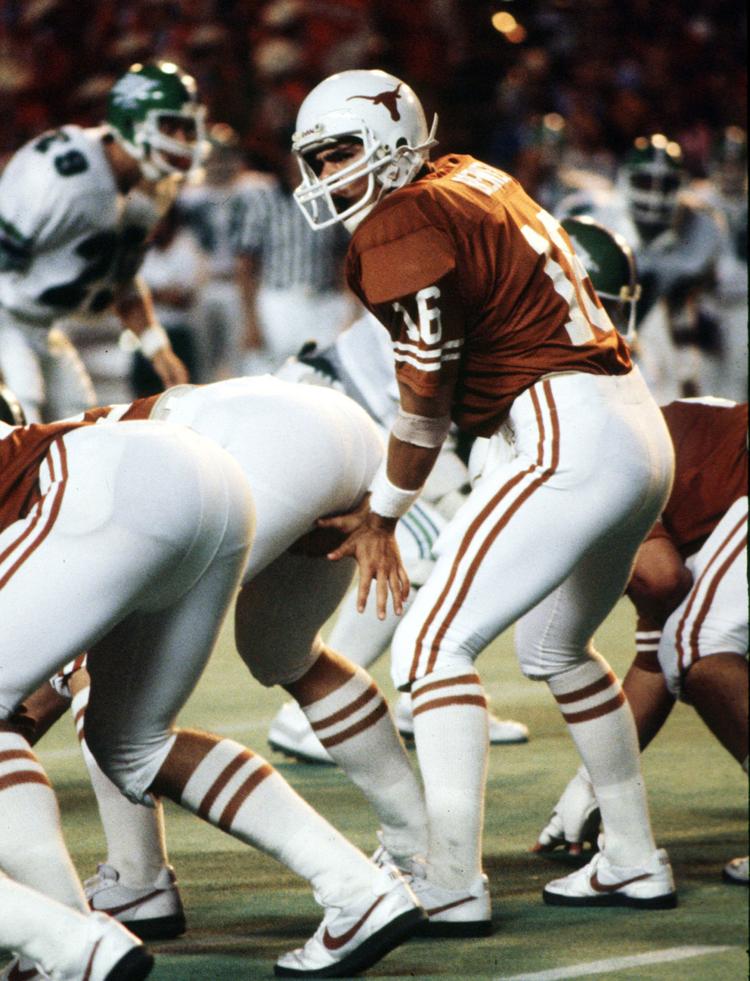 Charlie's father and grandfather have the distinction of both beating Bear Bryant-coached teams. As a junior quarterback in 1954, Charles Brewer threw two touchdown passes as Texas defeated Bryant's Texas A&M squad, 22-13.
With that kind of family legacy, it's hard to imagine Charlie playing any position but quarterback. But he played running back as a kid before switching to quarterback in middle school.
His father never pushed Charlie to play football, but since that was what he wanted to do, he was all for it.
"I don't try to live vicariously through our kids," Robert Brewer said. "I let them find it for themselves. My dad took that approach with his children, so I appreciate that more today because that made it easier with our kids. So when he asked 'Do you think I can play QB?' We said sure you can, if you want to do it."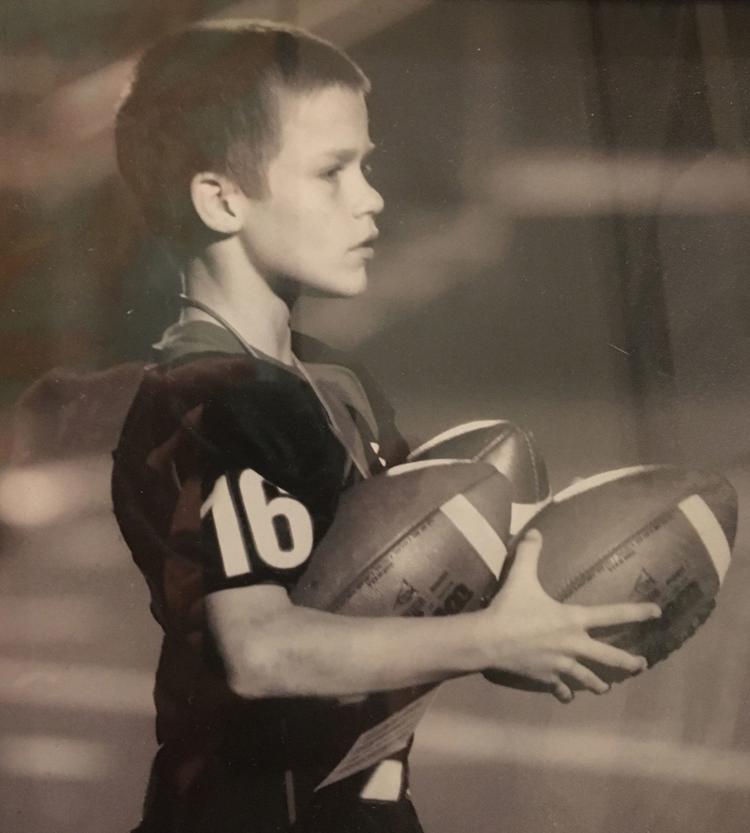 By his junior year at Lake Travis High School, Charlie was starring at quarterback for one of the most powerful football programs in Texas.
From 2007-2011, Lake Travis won five straight state championships. Charlie watched from the sidelines as Michael Brewer led the Cavaliers to the 2009 and 2010 state titles.
"I always thought it was really cool to have my little brother there for games," Michael Brewer said. "He was snapping the ball to me before the state championship game and he was running the ball downfield to give it to the refs. He's been lucky to have football and family around him all his life."
Following his brother and future Oklahoma Heisman Trophy winner Baker Mayfield as Lake Travis' quarterback, the bar was sky-high when Charlie took over as the full-time starter in 2015 after making several starts the previous season.
Brewer performed brilliantly as he threw for 3,421 yards and 42 touchdowns and rushed for 583 yards and nine scores as a junior to lead Lake Travis to the Class 6A Division II state championship game.
After Lake Travis won 15 straight games, Katy rolled to a 34-7 win in the state championship game, leaving Brewer more determined than ever to win the title as a senior.
"I'd be lying if I said there wasn't any pressure," Charlie said. "There for sure was. There's a standard. I don't know if it was more the pressure of being a great quarterback as it was for winning the state championship. By the time I got there they had won so many. It's such a great tradition at Lake Travis."
With Brewer shattering state and national passing records, Lake Travis rolled to a 15-1 record to win the 2016 Class 6A Division I championship under coach Hank Carter. His 77.4 completion percentage set a national record as he threw for 3,908 yards and 54 touchdowns.
Nobody was more excited to see Lake Travis win the state championship than Robert Brewer, who knew the pressure Charlie felt to win it all. He could tell a huge weight was lifted off his youngest son's shoulders.
"They had lost in the state championship to Katy pretty badly the year before, so I think he was more relieved than excited," Robert Brewer said.
Despite all his high school accomplishments, Charlie was overlooked by Power 5 conference schools due largely to his relatively small 6-0, 175-pound frame. Texas didn't offer him a scholarship, but neither did other major schools. He committed to SMU, which was coached by Chad Morris, who had a long history with the Brewer family since he had coached Michael Brewer at Lake Travis.
Shortly after Lake Travis won the 2016 state title, newly-hired Baylor coach Matt Rhule called Charlie at his home in Austin and offered him a scholarship.
"He was upstairs a day or two after Lake Travis won the state championship," Robert Brewer said. "He was on the phone with Coach Rhule, and I could hear him coming down the hall quicker than normal. His eyes were bigger than saucers, and he was mouthing 'B-a-y-l-o-r.'"
Charlie wanted to commit to Baylor on the spot, but his dad told him to think about it a few days before making a quick decision. Though it was tough to tell Morris that he was de-comitting from SMU, Charlie was thrilled to be headed to a Big 12 school.
"Baylor is in the Big 12, and I had always dreamed of playing in the Big 12," Charlie said. "For a while, I thought it wasn't going to happen, and then Coach Rhule called me and I was really excited. That was something that had really frustrated me, to be honest. I talked to my dad and he said, 'It's going to work out, it's going to work out.' I'd get so mad but he was right. I'm just really grateful for the opportunity."
Within weeks of committing to Baylor, Charlie was enrolled at the university to get a jump start on his college career. By the end of preseason drills, he was third on the depth chart behind graduate transfer Anu Solomon and sophomore Zach Smith. But due to injuries to both quarterbacks, Brewer started the last four games of his freshman year.
After the Bears started the 2017 season with eight straight losses, Brewer led them to their only win last season when he threw for 315 yards and three touchdowns in a 38-9 win over Kansas in Lawrence in his first college start.
Brewer earned Big 12 offensive freshman of the year as he completed 68.1 percent of his passes for 1,562 yards and 11 touchdowns.
"Coach Rhule emphasizes being prepared when your number is called," Brewer said. "Last year, I felt I was prepared. But I'd be lying if I didn't say everything was moving at 1,000 miles per hour. Definitely this year everything's a little slower. The speed of the game starts to slow down and it gets a little easier."
After winning the starting quarterback job over graduate transfer Jalan McClendon, Brewer has completed 64.1 percent of his passes for 1,558 yards and nine touchdowns with just two interceptions at the midway point of this season.
With Baylor's offensive line still a work in progress, Brewer has shown his maneuverability by creating plays with his feet and running for yardage when necessary.
"It really comes down to when things break down, when things go wrong, bad quarterbacks make a bad play worse," Rhule said. "Great quarterbacks do special things in those 'oh-no' moments. I think that's been what Charlie's done. Besides being extremely accurate, he gets outside the pocket and extends drives with his feet. He doesn't say a lot but he loves to compete. He's got a toughness about him that makes everyone else a little bit better."
Brewer has exhibited both leadership and toughness, which he believes are important to show his teammates on a rebuilding team. Now standing 6-1 and weighing 205 pounds, Brewer is more equipped to take punishing blows from oncoming pass rushers.
But he said he's never taken a harder shot than when Oklahoma linebacker Caleb Kelly drilled him in the back two weeks ago in Norman, causing his body to react like he had been whiplashed.
But after a couple of minutes lying on the ground, he got back up and kept playing.
"It was a hard hit, but it was nothing where it was going to take me out," Brewer said. "I was fine after a minute or two. I just had to get my breath back and get back in there. It's a contact sport. I remember watching my brother play and seeing how hard he'd get hit, but he would get up and keep playing. I think that's maybe where I learned that."
Just like he did at Lake Travis, Charlie often talks to his father and older brother Michael about his games and the demands of playing quarterback.
"Charlie is growing into his own, so dad and I try not to give him too much advice," Michael said. "He's got a good coaching staff that puts him in position to win. But he'll call me to talk about what the other team does defensively and what Baylor is doing on offense, and what he likes and stuff like that."
When Robert Brewer sees the huge passing statistics that both Charlie and Michael have produced at Lake Travis and the college level, it's stunning for an old quarterback who grew up in an era when running games ruled. But he's glad to see Charlie thriving and playing the game he loves.
"It's mind-boggling, it's a totally different game," said Robert Brewer, a longtime financial advisor at Merrill Lynch. "In some ways I kind of miss the old style, but I get laughed out of the room when I say that now because it's not going back. It's not even comparable, and that's why I've tried not to coach either of them because they know more than I do."
Despite the overwhelming statistics he's produced, Charlie has never been a numbers guy. His biggest goal is to lead Baylor to a Big 12 championship before he's finished playing. He wants to show teammates that he'll be there for them, no matter how many times he takes a devastating shot or how many times he has to pull his body off the turf.
One of his biggest moments came last week when he made numerous clutch plays in the fourth quarter to lead the Bears to a 37-34 win over Kansas State at McLane Stadium. Watching Charlie exhibit that kind of poise is nothing new to a family that has seen him extend its legacy of successful quarterbacks.
"I always say you give Charlie a chance to win in the fourth quarter, there's a dang good chance he will win," Michael Brewer said. "He always shows up big in big moments going back to high school. He's got the 'it' factor. He's always had that winning edge about him, and we're seeing it now as he's helping to turn around Baylor. They're going in the right direction, and they've found the quarterback to help them do that."