Baylor junior cornerback Jourdan Blake and senior offensive lineman Ishmael Wilson are no longer members of the football team, coach Matt Rhule confirmed Tuesday.
Rhule wouldn't comment on why the two players are no longer with the team, but he said their departure wasn't related to any crime.
"I'm not going to get into the particulars because they're really good people and I want to be respectful of them," Rhule said. "It's important to note this is nothing criminal. It's just really about our program as we move forward. We wish them the best as they stay here and graduate but they will no longer play for us as we move forward."
Despite speculation that running back Terence Williams has been dismissed, Rhule said the junior is still on the squad. Rhule said Williams has met with the team's leadership council, which agreed to give him a second chance.
"We met with Terence yesterday, and told him there are obviously certain standards and expectations that have to be met to represent Baylor on the football field," Rhule said. "It's mainly about being a great teammate and having a code of conduct that's at the highest level.
"I met with Terence again today. He came in and spoke to me, and he wanted the opportunity to continue to be on the football team, and assured me he would be a great teammate. At the end of the day, that's really the most important thing to me. Our kids have been through a lot and they need to know they can still count on each other. They need to know the standards for one are the standards for all."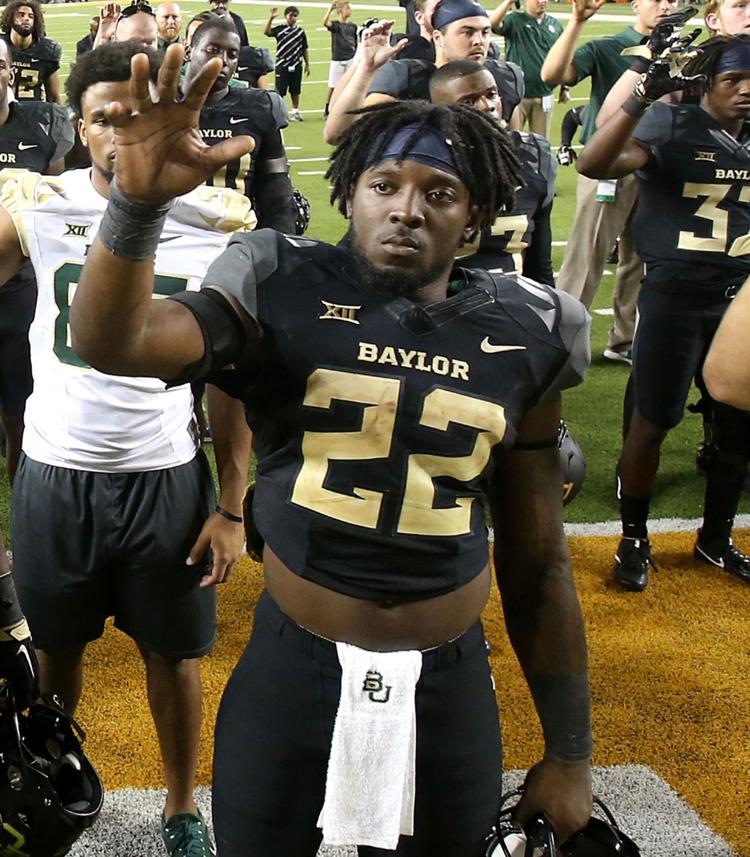 Rhule said he didn't know if Williams will be suspended for Baylor's next game against Oklahoma State on Oct. 14 in Stillwater. The Bears are off to an 0-5 start following Saturday's 33-20 loss to Kansas State in Manhattan.
"He has some things he needs to do," Rhule said. "If he proves he's moving forward and being a great teammate, doing what everyone else is doing, we'll move forward and never bat an eye."
Jourdan Blake had played in all five games this season and recorded five tackles and a pass breakup. He started the first two games at cornerback before Blake Lynch replaced him in the lineup.
Wilson, who transferred to Baylor from Texas A&M in 2014, started 12 games for the Bears last season. But he's started just one game this season, and has been replaced in the lineup by freshman Xavier Newman in the last two games.
Williams is one of the Bears' top returning players after rushing for a team-high 1,048 yards and 11 touchdowns last season.
But he missed the first three games this season following offseason shoulder surgery, and struggled to regain last year's form in his two games since his return. He rushed for 26 yards on 11 carries in a 49-41 loss to Oklahoma two weeks ago and picked up 27 yards on 11 carries in the loss to Kansas State.
Despite the recent player issues and Baylor's winless record, Rhule said morale is still high on the team.
"I could be here 10 years and there would be kids upset about their role and all that," Rhule said. "But I think our team is 100 percent bought-in to what's happening. And I think they understand that sometimes you have to make tough decisions, especially with a young football team."
Rhule said players have streamed into his office to ask what they can do to help the team improve.
"I probably had 10 different players in my office today talking about what we need to do as a team and as a program moving forward," Rhule said. "I probably had 15 last night. Denzel Mims got all the receivers and brought them all into my office, and said, 'Hey coach, what do we need to do to get better?' This is a kid who is leading the nation in touchdown catches. He wants to meet with me to find out what we can do to get better, not can I get the ball more."
Denzel Mims was a four-sport athlete at Daingerfield High School, and most of the skills tha…
Unless the Bears win their last seven regular season games, they're headed for their first losing season since 2009. The Bears have made seven straight bowl games, so losing has been difficult for players who are used to winning.
But Rhule has made the players understand the coaches are there for them as they go through the transition.
"Transition is hard, it's hard for a lot of kids, so when you go through these times it's sort of like times of conflict and upheaval," Rhule said. "When I got here all the kids said was please promise me you won't quit on us. No matter what happens you'll be our coach and have our back. So that's why we're doing what we're doing. I care very deeply about how we do things. At the end of the day we're trying to win right now but we're trying to win the right way."
BEAR FACTS — Rhule said middle linebacker Clay Johnston underwent surgery for a broken hand Tuesday but will likely play against Oklahoma State. Quarterback Zach Smith earned the final single digit No. 8 for showing his toughness.