Taking over a decimated Baylor football team, Matt Rhule knew he needed players quickly no matter where they came from.
Rhule and his staff stormed Texas high schools as the February 2017 national signing day approached, but he didn't forget his East Coast connections.
Recruited by Rhule at Temple, New Jersey running back John Lovett was intrigued when he was offered a scholarship at Baylor. But he had never been to Texas and knew very little about Baylor.
"I knew that RG3 won the Heisman here and they wore gold chrome helmets," Lovett said. "I knew it was a great school academically. He basically said come give us a look, come if you like it. I saw what he did with the Temple program, which really came up from nothing. I was like if he can do that, what can he do?"
After visiting Baylor, Lovett knew it was where he wanted to spend his college career. He became part of a Top 25 signing class that Rhule and his staff remarkably pieced together in less than two months after starting with just one leftover commitment from the Art Briles era.
Since his opening game at Baylor as a freshman last season, Lovett has made an impact. Playing in a versatile backfield that includes JaMycal Hasty, Trestan Ebner and often wide receiver Jalen Hurd, Lovett has had to share carries, but he's delivered some of the most memorable plays in the last two seasons.
Lovett ignited Baylor's offense in last week's 35-31 win over Oklahoma State when he took a handoff from quarterback Charlie Brewer and broke down the right side for a 75-yard touchdown late in the third quarter. His breakaway speed even surprised some of his teammates.
"I didn't know he was that fast," said Baylor guard Blake Blackmar. "He's been out for a little bit, so I was pumped to see him bust a big run. He's always talking, always saying the right things, getting the mood of the team right, and it's great to have him back there."
It marked the second straight season that Lovett has popped off the longest run of the season for the Bears after he broke free for a 74-yarder against Kansas State last season.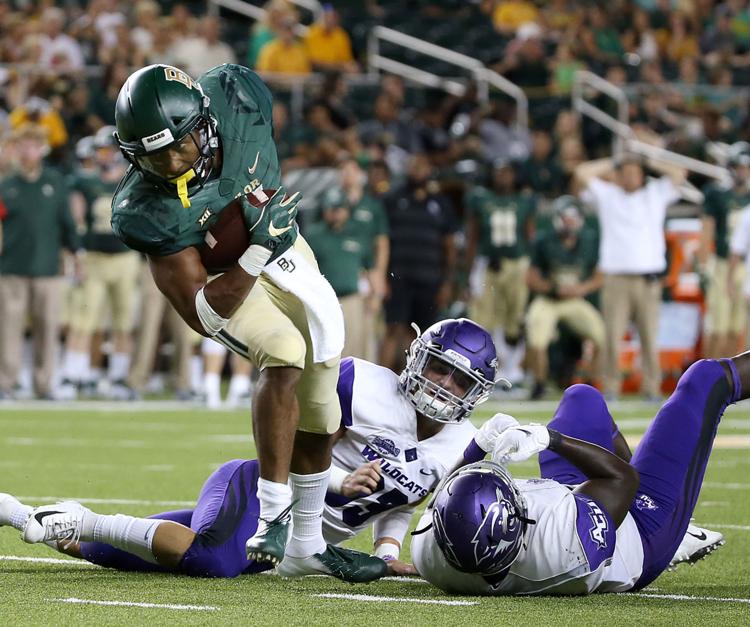 But Rhule likes Lovett just as much for his toughness as his home run ability. His teammates voted him to wear a single-digit jersey (No. 7) the last two years because of the dedication he shows every day in practice and his desire to do anything to help the team win.
"When you talk about John Lovett, I always start with his work ethic and toughness," Rhule said. "He's everything that we represent. He's been battling nagging little injuries and I think he's fought through them. He'll do whatever is asked. He'll play defense for us if we asked him, he'll play special teams."
After rushing for 445 yards and five touchdowns as a freshman, Lovett is on pace for bigger numbers as a sophomore as he's accumulated 357 yards and four scores through eight games with three more to play. His yards per carry have risen from 4.5 last year to an impressive 6.3 this season.
While every running back wants to be the No. 1 guy, Lovett realizes that all of Baylor's backs bring different skills to the table. When Lovett's number is called, he's usually fresh and eager to show what he can do.
"Whoever's in the game, you just pay attention to what they're doing and the play call and have energy," Lovett said. "Everybody gives it everything they have. There's no point in holding it back. We all stay on each other, we push each other hard, so whoever's in there definitely knows what they're doing and aren't on the sidelines worrying about anything."
Lovett was a two-way star at Cherokee High School in Burlington, N.J., where he played running back and defensive back. He rushed for more than 1,300 yards in each of his last two seasons, but was also recruited as a defensive back.
Penn State, Iowa, Tennessee, UCF and Virginia Tech were among the schools that recruited him.
"I had a few recruit me for defense," Lovett said. "I wanted to be a running back. I had a big head coming in, so I definitely expected to play. Just because I was young, I was going to do everything the older guys did."
Since Burlington is just 20 miles northeast of Philadelphia, Rhule hoped to sign him at Temple. But when Rhule accepted the Baylor job in December 2016, he quickly extended an offer for Lovett to join him.
Lovett was among three New Jersey high school players who signed with Baylor in Rhule's first recruiting class. Defensive back Harrison Hand and lineman Rob Saulin also signed with the Bears that first year, and Rhule has continued to keep his East Coast recruiting connections alive.
"Anytime you ask someone to leave their family and friends behind, number one they have to trust you and believe in what you're doing," Rhule said. "They could have stayed and played in the Northeast. For them to want to come here, a lot of it speaks to the relationship they have with Francis Brown. He's one of the best recruiters, not because he's a recruiter but because he's real."
Brown, who coaches Baylor's defensive backs, had developed a close relationship with Lovett and helped convince him to sign with Baylor.
Not only does Brown try to show recruits how playing for Rhule and his staff can benefit their future in football, but he also conveys how a Baylor degree can help them once their football career is over.
"He doesn't beat around the bush," Lovett said. "He tells us how it is, and I like that personally. He came up kind of how I came up."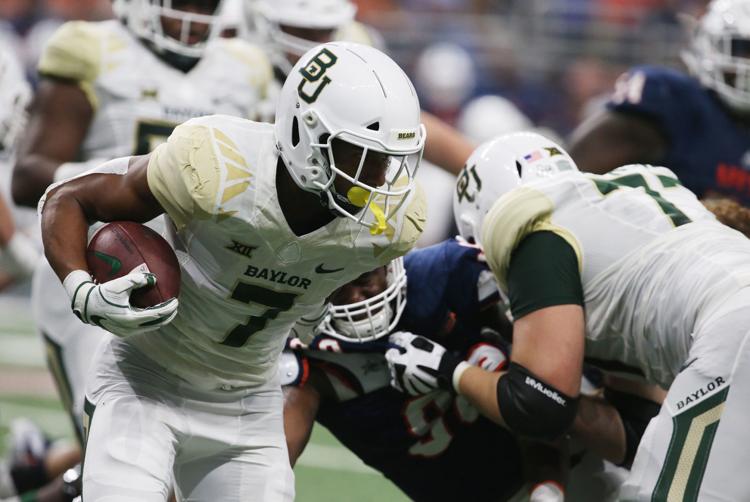 While Lovett knew he'd have to adjust to a climate change in Waco, it really hit him during his first summer in 2017 after he began classes at Baylor.
"When I got here in June, that jug of water definitely helped me," Lovett said.
Growing up in an urban area, Lovett was amazed by the wide open spaces in Texas. He's also grown to like the barbeque and loved the stop the football team made at the Salt Lick in Round Rock on the way to play at UTSA in September.
When asked if he could get that kind of barbeque in New Jersey, he just shook his head.
Lovett has also been blown away by the high school football stadiums in Texas. New Jersey high school facilities don't come close to the palaces that some Texas high schools roll out.
"It's competitive but it's nowhere near as big capacity-wise as Texas," Lovett said. "There are no JumboTrons there. We have nice looking scoreboards, but I haven't seen a high school stadium (in New Jersey) with a big screen on it where you can watch a replay."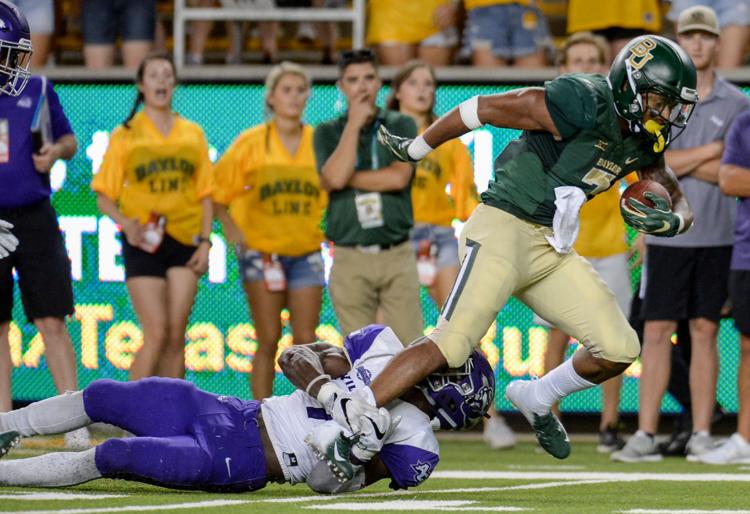 Lovett showed glimpses of his potential in his opening game for the Bears last season when he rushed for 72 yards against Liberty followed by an 89-yard effort against UTSA. His two rushing touchdowns against the Roadrunners were the most in a game for a Baylor true freshman since quarterback Nick Florence in 2009.
He shared carries with the rest of Baylor's backfield as last season progressed, and delivered a season-high 95-yard performance on just seven carries against Kansas State following his 74-yard breakaway run.
After playing at a relatively light 180 pounds as a freshman, the 6-0 Lovett has put more than 20 pounds on his 6-0 frame this year under Baylor strength coach Jeremy Scott.
"I was probably 183 tops last year, and this year I'm at 205 with seven percent body fat," Lovett said. "It helps a lot, taking blows and everything like that. During the offseason Coach Scott worked us every day and got us real strong."
Lovett recorded his first 100-yard game in this year's season opener when he produced 115 against Abilene Christian. With 104 yards on just six carries last weekend against Oklahoma State, it marked the fewest carries for a Baylor runner to hit 100 yards since joining the Big 12.
After breaking off his 75-yard touchdown run against the Cowboys, Lovett was so excited that he went to Baylor's offensive linemen on the sideline to encourage them to keep opening running lanes.
"As we were winning that game, he was running and up and down the sideline grabbing all the older offensive linemen and telling us that was for us," Blackmar said. "It makes you feel good when that happens. You love to see guys succeed. Love to see J-Lov out there in space, so we hope we can get some more runs like that."
While he hopes to get a shot to play in the NFL following graduation, he's already thinking about a career off the field. He's majoring in apparel merchandising, and hopes to be on the cutting edge of designing uniforms for football players.
"I've always been into fashion," Lovett said. "I'll be thinking sometimes I can do something in the football industry, like coming out with some gear or something like that. Maybe invent something for a cold game, just something crazy."
Lovett will get to play in weather more like New Jersey when the Bears face No. 23 Iowa State in Ames on Saturday. The forecast is for 30 degrees at kickoff, but he expects to feel pretty cozy.
It will be Baylor's coldest game of the year after playing in the 40s against West Virginia two weeks ago in Morgantown.
"The D-I level, it's cold outside but you're not really cold," Lovett said. "They've got so much gear here and heated benches and jet fans and stuff. It's cold outside, but I was pretty hot against West Virginia."