---
GRAYLAND ARNOLD
Where he fits: Arnold will likely play cornerback for the Bears. He's ranked 19th nationally by 247Sports, 53rd by Scout and 62nd by Rivals. He played cornerback, safety, quarterback, receiver and returned kickoffs and punts at Kountze. Defensively, he totaled 49 tackles, two interceptions (one returned for TD), four forced fumbles, and four fumble recoveries (one TD) as a senior.
Baylor coach Art Briles: "We are extremely excited about Grayland, a guy that committed to us over a year ago and stayed strong with us. He's a multi-purpose player and a tremendous athlete. He's a guy who has carried his football team, and honestly his basketball and track teams, these last two or three years of high school. He has great jumping skills, great ball skills."
JARED ATKINSON
Where he fits: Atkinson is a versatile athlete who played receiver, quarterback and kick returner at Mesquite Horn. He's ranked 26th nationally among wide receivers by 247Sports, 39th by ESPN and 69th by Scout. Atkinson accumulated 570 yards and six touchdowns on 27 receptions as a senior.
Briles: "Jared is a dynamic playmaker. He is a big, fast guy that can really go get a ball and has great range. He's a guy that played quarterback his junior year, and we happened to watch on tape and scouted him. We thought, `Man, this guy can play.' We thought he was a natural receiver, a position for us that we are looking for."
B.J. AUTRY
School: Coffeyville (Kan.) Community College
Where he fits: With Baylor losing four senior offensive line starters, Autry could provide immediate help at guard. Autry is the top-rated junior college offensive guard recruit nationally by ESPN and is rated No. 2 by Scout. He's the No. 34 junior college recruit among all positions. He is a former all-state lineman at Blount High School in Eight Mile, Ala.
Briles: "B.J. is very athletic. He has a tremendous amount of talent and a great upside in front of him. I can't wait to tap in and watch his true athletic ability come out."
BRANDON BOWEN
School: Trophy Club Byron Nelson
Where he fits: The top rated defensive recruit for the Bears, Bowen should develop into a dynamic pass rusher. He's ranked the 63rd-best overall recruit nationally on Rivals 100 and 130th on Scout 300. Among defensive ends, he's ranked third nationally by Rivals, 18th by Scout, 19th by 247Sports and 55th by ESPN. Bowen won the the Class 6A state championship in the high jump as a junior with a leap of 6-7 and has a best of 6-9. He's the son of former MLB pitcher Ryan Bowen and nephew of three-time NBA champion Bruce Bowen.
Briles: "Brandon is a tremendously explosive individual. He has a big body, so that's the thing that is so intriguing about him. He has so much upside potential, and he's just a great kid that really loves the game."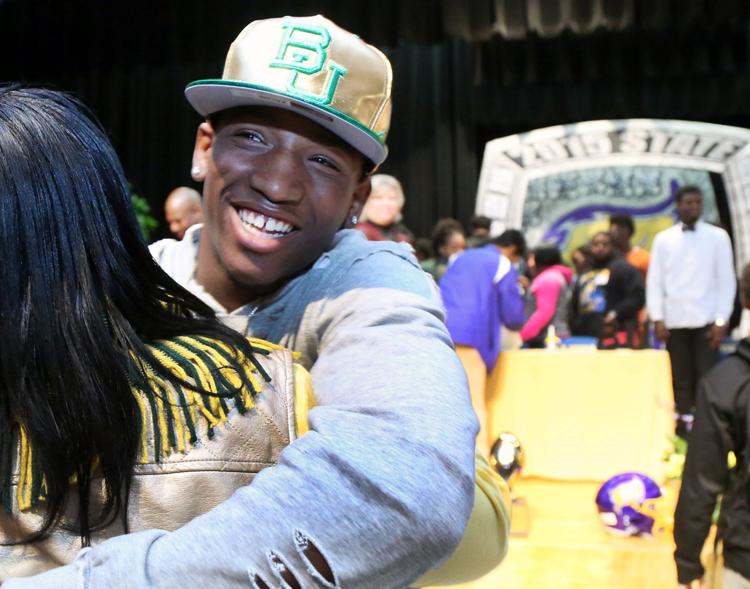 PARRISH COBB
Where he fits: Cobb should compete as a freshman for a starting cornerback spot. The national top 300 recruit and All-American defensive back was the Tribune-Herald Super Centex defensive player of the year and helped La Vega win the Class 4A Division I state title with a 16-0 record. Cobb is ranked 12th nationally among cornerbacks by Rivals, 25th by Scout and 31st by ESPN. Cobb was also a talented receiver who earned 2015 District 13-4A MVP. He finished his senior year with 60 tackles, 16 pass breakups, four interceptions and one forced fumble. He also made 37 receptions for 692 yards and 10 TDs and rushed for 543 yards and seven scores. He averaged 43.8 yards on kickoff returns and 13.0 on punt returns.
Briles: "Parrish is exactly what we're looking for, and when you get that from a local, from someone who already knows and loves Waco, that's icing on the cake. He's unbelievable and he's going to compete for the position that Xavien Howard left."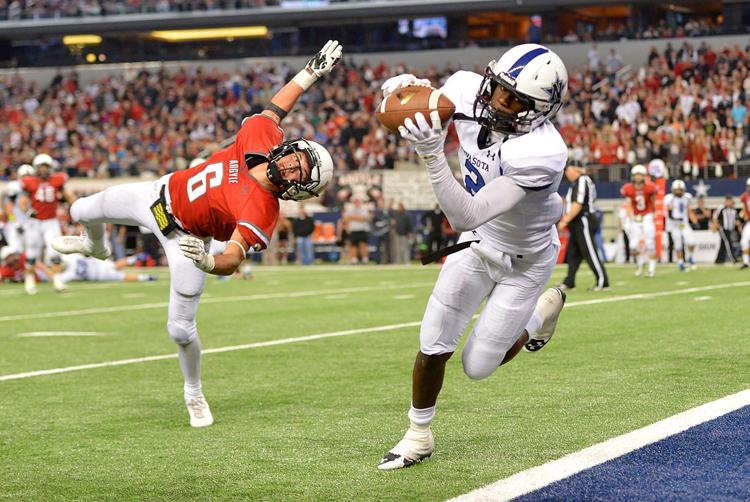 TREN'DAVIAN DICKSON
Where he fits: Dickson could play as a freshman for the Bears' deep receiving corps. He's a record-setting All-America receiver and the 2015 Gatorade Texas Player of the Year. He set a national prep record in 2014 with 39 receiving touchdowns as a junior at Navasota. A consensus top 200 national recruit, he's rated the No. 31 recruit overall on the Scout 300 list and is the No. 4 receiver. He amassed 4,505 career receiving yards and 76 TDs on 211 catches during his high school career.
Briles: "Tren is a fun guy and a great player. He set every record in Texas high school receiving history, caught more touchdown passes than anybody that ever played the game. He's a pleasant, good person with tremendous jumping, ball tracking, and speed skills. He's a great addition to the receivers we signed this year."
DEVIN DUVERNAY
Where he fits: Duvernay is the fastest player Briles has ever signed as he won the Class 6A state championship with a time of 10.27 seconds in the 100 meters last year. He's a blue chip recruit and unanimous national top 100 prospect. Among wide receivers. Duvernay is rated the nation's No. 41 recruit on Scout 300 and is 50th on the ESPN 300 and is 52nd by Rivals. Among wide receivers, Duvernay is ranked third by ESPN, fourth by Scout and eighth by Rivals. As a senior, he totaled 1,142 yards and 16 touchdowns on 62 receptions, and 520 yards and six TDs on 47 rushing attempts.
Briles: "What can you say? Devin ran the fastest 100-meter time in the nation last year at 10.27. For a guy that plays football, he has phenomenal athletic skills that are kind of unequaled. We are extremely excited to get the opportunity to work with him, get him in our program, and watch him develop and flourish."
DONOVAN DUVERNAY
Where he fits: The twin brother of Devin Duvernay, Donovan could play either defensive back or receiver. He's rated the nation's 42nd-best athlete prospect by ESPN, and is ranked 48th by Scout and 78th by 247Sports. Duvernay finished his senior year with 520 yards and eight touchdowns on 38 receptions and ran for 192 yards and TD on 25 carries. Defensively, he made 17 tackles, two interceptions and added two kickoff returns for touchdowns. Briles: "He's extremely fast. Not quite as fast as Devin, but that's OK, nobody else is either in the state or the nation, so that's not a bad thing at all. He's a great, fluid athlete with great ball skills, and a great baseball player as well. I'm really anxious to watch Donovan grow and come through this process with us."
JEREMY FAULK
School: Garden City (Kan.) Community College
Where he fits: Following All-American Andrew Billings' departure to the NFL draft, Faulk should compete for the starting nose tackle job. Faulk is a first-team 2015 NJCAA All-America who spent two years at Florida Atlantic before transferring to Garden City. He's rated the No. 18 junior college recruit by ESPN and the second-rated defensive lineman. He was named the 2015 Kansas junior college co-defensive player of the year after totaling 87 tackles and 7.5 sacks as a sophomore at Garden City.
Briles: "Jeremy has come in and done a tremendous job for us. He's put on some pounds and is going to play nose tackle for us. He can really run and I love the way he's changed his body since he stepped on campus."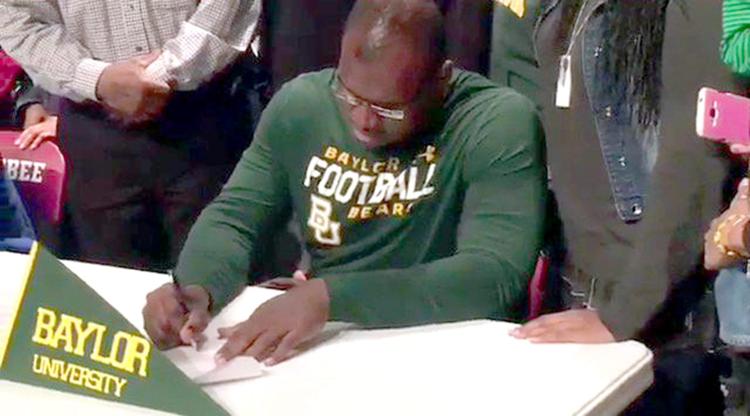 PATRICK HUDSON
Where he fits: Hudson is the brightest jewel in a class full of them. The big offensive lineman is ranked the 56th overall national prospect on ESPN 300, 62nd on Rivals 100 and 68th on Scout 300. He's rated the nation's top offensive guard prospect by ESPN, No. 2 by Rivals, No. 3 by Scout and No. 4 by 247Sports. Hudson took second in the 2015 Texas High School Powerlifting Association Championships Division 2 super heavyweight division with combined lift of 1,800 pounds (690 squat, 395 bench and 715 dead lift).
Briles: "He's the highest ranked lineman in the state of Texas and a tremendous athlete. The thing that really intrigued us about him besides his passion, his personality, and his mentality, is his overall physical strength."
KENAN IVY
Where he fits: Ivy could play anywhere in the secondary for the Bears. He's a national top 300 recruit and All-American defensive back. Ivy is the 14th-rated safety by ESPN, 50th by Rivals, 50th by Scout and the 72nd-rated cornerback by 247Sports. As a senior, he accumulated 72 tackles, 12 pass breakups and one interception after finishing with 52 tackles and three interceptions as a junior.
Briles: "Kenan is talented and extremely fast. He's a guy that can really turn and run, a tough guy who's physical. He anchors for Lancaster's 4x100 and 4x200, if they ran 4x400 he would anchor that also. If you anchor their relay teams, you can run."
MICHEAL JOHNSON
School: Fort Bent Hightower
Where he fits: Johnson could play either tackle or end on Baylor's defensive line. He was an all-state defensive lineman and two-time district MVP. Johnson is rated the No. 32 strongside defensive end prospect nationally by 247Sports and is ranked No. 65 by Scout and No. 108 by ESPN. He made 80 tackles, including 22 for loss and nine sacks as a senior following a junior year in which he made 50 tackles including 17 for loss and 10 sacks.
Briles: "A couple of things we love about Micheal: He has a quick twitch and he's a fast guy that is young. He's 16 years old, won't be 17 until March. He's got a tremendous future. He burns hot and plays with a high motor and is intelligent, and we're really excited to see him get on campus and watch him grow over the next four or five years."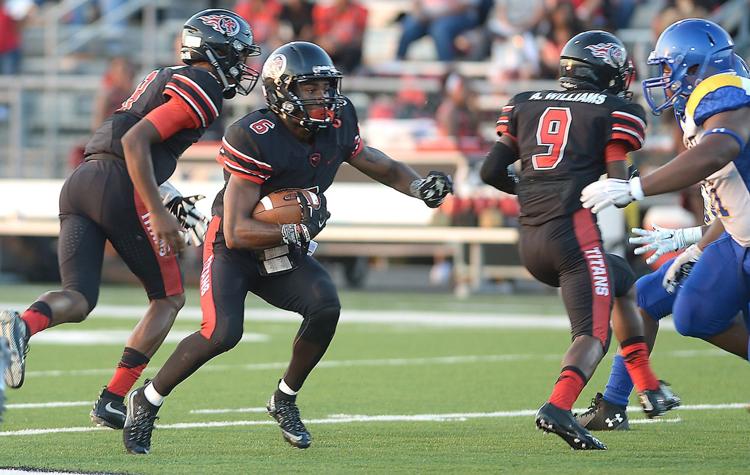 KAM MARTIN
School: Port Arthur Memorial
Where he fits: Martin is the only running back in Baylor's 2016 class. He amassed more than 3,500 combined rushing and receiving yards and 44 TDs at Port Arthur Memorial, including 962 yards and six touchdowns on 143 carries, and 10 receptions for 133 yards as senior. He's ranked the No. 112 overall national recruit on Scout 300, No. 156 on PrepStar Top 350 All-America team and No. 242 on Rivals 250. Scout rated Martin the sixth best running back in the nation.
Briles: "He's one of those guys that has a tremendous upside. He's got a great personality, great spirit, and he's a person of great character and caliber. Besides being a really outstanding football player, he anchored the 4x200 team that set the national mark and will anchor the 4x100, 4x200 this year and probably run the 4x400 also for them, so he's tremendously gifted in track and field."
CHRIS MILLER
Where he fits: Miller will likely play safety for the Bears. Among national safety prospects, he's ranked 50th by 247Sports, 53rd by ESPN and 55th by Scout. As a senior, he made 108 tackles, seven pass breakups, one interception and forced three fumbles. As a junior, he made 123 tackles and two interceptions and forced three fumbles.
Briles: "Chris is a big guy and he can really play ball. He's got great ball skills, he's really physical and has good speed. He did a great job helping lead Frisco Lone Star to the state championship game this year, and he's stayed loyal to us throughout this process."
DENZEL MIMS
Where he fits: Mims is the tallest receiver in Baylor's class and won the Class 3A 200 meters last year with a time of 21.30 seconds. He's ranked nationally among receivers: 49th by ESPN, 57th by 247Sports and 78th by Rivals. As a senior, he finished with 721 yards and 10 TDs on 31 receptions and 256 yards and five TDs on 24 rushes. As a junior, he had 682 yards and six TDs on 39 catches and made 24 tackles, four interceptions and two TDs on defense.
Briles: "Denzel is a big, tall, fast receiver from East Texas. He actually ran a 21.3 200 meters and won the state meet last year unchallenged. I'm really excited to watch him go this spring when he gets challenged a little bit, and I think he'll get a 20.7 or 20.8 pretty easily, maybe better."
DEQUINTON OSBORNE
Where he fits: Osborne should compete for a starting defensive tackle spot since starters Andrew Billings and Beau Blackshear are gone. After playing for Grand Prairie High School, Osborne redshirted one season at Missouri in 2013 before transferring to Kilgore where he made NJCAA All-American. As a sophomore, he finished with 61 tackles, including 17 for loss and six sacks and an interception. As freshman in 2014, he made 66 tackles, including 13 for loss and nine sacks.
Briles: "DeQuinton is finishing up this Spring at Kilgore and then he'll come in here with two years left to play. With Andrew Billings going out early (for the NFL), we needed to get some help inside, and he was ready and willing. He's a guy who understands how to get after it, to get dirty, and to play with a tough mentality where you have to survive in the trenches."
RAJAH PRECIADO
Where he fits: Preciado is a talented defensive back who is rated the nation's No. 69 prospect among cornerbacks by ESPN, 103rd by Scout and 106th by 247Sports. He had 133 tackles, including eight for loss with four pass breakups and an interception. He added two TDs and averaged 23.7 yards on 17 punt returns. As a junior, he had 119 tackles, eight breakups and two interceptions.
Briles: "Rajah is a really smart kid who we offered at camp last spring. We're high on DBs in this class because these guys need to come in here and help us on special teams. They need to come in ready to get on the field against these explosive offenses in the Big 12, and this is one guy we think can do that."
BRAVVION ROY
Where he fits: Roy will play nose tackle for the Bears. Among defensive tackles, he's rated nationally No. 20 by Scout, No. 35 by ESPN, No. 43 by 247Sports and No. 52 by Rivals. As a senior, he totaled 66 tackles (15 for loss) and six sacks as senior in 2015. As a junior, he finished with 98 tackles, including 13 for loss and seven sacks.
Briles: "Bravvion is the perfect size for a nose tackle, and he's very agile and powerful. He has a good body type for what we're looking for."
ZACH SMITH
Where he fits: Smith is a likely redshirt but a great candidate as a starter down the road. The first commitment in the 2016 class, Smith is a top 15 national QB recruit and 2016 Semper Fidelis All-American Bowl selection. The two-time all-state honoree led Grandview to a 12-1 record in 2015 as the Zebras averaged 48.9 points per game. Smith threw for 3,877 yards and 46 touchdowns, and rushed for six TDs as a senior. He topped 10,000 passing yards and threw 114 career TDs in high school, and is rated No. 282 on the ESPN 300 recruiting list.
Briles: "Zach has been on our radar for a long time. We offered him at camp two years ago, and he committed and has done nothing but improve. We saw, even back then, that he has tremendous potential. We're tickled to death that he's at Baylor and he's done a great job adjusting. He has a tremendously quick release and is mobile enough to make things happen with his feet."
RALEIGH TEXADA
School: Frisco Centennial
Where he fits: Texada should play cornerback for the Bears. He was rated the nation's 40th-best cornerback prospect in the 2016 signing class by Scout, 85th by ESPN and 89th by 247Sports. Texada totaled 52 tackles, eight pass breakups, two interceptions (one returned for TD) and two forced fumbles as a senior. He also excelled on special teams as he averaged 19.3 yards on punt returns with three touchdowns. His older brother Ranthony plays cornerback at TCU.
Briles: "Raleigh runs really well and he's a guy we've had our eye on for a couple of years at camp. He's turned into a really good football player and we feel really good about watching his progress in the next few years. He's going to become a really great asset."
J.P. URQUIDEZ
Where he fits: Urquidez is a consensus national top 200 recruit from Copperas Cove who has the potential to be an outstanding lineman. He's rated the nation's No. 155 overall prospect on the ESPN 300 and No. 173 on Rivals 250. Among offensive tackles, Urquidez is rated 17th nationally by ESPN, 30th by Scout and 48th by 247Sports.
Briles: "J.P. has an unbelievable frame and he keeps his body in tip-top shape ready to play, ready for action. Losing all those linemen last year, these young guys have to come in and be ready to contend on the field. J.P. could have gone anywhere in America, and he was loyal to Baylor, so we're extremely excited for him."
DEONTE WILLIAMS
School: Prestonwood Christian Academy
Where he fits: Williams is the only linebacker in Baylor's class after twice making all-state. Among linebacker prospects, he's ranked 28th nationally by ESPN, 29th by Scout and 44th by 247Sports. He helped Prestonwood make three trips to the state championship game and led his team to the 2015 TAPPS Division I state title. He finished his final season with 88 tackles (17 for loss), 11 sacks and four pass breakups. As a junior, he collected 70 tackles (24 for loss) and nine sacks.
Briles: "Deonte is fun to be around. He's going to be a really dynamic player and contribute a lot to what we're looking for. He was by far the best guy we watched last year through all of our camps."