AMES, Iowa — On a frigid 25-degree day at Jack Trice Stadium, the emotions of the Baylor and Iowa State players ran raw and high all afternoon.
As it turned out, too raw and high.
The No. 23 Cyclones' 28-14 win over the Bears was marred by a third-quarter fight in which Baylor defensive end Greg Roberts and Iowa State running back David Montgomery were disqualified for the rest of Saturday's game after throwing punches at each other.
Both teams were also cited for unsportsmanlike conduct amid the scuffle, meaning that any player who received an unsportsmanlike conduct penalty the rest of the game would be disqualified.
When Baylor quarterback Charlie Brewer was called for unsportsmanlike conduct with 5:51 remaining in the game, he was disqualified. Brewer made a comment to the official after he was ruled a yard short of a first down at the 20 on a running play.
"The referee felt like Charlie said something inappropriate to him," said Baylor coach Matt Rhule. "I think he used a cuss word. We thought it was because he got kicked in the head. I didn't have a chance to talk to Charlie. The official thought it was because he didn't like his spot, so they gave him an unsportsmanlike conduct penalty."
Baylor football at Iowa State: Nov. 10, 2018
Photos by the Associated Press
With the Bears trailing 28-14, Jalan McClendon replaced Brewer and threw a 23-yard pass to Jalen Hurd for a first down at the 12. But the Bears squandered the scoring opportunity when McClendon was unable to connect on his next four passes.
After Brewer hit 26 of 36 passes for 288 yards and two second-half touchdowns and led the Bears with 72 yards rushing, McClendon hit three of 12 for 71 yards in the final minutes.
"I just hate it for Charlie," Rhule said. "I would have loved to have seen our starting quarterback have the ball twice in the red zone with the chance to win the game. I thought it was unfortunate that he didn't get that opportunity."
Under NCAA rules, players who are disqualified for fighting in the second half are typically suspended for the first half of the next game. However, the Big 12 will have the final ruling on whether Roberts, Brewer and Montgomery will be suspended.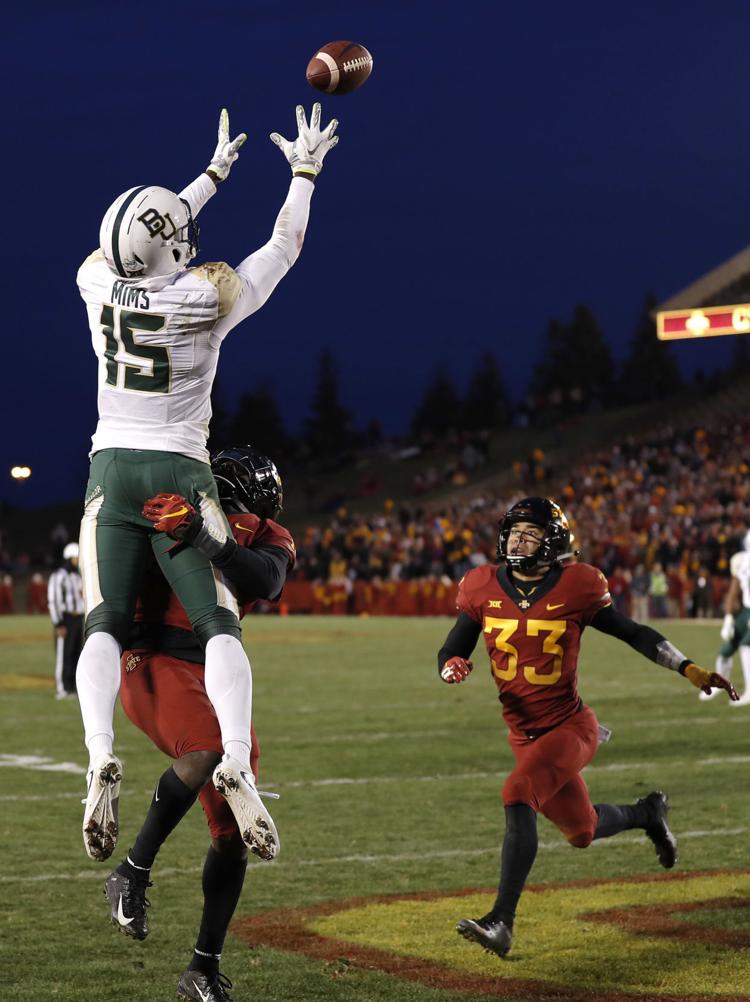 The Bears (5-5, 3-4) will try to become bowl eligible when they host TCU at McLane Stadium next Saturday while Iowa State (6-3, 5-2) faces Texas in Austin.
"It's just a shame for him (Brewer)," Rhule said. "He's got to have his name there that he was ejected from the game for something unsportsmanlike when he never threw a punch."
After Iowa State opened up a 17-0 first-half lead behind the superb play of freshman quarterback Brock Purdy, things began getting heated in the opening minutes of the second half.
Baylor safety Chris Miller was called for unsportsmanlike conduct after tackling Montgomery out of bounds on the Iowa State sidelines. Officials had to separate Miller and Baylor teammate Harrison Hand as Iowa State players swarmed on them.
The game got more out of hand when both teams began shoving each other after another Montgomery run.
The referees tried to separate the players before Roberts reached over an official and threw a punch at Montgomery. The Iowa State running back retaliated, resulting in the disqualifications of the two players with 10:30 left in the third quarter.
"They (the officials) also gave unsportsmanlike conduct penalties to everyone on both sidelines, I guess to calm the game down," Rhule said. "When they did that, the first official said to me well you had multiple people on your sideline go on the field. Not one Baylor person left the sideline. I'll make that clear, not one Baylor person left the sideline."
The Baylor players realized they should have kept their composure.
"We're a brotherhood, so we always want to have our backs," said Baylor safety Verkedric Vaughns. "But we've got to remember that we represent something. We represent Baylor. In a case like that, you always got to take in your mind that you not only got to protect yourself, you've got to represent the name across your chest."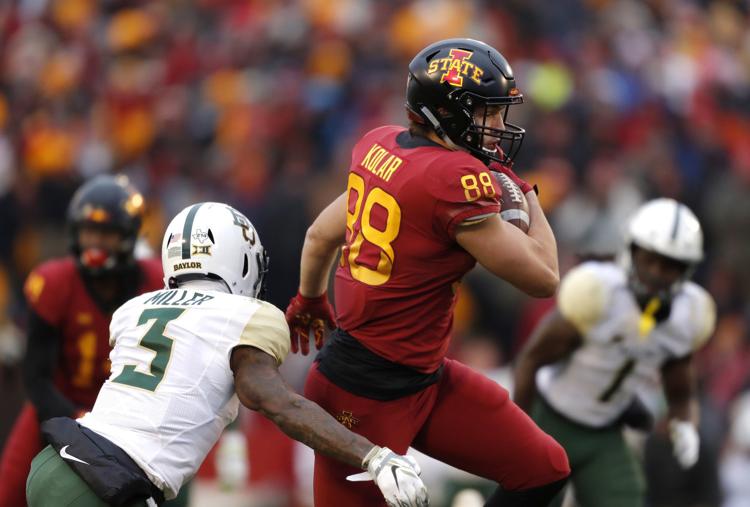 After the game resumed, Connor Assalley drilled a 37-yard field goal to open up a 20-0 lead for the Cyclones.
But the Bears responded with a 15-play, 92-yard drive that ended with Brewer's 6-yard touchdown pass to a leaping Denzel Mims to cut the lead to 20-7 with 1:56 remaining in the third quarter.
After Iowa State's Kene Nwangwu returned the kickoff 36 yards, Purdy hit Matthew Eaton for 38 yards to set up Johnnie Lang's 8-yard touchdown run. Deshaunte Jones hit Purdy for the two-point conversion to stretch the Cyclones lead to 28-7 with 25 seconds left in the third quarter.
Brewer stayed hot as he led the Bears on a 70-yard drive that ended with his 7-yard touchdown pass to Pooh Stricklin to cut Iowa State's lead to 28-14 with 12:25 left in the game.
Brewer had the Bears moving toward a score again when he was disqualified.
"It's tough," said Baylor center Sam Tecklenburg. "I thought Jalan did a great job though. He came in and we moved the ball a little bit. In the first half, we just couldn't finish drives. We had two opportunities at the end to go down and score to tie or win the game and didn't score on either."
The Cyclones took control of the game in the first half when they opened up a 17-0 lead as they scored on all three possessions and went six-for-six on third-down conversions.
Purdy hit 18 of 23 passes for 230 yards and a touchdown for the afternoon, but was especially effective in the first half when he hit 13 of 16 for 136 yards.
"The biggest thing with Brock (Purdy) today was the difficulty in getting him tackled and on the ground," Rhule said. "We had multiple opportunities in the first half to sack him. We knew he was a pump fake guy, he does it really really well. We still fell for it a couple of times."
The Cyclones reeled off a pair of 80-yard touchdown drives and a 63-yard drive that ended with Assalley's 34-yard field goal with five seconds left in the second quarter.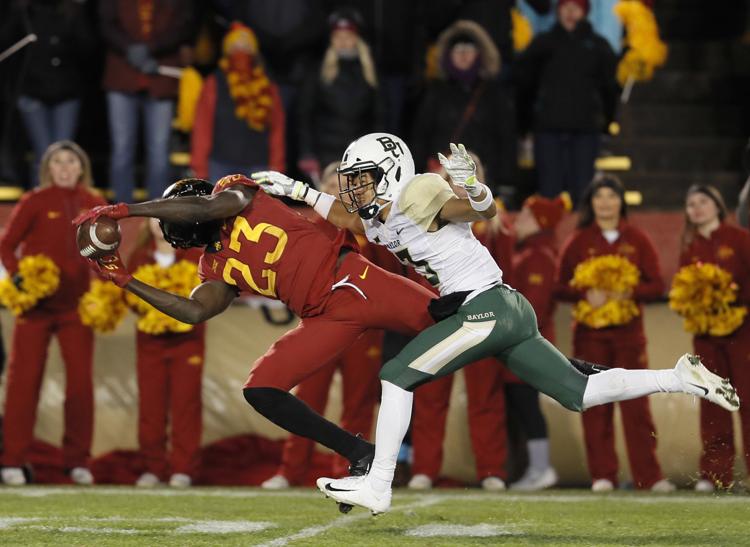 Baylor also produced time-consuming first-half drives and moved into the red zone three times. But the Bears came up empty as Connor Martin missed field goal attempts of 31 and 29 yards.
After taking the opening kickoff, the Bears moved with efficiency as they drove 65 yards and picked up four first downs to march to Iowa State's 13.
But a holding penalty and a sack by Jamahl Johnson and Mike Rose pushed the Bears back to the 31, and Drew Galitz's punt was ruled a touchback after he tried to put it out of bounds at the one.
Iowa State then did what it does best – reel off skillfully executed drives.
The Cyclones moved 80 yards on 11 plays with Purdy firing a bullet over the middle to Jones for an 11-yard touchdown to take a 7-0 lead with 1:47 left in the first quarter.
The Bears answered with another impressive drive by pushing 56 yards. Hurd picked up half of it by dragging Iowa State defenders on a 28-yard catch from Brewer to the 16.
After Brewer missed Mims over the middle on third down, Martin's 31-yard field goal attempt bounced off the right upright early in the second quarter.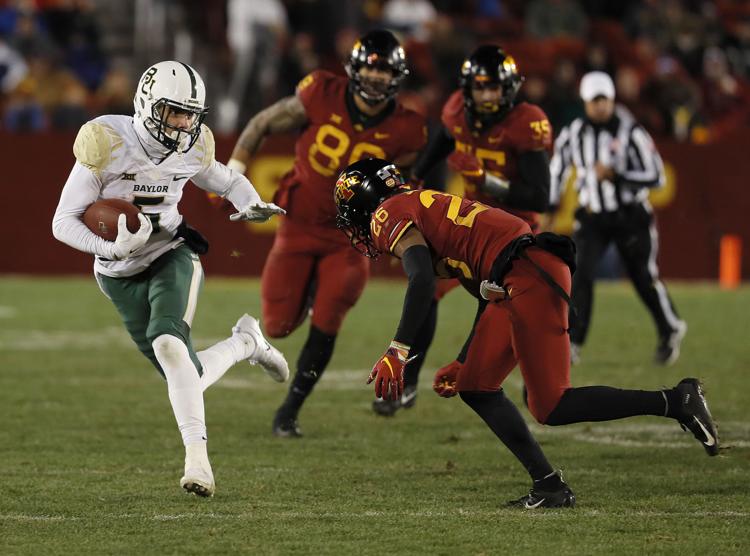 The Cyclones' second drive was just as impressive as the first as they moved 80 yards on eight plays.
Montgomery got it going with a 21-yard run before Purdy completed four straight passes for 42 yards to set up his 2-yard touchdown run with 9:34 left in the first half.
The Bears responded with a 12-play, 66-yard drive. After picking up a first down at the 12, Brewer attempted to hit Marques Jones at the 1. Brewer tried to hurry into the end zone for a touchdown, but the officials asked for a replay of his pass to Jones, which was ruled incomplete.
"I'm under the impression you can't review a play after it's already been run," Rhule said. "They said it had been buzzed. You think when you score a touchdown it's a touchdown."
This time Martin missed a 29-yard field goal attempt wide left with 4:08 remaining in the first half.
Iowa State wasn't through as it drove 63 yards on 15 plays with Assalley nailing a 34-yard field goal with five seconds left in the first half.