MOUNT VERNON, Texas — Standing before a phalanx of reporters following his first practice as Mount Vernon's head football coach, Art Briles said he was excited to be back coaching at the high school level and glad to be back in his home state of Texas.
It has been 39 months since Baylor fired Briles in May 2016 amid the university's sexual assault scandal that involved numerous football players in his program.
Briles coached a professional team in Florence, Italy, earlier this year, but now he's back coaching at the high school level for the first time since 1999, when he led Stephenville to the last of his four state championships.
"It's a true blessing," Briles said. "And it's a blessing for a lot of people, not including myself. A lot of ex-players, a lot of people had belief in me, so I'm just extremely grateful and humbled for Mount Vernon ISD, the school board, Dr. (Jason) McCullough, for giving me this opportunity."
Briles was under consideration for coaching jobs with the Hamilton Tiger-Cats in the Canadian Football League and as Southern Mississippi's offensive coordinator before protests prompted by the controversy surrounding his departure at Baylor ended both possibilities.
"I've just always tried to stay real hopeful," Briles said. "The glass is about three-quarters full instead of half. You've just got to have faith in human nature and humankind, and that's what I've always had faith in. I'm extremely grateful, and these kids were unbelievable today. We weren't very good, but honestly we don't even know their names."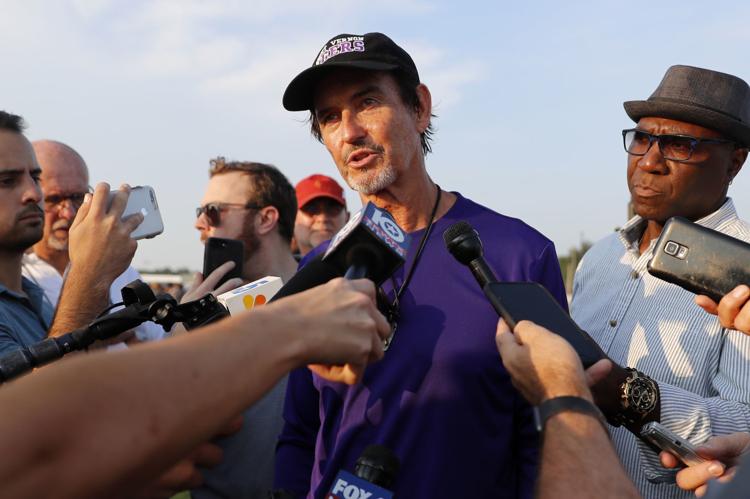 Not only were there about 25 members of the media on hand for Mount Vernon's first practice, the field was lined with about 50 fans from Mount Vernon who are looking forward to the upcoming season for the Class 3A school.
Briles was hired on May 24 at Mount Vernon, a town of about 2,700 midway between Dallas and Texarkana in Northeast Texas.
"I got a text from Leigh Anne Ramsay, who is actually from here," Briles said. "I actually hired her when I was in Waco. So she was in our office with us, and she and her husband moved here. And she just called me or texted me and said, 'Coach, my husband has a question for you about coaching. Will you talk to him?'
"He called and I talked to him, and it was like, would you be interested in coaching at Mount Vernon, Texas? It kind of caught me off-guard. My answer has always been yes. If you ask me, let's go to Abilene Junior High tomorrow, I'd say, let's look at it."
Briles didn't answer questions about the sexual assault scandal, but public relations representative Brett Shipp handed out a press release to the media that supported Briles' case. Baylor reportedly paid Briles $15.1 million to settle his contract.
Shipp also handed out a letter from Baylor general counsel Christopher Holmes from May 2017 that read "at this time we are unaware of any situation where you personally had contact with anyone who directly reported to you being the victim of sexual assault or that you directly discouraged the victim of an alleged sexual assault from reporting to law enforcement or (Baylor) University officials."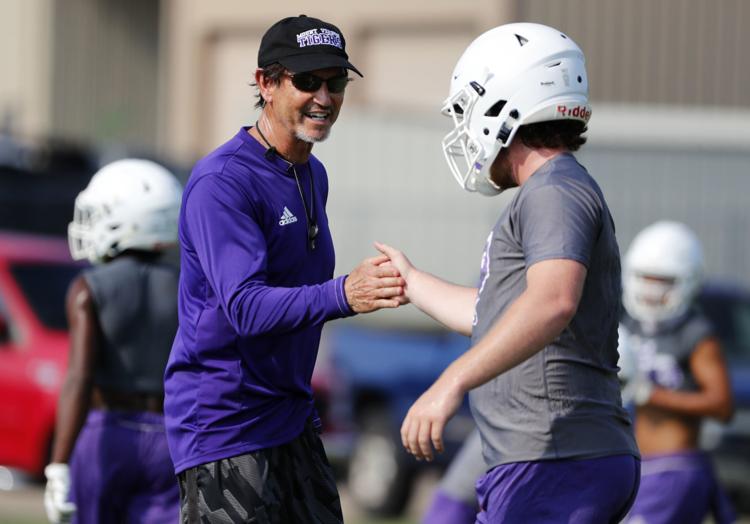 Briles, 63, said he hopes to teach his players lessons from the experiences he gained coaching 20 years at the high school level before becoming an assistant at Texas Tech in 2000, followed by his first college head coaching at the University of Houston.
Briles went 65-37 in eight seasons at Baylor and won back to back Big 12 championships in 2013-14 before finishing 10-3 in his final season in 2015.
"I would want them to be strong and have some perseverance, and don't look around for somebody else to blame," Briles said. "A lot of times if you're pointing a finger you need to be looking in the mirror, and I always stress big me, little we. You've got to do whatever you can do to help the team. So those are important factors that they could carry along with them throughout life."
Briles said he would consider coaching in college again if the opportunity arose. But he said his focus is on making Mount Vernon the best football team it can be this season.
"Yes, I'll coach anywhere," Briles said. "You're not looking at a guy that feels like, oh, I can't do that. No, I'm a football coach. That's what I've always done. It does not matter to me. This right here is as important as any job as I've ever had. That's the way I've always treated any job."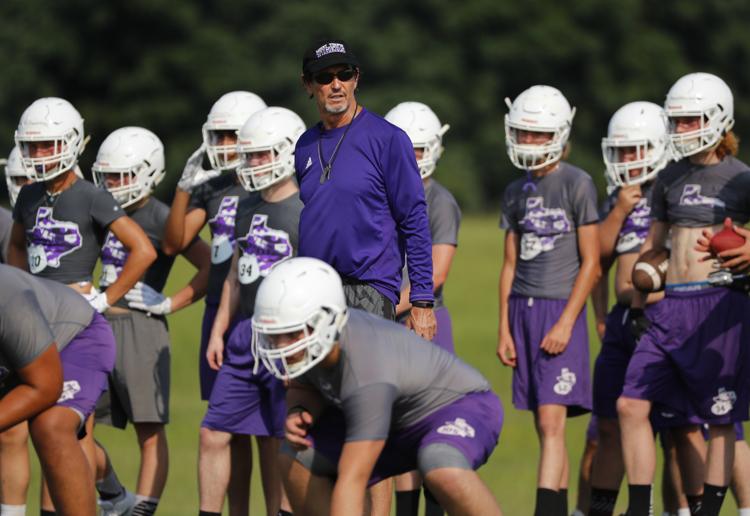 "To be back here with Coach Briles is surreal," Hawthorne said. "I'm extremely happy that there seems to be a lot of support. It's kind of crazy."
Most of the letters that have been published by the Mount Vernon Optic-Herald newspaper have been in support of Briles, and the fans who attended Monday's practice were thrilled to see him coaching the team. They are convinced of his integrity.
"He didn't rape anybody or condone rape or play anybody once they had done something wrong," said Mount Vernon resident Michael Ramsay, a Baylor graduate. "If you ask me, the thing he was most guilty of was that he brought some thugs to Baylor. But to say that he shouldn't coach again is absolutely ridiculous."
Briles will replace Josh Finney, who resigned to take a coaching job at nearby Winnsboro following last year's nine-win season. After running primarily a run-oriented offense last season, it will be a big change for the Tigers to run Briles' spread attack.
Michael Ramsay was at Monday's practice to watch his three sons play, and was joined by his father, Tom Ramsay, a former state representative from Mount Vernon.
"The excitement is high and anticipation is high, and I think success is going to be high," Tom Ramsay said. "We've followed him a lot. He won four state championships. That's what the fans want is a winning team, and in the end to win that last game."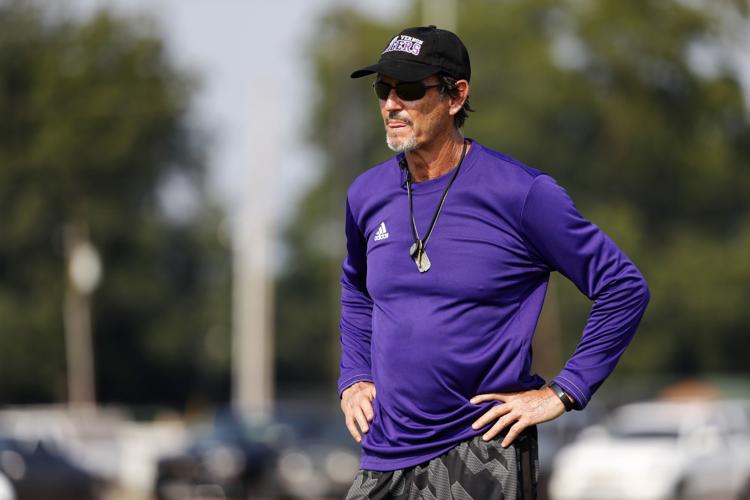 McCullough, Mount Vernon's superintendent, said he was convinced Briles was the right man to coach the team after talking to people who knew him and believed in his innocence in the Baylor scandal.
"We did our due diligence, myself and the board, and our school attorney helped us through that process as well," said McCullough, a former China Spring administrator. "As we talked to people who knew him and had been with him and knew him personally, we took a lot of stock in what they said."
McCullough said he was initially surprised a coach with Briles' resume would be interested in coaching at a small Texas high school.
"When his name came up, to be honest with you, I didn't even know Mount Vernon would even be on his radar," McCullough said. "Thankfully for us he said yes. His career speaks for itself. He's had success at every level that's he's been a part of."