Baylor director of track and field Clyde Hart marvels at how effortlessly wide receiver Chris Platt can make the transition from spring football drills to running the 400 meters.
Three weeks after the spring football game, Platt ran the third leg of Baylor's Big 12-winning 4x400-meter relay team in May. Hart has had few football players who can pull off that feat so smoothly.
"He reminds me a lot of Robert Griffin III, he's a natural," Hart said. "By that I mean he came out of spring football and picked up what the other kids have been doing all year. Chris is a competitor, and he's blessed with talent. To be honest, he's a pretty remarkable young man."
Defensive backs are learning just how deadly Platt's speed is.
In the Bears' 34-20 loss to Duke last week, Platt was the offensive star as he caught third-quarter touchdown passes of 73 and 79 yards from Zach Smith.
Platt showed his versatility as he beat the Duke defenders deep for the first touchdown before catching a short pass and cutting across the field into the clear for the second score.
With 11 catches for 308 yards and four touchdowns, he's been Baylor's biggest threat heading into the Big 12 opener against Oklahoma on Saturday at McLane Stadium. His 28 yards-per-catch ranks sixth in the nation, so defensive coordinators have to be wary of him at all times.
"When you have speed like Platt, a lot of people have to game plan against him," said Baylor football coach Matt Rhule. "I think it makes people play us differently. They have to account for him. The nice thing is that he's beating people on some deep balls, but for him to take a screen and add that element to his game, the catch-and-run play, that means that we have a legitimate weapon."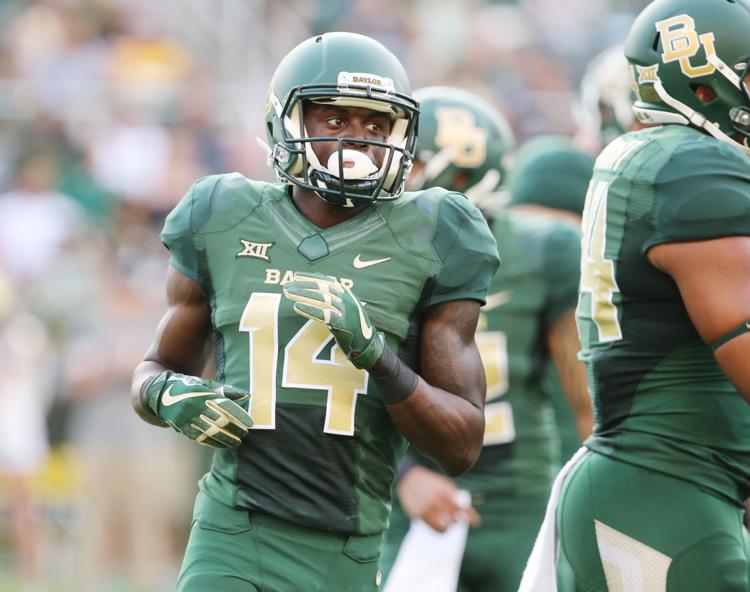 Despite his considerable skills and experience, Platt doesn't see himself as the focal point of Baylor's attack. He believes he's just one piece of the puzzle. Though Baylor's offense has struggled the last two weeks, Platt expects it to be powerful once all the other elements fall into place.
"I know we've got things to fix, but I see a lot of improvement, a lot of guys trying to step up and do what's right for the team," Platt said. "My role is the same as every other receiver on this team, and it's to make a play when your number is called. There's no idealistic 'Oh, we've got to get this person the ball.' When the ball is thrown we've just got to make a catch and get the first down or maybe a touchdown."
The Bears expected Platt to step into a leading role as a junior after KD Cannon and Ishmael Zamora declared for the NFL draft with college eligibility remaining. Platt was Baylor's third-leading receiver last season with 35 catches for 567 yards and four touchdowns.
Since arriving at Baylor in 2014, he's had to patiently wait his turn with receivers like Biletnikoff Award winner Corey Coleman, Antwan Goodley, Jay Lee and Levi Norwood already on board.
"All those guys helped me out a lot," Platt said. "It wasn't intimidating, I just used it as a competitive mindset. I mean they're great but I can be great as well."
One of the biggest reasons Platt chose Baylor was because the coaches allowed him to play football and run track.
Platt's track career at Willis High School, located 50 miles north of Houston, was much more exceptional than his football career. As a freshman in 2011, Willis won the Class 4A 400-meter title with a time of 47.34 seconds. He followed up with 400-meter state titles the next two years, including a blazing time of 46.64 seconds as a junior in 2013.
"I'm still in awe that I won at age 14, and I won by a good 10 meters," Platt said. "It was an eye opener, being a freshman. It didn't hit me until that last curve that I could actually win this thing, and I did."
Willis used Platt at multiple positions on the football field as he finished with 817 all-purpose yards and seven touchdowns as a senior. Not only did Platt catch and run the ball, he also returned kicks and punts and played defensive back at Willis.
"They were keying on me, so a lot of other people got open," Platt said. "I was fast, so they double and triple covered me. I also helped out on defense, played safety and corner. I liked flying around."
Though Platt excelled at track and football, basketball was his favorite sport in high school. He played point guard and could easily dunk the basketball.
"The first time I dunked was in eighth grade," Platt said. "A lot of people didn't think I could do it. It was during offseason after athletics. I had a ball in there, and everybody was waiting for the bell to ring for the next period. So I grabbed the ball and dunked it. Everybody flipped out."
Platt ran for the Baylor track team before seeing his first game action on the football field. After redshirting in football in 2014, Platt ran in a pair of meets with the 4x400-meter relay team in 2015.
He was the third leg in a second-place finish for the 4x400-meter relay team at the Drake Relays with a time of 3:06.87. He ran the second leg at the NCAA Outdoor Championship for Baylor's relay team that finished 13th in the prelims with a time of 3:06.93.
During his redshirt freshman year in 2015, Platt caught 11 passes for 155 yards and a touchdown, and also recorded the fourth best kickoff return average in school history with an impressive 27.6 yards on 13 returns.
Last season, Platt enjoyed a lot of memorable games and played a key role in Baylor's biggest win of the season when he made three catches for 114 yards and two touchdowns against Oklahoma State. His 89-yard touchdown catch from Seth Russell was the longest of his career.
After sitting out the 2016 track season, Platt returned last year and was thrilled to be a part of Baylor's Big 12-winning 4x400-meter relay team with Wil London, Maxwell Willis and George Caddick. They recorded a time of 3:04.60 in the outdoor track meet in Lawrence, Kan.
"It was fun, a good experience, something I'll never forget," Platt said. "I love to go back to that day. I have everything framed up in my home right now. It was nice to be an All-American and win the Big 12 4x400 relay. I worked my tail off to get to where I needed to be. Clyde Hart is a great coach. It's amazing to be coached by an Olympic 400-meter coach."
The 4x400-meter relay team finished 10th in the semifinals of the NCAA meet in Eugene, Ore.
Hart believes Platt's track and field workouts have helped him become a better football player. Last spring, Platt worked out with the track team on days that he didn't have spring football before focusing completely on track following the spring game.
"I think we improve his speed and endurance," Hart said "A wide receiver can have a lot of speed, but if he doesn't have it in the third or fourth quarter it doesn't do any good. One thing is his speed is deceiving. He's got such a fluid running style that it probably helps in football. Defenses don't realize how fast he's running, and he's so smooth that he can accelerate in a hurry to get open."