ARLINGTON — Baylor coach Matt Rhule has deep ties with former Temple University assistant coach Ed Foley, and is excited he's joining Baylor's staff as an off-the-field analyst.
Foley formerly coached under Rhule at Temple before he became Baylor's head coach in December 2016. Foley was entering his 12th year at Temple, where he had been special teams coordinator. But he told the Philadelphia Inquirer that new Owls head coach Rod Carey had removed him from on-the-field coaching.
"He's one of the best special teams coaches in the country," Rhule said. "He was one of my assistant head coaches and my recruiting coordinator. He was director of football operations. He's just someone I trust and respect, and someone I know will tell me when I'm wrong. I think he'll bring a lot to us from a football perspective."
ARLINGTON — Baylor made one of the most dramatic turnarounds in the nation last season as it jumped from one win to seven.
Rhule: 'I didn't fly anywhere'
Despite interest from NFL teams during the last two offseasons, Rhule said he and his family are happy at Baylor and are enjoying living in Waco.
Rhule was reportedly interviewed by the Indianapolis Colts following the 2017 season and the New York Jets following the 2018 season. It remains to be seen whether Rhule will stay at Baylor long term, but he said it's currently a good fit for him.
"When you're successful, people say he's going to move on," Rhule said. "What I say to people is it's been two years and a couple of NFL teams, and I'm still here. I didn't fly anywhere. They flew to Waco.
"(Duke coach) David Cutcliffe gave me a piece of advice. He told me (former Penn State coach) Joe Paterno told him to find a school that you fit at and stay there. Baylor fits me. The town of Waco fits me, my kids are really happy. I don't know how long any coaches will be anywhere, but for me this is the right place now."
Getting the band back together?
It's the most talked-about game not on the college football schedule. It's been that way for eight years now.
That would be Texas vs. Texas A&M, of course. The Aggies and Longhorns have not met since 2011, the last year A&M was still in the Big 12 before leaving for the SEC.
So, it's a reality show. We'll cast Tom Herman in the starring role, with Sam Ehlinger and the rest of the Longhorn players filling supporting roles. The proposed name of the show is, "Is Texas For Real?"
But for fans and the media, the rivalry never really died. Neither school has plans to play the other in any of their upcoming schedules, but for his part Texas coach Tom Herman said he'd be in favor of a Longhorn-Aggie reunion.
"I'd love to see the rivalry renewed," Herman said. "I think it's great for college football. It's great for Texas. … It would be great for Texas fans. We don't play a historic rival at home anymore, ever. We've got to drive to Dallas to play our lone remaining historic rival (Oklahoma)."
Texas and Texas A&M officials reportedly discussed a future meeting last summer, but the Aggies turned down a 2022-23 series because they already had Miami on the schedule.
On Tuesday, Herman essentially took the "that's above my pay grade" approach when considering how to get a game with A&M done.
"I don't know what needs to happen, because I don't know what happened in 2011," the coach said. "I wasn't in those meetings. But I do think we've got some really smart people in both universities' administration. We could find a way to make that game happen."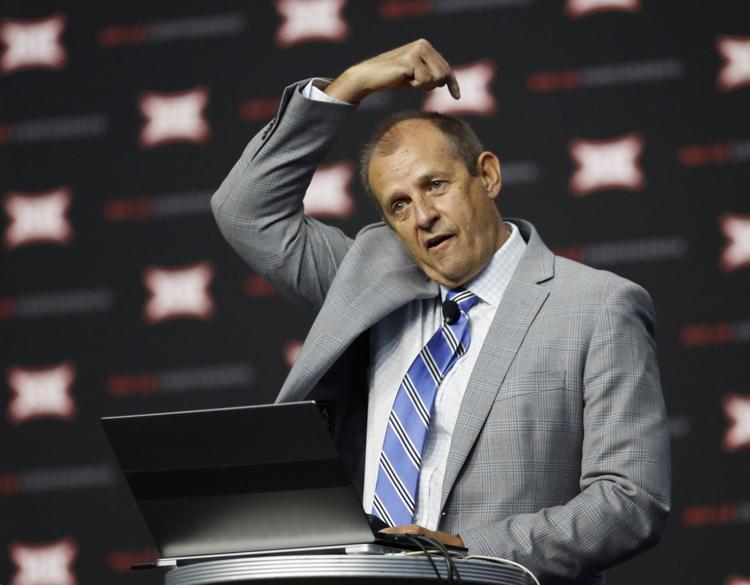 Keep your hands to yourself
If you're playing Texas, it's almost a reflex.
Score a touchdown against the Longhorns, flash the "Horns Down" hand signal.
But could such a gesture draw a flag in a game? Well, maybe.
"The answer I will give you is, it depends," said Greg Burks, the coordinator of Big 12 officials. "It's like any unsportsmanlike act. If somebody scores quickly, turns to their cheering section, and it's quick and they move on, we're not going to do anything with that.
"If it's to a bench or to another player, and it's prolonged, it would be an unsportsmanlike act."
Burks called it a "hot topic" after the situation arose in a couple of Texas games last year. One such instance occurred when then-West Virginia quarterback Will Grier flashed the symbol to the Texas student section after scoring a late-game two-point conversion.
"That probably would be a foul in that situation," Burks said. "When we discussed it, by rule, anything that's prolonged to bring attention to the individual rather than the team is a foul."