---
Baylor's 2016 class began when Grandview quarterback Zach Smith verbally committed 20 months ago and finished when La Vega cornerback Parrish Cobb switched from Oklahoma on the eve of signing day.
Most important to Briles was the Bears signed highly ranked players that filled needs at positions across the board.
"Nearly every one of these guys had multiple, multiple opportunities to go somewhere and lot of them came down to the last two or three days," Briles said. "We signed arguably the best class in Baylor history and certainly the best we've signed since we've been here. They really hung tough with us. By 9:07 a.m., we had all our commitments signed and accounted for."
The class is the fruition of the Bears' success on the field as they've gone 50-15 over the past five years while winning back-to-back Big 12 championships in 2013-14.
Briles believes it's the type of class that can help Baylor compete for a national championship.
"This is a high class," Briles said. "We're going to win Big 12 championships, but we're looking for the national title, too. That's kind of where we're at.
"We're getting to the level where we're becoming a power not only on the football field but off the field in recruiting on the national level. It's a good thing for Baylor and a scary thing for everybody else."
Hauling in Cobb at the last minute topped an already outstanding class for the Bears. Cobb, one of the top cornerback prospects in the nation, chose to stay home instead of heading north to play for the Sooners.
"It came all the way down to the wire," Cobb said. "I was committed to OU for a long time, but Baylor felt most like home, ironically speaking. It's a good feeling to be committed to one of the top schools in the nation. It's a big weight lifted off my shoulders from all the recruiting."
Briles compared signing Cobb to getting Midway safety Ahmad Dixon in 2010 and Waco High defensive lineman Andrew Billings in 2013. Cobb was named Tribune-Herald Super Centex defensive player of the year.
"Parrish Cobb could have gone anywhere in America and stayed home," Briles said. "To me that's a monumental testament to our program and Waco, Texas, and Baylor."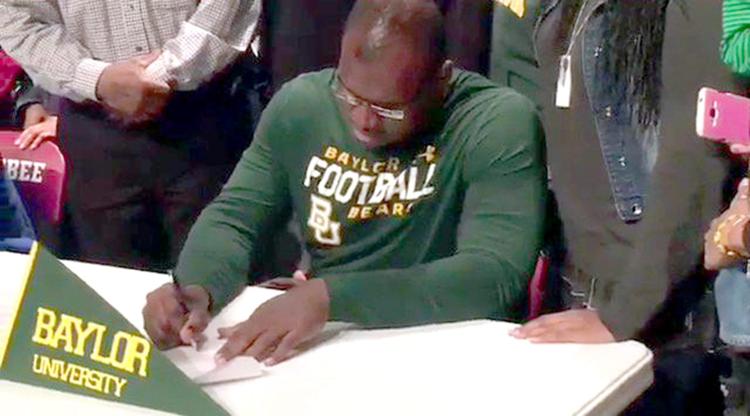 Hanging on to Silsbee offensive lineman Patrick Hudson was another coup for the Bears after the Texas Longhorns made a late push for him. But Briles said he was never worried about the 6-4, 325-pound Hudson switching after he had committed to Baylor in July 2014.
"He never, ever wavered from us in personal conversations," Briles said. "So throughout this whole process, as everything was kind of unwinding over this past month, we were all on the same page with what was going on from an internal standpoint. I really applaud him because of the outside pressures that he was going through, for staying extremely loyal to us in an extremely volatile situation in the recruiting world."
Hudson is one of the top offensive linemen in the country and one of the strongest.
"We signed the strongest guy in America, which we did three years ago when Andrew Billings signed," Briles said. "I've seen a lot of football players in high school over a 37-year career. He's one of the best guys I've seen in a football uniform. I'm extremely excited about him, and the strength he brings is an asset to our football team."
Hudson is among three offensive linemen in this year's class as he joins Copperas Cove's J.P. Urquidez and Coffeyville (Kan.) Community College's B.J. Autry. A NJCAA All-American, Autry is a spring semester enrollee who could step in immediately since the Bears lost four senior starting offensive linemen.
"J.P. is 6-7 and 297 pounds and has a tremendous upside and a great body, great intelligence and great vision," Briles said. "B.J. Autry is a freaky guy, the No. 1 ranked inside guy in America in junior college, and he's already on campus."
Baylor signed four receivers in this year's class, including Sachse All-American Devin Duvernay, record breaking Navasota receiver Tren'Davian Dickson, Mesquite Horn's Jared Atkinson and Daingerfield's Denzel Mims.
Duvernay is the Class 6A 100-meter champion who was clocked at 10.27 seconds last year. Dickson, who is already enrolled at Baylor this semester, holds the Texas schoolboy record with 76 touchdown catches in three seasons including 39 as a junior in 2014.
"Devin Duvernay is the fastest football player we've ever signed, and we've signed some fast ones," Briles said. "Tren Dickson is a great receiver. There have been a lot of guys chasing the ball the past 100 years and he's done it more and better than anybody else according to the stats."
Briles brought in just one quarterback and one running back, but they're among the top rated players in the state at their positions. Grandview quarterback Zach Smith, who is already enrolled at Baylor, passed for 3,877 yards and 46 touchdowns as a senior. Kam Martin is a versatile running back with tremendous speed.
Those were the first two players who committed to Baylor in 2014 and set the tone for the rest of the class.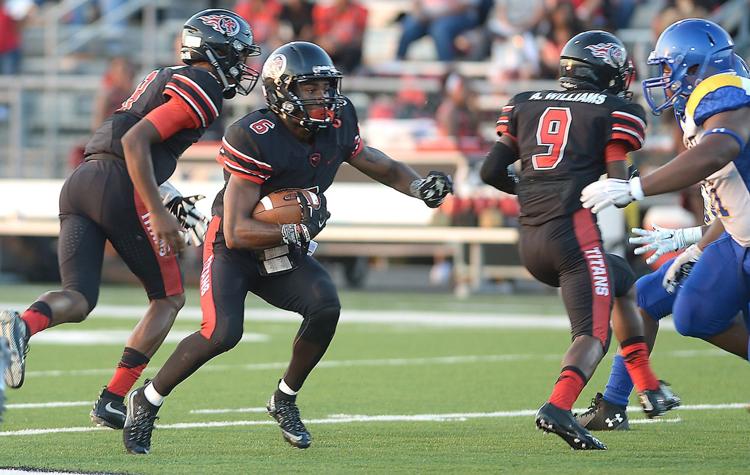 "It was huge getting those guys early because it certainly creates momentum," Briles said. "Kam's been tremendously loyal to us through this whole process and could have anywhere in America. Coaches getting jobs were calling him right on the spot, trying to get him to be their first signee."
With Baylor's entire starting defensive line gone, five new linemen have been brought into the fold.
Highly-touted defensive end Brandon Bowen of Trophy Club Byron Nelson High School tops the list. Ranked No. 3 nationally among defensive ends by Rivals.com, the 6-4, 235-pound Bowen won the Class 6A high jump with a leap of 6-7 last year and has a top jump of 6-9.
"That's a little unusual for a guy that big to jump that high," Briles said. "He's also potentially a 24-foot long jumper. He's a big, long outstanding athlete that we're really, really excited about."
Bowen is joined on the defensive line by Spring's Bravvion Roy, Fort Bend Hightower's Micheal Johnson, Kilgore College's DeQuinton Osborne and Garden City Community College's Jeremy Faulk.
"DeQuinton is a guy we have to have come in and give us some immediate help, and he has the ability to do that," Briles said. "Jeremy is a big, physical guy who is a really high motor guy. He's extremely fast. Very few times is a guy better than advertised, but he's one of them."
Baylor signed only one linebacker, but Briles believes he picked up a good one in Prestonwood Christian Academy's Deonte Williams.
But the Bears brought in six defensive backs, including Cobb, Kountze's Grayland Arnold, Lancaster's Kenan Ivy, Frisco Lone Star's Chris Miller, College Station's Rajah Preciado and Frisco Centennial's Raleigh Texada. Donovan Duvernay, the twin brother of Devin, could play defensive back or receiver.
Texada is the younger brother of TCU defensive back Ranthony Texada.
"Of course his brother plays at TCU, so it's a great family," Briles said. "I told him I didn't want any mixed shirts at his signing today. Today they can all be green. It's his day. It's a fun deal for them. He's a tremendous athlete."