During his first two seasons at Baylor, Marques Jones took considerable pride in playing the roles of some of the best receivers in the Big 12.
One week he'd act like Oklahoma's Sterling Shepard, another week he'd be Oklahoma State's James Washington. As a Baylor walk-on, imitating those receivers was Jones' job on the scout team. One day, he hoped to play on Baylor's special teams in live game action.
With a 3.98 grade point average in electrical and computer engineering, Jones' destiny wasn't going to be shaped by how he performed on the football field. He wants to work for Tesla someday, designing hybrid cars or doing projects in the solar energy field for the California-based company.
But from those obscure beginnings on the scout team, Jones has worked hard enough and impressed his coaches so much that he cracked the starting lineup and is contributing to a loaded Baylor receiving corps as a fourth-year junior.
"It's really surreal," Jones said. "When I came as a walk-on, I was really like, oh maybe I'll get to run down on kickoffs when I'm a senior or something. To actually be out there and starting as a receiver is like a dream come true."
Baylor coach Matt Rhule was so pleased with Jones' development since last season that he put him on scholarship this fall. As a former walk-on at Penn State, Rhule has a special affinity for walk-ons. But he didn't put Jones on scholarship because he could tutor teammates having trouble in math.
What Rhule sees is a fast, talented receiver with the potential to play in the NFL someday. Through the first five games this season, Jones has made eight catches for 88 yards and a touchdown.
"I know he wants to be a rocket scientist at Tesla someday, that's his goal," Rhule said. "But I also want him to have first-team all-Big 12 as a senior goal. I think he can achieve a lot of his goals because he's so fast and so talented and so unselfish. Marques Jones is a guy who one day we will look up and he will be playing for the (New England) Patriots. He is everything that is right about football."
Jones said he's not actually planning to become a rocket scientist. But he's been such an exemplary student all his life that he could excel in any field he chooses.
"I do want to go work for Tesla," Jones said. "One part of Tesla is working on cars, but they also do solar roofing and produce batteries. I like how forward thinking Tesla is. I guess we're getting close to an energy crisis, so we're starting to run out of oil. They're trying to commercialize electric vehicles, and that's super cool. But I wouldn't have a problem working for SpaceX either."
Jones said he's currently taking an electric and hybrid vehicles class that has stirred his interest in that industry. He's on track to earn his undergraduate degree next spring and plans to enter graduate school in electrical engineering next fall as he completes his football eligibility as a fifth-year senior.
"I've never really been a great car person, so I never knew a lot about actual cars," Jones said. "So taking this class I've been super passionate about it. Another cool class is called Junior Design. We get a group of engineers and we have a project where we build a robot. That's really cool and we compete at the end against all the other groups in our class."
Juggling football and difficult classes is demanding. After football practice ends, Jones studies about three hours every night, and sometimes more if a test or project is coming up. Jones' only B at Baylor has been in Calculus III.
"That was a bummer, but I probably deserved the B honestly," Jones said. "I was a little lazy doing homework in that class and it caught up to me."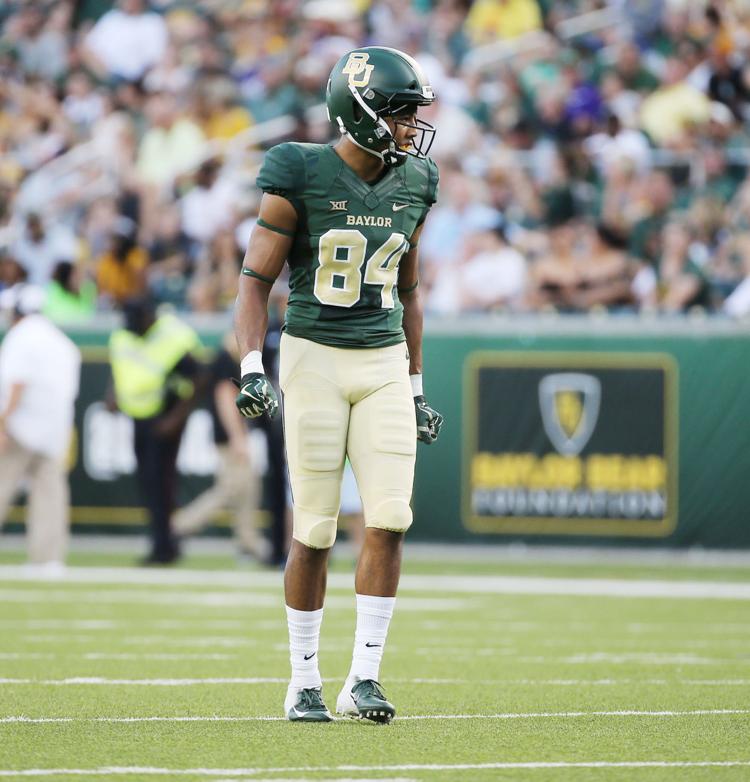 Learning has always been a passion for Jones, who was raised in a single parent household by his mother, Amy Jones. Though she stressed the value of education, she never had to push Marques or older sisters LaKeisha and Dallas to study.
LaKeisha is an Ohio State graduate living in San Francisco who plans projects for events like World Cup soccer, while Dallas is a Texas Tech graduate who teaches second grade in the Metroplex. Amy is an executive ministry assistant at Crosspoint Church in McKinney.
"Marques was always very self-motivated," Amy Jones said. "In kindergarten, he was already reading at a second or third grade level. He was a gifted and talented child, but I also wanted him to do as many extracurricular activities as he wanted."
Marques got a B in only one class at McKinney High School. A physics class during his senior year broke his string of A's.
"I was like 'Wow, I was so close to the end,'" Jones said. "I've always enjoyed learning. When I was in elementary school, my mom would always have me sit down and do my homework before I watched TV and play video games and stuff like that."
Jones was such an exceptional student that he was recruited by Harvard. He attended one of Harvard's football camps, and coach Tim Murphy was excited about the possibility of getting him to play in Cambridge, Mass.
"We went to the Harvard football camp, and he took us in his office and told Marques, 'You're the surprise of camp,'" Amy Jones said. "Then he said, 'I notice you got a 32 on your ACT. Can you get it up to 33?' Marques said, 'Sure, I can do that.' I asked him how he knew that, and Marques said he knew what he missed. So he took the test again and got a 34. Perfect is 36."
Marques was excited about the possibility of playing football at Harvard and getting an Ivy League education, but he wasn't accepted at the school.
"I was a little disappointed because it would have been super cool to have that Harvard degree hanging on your wall," Jones said. "But I guess it's all part of the plan, so now I'm here. I grew up Baptist, so I thought a Baptist University would be a very good fit for me."
Though Jones was lightly recruited out of high school, he was a good athlete. Not only did he play safety for the McKinney football team, he competed in the long jump and triple jump while also running in the 100 and 200 meters and on relay teams. He said his best time in the 100 was 10.89 seconds.
Jones wanted to play receiver at Baylor and joined a group that included Biletnikoff Award winner Corey Coleman in 2015. He honed his skills by being around great receivers at Baylor and watching how some of the Big 12 stars like Shepard and Washington performed when he was imitating them on the scout team.
"We'd have like little scout team meetings and watch film on them," Jones said. "When they ran a route we'd try it. We tried to give our defense the best look we could. The receivers we play in this league are all very good in their own way, so there are some little tricks and tips you can pick up."
After not seeing any game action as a redshirt freshman in 2016, Jones began to make his mark on special teams last year. Rhule also liked the potential Jones showed at receiver as he made three catches for 35 yards.
Jones was thrilled when Rhule put him on scholarship at the end of preseason camp this summer. Though Jones had academic scholarships, he still had to take out loans to pay for his Baylor education.
"It was really exciting," Jones said. "Being a walk-on is kind of hard, so it's nice to see if anyone is noticing your hard work."
Jones said his mother began crying when he told her he had earned a scholarship. She knew how much it meant to her son and the sacrifices he made to earn it.
"Marques had been praying that he'd get a scholarship, and that's why he was so emotional," Amy Jones said. "I'm absolutely in awe of my son for all he did to earn a scholarship. He had to work so hard because there's so much talent there. He was also doing research for an engineering professor at the same time in the summer."
With a 6-2, 205-pound frame and 4.38 speed in the 40-yard dash, Jones has all the measurements to play at the college level. He doesn't look out of place in a receiving corps that includes talents like Denzel Mims, Jalen Hurd and Chris Platt.
"He's seeing now he can really do something in football," Rhule said. "He makes catches and is doing his job and he's making plays. He works hard, he's unselfish, he blocks. I think the biggest thing now is production is starting to happen. I think his goals are getting higher and higher. That's all I want from our players is to set your goals really high."
Picking up tips from the coaches and his fellow Baylor receivers, Jones is learning more of the nuances of his position. He's become a more precise route runner and a focused and knowledgeable receiver.
"I've definitely learned basics like route running and that kind of stuff, but also like more advanced stuff like my knowledge of the game," Jones said. "They really stress identifying defenses here. That's really something I didn't do in high school. So now I can look out and know what coverage it is and I can adjust my route based on that."
Though Rhule thinks Jones has NFL potential, he's so tuned into this season that he hasn't put a lot of thought into his football future. Classes and football are so time consuming that Jones doesn't want his focus to stray.
That kind of mindset has not only made Jones a remarkable student, but also as a player who is making his contributions felt on the field. He realizes he's just beginning to touch his potential.
"Coming here four years ago I was like a little baby," Jones said. "Now I'm like a slightly grown up baby."