Coaching one of the deepest positions on the Baylor football team, wide receivers coach Frisman Jackson can't help but smile when he thinks of all the possibilities.
The Bears have great speed with guys like Chris Platt, Tyquan Thornton and Josh Fleeks. They can go big with 6-3 Denzel Mims, Jared Atkinson and Yusuf Terry. There isn't a more cerebral guy on the team than Baylor engineering student of the year Marques Jones.
"I feel really good about the depth that I have, the group that I have," Jackson said. "The guys are out there competing. Denzel's leading. Tyquan, Platt, having him back is big. Marques Jones is playing well. I told them, I'm just trying to find eight guys that can go out there and compete and we can roll through and there's not a missed beat with any guys that are out there."
After the San Francisco 49ers picked Jalen Hurd in the third round of the NFL draft, senior Denzel Mims is expected to lead the Baylor receivers.
Mims was the Bears' top receiver as a sophomore in 2017 with 61 catches for 1,087 yards and eight touchdowns, but his numbers dropped to 55 catches for 794 yards and eight scores last year as Hurd often became the go-to receiver.
"This is his last run, and he has to get it done," Jackson said. "And I think he will. I just see a renewed sense of energy in him, passion, something that I didn't see when I got here last year out of him. I'm seeing a guy that knows he's the alpha dog and he's acting like it so far this camp."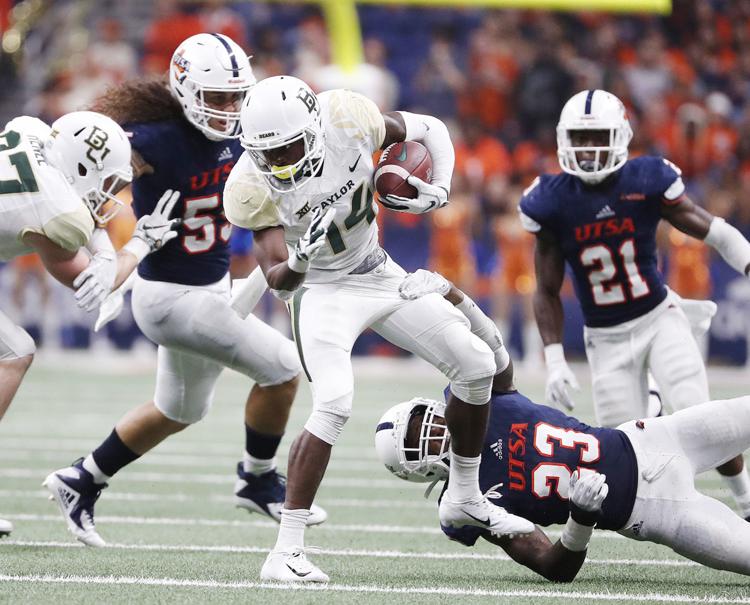 The Bears got a bonus when the NCAA granted Platt a sixth year of eligibility after he missed the last eight games of 2017 with a knee injury. An All-American for Baylor's 4x400-meter relay team, Platt hopes to improve his production on the football field after making 36 catches for 511 yards and a touchdown last season.
"I joke with Chris, I'll say he's been here about 10, 15 years," Jackson said. "He's a vet. He's running around, he's flying around. He's been way more vocal in the meeting room. He came back because he wanted an opportunity to win a championship, he wanted an opportunity to compete. He wanted an opportunity to help himself put some good tape on film to get an opportunity to play in the NFL."
A former walk-on, Jones made 21 catches for 242 yards and two scores last season, and now thinks of himself as a senior leader instead of a guy just trying to earn a scholarship.
"When I first got here, I was just trying to blend in," Jones said. "Now being one of the older guys and trying to set those examples, I try to lead the young guys in the right way and on the right path."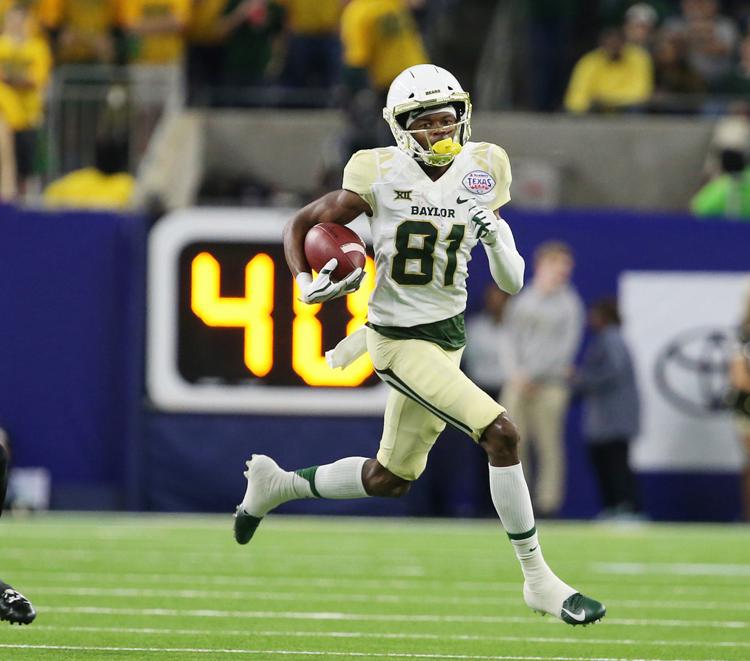 Both Thornton and Fleeks showed great promise as freshmen last season, and now they're fine tuning their games to take the next step in their development.
"They've got to continue to develop, continue to do things the right way, how we want them done here at Baylor," Jackson said. "And they're doing those things. If they continue to develop and continue to be accountable and continue to do the things that we want them to do as a program and as an offense, they have a bright future ahead of themselves."
Jackson said sophomore R.J. Sneed is having a phenomenal camp. He's also been impressed by Terry, a true freshman from Imhotep Institute Charter High School in Philadelphia. At 6-3 and 183 pounds, Terry will likely add weight to his frame in the future, but he's already made an impressive introduction.
"Yusuf has had a heck of a camp as far as catching the football," Jackson said. "He's fast and he's moving around, he's doing some really good things. His biggest thing is he's got to learn what to do. I can't be on the field yelling to him, 'Hey, you've got a curl, you've got a comeback.' He's got to put time in outside of the meeting room."
Now a junior, Atkinson has a chance to make a bigger impact this season while redshirt freshman Jackson Gleeson brings speed and good skills to the receivers room.
All the receivers are benefiting from junior quarterback Charlie Brewer's experience and savvy.
"I'm excited about where he's at and the leadership he shows, not only our room but within our team," said Baylor quarterbacks coach Glenn Thomas. "At the end of the day, he just needs to be who he is and make plays. The more comfort level he has within the team, then he'll make his mark on the team, however that might be. I think he's done a tremendous job, not only on the field with his actions, but speaking vocally when he needs to."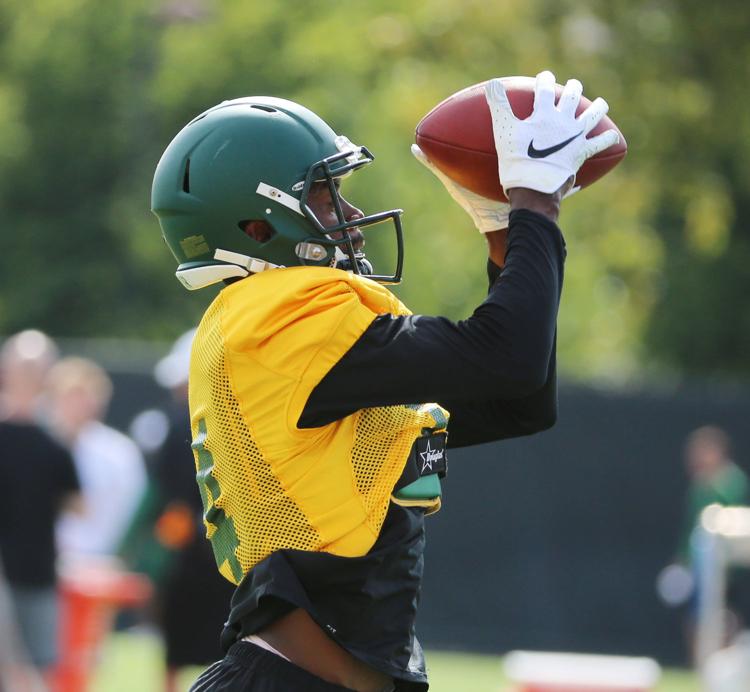 While Jackson was pleased with how his receivers blocked downfield last season, he wants them to help Brewer by eliminating dropped passes.
"I thought that was one of the biggest hamstrings that we had was we didn't catch the ball consistently like I like," Jackson said. "So we did some things this summer, we do some things after every practice and before every practice, so hopefully these things come to fruition.
"Catching balls on the JUGS, we did that last year, but they have a routine about how they're going to do it. We're catching tennis balls after every practice. We have a little circuit that we do every single day, and those guys have been doing that at a really high level, and we're starting to see the results on the field."
Baylor coach Matt Rhule has added extra motivation by awarding gold jerseys in practice to productive offensive players. Players wearing gold jerseys are designated as starters, but that can change from day to day.
"Fleeks made a couple plays here at practice, and he was coming back to the sidelines like, 'Can I get a gold jersey?'" Jackson said. "I'm glad Coach Rhule decided to do that. The defense has the black jerseys, we have the gold jerseys. And guys can go out there and look and say, 'Hey man, I'm not one of the gold guys yet, I've got to work my butt off to get there.'"