In the aftermath of a thrilling 45-38 win over Vanderbilt in the Texas Bowl, Baylor's excitement was there for everybody to see.
Quarterback Charlie Brewer proudly wore a black cowboy hat that he earned by winning the game's MVP. Running back Trestan Ebner was all smiles after delivering his best game of the season, including a clutch 75-yard touchdown reception in the fourth quarter.
Baylor coach Matt Rhule gushed praise on his team for its poise in the down-to-the-wire finish. It was certainly a big moment for his second-year program because it gave the Bears a 7-6 record, but Rhule had even more reasons to smile after he studied the stat sheet.
All the 668 yards the Bears gained on that Dec. 27, 2018 night were by players who would be returning this season.
With Brewer and an explosive crew of receivers and running backs again in the lineup, the Bears have a chance to put a more dynamic offense on the field. Baylor's offense is filled with upperclassmen who know Rhule's system and now have the experience to play at a high level every game.
"We have a lot of veteran guys, seniors who have done a great job implementing our brand, what kind of football we want to play," Brewer said. "I think that's trickled down. We've had a lot of guys who are capable of playing in big time games. We're definitely excited to be back out there."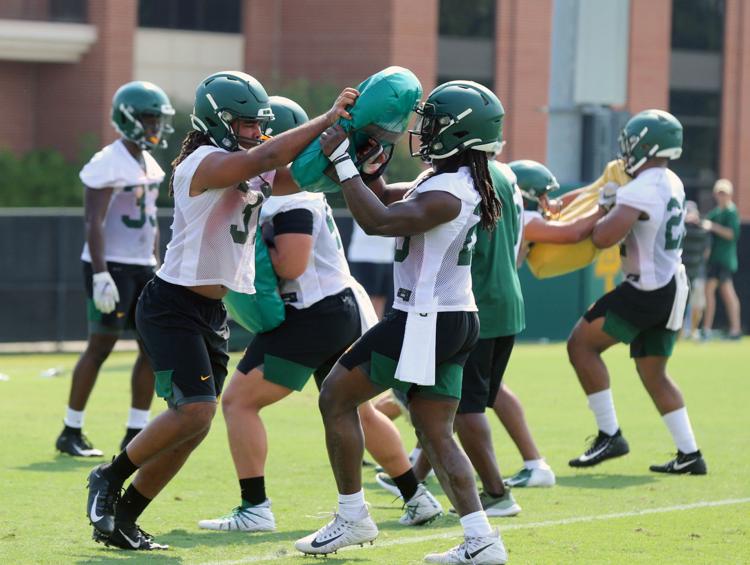 After watching the second day of preseason workouts Saturday morning, co-offensive coordinator Jeff Nixon could see that his players had a greater understanding of the offense as they fine tuned their skills.
"We've accomplished a lot," Nixon said. "We're starting to get rolling. It feels good to be back out here on the grass and practicing, getting ready for the season. There's been a lot of juice from our offensive guys the first two days of camp, and I'm pleased where we're at right now."
Baylor's offense put up good stats last season by averaging 459.1 yards and 29.5 points per game, but the returning players expect bigger numbers this season.
A few weeks back, Matt Rhule celebrated his 20th wedding anniversary with his wife Julie. It was a special night out, back in their old stompi…
For the first time in his three seasons at Baylor, Brewer comes in as the established starting quarterback after completing 61.5 percent for 3,019 yards and 19 touchdowns while rushing for 375 yards and seven scores as a sophomore.
Brewer was at his best against Vanderbilt as he hit 21 of 34 passes for 384 yards and two fourth-quarter touchdowns while rushing for 109 yards and a score. Nixon expects Brewer to build off last season as he enters his junior year.
"It is different because we're looking for Charlie to be one of the best quarterbacks in the Big 12," Nixon said. "We're looking for him to take that next step because he's definitely capable of it. We've got some depth behind him, but Charlie's definitely our leader and we're expecting a big season out of Charlie."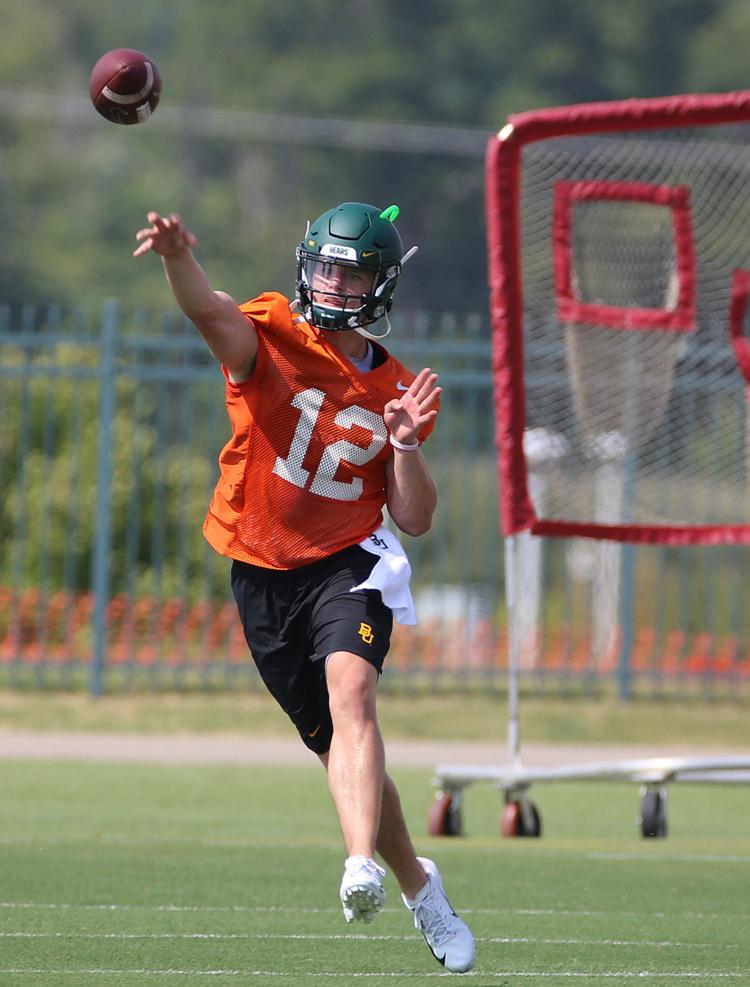 Brewer made a lot of plays with his feet, but Nixon hopes he won't be running for his life so much this year. Brewer often had to scramble to create plays because Baylor's protection broke down as the offensive line allowed a Big 12-high 39 sacks.
Baylor's offensive line returns a trio of starters in right guard Sam Tecklenburg, right tackle Johncarlo Valentin and left tackle Connor Galvan, while veteran center Jake Fruhmorgen and left guard Xavier Newman are expected to complete the starting lineup.
Nixon expects the offensive line to play more consistently this year and develop better depth.
"When we first got here, there were about six or seven scholarship offensive linemen," Nixon said. "Now we've got about 15 or 16 guys, a lot of competition up front for the guard and tackle and center positions. We've worked very hard fundamentally on our offensive line, their pass-pro sets, and then we're going to have some schemes hopefully to be able to get the ball out of (Brewer's) hands and avoid those big hits."
The Bears feature a veteran backfield that includes Ebner, John Lovett and JaMycal Hasty. The Bears averaged 169.1 yards rushing per game last season with Lovett leading the backfield with 573 rushing yards.
With so much competition in the running back room, Ebner and his backfield mates know they can't take any days off.
"No sir, you can't relax," Ebner said. "An off day is another guy's blessing. So I just try to go in with the same mentality every day. You can't let the fatigue catch up to you at practice and all these long meetings. You've got to come in focused and you can't worry about the rest of the world."
While all three veteran backs will get their share of carries, Nixon would like to see one player emerge as the go-to back.
"I would like for one guy to be the guy, but we just have so much depth," Nixon said. "We've got a couple guys who I really feel confident in. You're going to see all three of them every single game. And guys like Abram Smith and Craig Williams once he gets healthy, and our freshman backs, we have a lot of depth at the position, a lot of guys that I feel confident that they can go in and make explosive plays for us."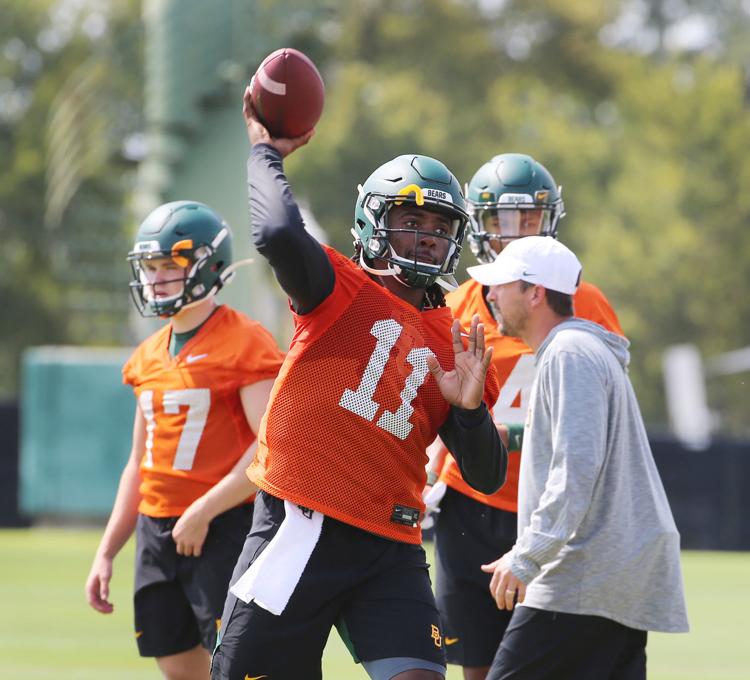 While the Bears will miss gifted receiver Jalen Hurd who was a third-round pick by the San Francisco 49ers, rangy senior Denzel Mims should be one of the top receivers in the Big 12 after making 55 catches for 794 yards and a team-high eight touchdowns last season.
Mims will be joined by sixth-year senior Chris Platt who made 36 catches for 511 yards and a touchdown last season and senior Marques Jones. Young receivers like Tyquan Thornton, Josh Fleeks and Jackson Gleeson are expected to contribute heavily.
"Jalen (Hurd) was a big part, especially our third-down package last year," Nixon said. "Some guys have to step up. I think Denzel Mims, this is his senior year, I'm looking for him to put it all together and be one of the best receivers in the conference. Last year, he caught a lot of balls on third down. And then Josh Fleeks and Chris Platt, who kind of have big shoes to fill replacing Jalen, but they're definitely capable."
With so much depth across the board, Baylor would likely be able to withstand some injuries throughout the season. But with inexperienced Gerry Bohanon and Jacob Zeno backing Brewer, quarterback is the one spot the Bears can't afford a major injury. The Bears know their season is riding on Brewer's health.
"He's the guy and he knows that we all have his back," Ebner said. "I think he just comes in with confidence knowing that we've got his back, no matter what."
As Baylor grinds through preseason football practice for the next four weeks, a major focus will be the development of its 3-3-5 defense.