A few weeks back, Matt Rhule celebrated his 20th wedding anniversary with his wife Julie. It was a special night out, back in their old stomping grounds of Philadelphia, eating a delicious dinner, surrounded by 15 Baylor football players.
Yes, Matt and Julie worked in their anniversary dinner as part of a trip taking 15 of Baylor's seniors to an NFL conference designed to prepare college players for the next level.
"It was me and my wife's 20th anniversary, and she was having dinner with 15 football players. That's how special she is," Rhule said. "But, to sit there with those guys, you pushed them for three years and now they get to their senior year and to sit and visit with them as peers is fun."
That's just how it goes for Rhule, who tends to spend a fair amount of time with his players. That percentage will only increase beginning Thursday. Baylor's freshmen will report that day for the start of fall camp, and will join the returning players for the first of those preseason workouts on Friday.
The Bears improved mightily in Rhule's second season on campus last year. They went from a 1-11 record in 2017 to a 7-6 season that included a 45-38 win over Vanderbilt in the Texas Bowl in Houston. So a higher expectation has been cast for 2019, which kicks off with an Aug. 31 home game against Stephen F. Austin.
Rhule said that for the Bears to make another jump in the win column, they have to eliminate the erratic nature of their play.
"I think for us to take the next step a couple things have to happen," Rhule said. "We were a team that got blown out against Oklahoma and came back and beat Kansas State. We got blown out at West Virginia and then they were able to beat Oklahoma State. We were reactionary, and great teams are consistent every single time."
If the shortest distance between two points is a straight line, the quickest way for a football team to travel from good to great is a sturdy, dominant line. Two of them, really. Rhule knows that the Bears need to strengthen their play on both the offensive and defensive lines.
Last year, quarterback Charlie Brewer often found himself scrambling for safety, because his pass protection had broken down. The Bears gave up 39 sacks on the season, which ranked 118th in the FBS.
On the flip side, the pass rush generated by Phil Snow's defense has resembled more of a kitchen faucet's slow drip rather than a full-on busted pipe. Baylor tallied 25 sacks in 13 games, less than half the total produced by national-leading Clemson.
Rhule envisions better play from both units this year. How does he know? Well, for one, they've beefed up after another year in Jeremy Scott's strength and conditioning program.
"We played a 279-pound freshman at tackle the last five games, but he is 300 (pounds) now," said Rhule, referring to Connor Galvin. "For us to be a team that's in contention and relevant in November, we're going to have to play much better than we have on the offensive and defensive lines. I think we're ready for that and our guys understand that's the next step.
"We have a great quarterback, he can't be running for his life all the time."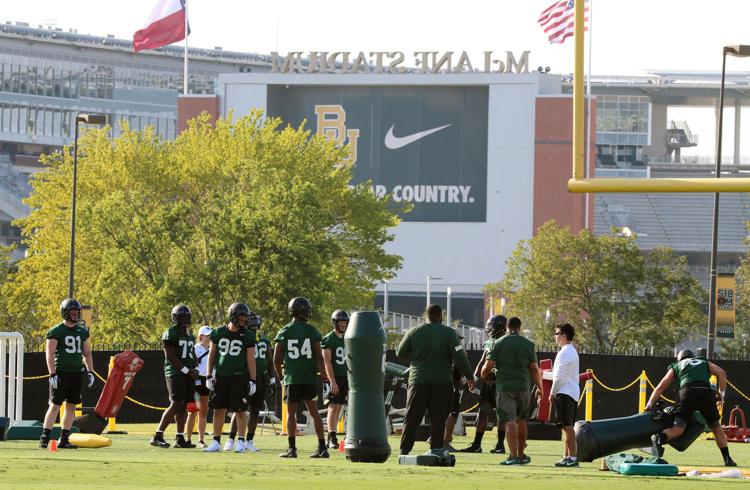 When he has time, Brewer moves the Bears up and down the field with flash and dash. Like the rest of the team, he needs to gain more consistency, too. But the junior has the potential to develop into the best quarterback in the Big 12 as he enters his third year as a starter. He completed 62 percent of his passes last year for 3,019 yards and 19 touchdowns, while running for another seven TDs. He turned in arguably his best game of the year in the Texas Bowl, winning MVP honors with 384 passing yards and 109 on the ground.
Baylor's top receiver, Jalen Hurd, moved on to the NFL, but Brewer still has plenty of playmakers at his disposal. Denzel Mims (794 yards, 8 TDs) and Chris Platt (511 yards, 1 TD) are reliable receiving targets, while running backs JaMycal Hasty, Trestan Ebner and John Lovett all have had 100-yard rushing games in their careers.
Defensively, the Bears bring back seven starters from a group that gave up 31.7 points and 426 yards per game. Heading up the unit are junior defensive lineman James Lynch and senior linebacker Clay Johnston, both preseason all-Big 12 selections.
Baylor had nine early enrollees from its signing class who went through spring drills, including Odessa Permian quarterback Peyton Powell and San Antonio Jay quarterback Jacob Zeno. A total of 15 additional scholarship newcomers joined the roster this summer and will be on the field Friday for their first official practices as camp gets cracking.
Most of all, Rhule will be looking for a consistent effort from one day to the next.
"I hope our guys compete in 12 games this year," he said. "That's really one of my first pregame talks. I say, 'OK, which games are we not going to play hard?' And the guys say, 'No, we're going to play hard in all of them.' And I say, 'All right, I'm going to hold you to that.' Because there's a natural human element that wants to relax."