Sometimes you find the event. Other times the event finds you.
KC Lightfoot was seemingly born to pole vault, and it's not just traced to his cloud-clearing surname. The first time he ever bellied up to the bar, his coach stood paralyzed, mouth agape.
"On my first day, I got to skip a lot of steps," said Lightfoot, recalling that summer afternoon after his seventh grade year. "And my coach kept asking, 'Hey, are you sure he's never done this before?' I'm going to be honest, I don't really remember the first jumps, I just remember I got to skip a lot of steps."
Baylor's head track and field coach Todd Harbour has labeled Lightfoot the "Wonder Boy." It's a fitting nickname, to be sure. For awe and wonder is a reflexive reaction when one watches Lightfoot vault. His natural ability, combined with the training he is receiving at Baylor, has made him one of the top vaulters in the country as a freshman for the Bears.
KC first picked up a pole as a gift to his father. No, really, it was a birthday present. KC's dad Anthony had competed in the event when he was a teenager, and the younger Lightfoot figured trying out the pole vault was easier than searching for a greeting card.
So, did his dad give him any instruction?
"I don't know if I'd say that," KC said, chuckling. "He jumped. I mean, we went to a coach. My dad could give me some tips, but he wasn't a professional or anything. So we went to a professional coach."
From the outset, Lightfoot displayed high-flying potential. His instincts and technique rivaled athletes who were several years his elder.
By the time he reached high school two years later, Lightfoot was already viewed as one of the top vaulters in his home state of Missouri. And he more than lived up to that billing. Before he graduated he won two state championships, set the Missouri state record, and achieved the No. 2 vault in U.S. track and field history for a high school athlete. He cleared 18 feet a dozen times in high school, with a personal-best of 18-5.
Landing in Bear Country
Lightfoot said he started seriously thinking about college track and field during his sophomore year of high school, as he climbed the national rankings. He knew about Baylor through competing at meets with Riley Richards of China Spring, who is now a sophomore teammate of Lightfoot's on the BU roster.
"I took my five visits, and I liked a lot of the other schools, too," Lightfoot said. "I don't want to put it as a feeling, because it's one of those things where people say it can't feel like home, but there was just a lot of support here. Our trainers, we have whatever we need. On the academic side, we can get tutors for whatever we need. So, the support system here for the student-athletes was, I think, by far the best."
Lightfoot was also well aware that at Baylor he would receive training from someone who understands what it's like to propel themselves nearly 20 feet into the sky. Brandon Richards is Baylor's pole vault coach, and his legacy in the sport is firmly entrenched.
Brandon, in addition to being Riley's father, is the son of Bob Richards, the two-time Olympic gold medalist from 1952 and '56 who was the first athlete to ever appear on a Wheaties box. Brandon held the national high school record in the event for many years, and later vaulted for UCLA and Baylor.
He was plenty familiar with Lightfoot from his high school days. So the freshman's rapid ascent up the NCAA chart hasn't exactly shocked Richards.
"Coming into it, I knew he was an 18-foot-plus vaulter," Richards said. "So it doesn't surprise me."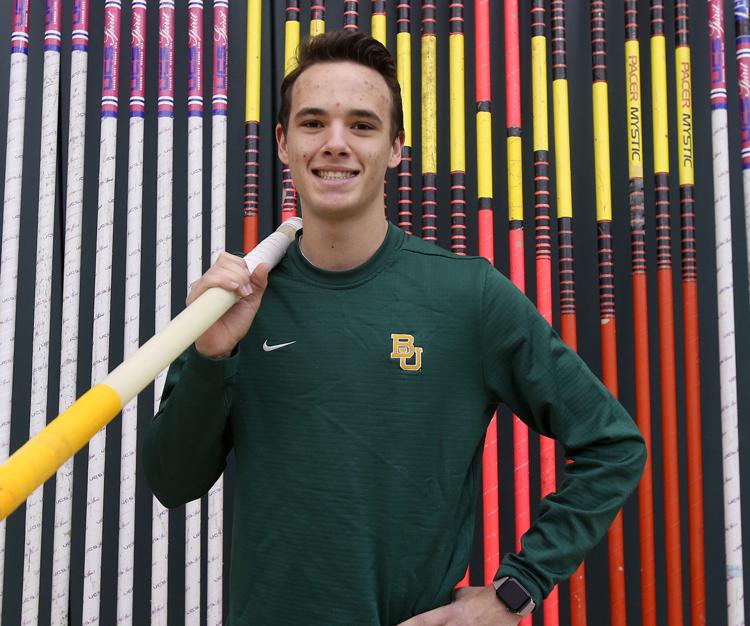 Lightfoot surpassed the 18-foot bar in his first college meet back at the start of January. He has since made that mark look like his launching pad, as he climbs to even greater heights.
How much greater? Well, at the Texas Tech Matador Qualifier on Feb. 15 in Lubbock, Lightfoot reached a new personal-best by skying over 18-71/2. Even better, the vault broke a 28-year-old Baylor school record for the indoor season of 18-43/4, held by Bill Payne.
Before Lightfoot even landed on the mat, he was already mentally checking off his to-do list.
"We don't really put numbers out there, because the numbers will speak for themselves, with just how practice goes," he said. "So you don't really know a final number. So my goal this indoor season was to just break the school record. … It took me a few tries, but once we finally got it, the wait was worth it."
A built-in fan club
What made the moment even sweeter for Lightfoot was that he had his own personal cheering section, comprised of his fellow BU pole vaulters. Among them were Riley Richards and, from the women's side, Tuesdi Tidwell, who will join Lightfoot at this weekend's NCAA Indoor Track and Field Championships.
"Pole vaulters are like a fraternity – without the drinking," Lightfoot said, laughing.
Brandon Richards has experienced the kinship of the vaulter crew for decades. He said that each of Baylor's vaulters is competitive in his or her own way. But when one clears a new bar, it's kind of a win for them all.
"There's a lot of camaraderie there," Brandon said. "It's one of those things when you get a lot of great vaulters together, they all kind of feed off of each other. When one has success, they all kind of feel like they're part of that success, because they work out together, they train together, they sweat and bleed together. … It's a really positive thing that happens."
Lightfoot has piled up four wins in his six collegiate meets thus far, including his first Big 12 championship two weeks ago in Lubbock. As he prepares for his first NCAA meet, he again isn't fixated on a particular height, but rather just wants to do his best and hopefully finish in the top eight to claim All-America honors. He owns the sixth-best vault in the country going into the meet.
When the Wonder Boy leaves the earth nowadays, he sees limitless horizons. A soaring super hero's work is never done, and Lightfoot carries dreams of one day joining pole vaulting's esteemed "Six-Meter Club," reserved for those who have topped 19-6 or better. He also wants to compete on the professional level someday.
For now, he's just enjoying the flight.
"I don't know if I've ever had a perfect vault, don't know if I ever will, either," Lightfoot said. "But there's some where they feel good when you line one up and you actually stay close to the pole. If you clear (the bar) by a lot, that feels even better. But even if you hit it, you know as soon as you go over if it's staying or not. That feeling is another reason why we just want to keep doing it."