No natural-born competitor enjoys sitting out.
It pained Alex Madlock to sit out her senior season of track and field in high school in 2016-17. Prior to that school year, Madlock transferred from Class 3A Bangs — where she had won two state triple jump championships — to Class 4A Brownwood, in search of a better education.
Madlock had struggled with dyslexia for years. In fact, when she first wanted to research the triple jump on the internet, she commissioned her sister to enter the search into YouTube for her. With the SAT test coming up and a dearth of dyslexia programs available to her at Bangs, Madlock and her family made the decision to move to Brownwood.
Unfortunately for Madlock, the district executive committee of her new district ruled her ineligible, claiming she'd broken the UIL rule of transferring for athletic purposes.
"I had to move schools to get the better education, because they had all the dyslexia programs and writing SAT prep, all the stuff that a little baby school wouldn't have," Madlock recalled. "So I left, and the superintendent got upset about it because, whenever you win, you bring money into the school, revenue. So he made it to where he said I got recruited to Brownwood, and I didn't get to compete my senior year. At all. Even though we had proof, we sent it all in that I was in the programs. But I ended up sacrificing that for my grades, which was well worth it."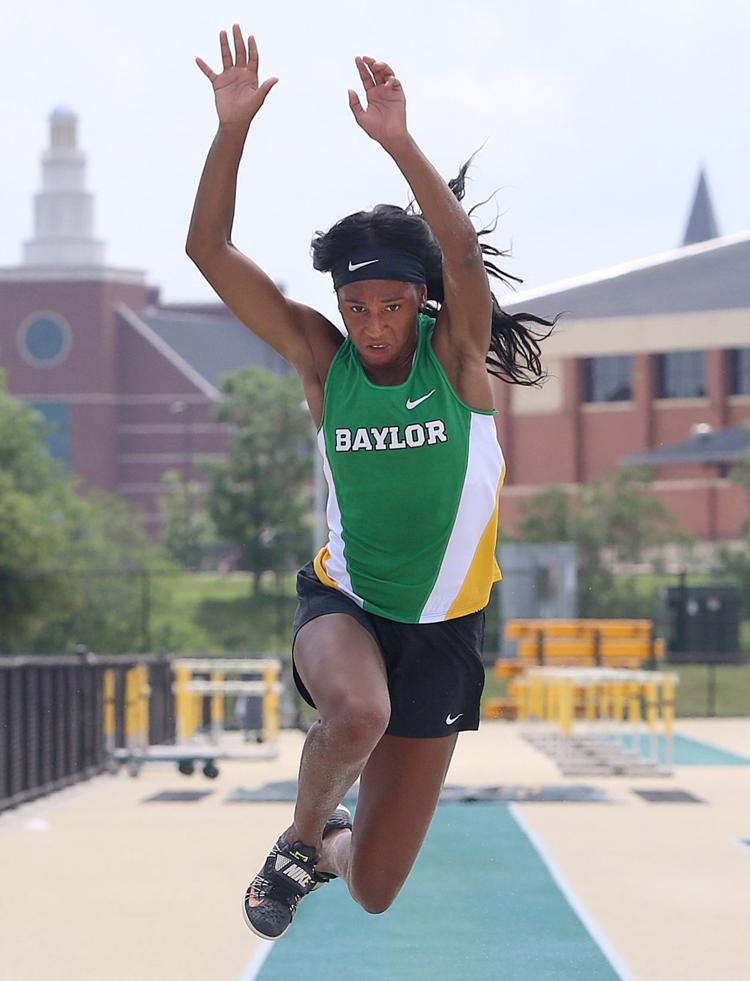 Best of all, Baylor stuck with Madlock. BU assistant coach Stacey Smith had seen Madlock compete at the Meet of Champions at Baylor's own Clyde Hart Stadium at the end her junior year, and was impressed with the young athlete's technique and tenacity.
Smith offered Madlock a scholarship, and didn't back away even when she learned that a senior year layoff was coming.
"Coach Stacey took a chance on me," Madlock said. "For someone to not compete, I didn't even train for a whole year, but she said, 'I believe in you. You have something special.'"
Those words proved prophetic. Now a sophomore for the Bears, Madlock has blown up this year, becoming one of the top triple jumpers in the country.
It's pure persistence that has led her to this place. When Madlock first went out for the event as a seventh grader, she was steered to the sprints instead.
"When I first started jumping, I couldn't learn really well," Madlock said. "So my seventh grade coach was like, 'You're really fast, you should stick to sprinting. I don't think you should do triple jump, it's kind of technical, and you're not really picking it up like all the other kids.' But I said, 'You know, I really want to do it.'"
That's when Madlock had her sister look up YouTube tutorials on triple jumping. And what do you know, a couple of the videos she came across featured instruction from none other than Baylor's Stacey Smith.
Madlock absorbed the tips, practiced them relentlessly in her backyard, and came back to her school to ask for another shot at the triple jump. An injury to another athlete opened a door, and her coach entered her in the event at the last minute.
Madlock ended up getting second. The next meet she took gold. Meet after that, gold again. She ended up putting together a streak of more than two years worth of first-place finishes until she finished third as a Bangs High School freshman at the UIL state meet.
Potential personified
By the time Smith saw Madlock compete at the tail end of her junior year, she already had two state titles to her credit. Smith was enamored with her potential, and felt even better about it once Madlock arrived on campus at Baylor in the fall of 2017.
"She jumped, and I said, 'With her second phase, she can't be beat.' I've never seen a second phase like that," Smith said. "Her second phase is better than my second phase. I used to tell Coach (Michael) Ford all the time, if anybody gets my record, out of all the jumpers that I've had, I think it's going to be her."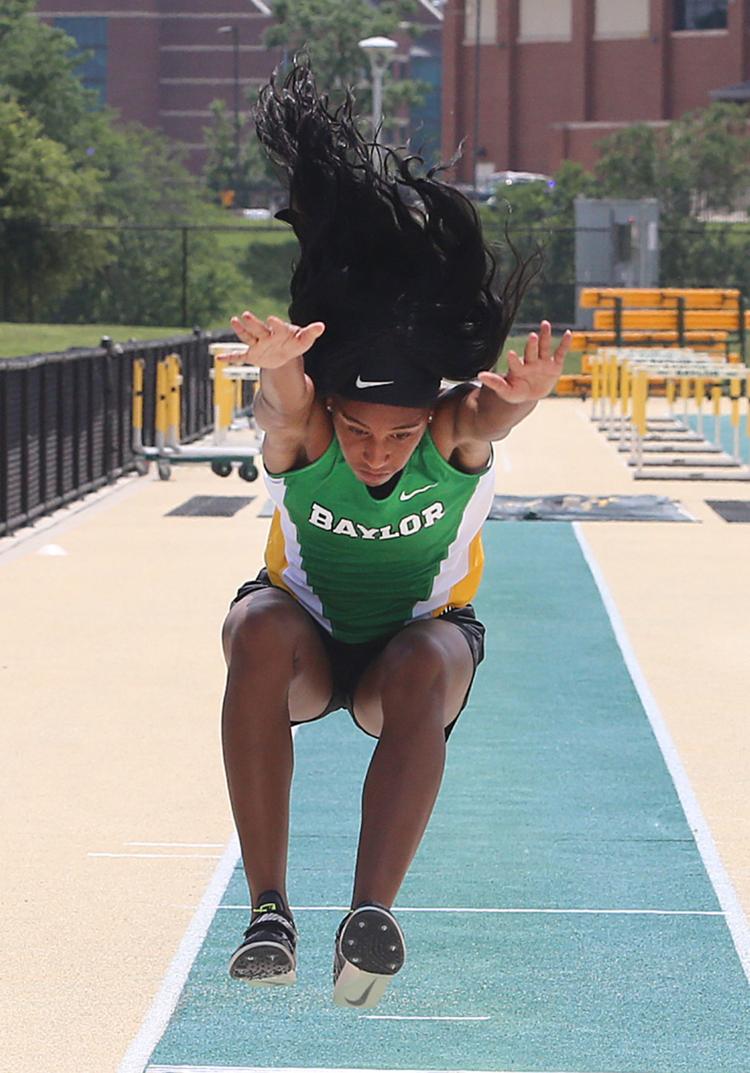 Oh, yes. Stacey's record. Baylor's jumpers have been trying in vain to ascend to the lofty marks set by Smith in the late 1990s, back before she married Rodney Smith when she was still known as Stacey Bowers. Coming into this 2019 season, Smith not only owned Baylor's school record in the event, but eight of the top 10 marks any BU athlete had ever produced. She's also the only NCAA women's champion in school history — in any event.
But Smith knows Madlock is coming for her — and she's totally fine with that. Madlock showed off her staggering potential when she won gold at the Texas Relays with a personal-best effort of 45-3, which ranks as the No. 4 jump in school history behind Smith's three top efforts, including her record of 46-1 1/4.
"When she jumped the 45-3, I said, 'OK, I see it,'" Smith said. "So when we had the competition here, what was it, at the MJ (Invitational)? The little girl from College Station (Texas A&M's Ciynamon Stevenson) jumped 45-9, I think I told them, 'Y'all, my record may go down today.' I just knew (Madlock) was coming after it. She said, 'Coach, I was tired, I couldn't do it.'"
Madlock, who'd had a root canal just days earlier, ended up jumping 44-2 1/2 that day, finishing second to Stevenson.
Madlock's freshman year at Baylor in 2018 was mostly about shaking the rust off. She didn't reach the kind of distances she wanted. But Smith kept encouraging her, predicting her future breakthrough.
"I was still coming back from not competing for a whole year," Madlock said. "She was like, 'OK, Alex, your sophomore year, you're going to sprout out.' Freshman year was really just the base. I hadn't competed in a year, I couldn't expect to do anything big if I didn't have a base.
"And she still cared, she still drove me, she still believed in me, even when I wasn't producing what me and her felt like I should have been producing. She told me I'm more than just an athlete, and I thought that was amazing."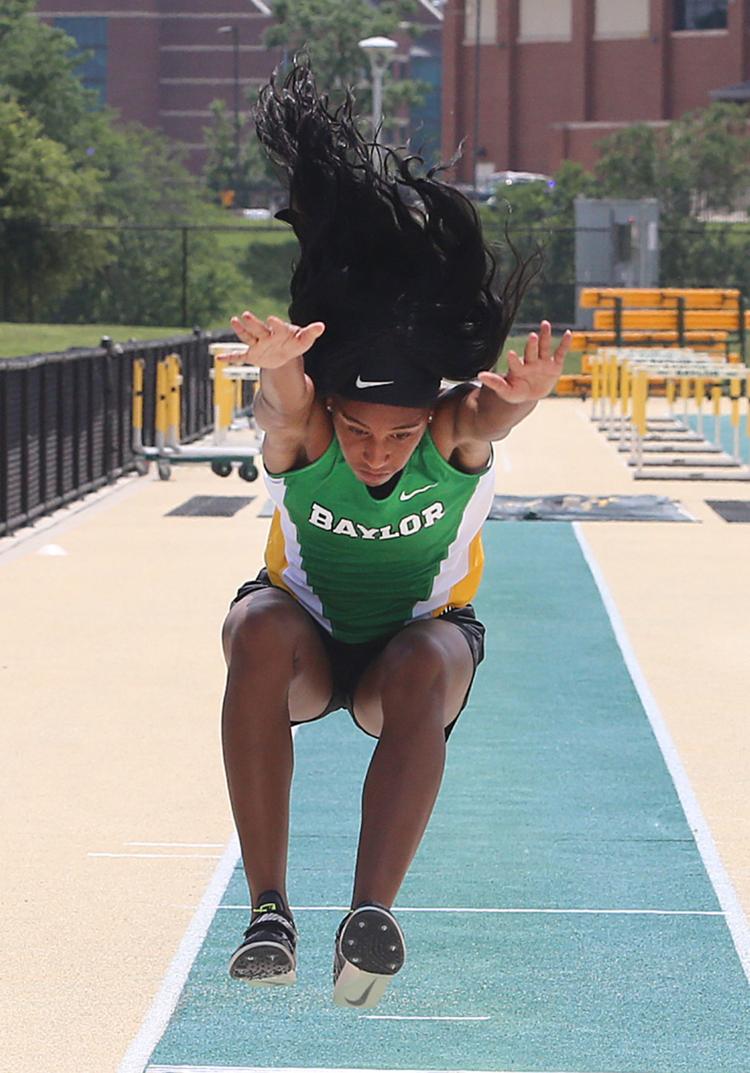 Smith also acts as Madlock's adviser, her mother hen, even a de facto therapist. Madlock tends to get fits of anxiety at meets — "To compete D-1, you have state every week," she said, comparing it to her biggest high school competition — and Smith is always there to calm her down.
"The Big 12, I'm hoping she can go in and win that thing," Smith said. "She can definitely do it. I just have to keep her calm, don't let her get over her head, don't let her think too much. I tell her all the time, 'From one champion to the next, if you do what I say, I can get you there.' She says, 'OK, Coach, I can do it.'"
Madlock is also a bit of a chatterbox, a bundle of energy seemingly ready to combust at any minute. Smith laughs that she has to check to make sure if Madlock has her shoes or her tank top or her uniform, just like she does with her own kids.
"But she's a sweetheart," Smith said. "She just has the best personality, she's a team player, she supports her team, encourages her team, sweet young lady."
Madlock, who wants to be a lawyer someday, will shoot for a gold medal at this weekend's Big 12 Outdoor Championships in Norman, Okla. Two weeks after that, she'll head to the NCAA West Regionals in Sacramento, Calif., where she'll try to lock down her first trip to the NCAA Outdoor Championships.
She has come a long, long way since those days scouring the web for triple jump videos. She said that all she's focused on now is staying consistent, on paying attention to the little technical details. That's how you bust a really big one — by consistently putting large leaps together over time.
"So right now I'm just focusing on those first three jumps, trying to execute," she said. "Trying to calm down, take a deep breath, get my run-throughs correctly. All those things, the technical things, and then the jump comes on its own without you even realizing it.
"So, really I'm just focusing on what's going to get me there, not the big dream."