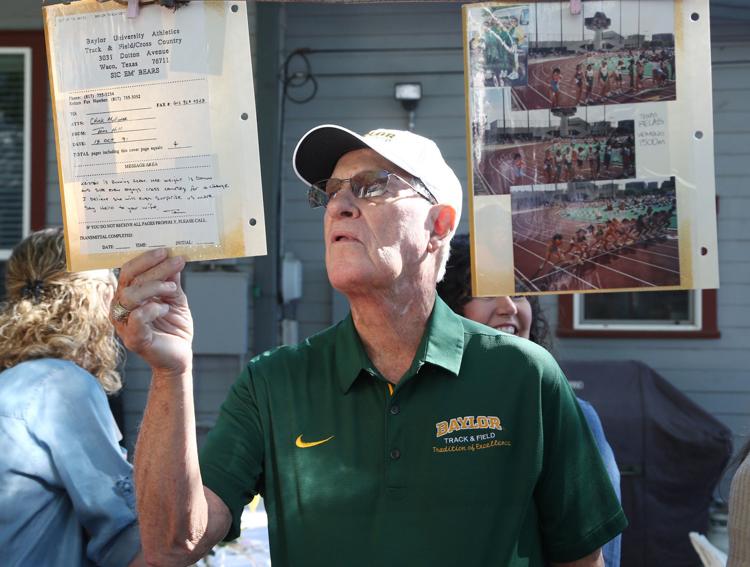 A beautiful spring day, complete with sunshine bathing the Clyde Hart Track and Field Stadium graced the final home meet for the venue's namesake on Saturday afternoon.
Hart, 85, plans to retire after this season, ending a 56-year coaching career in which he's guided 34 national champions and seen his specialty event, the 4x400-meter relay, earn All-American honors at the NCAA Outdoor Championships in 26 of the last 29 years.
Michael Johnson, Hart's most famous protégé, attended the event that bears his name. He and fellow Olympic gold medalist Jeremy Wariner joined a large group at the Baylor Club on Friday night for a dinner honoring Hart.
The king of Quarter-Miler U has decided that it's time to abdicate his throne.
On the track, Baylor's Wil London made sure Hart's final home meet included a Bear quarter-miler walking away with a couple of gold medals. London, a senior from Waco High, won the 400 at the Michael Johnson Invitational with a time of 44.93 seconds in his first outdoor competition in the event this season.
London followed that up by anchoring Baylor's 4x400 relay that clocked 3 minutes, 3.17 seconds, more than four seconds ahead of TCU in second place. The Bears' first three legs (Jayson Baldridge, Howard Fields and Matthew Moorer) got London the baton in first place and he stretched out the lead.
Baylor coach Todd Harbour and Bears seniors Kiana Horton and London all agreed that Saturday's weather and the chance to honor Hart made it an extra special outing for the Baylor track program.
"It was one of the most amazing track meets I've ever run in," London said. "I think I rank that the No. 1 meet I've ever run in. It was a good environment, good atmosphere. I ran great times for my first open of the season."
London attended the Friday night banquet and had the chance to get some tips from the Baylor legends.
"Michael Johnson told me whenever I step on the track, just give everything I have," London said. "And Deon Minor, he just said take over the race and they'll follow you. I knew I had to do that today."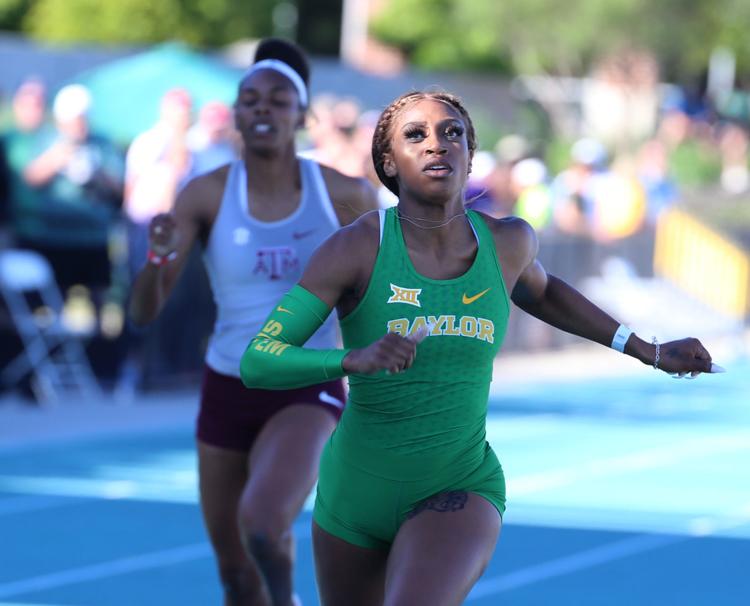 Before the Baylor men's 4x400 finished the meet by running away with their race, Horton came from behind to give the Baylor women's 4x400 team a victory.
Horton trailed Sydni Willis of the unattached team C.S. Elites going into the final lap. But the Baylor senior took over the lead by the backstretch and pulled away from the field. When Horton crossed the finish line, her 4x400 relay team, which also included Victoria Powell, Sydney Washington and Aaliyah Miller, had set the stadium record at 3:32.63.
"It was amazing," Horton said. "I'm so happy to still continue to bring it home for Baylor and have a great end to MJ and Coach Hart's retirement and end it out with a bang."
Texas Tech's Divine Oduduru posted a couple of highlights of his own as he clocked a 9.95 in the 100, the fastest time in the event in the world this year. He was .03 faster than Cuba's Roberto Skyers, who previously held 2019's best mark. He followed that up later in the evening by posting a time of 19.76 in the 200, the second fastest time ever by a college sprinter. Florida State's Walter Dix holds the college record at 19.69.
"(Oduduru is) one of the top guys in the world and this track proved it's one of the fastest in the country," Harbour said.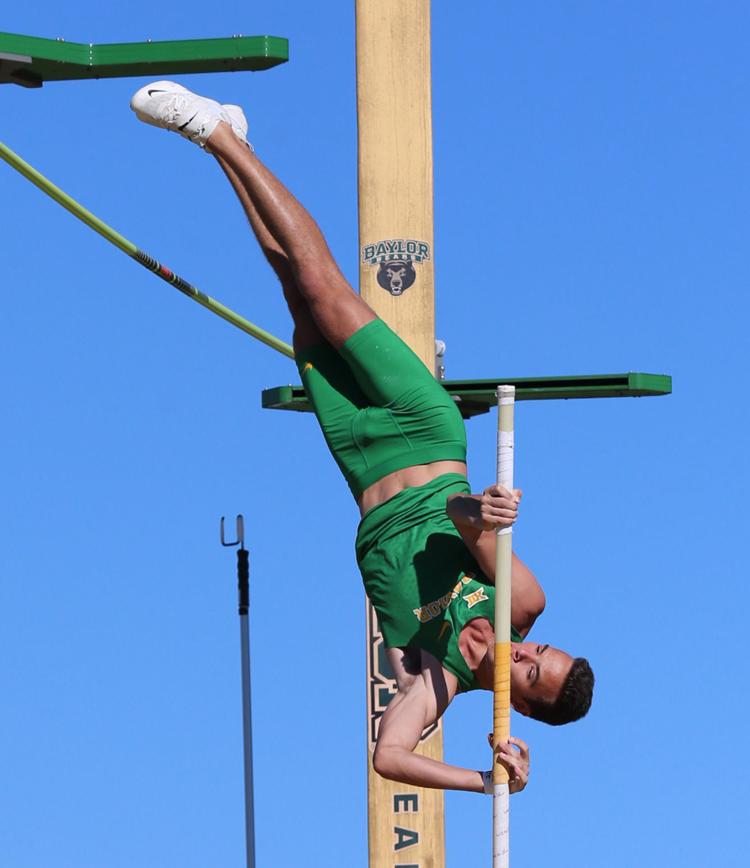 Baylor pole vaulter K.C. Lightfoot tied Texas A&M's Jacob Wooten for the gold medal at 18 feet, 8.75 inches. That mark set a Texas A&M record, a new personal best for Lightfoot and a new Hart Stadium record.
Lightfoot said he and Wooten are good friends, so the Baylor freshman was just pulling for another pole vaulter to do well.
"I love Jake," Lightfoot said. "We like to go back and forth, put on some shows for the crowd. We're good buddies, and we just cheer each other on."
Baylor junior Caira Pettway finished second in the long jump and set a personal best by more than 10 inches in the process. Pettway's jump of 19-10.75 inches flew past her previous best mark of 19-0.5. Texas A&M's Tyra Gittens won the long jump at 21-1.25.
Bears pole vaulter Tuesdi Tidwell finished fourth with her best mark at 14-2, boosting her P.R. by six inches. Stephen F. Austin's Nastassja Campbell won the women's pole vault by clearing 14-2 in fewer attempts.
The Michael Johnson Invitational also included a special surprise for former Baylor distance runner Bill Adams. The school revealed that a new pavilion at the track and field complex will be called the "Bill Adams Family Pavilion." Adams became Baylor's first NCAA qualifier in the 10,000 meters and finished his career as a U.S. Track and Field Federation All-American in the event. He recorded the top four times in the 10,000 at Baylor and his school record of 29:30.20 stood for 26 years.
Clyde and Maxine Hart casual coffee and visit: April 20, 2019
Photos by Jose Yau