With four national championships since 2000, Oklahoma coach Patty Gasso has built one of the greatest dynasties in college softball history.
Whether this year's team climbs to the heights of the 2000, 2013, 2016 and 2017 national championship teams remains to be seen in the upcoming weeks.
But there's not much question the 2019 Sooners enjoyed one of the best regular seasons any college softball team ever experienced.
The No. 1-ranked Sooners set an NCAA record by winning their last 39 games before regionals, and made it 41 straight with Friday's 12-0 win over the University of Maryland-Baltimore County and Saturday's 4-0 win over Wisconsin. They swept through the Big 12 regular season with an 18-0 record and are now 51-2 following their two NCAA tournament wins.
For all those reasons, the Sooners swept all the major awards on the Tribune-Herald's all-Big 12 softball team.
Senior third baseman Sydney Romero is the Big 12 player of the year, Giselle Juarez pitcher and newcomer of the year, first baseman Grace Green freshman of the year, second baseman Caleigh Clifton defensive player of the year, and Gasso coach of the year.
"If you had asked me if we would have a winning streak of 39 games I would be surprised because we had a lot of new players," said Gasso before hosting this weekend's NCAA regional in Norman. "We had two new pitchers who would replace the best who had ever played for us in Paige Parker and Paige Lowary. What really made this team go is the senior class. They really embraced them and knew they needed these new players to win, so they handled it the right way. The more comfortable they got, the more you saw them take off."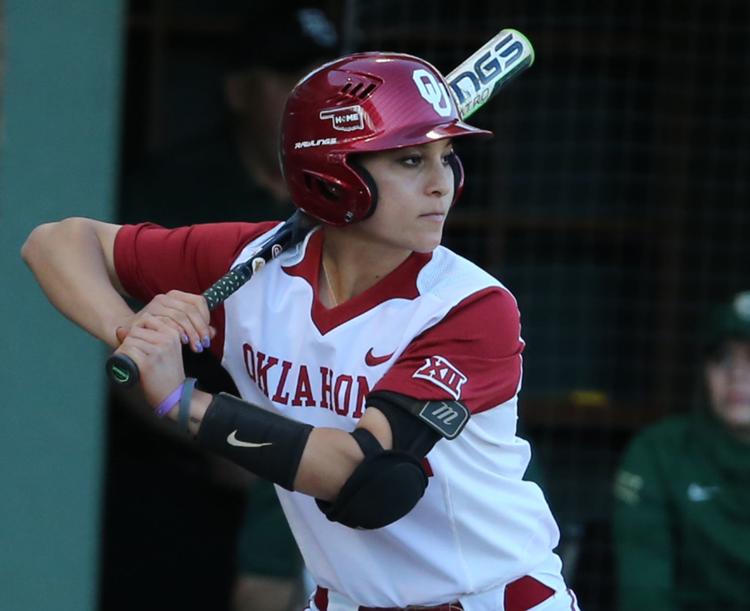 No senior has been more important to the Sooners' success than Romero. The gifted third baseman has started since the day she stepped on campus as she's produced a .373 batting average with 51 homers and 210 RBIs during her four seasons.
She's emerged as a candidate for national player of the year this season by leading the Big 12 with a .427 batting average while crushing 17 homers with 51 RBIs. Her .848 slugging percentage ranks only behind fellow Sooner Clifton at .881.
Gasso believes Romero learned from her struggles at the plate during last year's postseason when the Sooners came up short in their bid for a third straight national championship.
"I think Syd Romero would tell you she felt that she might have disappointed the team last year because she started to really press, and it showed," Gasso said. "She wasn't having fun. She tried to do so much for the team that she overdid it. She learned a valuable lesson and that's what you're seeing now."
While Gasso knew she had a prolific offensive team, Oklahoma's pitching was much more uncertain heading into the season after losing Parker and Lowary.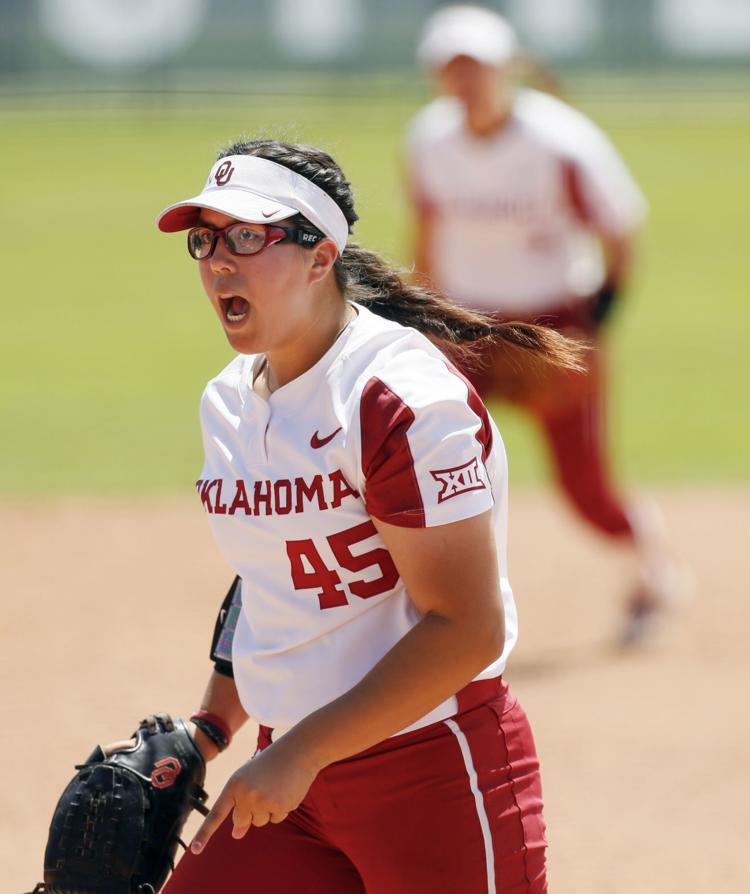 But the Sooners got two great transfers in Juarez from Arizona State and Shannon Saile from Florida International.
Juarez had already proven herself for the Sun Devils by making the National Fastpitch Coaches Association All-America team with a 26-6 record with a 1.22 ERA last year. The left-hander was the workhorse for that staff as she struck out 305 batters in 224.1 innings.
With Saile and Mariah Lopez balancing out Oklahoma's pitching staff, Juarez hasn't had to shoulder as heavy a load. She's been terrific as she went 22-0 with a 1.26 ERA with 186 strikeouts in 127.1 innings heading into the NCAA tournament.
"She got here in January and had three weeks with us before we got started," Gasso said. "So the beginning of her season was not great. But the more she spent time with Coach (Jennifer) Rocha and our pitching staff, they really fed off each other. They have a little sisterhood. There's not one main leader. They all kind of share the innings. They respect each other. So they are really a great tag team."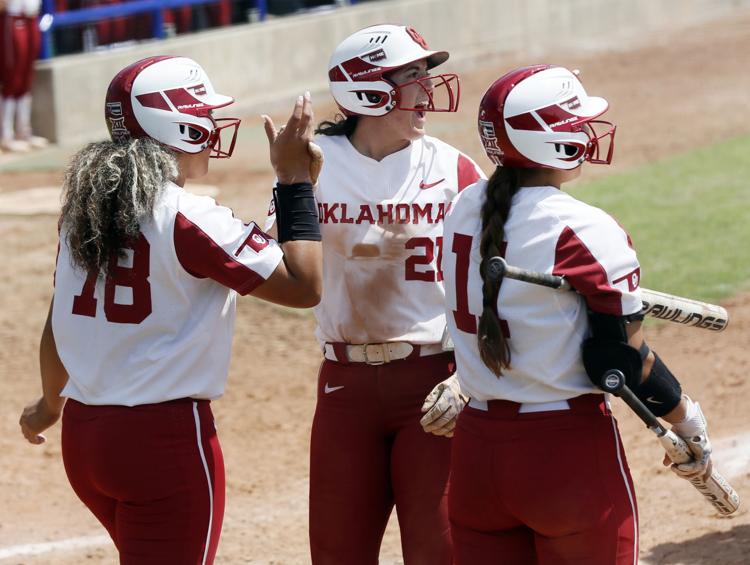 Arriving at Oklahoma from Oakdale, Calif., Green hasn't looked like a freshman. The first baseman has been a major piece of Oklahoma's attack by hitting .409 with 14 homers, 15 doubles and 50 RBIs while slugging .781.
"Grace Green and the way she's hitting as a freshman I didn't expect," Gasso said. "But they want to live in a world with these seniors. You're going to have to elevate and they're doing that, and it's been really impressive to see."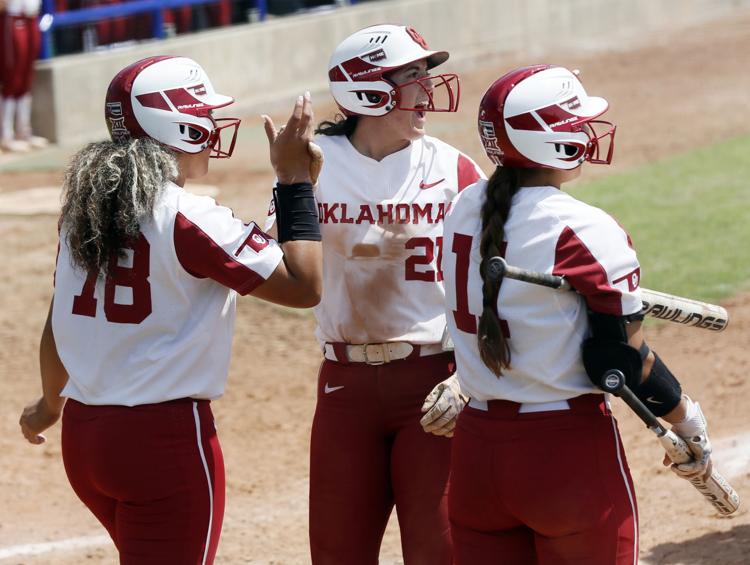 There isn't a better all-around player for the Sooners than Clifton, who hit .407 with 14 homers and 43 RBIs coming into the NCAA tournament. The senior second baseman's defense has been equally important as her offense as she's made just two errors in 87 fielding chances for a .977 fielding percentage.
After falling short last season, Gasso hopes her seniors get a chance to end their careers with another national championship.
"That's why I think these guys are having great senior years because they didn't perform the way they wanted to in the postseason as juniors," Gasso said. "And they wanted to do it right."
---
2019 Tribune-Herald All-Big 12 Softball Team

Player of the year: Sydney Romero, Oklahoma
Pitcher of the year: Giselle Juarez, Oklahoma
Newcomer of the year: Giselle Juarez, Oklahoma
Freshman of the year: Grace Green, Oklahoma
Defensive player of the year: Caleigh Clifton, Oklahoma
Coach of the year: Patty Gasso, Oklahoma

---

First team

Pos
Player
School
Class
Avg
HR
RBI
Notable
1B
Grace Green
Oklahoma
Fr
.409
14
50
.781 slug pct
2B
Caleigh Clifton
Oklahoma
Sr
.407
14
43
.881 slug pct
SS
Sami Williams
Iowa St
Jr
.379
15
35
9 stolen bases
3B
Sydney Romero
Oklahoma
Sr
.427
17
51
.848 slug pct
C
Mary Iakopo
Texas
So
.365
9
34
.470 on-base pct
OF
Karli Hamilton
Texas Tech
Jr
.424
8
41
13 stolen bases
OF
Janae Jefferson
Texas
So
.412
0
22
9 stolen bases
OF
Falepolima Aviu
Oklahoma
Sr
.387
7
33
.502 on-base pct
DP
Jocelyn Alo
Oklahoma
So
.400
14
45
11 doubles
Util
Rylee Bayless
Oklahoma St
Sr
.342
8
34
Scored 50 runs
Pitchers
Pos
Player
School
Class
W-L
IP
SO
ERA
SP
Giselle Juarez
Oklahoma
Jr
22-0
127
186
1.26
SP
Shealyn O'Leary
Texas
Fr
13-1
90.1
61
0.46
SP
Mariah Lopez
Oklahoma
Jr
17-1
101
141
1.10

---

Second team

Pos
Player
School
Class
Avg
HR
RBI
Notable
1B
Jessica Hartwell
Texas Tech
Sr
.318
8
41
13 stolen bases
2B
Madi Sue Montgomery
Oklahoma St
Sr
.359
6
43
.454 on-base pct
SS
Taylor Satchell
Texas Tech
Sr
.324
10
42
11 doubles
3B
Breanna Russell
Texas Tech
So
.331
5
27
12 doubles
C
Chyenne Factor
Oklahoma St
Fr
.340
7
34
.433 on-base pct
OF
Nicole Mendes
Oklahoma
Jr
.369
4
33
.452 on-base pct
OF
Heaven Burton
Texas Tech
So
.363
0
12
21 stolen bases
OF
Goose McGlaun
Baylor
Jr
.341
3
13
.448 on-base pct
DP
Trenity Edwards
Texas Tech
So
.339
14
41
.732 slug pct
Util
Nicky Dawson
Baylor
Jr
.336
0
15
12 stolen bases
Pitchers
Pos
Player
School
Class
W-L
IP
SO
ERA
RP Shannon Saile
Oklahoma
Jr
10-1
72.1
116
1.06
SP
Miranda Elish
Texas
Jr
14-9
149
191
1.92
SP
Samantha Show
Oklahoma St
Sr
17-7
153
97
2.47