With new artificial turf, new lights and 10 new players, the Baylor softball program will have a much different look this season.
Even longtime coach Glenn Moore is sporting a new look with a goatee.
"I'm trying to intimidate some officials this year," Moore joked.
With all the changes, there was palpable excitement as the Lady Bears opened practice Thursday afternoon at Getterman Stadium in preparation for the season-opening Puerto Vallarta College Challenge in Mexico Feb. 7-10.
The Lady Bears will play their first home game against Sam Houston State on Feb. 15.
"We're just looking forward to playing in our home stadium," said Baylor senior pitcher Gia Rodoni. "It feels brand new. This group has stepped in as if they aren't freshmen. They've jelled really well with us. They just act like one of us."
The Lady Bears hope to reach their fifth Women's College World Series in school history, but some new players will have to produce.
It won't be easy to replace All-America center fielder Jessie Scroggins and first baseman Shelby Friudenberg, the most prolific power hitter in school history. Additionally, all-Big 12 outfielder Kyla Walker will redshirt this season due to a shoulder injury that developed after she underwent hip surgery last summer. Walker plans to return as a fifth-year senior in 2020.
"She (Walker) is an All-American in my book, so we lost three All-Americans from last year's team," Moore said. "But we're going to have adequate talent and we'll figure out what we're going to do there. It may take us a few weeks into the season, juggling some lineups around to see which one we like the most."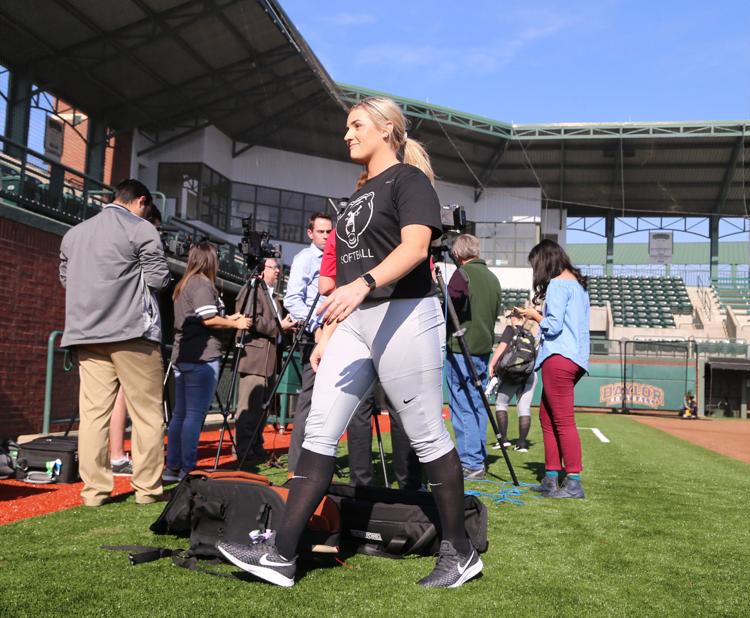 Senior Gia Rodoni is back to lead the pitching staff after going 41-16 over the last two seasons, including a pair of no-hitters in the 2017 NCAA regionals.
The Lady Bears should have much more pitching depth this season with hard-throwing sophomore Sidney Holman from Temple College, freshman Madison Lindsey from Kingwood, and freshman Kassidy Krupit from Lambert High School in Suwanee, Ga.
Senior Regan Green is also back after going 12-5 as Baylor's No. 2 pitcher last year.
"We had to rely on Gia pretty much the entire year last year," Moore said. "And we know that Regan Green has a year under her belt, so she'll be better. We have a great transfer in Sidney Holman. Whitney Canion was the last pitcher we had that hit 70 mph, and she does that. By midseason and toward the end, I believe this will be one of the better full bullpens we've ever had here."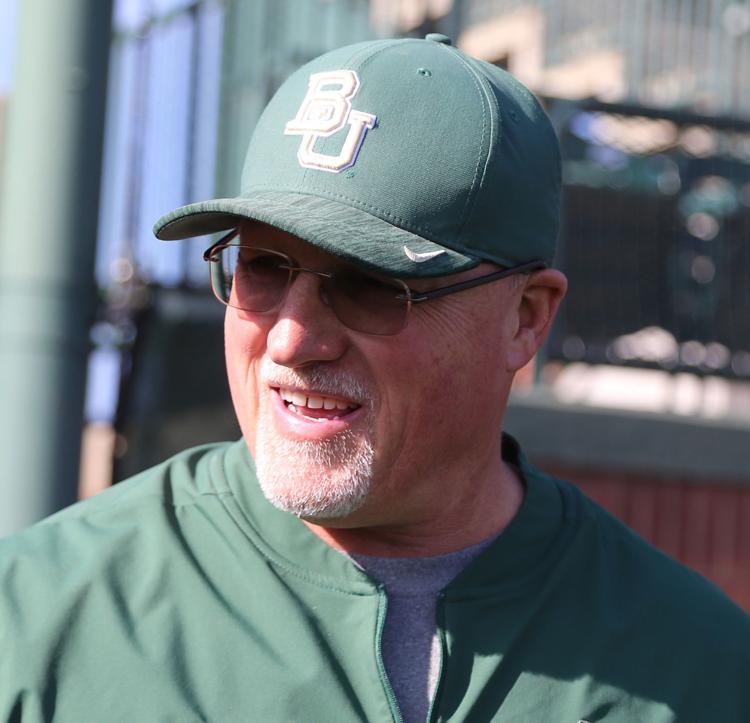 Krupit will mostly be counted on to provide power to Baylor's offense and play third base. She was one of 20 players chosen to represent the United States as a member of the 2019 USA Softball Junior Women's National Training Team.
"We're fortunate to have her," Moore said. "She can play, but her value is going to be offensively. She's going to allow Goose (McGlaun) to get better pitches, because she will probably bat fourth in our lineup. She hits the ball a long way."
McGlaun is looking for bigger things after a superb freshman season in which she hit .323 with a team-high 14 homers and 51 RBIs. With Walker out for the season, McGlaun could move from first base to left field while freshman Josie Bower and sophomore Hannah Thompson could battle at first base.
Replacing Scroggins' speed and instincts in center field will be tough, but freshman Lou Gilbert from Staley High School in Kansas City has potential.
Baylor's starting lineup will likely be rounded out by second baseman Nicky Dawson, shortstop Taylor Ellis, right fielder Maddison Kettler and freshman catcher Tyler Trott.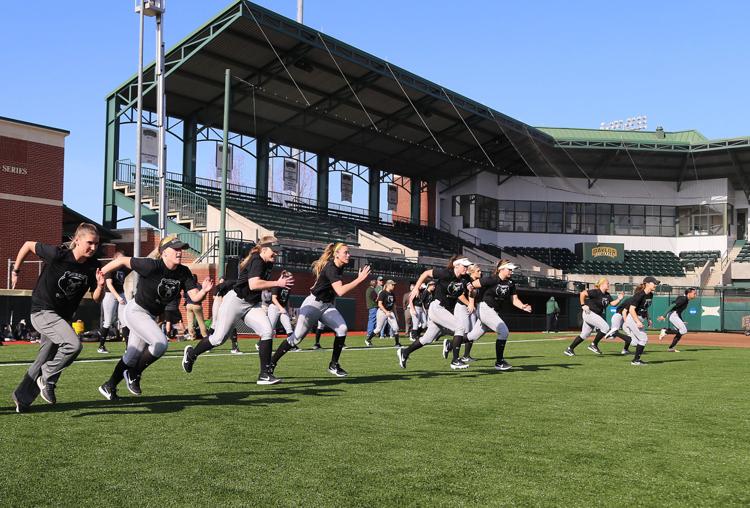 The Lady Bears also got some good news recently when hitting coach Mark Lumley said that he was returning after undergoing cancer treatment.
"We didn't know a couple weeks ago if he would be healthy enough to come back, and is probably a month away from being able to do the things he would normally do," Moore said. "But having his wisdom and his knowledge in the dugout beside us, the girls just love Coach Lumley, so we're very blessed that he's made the decision and feels well enough to be back out on the field with us. He will not make the trip to Mexico. It will give him a little more recovery time. That's only three weeks away and we don't want him to have a setback."
Moore is also excited to see how the Lady Bears will play on their new artificial turf field after playing on grass since Getterman Stadium opened in 2000.
"Originally, I wasn't a big fan of the artificial surface," Moore said. "I'm a traditionalist. But I'm really impressed with what they did. It's high-quality material. The main thing is we were losing too many practices and some games, too, but mainly too many practices on the old surface. This is going to allow us to play if it's not raining, and I think we'll benefit from that."