Baylor second baseman Nicky Dawson plays softball with acute awareness, complementing her natural skills with whatever knowledge she can cram into her brain.
If a pitcher has a tendency to throw a certain pitch deep into the count, she wants to know. If a batter has a knack for hitting the ball to the right or left side of the field, she doesn't want to be caught off-guard.
Dawson stays on top of her game to find an advantage.
She's not going to let what most would see as a major disadvantage stop her.
Dawson is legally blind in her right eye. While that condition would keep most people from even thinking about trying to hit a 70 mph softball, Dawson is thriving.
"You think about the softball athletes around the country that can't play at a low level," said Baylor coach Glenn Moore. "She's handicapped in that way and still plays at a very high level. It's nothing short of phenomenal that she can do what she's able to do."
Dawson has been a bright spot for a powerhouse Baylor program that's fallen to the bottom of the Big 12 this season due to a run of debilitating injuries. She leads the Lady Bears with a .348 batting average, 22 runs and 11 stolen bases.
With her range and instincts for the game, the lithe junior is one of the best defensive second basemen in the Big 12. Even on balls hit up the middle to her right side, she's usually able to snap her head quickly enough for her left eye to see the ball to allow her to make the play.
"It's crazy to think about, but she does it and does it well," said Baylor first baseman Goose McGlaun. "That's tough to do obviously, and we don't know what that is like. I just think that speaks to her that she's going to overcome anything that's sent her way."
Dawson doesn't go into games thinking she has any kind of handicap. She's played with adequate vision in just one eye for so long that she's learned how to compensate.
"It's all I know, so I don't really know what two eyes would be like," Dawson said. "That's my world. If I were to close my good eye, I can literally only see what's in front of me."
As Dawson makes that last statement, she puts her hand about four inches in front of her right eye. That's the extent of her vision in that eye, and it's not even sharp from close distance.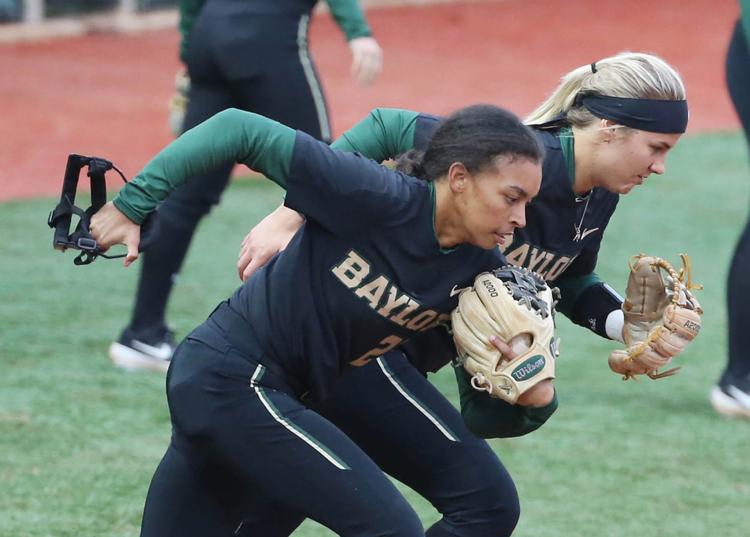 Yet with her highly trained left eye guiding her, she's developed into an excellent left-handed slap hitter who can hit with occasional power. Once she hits the ball, she dashes down the first-base line quickly with the speed that made her a Louisiana state championship sprinter.
"She's really devised a plan she's comfortable with in the way she locks in," Moore said. "She's steady and consistent. You don't see peaks and valleys in her and you know what you're going to get. She's a great leadoff hitter and a tough out. More often than not, when she's called out on a third strike it's the umpire that missed the call."
Dawson was born with a cataract in her right eye that had to be surgically removed when she was six weeks old. Her vision in that eye was always blurry, but it never stopped her from becoming an outstanding student or athlete. When she entered sixth grade in Baton Rouge, La., she already stood 5-7 and was athletic enough to play football on the boys' team.
"I know girls have a growth spurt before guys, and at the time I was taller than them and I was faster," Dawson said. "I was a receiver and a cornerback. We would run our jet sweeps and I would come from the left side and take it from the quarterback and cut up the sideline, and it was literally a touchdown."
But by the eighth grade, many of the boys had grown bigger and taller, and she quit football. She played point guard for the basketball team before giving that up her sophomore year to focus on softball.
Dawson excelled for the Parkview Baptist School softball team in Baton Rouge as she was twice named Louisiana softball player of the year. As a senior, Dawson earned Max Preps national player of the year after hitting .658 with five homers and 58 stolen bases. For her career, she set a national high school record with 49 triples.
Her father, Charlie Dawson, loved that Nicky focused her attention on softball because he had been a baseball player who starred as a catcher for Southern Arkansas. He played four years of minor league baseball for the Atlanta Braves before an injury cut short his career.
Charlie and Nicky were also huge LSU fans since they lived close to the campus in Baton Rouge. They attended a lot of the Tigers' football games, and followed the softball team. So when college recruiters began coming around, she quickly let them know that she wasn't leaving town.
"I was a big, big fan because I had been in Baton Rouge since I was 5," Nicky said. "LSU was all I knew. The football team was really dominant and I knew this was where I wanted to go. I was scared to leave home. I just couldn't imagine being outside of my family being right there. Baylor recruited me, but because I was so locked in on LSU, I was like 'Don't worry about it. That wouldn't be fair to you because I really wasn't interested in going anywhere else.'"
Dawson played in 38 games as a freshman for LSU in 2017, hitting .310 and stealing eight bases. But she didn't feel comfortable there and transferred to Baylor for her sophomore year.
She already knew Moore because he recruited her out of high school. Moore had also coached Dawson's high school coach, Ashlee Weems, when he coached at LSU from 1998 through 2000.
"I went to a Baptist high school, so I knew I wanted to make religion prominent again, which was missing at LSU in a sense of the whole campus-wide," Dawson said. "I came somewhere that it was literally the whole campus being focused on God."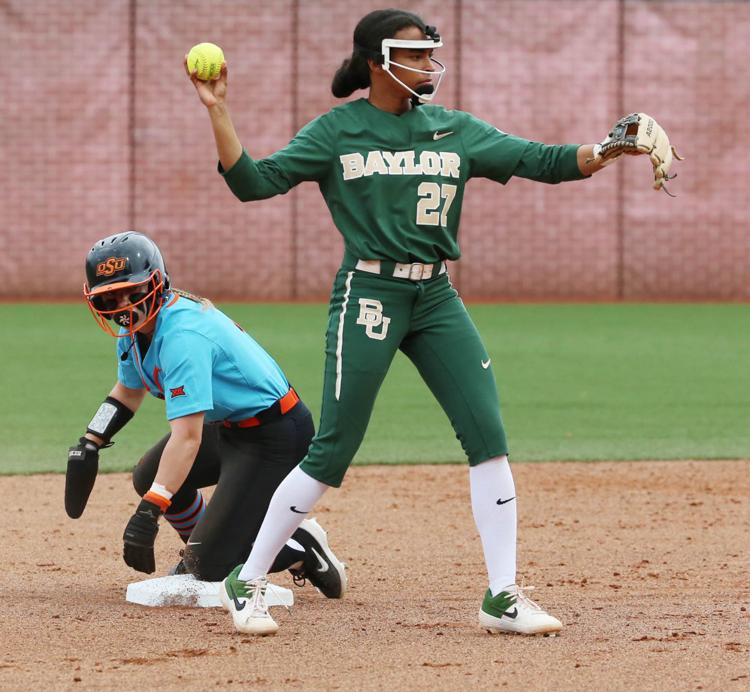 Dawson played superbly during fall workouts in 2017, but in the last practice just before Thanksgiving she was hit in her right eye by a ball thrown by a teammate during a drill.
"I initially thought it was just a swollen eye with stitches," Dawson said. "My glasses cut my eye. The next day, I called our trainer Matt (Piechoski) and I said it looked like a kaleidoscope. It wasn't right."
Dawson saw several ophthalmologists and decided to undergo surgery for a detached retina.
"My retina was detached and I needed surgery as soon as possible," Dawson said. "I went home for Thanksgiving and I came back to have surgery. But then my eye pressure was 30 and I was in excruciating pain. I ended up having more problems internally with eye pressure."
Over the next 14 months, Dawson underwent numerous procedures in an attempt to get her eye pressure at a comfortable level. Though the vision in her right eye was never good, it grew much worse after the ball hit her.
It was tough for Charlie Dawson to see his daughter go through such an ordeal.
"She's gone through 16 of 17 surgeries, and that's been brutal," Charlie said. "She's lost about 25 pounds. She was 153 and now she's 128 or 130. The most amazing thing to me when she lost vision with the accident, the idea that she can hit .350 on a Power 5 softball level is incredible."
Despite the constant eye procedures, Dawson hit .347 with 38 runs and 17 RBIs and as a sophomore in 2018 as the Lady Bears finished 38-18 and reached NCAA regionals.
Before this season, Dawson underwent a procedure in which a small tube was placed in her right eye that drains fluid and relieves eye pressure. Now she just has regular checkups to make sure her eye is OK.
"I haven't had any problems since then," Dawson said. "I'm doing great."
Dawson is a student of the game and her father is a willing teacher. Though he lives in Baton Rouge, he attends Baylor's games home and away. He sits behind home plate and analyzes Nicky's swing, and will help her make adjustments if necessary.
"I have experience as a player and a coach, and I did some big league scouting with the Kansas City Royals," Charlie Dawson said. "I've thrown more pitches to Nicky and watched more of her swings than anybody. I always see if she's struggling a little bit, and if there might be a slight difference in what she's doing from point A to point B."
Charlie runs a company based in Baton Rouge named Geo-Surfaces that installs artificial and natural turf, as well as lighting and drainage systems for stadiums. Some of his projects have included the football and baseball stadiums at LSU, the New England Patriots' field house, and many stadiums and ballfields at colleges throughout Louisiana.
One of his most recent projects was Baylor softball's Getterman Stadium, which included artificial turf, a state of the art drainage system, and new lighting for the field. It's already paid off as the Lady Bears have played several home games this year on the new artificial turf that might have been rained out on the old grass field.
"I know he's super proud of this field and I am too," Nicky said. "It's cool to see people be in shock and say 'It rained all day and there's no water out here.'"
This weekend, the Lady Bears will host LSU at Getterman Stadium at 6:30 p.m. Friday followed by Saturday's 5 p.m. doubleheader. Dawson will be happy to catch up with some of her old teammates, though the Lady Bears (17-27) will be huge underdogs against No. 10 LSU (38-11).
"I think a lot of people think it will be weird or different, but it will make it fun," Dawson said. "I still have friends over there and we still communicate. As difficult as it may be, I still have positive feelings toward LSU. I want to see my friends be great and successful."
After her playing career is over next season, Dawson might undergo another surgery that could restore sight to her right eye. But she doesn't want to risk that surgery right now. With sight in only her left eye, she's reached a level many softball players never attain.
Even when she was hit in her right eye, she always thought there would be a way back to the field.
"I thought she was done, that she would never play again," Charlie Dawson said. "But I've watched her work through that and persevere and overcome it. People can't hit .350 with two eyes. I can't imagine hitting at that level with one eye."