During most seasons, the Baylor softball team is gearing up for a late regular season push for an NCAA tournament regional.
But this isn't most seasons.
With 14 regular season games remaining, the injury-plagued Lady Bears will try to win enough games to make the six-team Big 12 tournament. Winning the Big 12 tournament appears to be Baylor's only way to make its ninth straight regional.
The Lady Bears hope to begin moving up in the standings this weekend against No. 15 Texas Tech at Getterman Stadium. The three-game series begins Friday at 6:30 p.m. followed by Saturday's 2 p.m. game and Sunday's 1 p.m. series finale.
"You start looking at the bottom dwellers, and we're certainly one of them, you're hoping they'll keep losing and we find a way to win one or two games, and get an advantage to where you can get there," said Baylor coach Glenn Moore. "This is a weekend we'd like to be able to knock Tech off a game or two."
The Lady Bears (15-21) stand sixth at 2-8 in the seven-team Big 12 following last weekend's three-game sweep by No. 2 Oklahoma. The only team behind Baylor is Iowa State at 1-5. Baylor hosts Iowa State in a three-game series next weekend as part of a 12-game homestand that begins this weekend.
The Red Raiders (32-8, 3-6) have enjoyed a strong season behind the pitching of DePaul transfer Missy Zoch (12-5, 2.02 ERA) and sophomore Erin Edmoundson (14-2, 2.47 ERA).
After seeing a lot of hard throwing Big 12 pitchers, the Lady Bears will have to adjust to Zoch's off-speed pitches and ball movement.
"We just can't go up there and be free swingers and have success against her," Moore said. "You'll have a tendency to be out on your front foot a little too much and get a lot of dribblers. We need to be able to stay compact with our swings and see the ball longer. We'll have to be very mature and fighters in the box to stay in the game."
The Lady Bears will continue to ride sophomore pitcher Sidney Holman (10-13, 3.68 ERA), who has started all 10 Big 12 games and has gone 2-8 with a 5.22 ERA. Though Holman has shouldered a heavy load, Moore said she's kept her pitching speeds high.
"There are certain days where I'm like, yeah, it's there," Holman said. "And then there's some days where I'm like I'm throwing 42 (mph) maybe. But they say they're staying up there, so that's good I guess."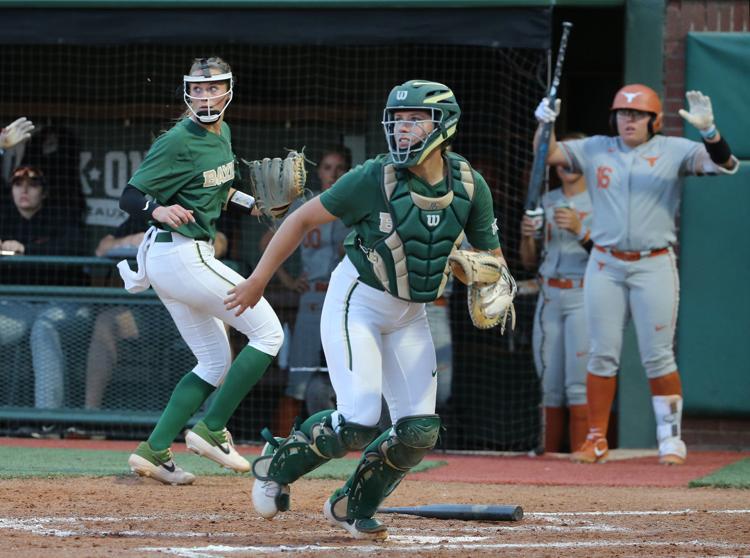 Moore said freshman shortstop Lou Gilbert will be back in the lineup after missing the Oklahoma series for disciplinary reasons. He hopes to get pitcher Regan Green and infielder Hannah Thompson back from injuries later in the season. However, catcher Tyler Trott is out due to concussion protocol.
Despite their injury problems, the Lady Bears still believe they can finish with a flurry.
"Obviously, we're going through something that we haven't gone through since I've been here, at least," said Baylor catcher Taylor Ellis. "I don't think ever actually. We're just trying to stay positive, look at the bright side of things. That's all we can do at this point. Honestly, I'm just excited about every weekend. That's the kind of mentality that we have to keep going forward with."