Kennedy Brown couldn't have picked a better time to score her first header at Baylor.
Taking a pass from Raegan Padgett, Brown headed the ball past Virginia goalkeeper Laurel Ivory early in the second half to lift No. 11 Baylor to a 2-1 win in a riveting Sweet 16 soccer match on a chilly Sunday night at Betty Lou Mays Field.
The Bears (20-5) set a school record for wins and punched their ticket to the Elite Eight for the second straight season. Seeded No. 2 regionally, Baylor will play at No. 1 seed Georgetown at 11 a.m. Saturday with a berth to the Final Four on the line.
"It's great, it's really a dream," said Baylor goalkeeper Jennifer Wandt. "I was talking to my mom about this, when you're little, you grow up looking at teams like this. It's great, so hopefully we go and finish business this year."
The Bears dropped a 4-0 decision at Duke last year in their first ever Elite Eight appearance. It will be hard for Baylor to leave Betty Lou Mays Field after going 13-0 at home this season, including wins over Abilene Christian, No. 13 Vanderbilt and No. 12 Virginia in the NCAA tournament.
"It was my last game at Betty Lou, I'm a senior, we've gone undefeated," Brown said. "I think that's just God coming through. There's literally nothing more I could ask for. It's so special. I'll definitely hold that in my heart forever."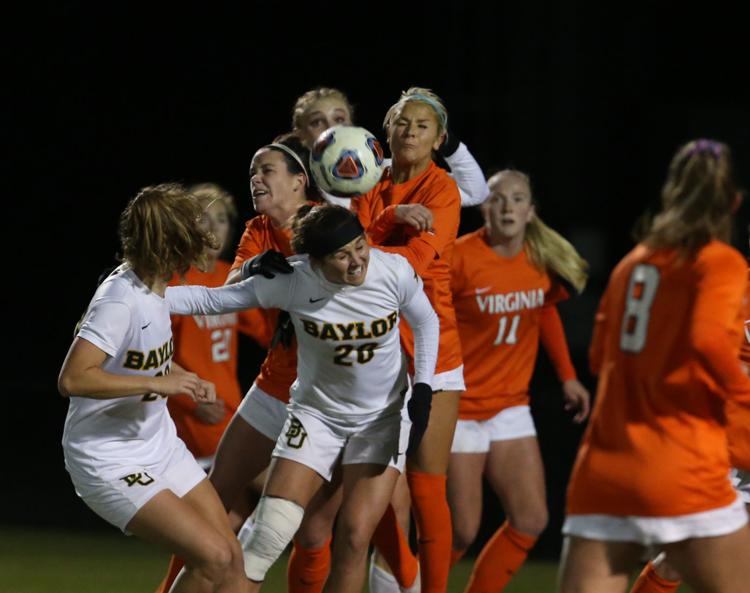 Coming into the game, Brown had scored just one goal on a kick this year in the fourth game of the season at Florida Atlantic on Aug. 26.
But she was at the right place at the right time against the Cavaliers (16-5-1) as she sprinted downfield and took a pass from Padgett from the right side and headed in the ball in the ninth minute of the second half.
"When she goes, I have to sprint because she's so fast," Brown said. "So I was trying to make my run from half field. She crossed a great ball in and I was like it's coming straight at my head, I've got to put it in.
"I had so much momentum sprinting in that I just jumped on Camyrn (Wendlandt) and she just body slammed me down. I was like this is the life."
The Bears controlled the tempo in the first half and scored the first goal when Julie James nailed a header after a corner kick by Ally Henderson in the sixth minute.
Virginia pulled into a 1-1 tie when Meghan McCool powered a kick past Wandt in the 17th minute of the game.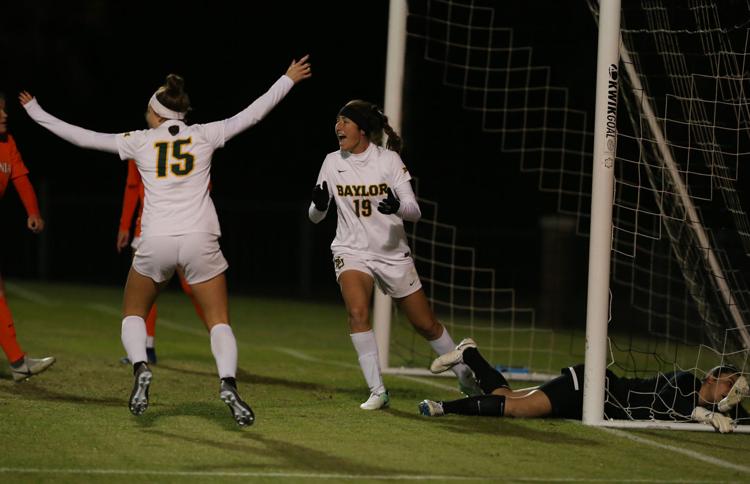 After Baylor took eight shots to Virginia's six in the first half, the Cavaliers controlled the ball for most of the second half with an 8-2 shot advantage.
Wandt finished the night with three saves to offset Virginia's relentless second-half attack. When Virginia's Rebecca Jarrett deflected a shot off Wandt, teammate Kayley Ables backed her up to avoid a Cavaliers score shortly after Brown scored for the Bears.
"We knew they were going to push people forward, they were just adding extra forwards, pushing their midfields, but we just cleared it out," Wandt said. "I didn't care who cleared it, who it hit off of, as long as it wasn't in my box, I was OK."
With the clock winding down in the final minutes, Baylor was called for a foul and Brianna Westrup was awarded a free kick outside the penalty box. But she sent her shot low into a crowd of players and failed to score.
"It's everybody's championship game, and you're throwing everything you have forward," said Baylor coach Paul Jobson. "That's what you've got to do and that's what you expect from a great team like that. They're just a fantastic team, and I'm just proud of our girls for the way that they came through tonight."
The Bears survived and now they hope to win one more at Georgetown to reach the Final Four in Cary, N.C.