After just two days of practice, Baylor soccer coach Paul Jobson will get an accelerated look at his team when it faces Texas A&M-Corpus Christi in an exhibition game at 5 p.m. Sunday.
The No. 14 Bears will play at Midway's Rice Field because new turf is being installed at their own Betty Lou Mays Field. Jobson expects the Bears' home field to be ready for the second exhibition game against Texas State at 7 p.m. Saturday before they play their regular season opener against Northwestern State at 4 p.m. Aug. 25.
Though playing an exhibition game this early is unusual, Jobson believes it's necessary.
"It's something we're doing a little different this year obviously, but I'm excited about it," Jobson said. "I think we need to know right away where we are, so that we can make adjustments early. Sometimes you train for a week, you feel like you're at a certain place. You play a match, and everything goes out the window and you kind of start over a little bit. So we'll be put to the test really early and we'll know where we are."
Coming off last year's Big 12 championship season followed by a run to the Elite Eight, the Bears were picked second in the Big 12 preseason coaches' poll behind West Virginia.
The Bears have a strong core with eight returning starters, including preseason all-Big 12 defender Kayley Ables, goalkeeper Jennifer Wandt and high-scoring senior forwards Camryn Wendlandt and Raegan Padgett.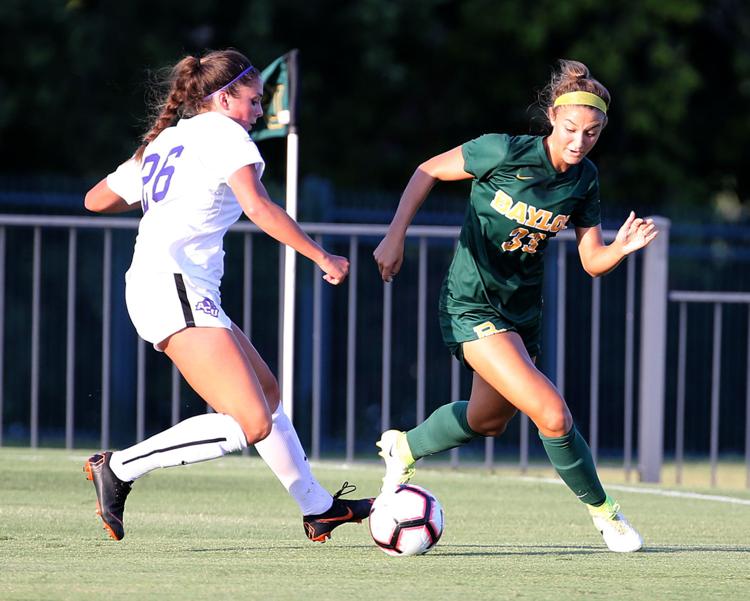 But Jobson wants to find out what some of the younger players can do since he has to replace talented players like Julie James, Jackie Crowther and Sarah King. Baylor is bringing in six freshmen this season, who will see plenty of playing time during the two exhibition matches.
"I mean experience is everything right now," Jobson said. "Every year, you lose seniors and you bring in new players, and you're working on what are those relationships between the new players. And the sooner you can get them out there against opponents and not just against each other, I think the bigger advantage you can have."
On the heels of two straight Elite Eight appearances, Baylor's veterans have experience and confidence. But they understand that they need to create a whole new chemistry with this year's team.
"I would say our team is confidently humble, and I say that because we can't just air off of what we've done in the past years," said Wendlandt, who scored five game-winning goals last season. "We know this is a brand new team, a brand new start. We know we work hard for each other, and we know we all want to come together and accomplish a goal."
After last year's 20-6 finish, Baylor's veterans are looking forward to showing the freshmen the ropes and setting an example of what it takes to win at a high level.
"We've seen a lot of it already, but just hard work, tenacity, not being afraid to be in there with the older girls, which is what we've seen," Padgett said. "We've seen some great plays made already. I'm just excited to see a little bit more out of them in the game and see what they can contribute."