The three Baylor seniors set Michigan up, and a freshman knocked the Wolverines out.
Adrian Boitan, who clinched both of Baylor's wins in the Big 12 tournament, has done the same in the Bears' two NCAA tournament matches.
In Saturday's second-round tilt, Boitan posted a 6-4, 6-3 victory over Matias Siimar to put the final point on the board in a 4-1 win for Baylor, the No. 6 overall seed, at the Hurd Tennis Center. The Bears move on to the new super regional round and will host No. 11 UCLA, which is tentatively scheduled for 6 p.m. Friday, with the winner advancing to the final site in Orlando, Fla.
Baylor also defeated Michigan, 4-1, on Jan. 27, and the script played out the same way in that match as it did Saturday.
The Wolverines (18-9) claimed the doubles point in both matches but couldn't follow that up with a singles point in either.
"We prepared to deal with the loss of the doubles point because you can't go through the entire tournament without having that setback once in a while," Baylor coach Brian Boland said. "There's so much parity. We've played great doubles. We've been consistent, and we have to believe in ourselves if it doesn't work out. Credit to Michigan for playing two great tiebreakers."
Baylor (24-5) quickly put the doubles behind it and took control in singles.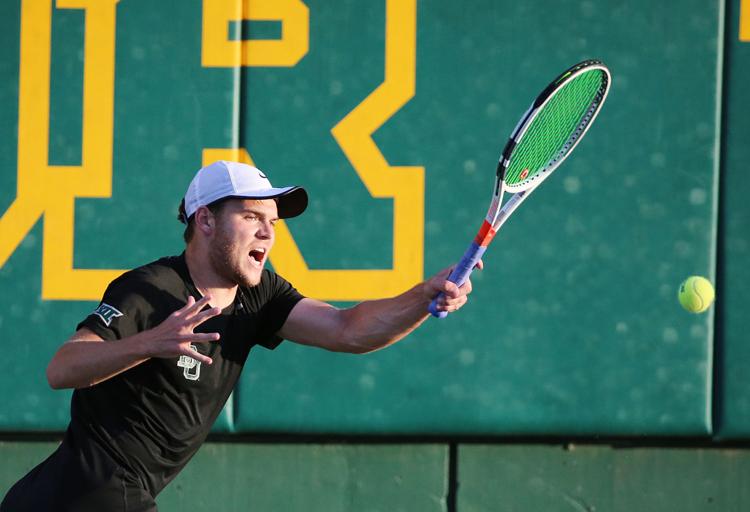 Will Little cruised through his match with Connor Johnston at No. 4, breaking twice in both sets and evening the team score at 1 with his 6-2, 6-3 win.
The other two seniors were in a tight race to put the second point on the board. Fans at the Hurd Tennis Center were giving their customary match-point slow clap to both Johannes Schretter on Court 1 and Jimmy Bendeck on Court 6.
Bendeck dropped one match point, which allowed Schretter to nose across the finish line first with an ace to put the finishing touch on a 6-4, 6-3 win over Andrew Fenty.
Seconds later, Gabe Tishman missed a shot long to hand Bendeck a 6-4, 6-4 win and Baylor a 3-1 lead. It was especially sweet for Bendeck, who hadn't played a singles match since April 7 against Oklahoma State.
"I'm still in pain, but it was just good to be out there," Bendeck said. "I don't have many matches left, and I want to be out there as much as I can. The coaches are putting me out there and trusting in me even though I haven't played in a month. I just went out there. I didn't know if I was going to win or lose. I just wanted to compete as hard as possible."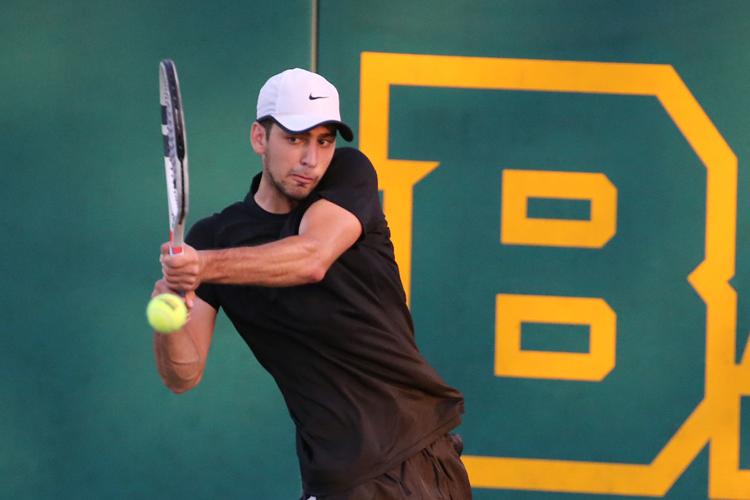 That once again brought the focus to Boitan's court, and the freshman came through once again for the Bears.
Boland laughed when asked if he thought Boitan was purposely putting himself in the clinching position and said, "You'll have to ask him," but it's clearly a place Boitan has no problem being.
"The thing is I love to be in that position," Boitan said. "All the pressure goes, and I can come out and play my best."
Bendeck was the only Bear to win both of his matches, as he and Sven Lah, the No. 1 doubles team in the nation, defeated Siimar and Johnston, 6-4. But Michigan pulled out a pair of tiebreakers at No. 2 and 3 to claim the opening point. Tishman and Harrison Brown edged Schretter and Constantin Frantzen, 7-4 in the tiebreaker on Court 3, and Fenty and Myles Schalet made it a 1-0 Michigan lead by closing out a 7-5 tiebreaker over Matias Soto and Little at No. 2.