Following a rugged debut season as Baylor's equestrian coach, Casie Maxwell expected a long, slow transition before her team became the national power she envisioned.
But the Bears have far exceeded her expectations in her second year.
Coming off a Big 12 championship, the Bears are ranked No. 3 in the National Collegiate Equestrian Association championship at the Extraco Events Center.
The Bears finished 5-9 last year after ending with a lopsided 12-3 loss to national champion Auburn in the NCEA championship quarterfinals. This year's team has improved to 9-4 following its win over Oklahoma State in the Big 12 championship in Stillwater on March 30.
"I thought it would take three or four years to get the dynamic we wanted and get the team on board," Maxwell said. "One thing that's helped us get there really quickly is the majority of our team is really young. They bought in from day one when I came here, so that helped a lot. This year specifically we've got an incredible group of upperclassman leadership."
The NCEA championship will be split into two categories. Championships will be held in four separate disciplines Wednesday, Friday and Saturday, including equitation over fences and equitation on the flat in Hunter Seat competition, and reining and horsemanship in Western competition.
Team competition will begin with Thursday's quarterfinals and semifinals, followed Saturday with the finals. Competition each day will begin at 8:30 a.m.
In team competition, No. 1 seed Auburn meets No. 8 TCU, No. 2 Texas A&M faces No. 7 South Carolina, No. 3 Baylor meets No. 6 Georgia, and No. 4 Oklahoma State faces No. 5 SMU.
The Bears pulled off an 11-8 home win over Georgia on Feb. 23 at the Willis Family Equestrian Center. But Maxwell knows a repeat win over the Bulldogs is anything but a sure thing.
"We feel really confident that we have beaten them before," Maxwell said. "But we know anything's up for grabs at nationals, and that's what we told our team. It doesn't matter where you come in ranked and how you did in the regular season because things here are so mental. They're a great team and an incredibly talented team. You just need your team to be in the right zone on the right day."
Maxwell believes the Bears are balanced enough to compete for the program's first overall team championship.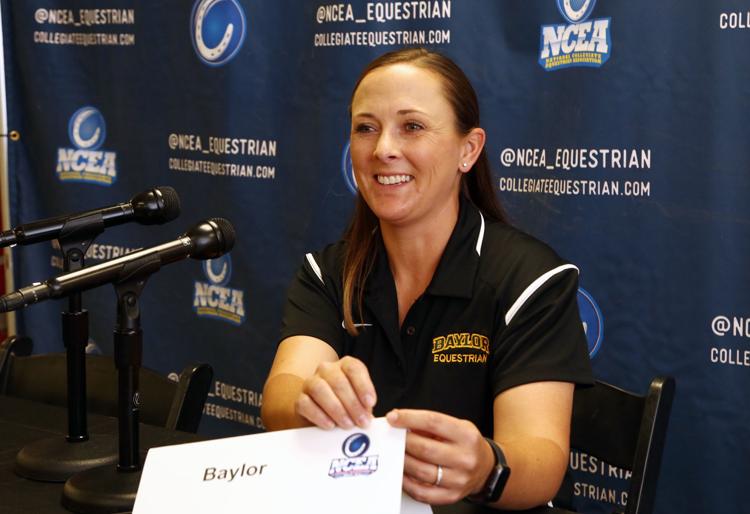 A strong senior class is led by seniors Abbi Demel and Kaylee Mellott in horsemanship. Senior Shannon Hogue is a premier rider in equitation on the flat while junior Madison Day is a force in both equitation over fences and the flat.
Junior Grace Thiel was named the Big 12 rider of the year in equitation on the flat while sophomore Sydney Scheckel was named the conference's rider of the year in reining. While those riders are Baylor's best, the team's depth will be needed to win the championship.
"It's been really neat to watch the growth and seeing them being able to lean on each other and not have one side carry us through more so than the others," Maxwell said. "We came down to a tie at the Big 12 championship 10-10 (Baylor beat Oklahoma State on raw scoring). We knew we had to be strong enough in all four of our events to be able to get to that point. I think we're peaking at the right time."
Demel is among the Baylor seniors who understand this will be their last shot to win a national title. The Bears have built some serious momentum down the stretch as they try to win their first overall team championship.
"Oh, it would be awesome," Demel said. "Honestly, I can't even explain the feeling. I know the Big 12 has always been important to us, but the national championship is the best of the best. It would definitely be history for Baylor equestrian."
This will be the second year the tournament format not only includes team competition but also separate discipline competition. The larger format increases the workload for the riders, but they won't turn down another chance to compete.
"It's definitely a lot of work, but I personally enjoy it," Demel said. "The individual competition is still important. It's just nice to get in the arena and feel things out and shake the nerves off before you go out to perform for your team."