In the locker room after registering his first save of the season, newly installed Baylor closer Kyle Hill grabbed his phone and sent a text message to Troy Montemayor.
"I texted him and I said, 'It's a little harder than it looks,'" Hill said. "I know it's only three outs to end the game, but it's three big outs. I really respect what he did, and I've learned a lot from him, watching him over the years."
Entering this 2019 season, pundits pointed to Baylor's bullpen as the team's only area of concern. It made sense, at least on paper. The Bears had graduated several veteran relievers who had become known as the "Old Guys," namely Drew Robertson, Alex Phillips and, of course, Montemayor, who finished his career tied for first atop Baylor's all-time saves list.
As it turned out, Baylor's pen has proven mightier than the baseball writers' ball-point swords. Led by Hill, a de facto "Old Guy" last year as a junior, the BU relievers have tallied a 16-5 record with a 2.93 ERA in 187.1 innings pitched on the year.
Baylor coach Steve Rodriguez admitted that those pitchers have been even better than expected.
"You always like to be surprised as a coach, in a good way," Rodriguez said. "The big thing for me is those guys who are really kind of anchoring down that bullpen are the older guys, who in my opinion have now earned this position in the spot they're in right now. They do everything they're supposed to do. They go out there and they pitch well. I think they've learned a lot from the guys we've had in the past and how they go about their business."
While Hill was a known commodity coming into the year, several other pitchers have stepped up as back-end bulldogs. Junior right-hander Luke Boyd is 3-0 with a 1.75 ERA and has emerged as one of the top swing-and-miss hurlers on the squad, ranking second on the team with 32 strikeouts in 25.2 innings. Ryan Leckich (2-0, 1.95 ERA, 30 Ks), Daniel Caruso (2-1, 2.19 ERA) and Jacob Ashkinos (1-2, 3.76 ERA) provide quality depth. And the latest addition is junior right-hander Logan Freeman (0-0, 2.45), a transfer from McLennan Community College who made his season debut last weekend after missing the first eight weeks with a broken foot.
Hill has been the king of the hill, though. The reliable senior right-hander has transitioned effectively from a setup role in 2018 to closer this year. He leads the Bears in both pitching wins (5) and saves (5), and has limited opponents to only seven hits in 21 innings and a .106 batting average. Most impressively, Hill is 18 appearances into the season and has yet to even allow a run.
That's right — it's mid-April, and he still sports a 0.00 ERA.
"I know it's zero. But that's just because of the guys behind me," Hill said. "You look at my strikeouts, 23 strikeouts in 21 innings. It's because of the defense behind me, so just put the ball over the plate and let 'em hit it."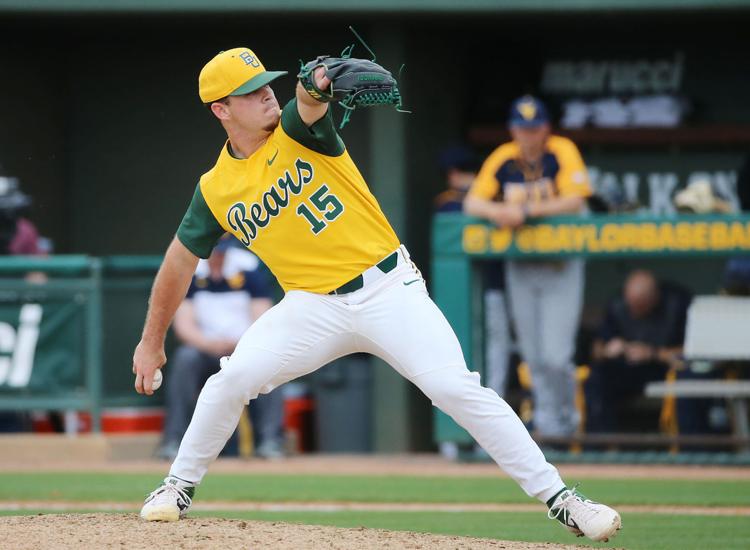 Rodriguez jokingly rebuked a reporter who brought up Hill's 0.00 ERA, on the notion that it would invite a jinx. But in all seriousness, he loves the pitcher's mentality as much as his results.
"The biggest thing for me is that he's pitching well," Rodriguez said. "He loves being in games, wants to pitch more. If he has a zero ERA, great. If he has a 5, and he's successful for our team and is still doing what he's capable of doing, shoot, I can't complain about that."
Baylor's pitching staff, and really the entire team, figures to be tested this weekend when it faces No. 16 Texas Tech in Lubbock starting Thursday. The Red Raiders were the preseason No. 1 favorite in the conference, and they possess as much pop as any team in the league, led by veterans like Cameron Warren (.331, 8 HRs, 42 RBIs) and Josh Jung (.307, 4 HRs, 32 RBIs).
Plus, any trip to Dan Law Field means dealing with Gusty McWind, too.
"Obviously it's going to be ridiculously windy, just like it usually is up there," Rodriguez said. "So we're going to have to understand the elements and try to do the best we can to avoid letting those elements play into the fact of winning or losing the game."
Baylor owns a two-game lead over second-place Oklahoma State in the loss column in the Big 12 standings, and the Bears are looking at this weekend as another chance to prove themselves. They know Tech's reputation – and that of the rowdy Dan Law Field crowd – and such facts invite an enticing opportunity.
"It's always fun to play in Lubbock," junior DH Andy Thomas said. "Their crowd is a little interesting, they heckle a little bit more than anybody. So, it's fun to go up there and play. But, they're a good team. It's always exciting, to go up there and play probably one of the best teams in the Big 12."
Bear Facts: Baylor's lead in the Big 12 hasn't been accomplished by smoke and mirrors. The Bears rank No. 1 in the conference in both team ERA (3.30) and batting average (.313). … A hot topic of conversation in college baseball circles has been a vote on the idea of adding a fully paid third assistant to coaching staffs. Though Big 12 athletic directors reportedly voted down the proposal, 6-4, Baylor's Steve Rodriguez said that Baylor voted for the change. "I think it betters college baseball," Rodriguez said. … Texas Tech is 15-3 at Dan Law Field this year, and the Red Raiders will be playing their first game of a 10-game homestand on Thursday. It's Tech's first game in Lubbock since April 7 after a five-game stretch that included a neutral-site game against New Mexico State and road trips to West Virginia and Duke.