Former Baylor star Max Muncy was thrilled to make the National League All-Star team Friday, replacing injured Washington Nationals third baseman Anthony Rendon.
Now in his fourth season in the major leagues and second with the Los Angeles Dodgers, Muncy will be an All-Star for the first time as a reserve in Tuesday night's game at Progressive Field in Cleveland.
"It's kind of everything to me," Muncy told the Los Angeles Times. "It's a dream true. It's something that I wouldn't have thought would happen but here we are."
The first baseman should feel comfortable as he joins a large group of Dodgers, including Cody Bellinger, Hyun-Jin Ryu, Clayton Kershaw, and Walker Buehler. The Dodgers' coaching staff will serve as the NL's coaching staff with Dave Roberts managing the team.
Muncy is batting .269 with 21 home runs and 59 RBIs, and has a .532 slugging percentage.
Langeliers begins pro career with a bang
Shea Langeliers showed prodigious power at Baylor, blasting 31 homers in three seasons.
Picked ninth overall by Atlanta in the first round of the baseball draft, it took him just two games to go deep for the Rome Braves.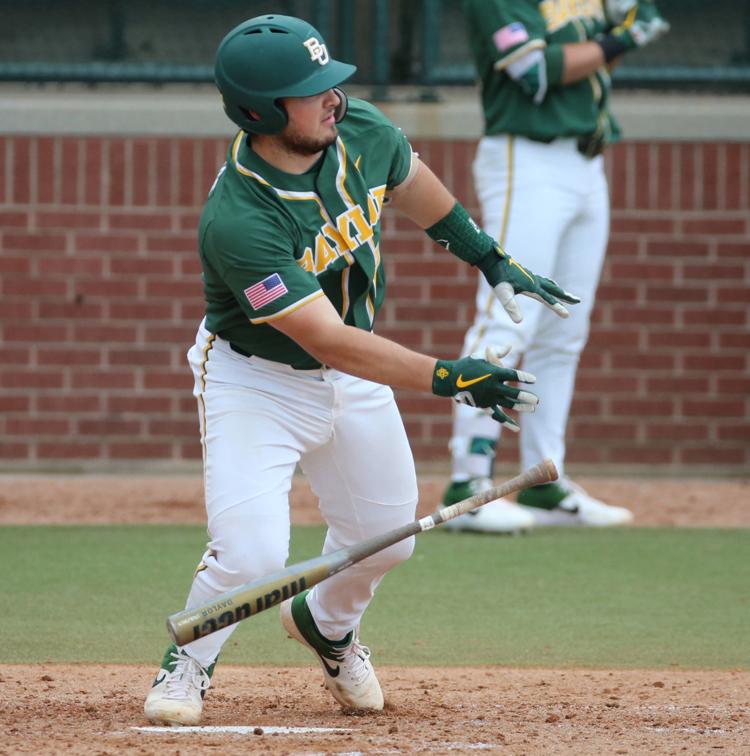 In his third at-bat for the Class A team, Langeliers pounded a two-run homer over the left-field fence in the first inning of Rome's 5-3 win over Hagerstown on June 22.
"My approach is to wait for the fastball," Langeliers told MiLB.com. "In this league, there are some good pitchers. You have to see the ball up, be more aggressive. I got a pitch to handle and put a good swing on it. Off the bat, it felt pretty good."
Langeliers finished the game with two hits in three at-bats with two walks.
The catcher hasn't hit a homer in the last nine games, but he has collected six more RBIs to give him nine in 11 games. He's drilled four doubles in 43 at-bats and is hitting .209.
Langeliers enjoyed a memorable final weekend at Baylor as he went 5-for-6 with three homers and an NCAA tournament record 11 RBIs in a 24-6 win over Omaha at the Los Angeles regional.
He finished his junior season with a .308 batting average with 10 homers and 42 RBIs before signing with the Braves for a reported $4 million.
"The competition in college was very good," Langeliers said. "Here (in the minors) take the top two, three arms from college teams. All are super-good, throw mid-to-low 90s and have a good breaking ball. I just have to stick with my approach."
Robertson excelling in Triple-A
Former Midway star Kramer Robertson is swinging a hot bat at the Triple-A level.
In his last 10 games through July 4, Robertson hit .323 with a homer and six RBIs for the Memphis Redbirds.
In 40 games for the Redbirds, the shortstop is hitting .281 with four homers and 20 RBIs while pounding eight doubles and scoring 21 runs.
A fourth-round draft pick by the St. Louis Cardinals in 2017 out of LSU, Robertson has risen quickly through the system. After playing for Class A teams in 2017-18, he started this season at Double-A Springfield (Mo.) where he hit .256 with six homers and 24 RBIs in 39 games before his promotion to Triple-A.
Tunnell dominating as closer
Former Baylor pitcher West Tunnell has become a shutdown closer for the Visalia Rawhide.
In 23 games, Tunnell has collected 13 saves in 14 opportunities while compiling a 1.48 ERA for the Arizona Diamondbacks advanced Class A team.
Through 24.1 innings, he's allowed just 14 hits while amassing 36 strikeouts. The right-hander has had some control issues as he's walked 16 batters, but opponents are hitting just .169.
Tunnell has been especially stingy in his last 10 appearances as he's allowed three hits and one run in 9.1 innings while collecting eight saves.
Hill struggling in Class A
Kyle Hill was an All-America closer for Baylor as he went 6-0 with seven saves while not allowing a run in 29.1 innings as a senior.
So far that success hasn't translated to the minor leagues as he's given up 10 hits and seven earned runs in 8.1 innings in five games for the Class A West Virginia Power. His biggest problem has been the long ball as opponents have blasted three homers.
The Seattle Mariners took Hill in the 10th round of this year's draft.
CENTRAL TEXAS PRO BASEBALL STATISTICS
| | | | | | | | | |
| --- | --- | --- | --- | --- | --- | --- | --- | --- |
| PITCHERS | | | | | | | | |
| Player | School | Team | League | W-L | ERA | IP | K | BB |
| Braxton Ashcraft | Robinson | West Virginia (Pitt.) | A | 0-4 | 6.75 | 18.2 | 14 | 5 |
| Nate Bertness | MCC | Inland Empire (LAA) | A+ | 2-2 | 7.80 | 30.0 | 38 | 16 |
| Daniel Castano | Baylor | Jacksonville (Mia.) | AA | 0-2 | 3.57 | 17.2 | 15 | 5 |
| Zach Duke | Midway | Cincinnati | MLB | 3-1 | 5.01 | 23.1 | 18 | 18 |
| Jack Finnegan | MCC | Schaumburg | Ind. | 1-0 | 5.06 | 5.1 | 8 | 8 |
| Kyle Hill | Baylor | West Virginia (Sea.) | A | 1-0 | 7.56 | 8.1 | 9 | 2 |
| Matt Kent | Midway | Portland (Bos.) | AA | 3-2 | 2.62 | 58.1 | 30 | 18 |
| Brad Kuntz | Baylor | San Antonio (Mil.) | AAA | 0-2 | 20.25 | 4 | 2 | 5 |
| Chris Martin | MCC | Texas | MLB | 0-2 | 3.34 | 32.1 | 34 | 3 |
| Ryan Merritt | MCC | Durham (TB) | AAA | 3-4 | 6.79 | 58.1 | 50 | 18 |
| Logan Ondrusek | MCC | Harrisburg (Wash.) | AA | 0-0 | 5.14 | 7 | 4 | 2 |
| Alex Phillips | Baylor | Fort Myers (Minn.) | A+ | 3-2 | 0.79 | 34 | 44 | 8 |
| West Tunnell | Baylor | Visalia (Ariz.) | A+ | 0-0 | 1.48 | 24.1 | 36 | 16 |
| Logan Verrett | Baylor | Midland (Tex.) | AA | 1-0 | 3.93 | 34.1 | 33 | 4 |
| Tyler Watson | MCC | Kannapolis (CHW) | A | 0-1 | 9.00 | 12 | 11 | 4 |
| Aaron Wilkerson | Midway | Milwaukee | MLB | 0-0 | 6.97 | 10.1 | 9 | 7 |
| POSITION PLAYERS | | | | | | | | |
| Player | School | Team | League | Avg. | Runs | HR | RBI | SB |
| #Josh Breaux | MCC | Charleston (NYY) | A | .295 | 12 | 7 | 30 | 0 |
| Kameron Esthay | Baylor | River City | Ind. | .253 | 29 | 4 | 29 | 2 |
| Brandon Grudzielanek | MCC | New Hampshire (Tor.) | AA | .156 | 5 | 0 | 1 | 0 |
| Shea Langeliers | Baylor | Rome (Atl.) | A | .209 | 5 | 1 | 9 | 0 |
| #Zac Law | Robinson | Charlotte (TB) | A+ | .154 | 4 | 0 | 3 | 1 |
| Nic Motley | MCC | Boise (Col.) | A | .120 | 3 | 0 | 2 | 0 |
| Max Muncy | Baylor | L.A. Dodgers | MLB | .269 | 55 | 21 | 59 | 3 |
| #Dimas Ojeda | MCC | Modesto (Sea.) | A+ | — | — | — | — | — |
| Nate Orf | Baylor | San Antonio (Mil.) | AAA | .270 | 48 | 7 | 27 | 8 |
| Kramer Robertson | Midway | Memphis (StL.) | AAA | .281 | 21 | 4 | 21 | 2 |
| Chris Roller | MCC | Great Lakes (LAD) | A | .277 | 32 | 4 | 19 | 4 |
| Brendan Venter | MCC | Rome (Atl) | A | .159 | 13 | 3 | 17 | 0 |