The day began with a variety of emotional video greetings, as Baylor honored its six seniors on its final home Sunday of the season. One of those videos even featured a message from pop superstar Elton John, as Josh Bissonette's dad Matt is currently overseas playing bass for the singer.
However, when Sir Elton is your opening act, it's a tough act to follow.
Kansas State rocked Baylor's Jacob Ashkinos for seven runs in just 2.2 innings, and the Bears couldn't dig out of that steep hole, falling, 10-3, in their Big 12 home finale at Baylor Ballpark.
Though the Bears (32-13, 14-6) could not complete a second straight conference sweep, it was still a successful weekend overall, as they took the series by winning two games on Saturday. They still own a half-game lead on red-hot Texas Tech (33-14, 14-7) for first in the Big 12 standings.
"They are a good team," Baylor coach Steve Rodriguez said of Kansas State. "We played well the first two games, and our pitches were a little flat early, up in the zone. All you've got to do is get the barrel going and they're going to be able to hit those pitches, and they did. We had some offensive opportunities, just couldn't execute. That was pretty frustrating, but throughout this whole season we've been able to do that."
Ashkinos (2-3) was coming off a solid four-inning start last weekend against TCU, and Rodriguez was hoping for a similar outing against the Wildcats (23-26, 7-11) before handing the ball off to his bullpen. But the coach had to pull Ashkinos a lot sooner than he wanted, as Kansas State scored two in the second inning before walloping the pitcher's offerings on its way to a five-run third.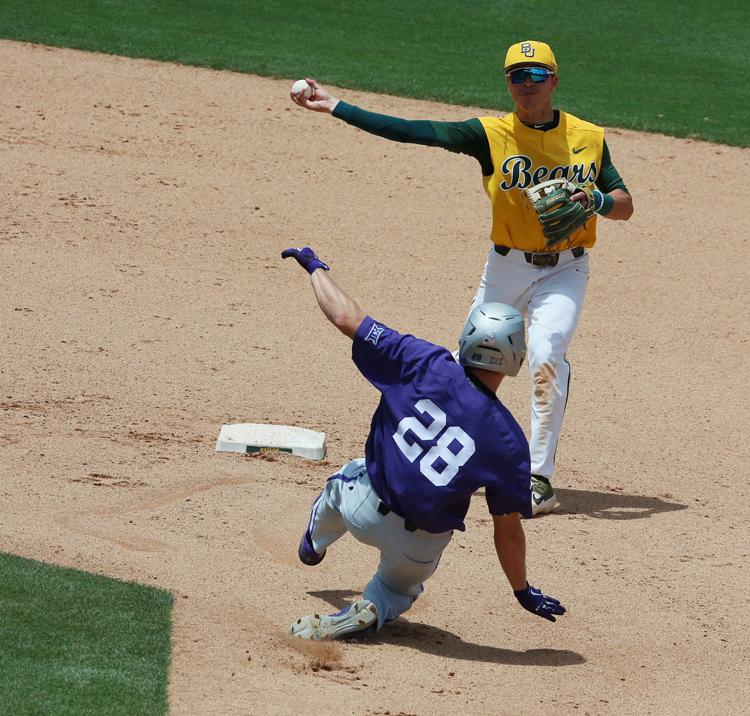 In the second inning, Chris Ceballos got the barrage started for K-State by unloading on a fat pitch over the plate for a solo home run, the catcher's seventh of the season. Ashkinos issued a walk to the next hitter, then two straight singles, including an RBI knock from Jaxon Passino that made it 2-0.
The pitcher escaped that inning without further damage, but things spiraled out of Baylor's reach an inning later. And all of the damage came with two outs, which ultimately proved to be a trend, as K-State scored eight of its 10 runs after two were down in the inning.
Ashkinos gave up a hit-by-pitch, a single and a walk to load the bases, then Kansas State smashed three straight singles before Rodriguez finally yanked the pitcher from the proceedings.
Baylor pulled to within 7-2 in the fourth on Nick Loftin's two-run single. But K-State starter Jordan Wicks proved effective in locating the getaway lane whenever he backed himself into jams. On the day, Baylor left 12 baserunners stranded, as the Bears went just 1-for-11 (.091) at the dish with runners in scoring position.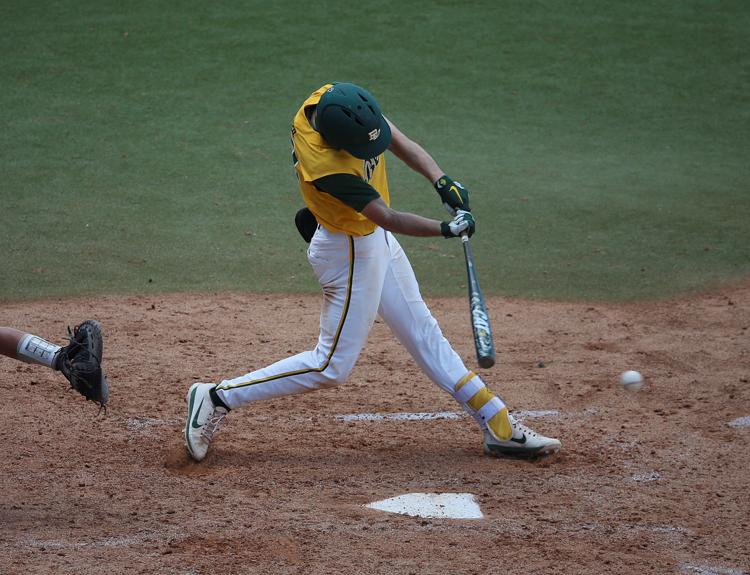 "Today was tough. You've got to give props to Kansas State," senior centerfielder Richard Cunningham said. "You lose two games and come out on Sunday and fight the way they fought, that's pretty impressive. So, you've got to tip your cap. But, that was very self-inflicted, myself included. We did a lot of things wrong. We just played baseball poorly today."
Baylor's bright spots came in the form of the bullpen efforts from a pair of pitchers who started the year in the weekend rotation, Tyler Thomas and Hayden Kettler. Thomas relieved Ashkinos in the third, and tossed 3.1 scoreless innings, while Kettler rescued Blake Helton (two hits, three runs in the seventh) and closed things out with two scoreless frames.
Rodriguez praised the way Thomas and Kettler pitched, and suggested that both could be in line for more innings as the postseason draws closer.
"Big 12 tournament you're going to need a ton of pitchers, so everybody's roles are going to be magnified a little bit," the coach said. "So, hopefully in the postseason everybody is going to be on the board and we're going to take everybody as long as we can, as long as they're effective."
Shea Langeliers drilled a 432-foot bomb for a solo home run in the ninth, the catcher's seventh of the year. But that wasn't enough to spark some miraculous eight-run rally, and K-State put the finishing touches on a series-salvaging win for the Wildcats.
Baylor will take this next week off for final exams, and will play its final home game May 14 against UT-Arlington. Then the Bears will close out the regular season with a series at Oklahoma State May 16-18.
"I'm really thankful that the schedule worked out the way it did that we have UTA that Tuesday after finals. That's awesome," Cunningham said. "What a good way to get back out there and get your feet wet before going up to Stillwater and playing a really good team.
"At the same time, you've got to give a couple days and give schoolwork what it deserves, and then we just have to stay locked in together. It's a fun time to spend a lot of time together and build that camaraderie and kind of understand the one goal and the one mission in front of us."