Josh Bissonette knew that Sunday's game would be a memorable one, because it set up as the last collegiate game his father Matt would see him play in person. Matt is leaving soon for Italy, and will be overseas for the next three months.
Bissonette made it even more memorable with the perfect send-off gift. Check that – call it a walk-off gift.
The Baylor senior second baseman supplied a game-winning single in the bottom of the 12th inning, pushing the 25th-ranked Bears past Oklahoma, 3-2, on Sunday at Baylor Ballpark. Baylor (24-10 overall, 8-3 Big 12) claimed the series victory with two straight wins after a loss in Friday's opener, and stands alone atop the conference standings, having yet to lose a series against a league foe over the course of four weekends. (It tied with Texas at a game apiece, with the third game canceled due to bad weather.)
It also marked Baylor's fifth walk-off win of the year.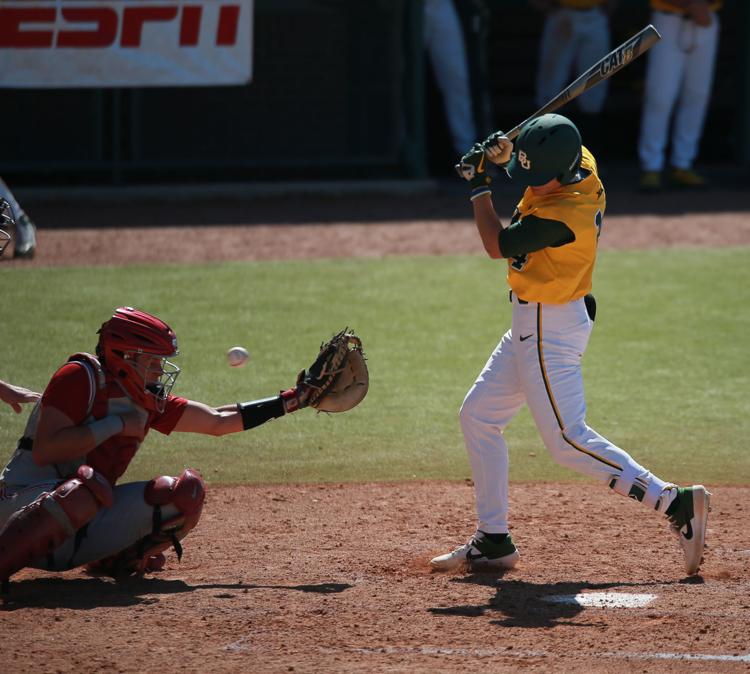 Against Oklahoma (25-12, 6-6) and its arsenal of high-powered mound rifles, the game became something of attrition warfare. But Bissonette was up to the hero role.
After Oklahoma tied the game at 2 in the fifth, neither team was able to push across a run from the sixth through the 11th innings. That finally changed in the Bears' half of the 12th. Shea Langeliers led off by smoking a single to left. He moved to second on an Andy Thomas sacrifice bunt, then tagged and advanced to third when Cole Haring flew out to right.
That set the stage for Bissonette, who was 0-for-3 in the game, reaching once on a hit-by-pitch with the bases loaded. He was looking for a ball inside from Ruffcorn.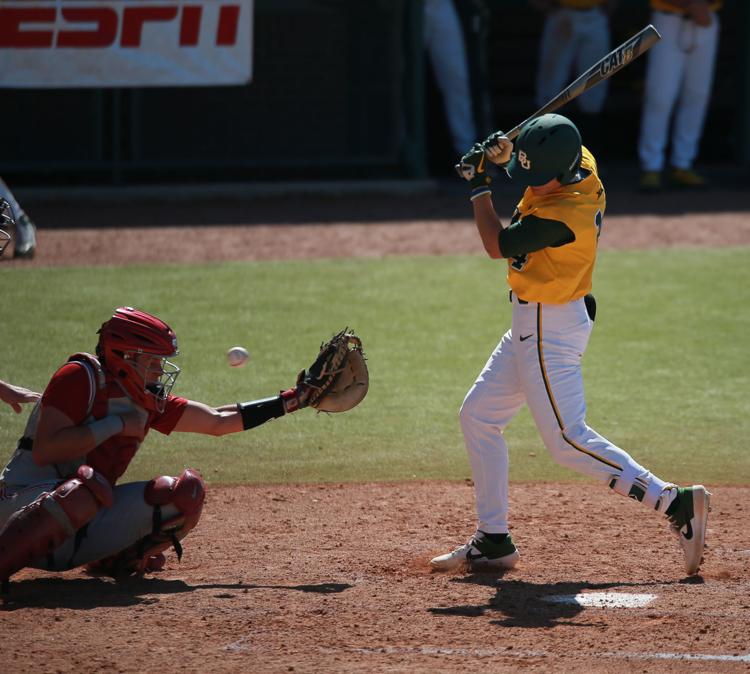 On the pitcher's third delivery, he indeed went inside, and Bissonette shortened up his swing and punched the ball the other way, into the hole in right field. He immediately thrust his hands into the air in giddy glee, then was gang-tackled by his teammates after rounding first.
"I had two opportunities earlier in the game and didn't get the job done," Bissonette said. "Ruffcorn is a really good pitcher for OU, and I knew that he was going to try to bury a fastball low and in to me at some point in the at-bat. I knew there was a pretty big hole over at second and first, and all I was trying to do was try to put it through there and hopefully it would get through, and it did."
Bissonette said that the moment was made all the more special since his dad was there to witness it.
"It was really special for my family," said Bissonette, who later added that he speaks to his dad before every game, usually via a phone call. "I know I'm going to see him after the game and give him a big hug. It was just a really good moment. I've never done that before."
One massive leather-encased reason runs came at a premium was Baylor's dynamic defense. The Bears turned a double play in the first inning, benefited from a running catch in foul ground from Davis Wendzel for the third out of the third, saw Kyle Harper and Nick Loftin team up to gun an OU baserunner at the plate to end the fifth, and gave Langeliers a chance to flash his cannon arm by suckering OU's Conor McKenna into a rundown in the ninth.
But for sheer degree of difficulty, none of those plays could match Richard Cunningham's catch in the top of the eighth. OU's Brylie Ware, who homered in the Sooners' win on Friday, crushed a ball deep to the wall in right-center, and Cunningham went full crash test dummy, barreling into the wall while hauling in the ball for the out.
Baylor coach Steve Rodriguez called it a "game-saving play," and Bissonette labeled it "unreal." Cunningham, ever the epitome of aw-shucks humility, said he really didn't get a great read when the ball came off the bat.
"Because of the situation of the game and how good of a hitter Brylie Ware is, we were playing deep to avoid them getting a double, because we knew a double was the only thing that could beat us at that time," Cunningham said. "I took a classic, five, 10 steps, and that should be nowhere near the wall, but I forgot how deep I was playing. All of the sudden, I hear 'Fence!' from I think it was Cole (Haring) in right. All of the sudden I go up and it looks cool, I guess."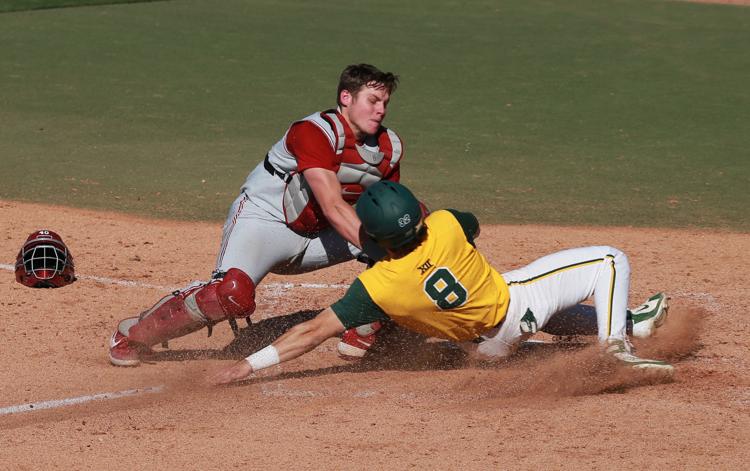 When the fifth-year senior was asked if his body could handle such a collision, he laughed.
"Hey, I've taken some blows this year, but we're fighting through it. This old stallion's still got it," Cunningham said.
Get 'em in any way you can – that idea worked for the Bears to take a 2-0 lead. In the second, Baylor took a 1-0 lead with an effective production of run manufacturing. Cole Haring drew a leadoff walk, moved to second on a sacrifice bunt, and eventually scampered plateward on Chase Wehsener's bouncing single up the middle.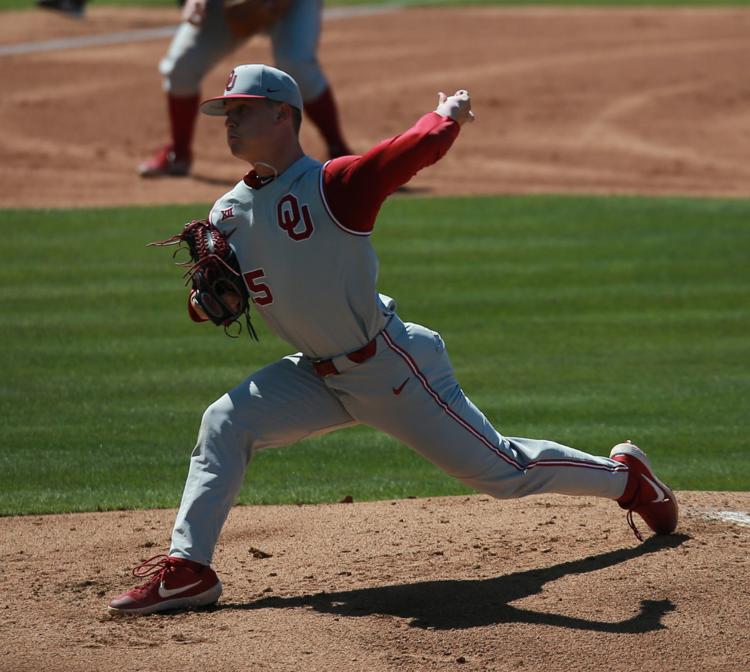 The Bears made it 2-0 in the third when they loaded the bases off Oklahoma's Levi Prater on a double, a walk and an OU error. Prater managed to strike out Haring for the second out and tiptoe to the edge of escape, but the pitcher let one get away with Bissonette at the dish, hitting the BU second baseman to force in a run.
The Sooners scratched back, scoring once in the fourth and again in the fifth to tie the game. In the fourth, Baylor seemingly had a tailor-made, inning-ending double play at the ready, but Nick Loftin's throw to first skipped wide for the team's only error of the game, allowing OU to score from third.
In the fifth, OU whacked a pair of doubles off Baylor reliever Daniel Caruso, the second of which by Ware scored the tying run before the Bears gunned the go-ahead baserunner at the plate thanks to Loftin's sharp relay throw.
Baylor's pitching matched OU's well-armed crew zero for zero thereafter. The Bears limited Oklahoma to seven hits over 12 innings, and put a zero on the scoreboard in 10 of the 12. Logan Freeman, a transfer from McLennan Community College, saw his first action of the year after being out with a broken foot, and logged 1.2 scoreless, striking out one.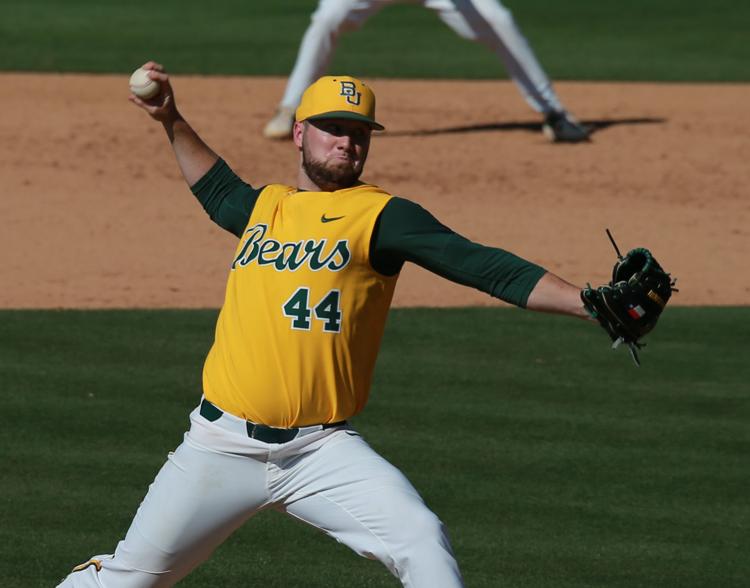 Closer Kyle Hill (5-0) tossed three scoreless at the end of the game for the victory, allowing only one hit and fanning two. Hill leads the staff in victories, and still owns a 0.00 ERA on the season.
"He's asked us to pitch more, and today he was going to keep going for us, simply because has the ability to do that," Rodriguez said. "He's done a lot of different roles for us in regards to starting, middle relief, and we've done everything we've asked him to do. And as a senior, and as strong as he is and the endurance he has, he probably could have gone several more innings and been fine."
Baylor will be back on the diamond Tuesday at home against Sam Houston State. Then the Bears will open a three-game series at No. 11 Texas Tech on Thursday, finishing on Saturday in order to avoid playing on Easter.