In his only year of competitive football as an eighth grader, Nick Loftin never came off the field. Breaks? Who needs breaks? That's why they created halftime.
Loftin split time at cornerback and free safety on defense, and started at receiver on offense, except for one play in which he took a snap at quarterback. "I'm 1-for-1 on touchdown passes," Loftin recalled, smiling. He also handled his team's kicking and punting duties.
He never complained once.
"That was actually, really fun, and I really enjoyed playing," Loftin said.
That kind of versatile, hey-coach-whatever-you-need-me-to-do spirit embodies what Loftin means to the 25th-ranked Baylor baseball team. It's no surprise to BU head coach Steve Rodriguez that Loftin never came off the field as an eighth-grade football star, because he hasn't been able to keep Loftin off the diamond for the past two years.
Not that he'd want to, mind you. From his first practice with the Bears, Rodriguez labeled Loftin as "a special talent."
"It really comes back to my mentality of doing whatever it takes to win," Loftin said. "Regardless if that's me leading off or batting ninth, playing left field, center field, right field, shortstop or even pitching, I'm going to do whatever it takes to win and help this team win. At the end of the day, it doesn't matter where I play as long as I do what I'm supposed to do."
Loftin is Corpus Christi born and raised, with deep roots in that area. He started playing baseball at T-ball age and hardly wanted to do anything else thereafter. By his middle school years, he said he started "experimenting" with other sports, including that foray into football as well as basketball and track and field, but baseball had long since won over his heart.
Loftin attended private Catholic school through eighth grade, and actually took a week's worth of classes at a private school as a high school freshman. But he rapidly recognized that juggling baseball and books at that school was going to prove arduous, and opted to transfer to W.B. Ray, a Class 5A public high school.
"They ended up putting me in some really, really hard classes, where it was hard to balance out baseball and school," Loftin said. "So that's where I made the decision to go to public school, and honestly it was one of the best decisions I've ever made."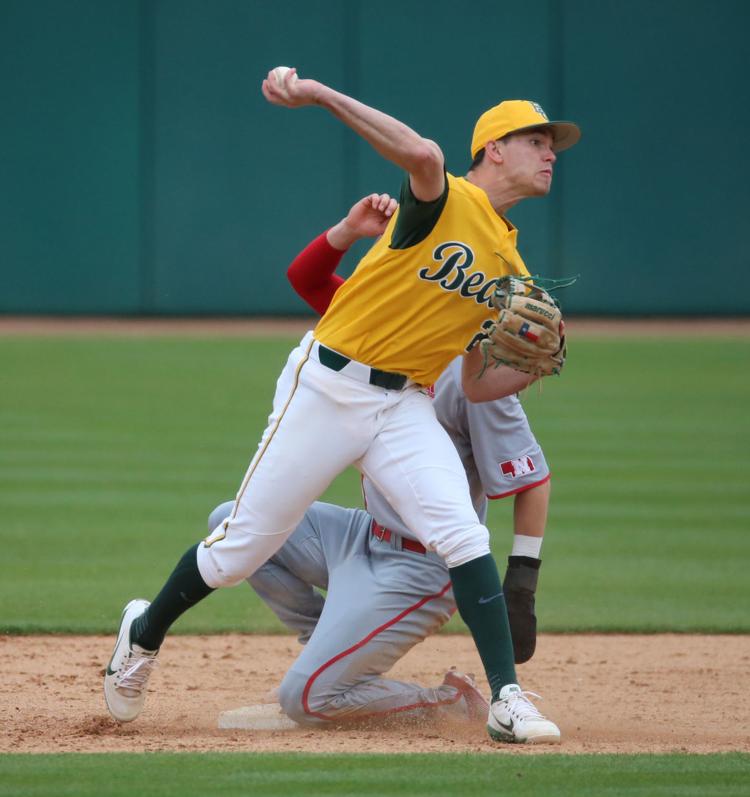 He also decided to limit his athletic endeavors to baseball. Loftin dreamed of playing baseball in the big leagues someday, and even as a freshman he attracted the eye of college scouts. That year he decided to commit to Texas A&M-Corpus Christi, his hometown university. He made a snap decision because he was already sensing that it might be a stressful one, and wanted to get it out of the way "and just play baseball," he said.
Circumstances change, though, and in time Loftin realized that he wanted to consider other options. He didn't come by that notion lightly. He's a loyal guy by nature, and the idea of de-committing to A&M-Corpus required much thought and prayer. The word "commitment" meant something to him.
But he finally called the A&M-Corpus coaches and let them know, all the while making a silent promise to himself that when he made his next commitment it was going to stick.
"I told myself, I was just going to leave it in God's hands and the first school that was going to come after me, I was most likely going to commit, depending on if I felt like that was the right place," said Loftin, who made USA Today's All-America baseball team as a high school sophomore. "What a great opportunity that Baylor was the first school to come after me. When I said I put it in God's hands, it was really putting it in God's hands. It was really nice."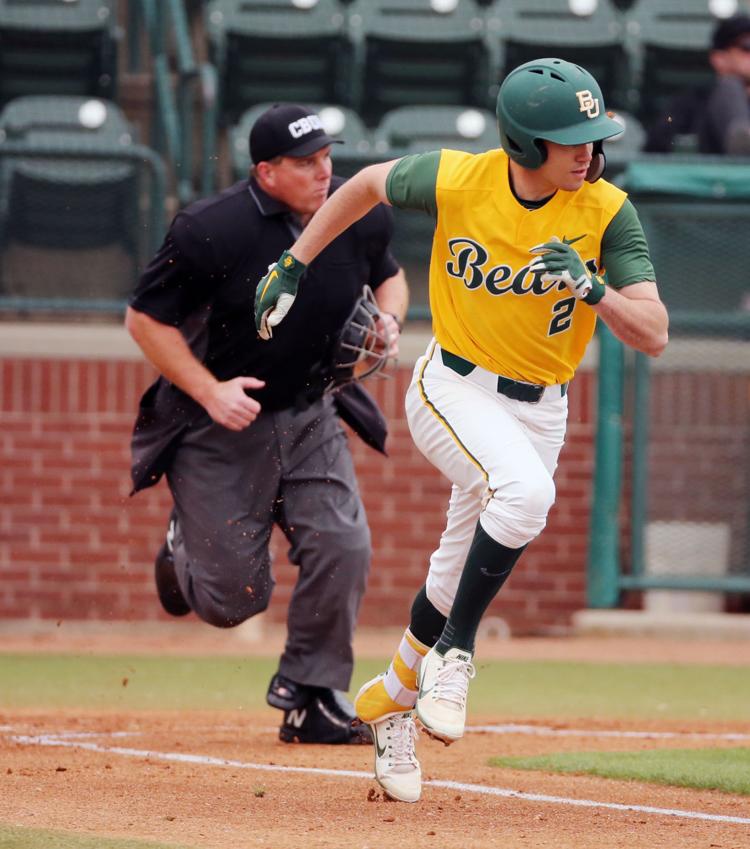 Loftin signed with the Bears in November 2016, and didn't look back. Last year as a freshman, he made a sudden impact. He started out in left field before eventually taking over at shortstop by the end of the season. In the batter's box, he supplied well-rounded numbers — a .306 batting average, 52 runs, 12 doubles, six home runs, 36 RBIs and five steals. He was named a freshman All-American by several publications, including D1Baseball.com.
"Nick, he's a great baseball player, an amazing guy," first baseman Chase Wehsener said. "He brings a presence of just getting on base, selfless. Just finding whatever he can do to help us get going in every inning or starting the game. He's got that power, too. He can put it over the fence to lead off the game, so he's great in the leadoff spot."
Yeah, Loftin sets the table for the Bears like a bus boy hopped up on Red Bull. He's a go-getter.
He didn't actually start out the 2019 season as the leadoff guy. Nor did Rodriguez sit him down and have a conversation with the sophomore shortstop that such a move was coming.
Loftin just walked into the dugout one day, saw his name at the No. 1 spot of the batting order, and shrugged. Easy come, easy go. Leadoff? Sure, sounds good.
"Usually he posts the lineup before the games," Loftin said. "I think I gradually moved up, think I started seventh, then moved to sixth. One day I walked into the dugout and my name was in the leadoff spot. I was like, 'All right, let's get it going.' It wasn't a shock to me or anything, because I was a leadoff guy in high school. That's where I batted my entire high school career. So it wasn't anything new."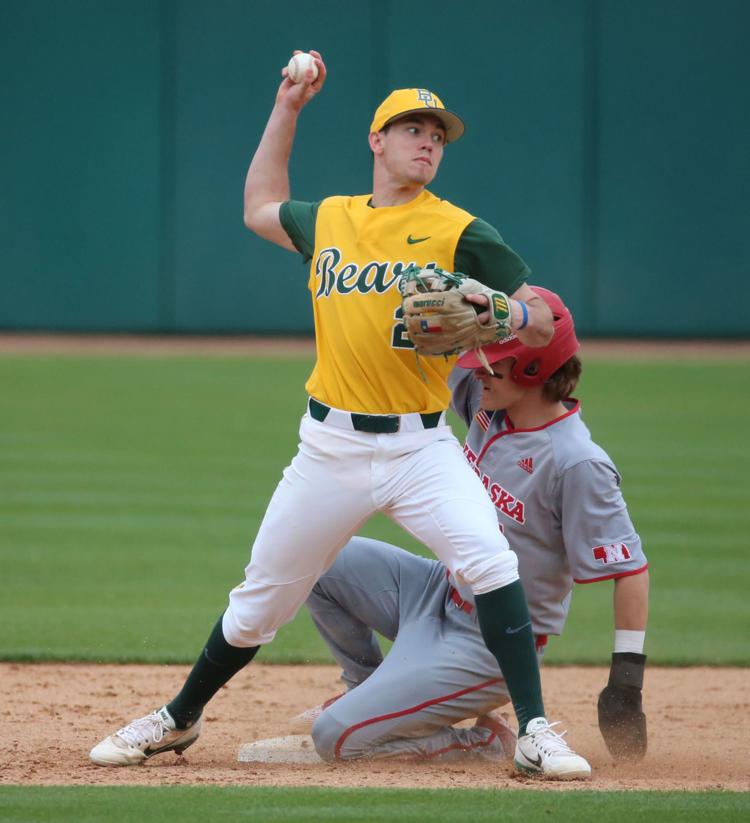 It's worked out well for both player and team. Loftin is hitting .363 — the fourth-best mark in the Big 12 — to go with 34 runs, nine doubles, five home runs, 26 RBIs, six stolen bases and 75 total bases. Since Loftin ascended to the leadoff spot on March 10, the Bears are 13-5 and have averaged 6.9 runs per game.
"It's really just finding the different chemistry in your lineup in regard to putting guys in certain spots, putting guys in that area," Rodriguez said. "Certain characteristics, he's going to get the most sheer number of at-bats just because of where he's hitting in the lineup. But the big thing is, he creates a lot of different things that we're able to do.
"He can handle the bat, he's skilled with regard to bunt and hit-and-run, he has power, he has speed. So he kind of gives you a nice, versatile player to put at the top of the order, so whenever big things come up, I like the guy I have in the leadoff spot."
That's fine with Loftin. But even if he got dropped to the nine-hole, he'd still take the same approach. A different Coach Rodriguez — Wuilman Rodriguez, one of his high school assistant coaches — used to tell Loftin, "Be at your best when your best is needed." Basically, be ready to go all the time. The words stuck with Loftin. They fit his personality, but they also shape the way he approaches the game of baseball.
"Whether I'm batting leadoff or any other spot, my mentality is the same," Loftin said. "I go in with the same mentality. My approach doesn't change. Like I said, I just want to do whatever it takes to win, and if Rod thinks that's the best for me, I'm going to do the best I can at that spot, and do everything I can to help the team."
Loftin, 20, wants to keep playing baseball beyond Baylor in the professional ranks, but that next step is at least another year away. For now, he's perfectly content doing his thing with the Bears, alongside guys he considers friends as well as teammates.
He just loves to play the game. Asked for this story what about it he loves so much, Loftin paused and said, "Wow. I don't think I've ever been asked that question."
He struggled to put his devotion into words, but he didn't let it go. He multi-tasked, giving the matter some thought while he answered other questions, and eventually circled back around to the topic.
"The reason why I love playing this game is because it's not like any other sport," Loftin said. "This is a game of opportunity. People say this is a game of failure, but I really honestly don't see that. I see it as a game of opportunity, and whether you're going 4-for-4 or 0-for-4, every day is a new day. It's exciting. You never know what the day is going to give you."