Mitch: Hi, Curly. Kill anyone today?
Curly: Day ain't over yet.
For much of the year, the Baylor baseball team killed it.
Better than expected, really. Or the Bears killed it better than anyone could have reasonably hoped for, given the litany of key injuries they suffered.
Then in the regular season's closing weekend, the Bears didn't execute like they wanted. They lost a pair of games to a very good Oklahoma State team in Stillwater before rain washed out the finale. Those results, coupled with Texas Tech's series win over TCU, prevented Baylor from reaching its stated goal of winning the Big 12 regular season title.
But here's the punchline. Just like with Jack Palance's character, the day — or, rather, the season — ain't over yet.
If you're a Baylor fan, there's a lot to like about what Steve Rodriguez's club has achieved. To go into your final day with a chance to win a Big 12 championship is something to applaud, not lament.
Obviously the Bears would've liked to have played better in Stillwater. But there's still a Big 12 tournament this week. The NCAA tournament hovers just over the horizon. Future dogpiles entice.
In my view, Baylor has done enough already to land one of the 16 host sites for the NCAAs. Now, I'm not a licensed college baseball bracketologist — hmmm, wonder what that gig pays — and I haven't studied the various cases of the potential host schools at length. I know that most of the bracket projections leading into the final regular-season weekend listed the Bears as a host. Should two road losses to a good team completely take that away?
Now, the knock on the Bears is an RPI of "only" 27, which lags behind most of the other potential hosts. But the NCAA selection committee should also consider that Baylor went 14-8 in the Big 12, a league which ranks as the No. 2 RPI conference in the country. Here's a nifty little stat about Big 12 baseball in 2019: The league's teams own a winning record against every other conference ranked in the top eight of RPI, including the mighty, No. 1 SEC.
I'm not here to throw a lot of numbers at you, though. Let's not get bogged down by the metrics. Instead, let's appreciate the season that Baylor has put together, and consider where it could still go.
You da man, no, you da man
Baseball players and coaches talk relentlessly about having a "next man up" mentality, to the point where the utterance of the words reflexively leads to an eye roll. Next man up is a nice concept – in theory. But there is a reason why the next man is standing on the top step of the dugout, and not planted on the field already. Generally speaking, the next guy is not as good as that other guy.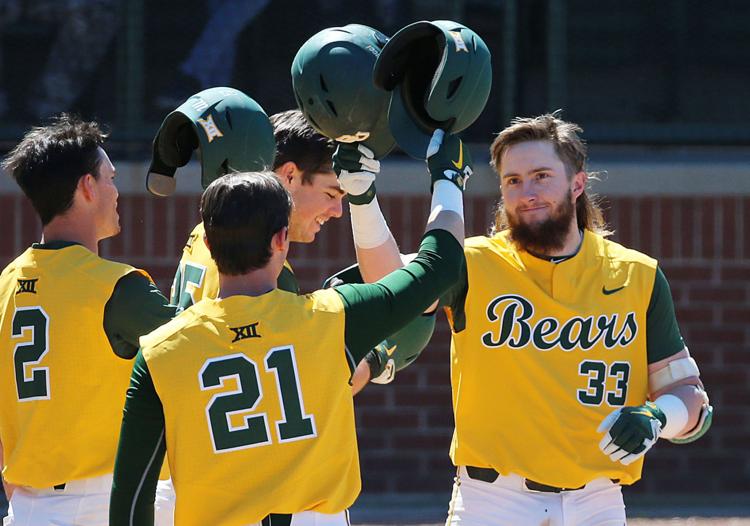 Remember, Baylor lost the reigning Big 12 Pitcher of the Year Cody Bradford to a season-ending injury in March. Bradford tossed seven innings before heading off the surgical table. All-American catcher Shea Langeliers missed 10 games with a broken hamate bone before returning. Outfielder Cole Haring, pitcher Hayden Kettler and, most recently, third baseman Davis Wendzel (one of the leading candidates for Big 12 Player of the Year) have all missed significant chunks of time with one ailment or another.
The Bears didn't bellyache about their injuries, though. In most cases, the next man actually stepped up. They embodied the cliché. Pitchers Paul Dickens and Jimmy Winston gave the Bears some quality innings, keeping the team in games. Backups like Kyle Harper, Cole Weaver and Ryan Bertelsman unveiled scene-stealing cameos at various points. The bullpen, anchored by bulletproof closer Kyle Hill, saved many a day. And the guys who stayed healthy, including Richard Cunningham, Nick Loftin, Andy Thomas and others, just continued to rake.
That they even gave themselves a chance at a Big 12 title is remarkable in itself. In the end, finishing second, two games behind a Texas Tech team that played two more league games, is nothing to cry about. Second is ultimately where Baylor was picked at the start of the year, 48 games and a half-dozen critical injuries ago.
Besides, day ain't over yet.
As mentioned, if I were drawing the brackets I'd put Baylor in Waco for the first weekend. But Baylor probably needs to do some damage in Oklahoma City this week to really solidify its resume for the NCAA committee.
Could they win a Big 12 tournament crown again? Sure, why not? It's a wide-open league, and the team that celebrates on Sunday afternoon is the one that starts out cooking on Wednesday and keeps sizzling the rest of the week. You've got to get hot and stay hot.
Baylor showed that last year in OKC. It has displayed cooking capability at various points this year, too. Remember, before the stumble in Stillwater (which included a one-run loss that ended with a somewhat controversial call in the finale) the Bears had won seven of eight games, including a sweep of TCU in Fort Worth.
Beyond Bricktown, Baylor has reasonable aspirations of getting into the NCAA tournament and making a run. It requires a fair amount of grit and gumption, sometimes even a bit of luck, to get through an NCAA regional. The good thing for the Bears is that they've shown they have grit and gumption in spades. Luck, well … that hasn't always been on their side, but you never know what the future will hold.
There's still time to make a killing.