OKLAHOMA CITY — The Baylor Bears continue to be rock-solid in Bricktown.
Three Baylor hitters added to their season home run totals, and Paul Dickens masterfully bounced back from a rough outing last week as the second-seeded Bears topped seventh-seeded Oklahoma, 8-2, to open up Big 12 tournament play on Wednesday.
"Pretty impressive win," Baylor coach Steve Rodriguez said. "Really fortunate that our guys were able to grab a couple of runs off (Oklahoma's Cade Cavalli) early and then were able to withstand that throughout the rest of the game."
Make that five straight wins at Chickasaw Bricktown Ballpark for Baylor (34-15), the defending tournament champion. The Bears will next face the winner of Wednesday's late Oklahoma State-TCU game at 7:30 p.m. Thursday.
The Sooners (33-22), who are on the bubble for an NCAA tournament berth, will face the loser of that OSU-TCU game in an elimination game at 12:30 p.m. Thursday.
Making his first Big 12 tournament appearance, Dickens resembled an old pro. He stepped up big-time, opening with six scoreless innings before Oklahoma's Conor McKenna broke up the shutout bid with a solo home run in the seventh.
The outcome cut a stark contrast from Dickens' last start against Oklahoma State last week. Dickens coughed up nine hits and 10 runs to the Cowboys in a 16-4 BU loss in that one.
So, Wednesday's game felt like a healing balm for Dickens, a transfer from Navarro College.
"Obviously I was excited to go out there," said Dickens, who improved to 5-2 on the year with the win. "I was ready to wipe away that last outing. It was big to go out that first inning and get those three outs right off the bat. That was huge, just to gain more confidence and to know that I was able to do it."
It didn't hurt that he pitched with a lead most of the day. Shea Langeliers, Andy Thomas and Cole Haring supplied Dickens with plenty of run support, as all sent balls into the jetstream for home runs.
In his first at-bat, Langeliers looked like he was trying to book a room at the Hilton Garden Inn, which sits a couple of hundred feet behind the ballpark. Following an infield single from Richard Cunningham, Langeliers unloaded on OU's hard-throwing Cavalli, sending a deep fly skyward over the left-field wall to the grassy berm in straightaway center.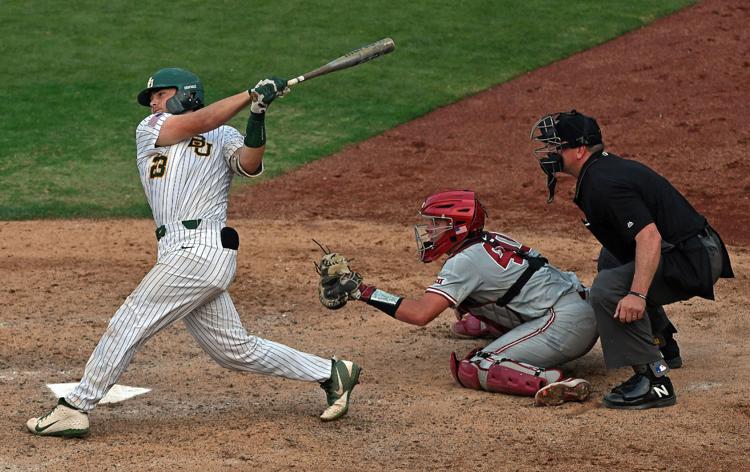 It didn't quite make the hotel, but the homer made it 2-0, Bears. It was Langeliers' seventh bomb of the season.
"I didn't think it was going to get out," Langeliers said. "I thought I hit it too high. But, luckily, the wind gave me a little help."
Langeliers sometimes will give good-natured grief to his fellow middle-of-the-order buddy Thomas about Thomas' supposed lack of power. Thomas led the Big 12 in doubles in the regular season with 19, but sent "only" two balls over the fences.
In the fourth inning, Thomas got his revenge. Following a Langeliers walk, the DH crushed one to right, depositing it past the Oklahoma bullpen and enlivening his pals in the BU dugout. The two-run swat pushed Baylor's lead to 4-0.
So, did his ball travel even farther than Langeliers' round-tripper?
"Of course. It's still going," said Thomas, flashing a grin at Langeliers sitting next to him. "No, probably about the same distance."
Quipped Rodriguez, "That's such a cheesy response."
It was all fun and games in the postgame presser, but it could have been a much different game had Dickens not shown a steely resolve when discovering a bit of trouble. In the top of the fourth, OU's Brady Lindsly delivered a bloop, one-out single. Then Tyler Hardman followed by scorching a ball deep off the fence outside the Baylor bullpen for a double.
Suddenly, there were runners at second and third with only one out, and the Sooners appeared ready to pounce.
Dickens wasn't fazed. Getting back to the first-strike success that launched his fine outing, he closed the inning with consecutive gigantic strikeouts of OU's Justin Mitchell and Brandon Zaragoza. On his way into the dugout, nearly every Baylor player and coach greeted Dickens with either a back slap, a high-five or a fist bump.
Oklahoma coach Skip Johnson called that swing "a separator" for Dickens, in terms of the pitcher being able to maintain his confidence and momentum.
"Whenever you have runners on base, nothing changes," said Dickens, who ended up with six strikeouts in his 6.1 innings. "You've got to be intense up there. Just because they have a runner on third base with less than two outs doesn't mean that runner has to score. That's kind of the mindset I want to have out there."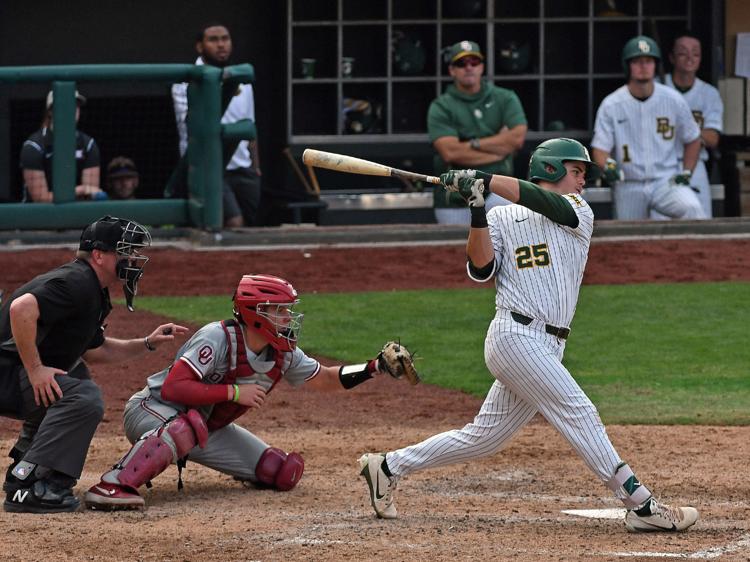 McKenna put a halt to Dickens' shutout bid with his solo shot in the seventh. But by that point, Baylor had a comfortable 7-1 lead. That was thanks to a three-run insurance policy the Bears took out in the bottom of the sixth. Chase Wehsener's high infield chopper gave Cole Haring enough time to scamper home from second base, sliding in safely just ahead of an attempted swipe tag.
Nick Loftin followed by spanking a sharp RBI single to left, and Thomas plated the seventh run for the Bears when he legged out a slow roller on the infield.
Haring gave the Bears even more of a cushion when he belted his team-leading 10th home run off OU reliever Jaret Godman in the eighth.
Thanks to Dickens' productive outing, Rodriguez needed to use only two relievers – Ryan Leckich and Luke Boyd – to close out the victory. That should set the Bears up well going forward in the tournament, with a still-fresh bullpen at their disposal.
"I thought he did amazing today," said Dickens' battery mate Langeliers of the starting pitcher's outing. "He did exactly what we needed to start this tournament. The first day, you need your starter to go deep in the game to save the bullpen and dominate, and that's what we got from him."
Rodriguez said that the initial plan for Thursday's game was to start right-hander Jimmy Winston (5-1, 4.06 ERA) against either the Frogs or Cowboys.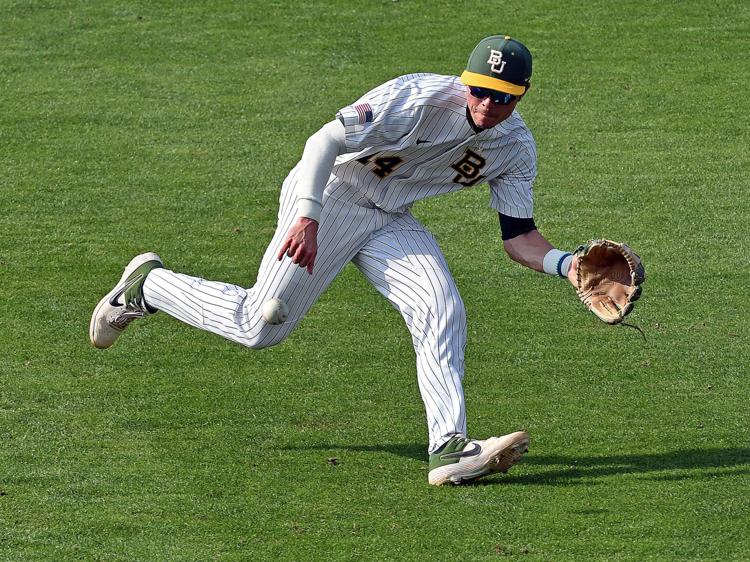 Texas Tech 7, Kansas State 4
The top-seeded Red Raiders built a 5-1 lead after three innings, and held off a late flurry from the Wildcats to win their opener.
Shortstop Josh Jung, the Co-Big 12 Player of the Year, went 3-for-3 to spark a 14-hit attack for the Red Raiders (37-15). Jung also walked twice, scored two runs and drove in one.
Tech starter Micah Dallas retired 13 of 14 at one stretch for the Red Raiders, and picked up the win to go to 5-0 on the year. K-State's Jordan Wicks, who was named the Big 12 Freshman of the Year a day earlier, had a rough day, giving up nine hits and five runs over three innings.
Next up for Tech is a matchup with fourth-seeded West Virginia and the Mountaineers' ace Alek Manoah at 4 p.m. Thursday. K-State will face in-state rival Kansas in an elimination game at 9 a.m. Thursday.
West Virginia 12, Kansas 8
The Mountaineers held their ace Manoah, the Big 12 Pitcher of the Year, out of the game, and will be able to use him Thursday after surviving a slugfest with the Jayhawks.
West Virginia (35-18) went up 9-1 and looked completely in control with Nick Snyder throwing darts. However, Kansas found its rhythm with a two-run fourth and a four-run fifth to get back in it.
But the Mountaineers kept hitting, adding some insurance runs in the process. DH Paul McIntosh banged three hits and drove in four runs, highlighted by a bases-clearing, three-run triple in the first.