Before the bus arrived that would carry them on to Oklahoma City, Baylor's baseball players gathered on Monday morning to get their luggage ready to go. After making a pile with the bags, someone pulled out a karaoke machine. At one point, the players coaxed Cole Weaver take the mic and spit some rhymes. In addition to being a recent Baylor graduate and a recently commissioned U.S. Army lieutenant, Weaver is a budding rapper as well.
Yeah, even after missing out on a Big 12 title, these guys are still loose and having fun.
From impromptu hip-hop concerts to games of "Mafia" on the bus to just doing their thing on the field, the 2019 Bears possess an ever-present sense of camaraderie.
"If you guys want entertainment, ride on the bus with us to Oklahoma City," senior centerfielder Richard Cunningham said. "It's unlike anything you've ever seen, just the chirping and the trash-talking and the games that are played. And the culture is just unbelievable.
"You want it so bad not only for yourself but for the guys around you. You want to win championships and you want to see guys do so well because you care about them that much you know how much joy and thrill they'll get out of it, too. It's a blast."
Naturally, Baylor's fun was muted last weekend in Stillwater, Okla. The Bears went into their final series with Oklahoma State with a chance to close out a Big 12 championship, but lost two games to the Cowboys before the finale was canceled due to bad weather. Texas Tech seized that opportunity by winning two of three from TCU to vault over Baylor for the title.
"There's disappointment just because we didn't win the title," Baylor coach Steve Rodriguez said. "But at the same time, I'm pretty confident we're going to be able to be in postseason just with the resume that we have. Regardless of what happens in this (Big 12) tournament, I'm really comfortable with where our guys are. We had a great practice yesterday here. … Our guys' spirits were really good yesterday. We had a chance to work on a few things, and really excited about just the energy level that we had."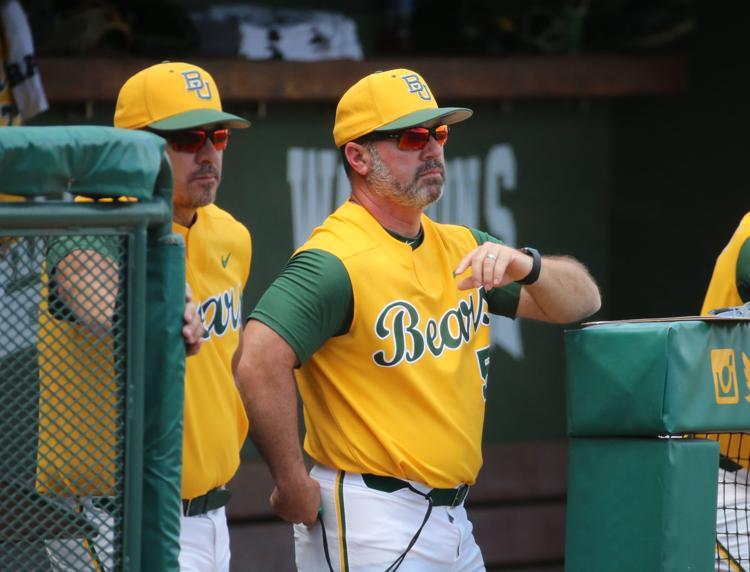 Winning the double-elimination Big 12 tournament is one of the more challenging tasks a team can tackle. Baylor has just one tournament crown in 22 previous years of competing in the event, despite qualifying for the tournament every year.
But that title is fresh on everyone's minds, as it came just a year ago. Baylor pulled out a wacky, 11-inning 6-5 win in the championship game over TCU to take that title, completing a 4-0 week in Bricktown.
It's a new year, and a different team, but Baylor (33-15) is hoping to rekindle some of those good vibes.
"We did not perform like we wanted to (in Stillwater). And you've got to tip your hat," Cunningham said. "(OSU) played great baseball, they hit the ball well, did exactly what they do. But yeah, we're going somewhere that we feel great about, and as a team collectively we played maybe our best baseball we played all year, from top to bottom. And now that we're going back there, it kind of reenergizes the team and gets everyone locked back in to go defend the crown."
The Bears go to OKC as the No. 2 seed in the event and will open up against seventh-seeded Oklahoma (33-21) at 4 p.m. Wednesday. Rodriguez hinted that Jacob Ashkinos (2-3, 4.62) would likely get the start on the mound against the Sooners, in order to keep the team's top two starters, Paul Dickens and Jimmy Winston, on their normal amount of week-long rest. Ashkinos was scheduled to start Baylor's finale with Oklahoma State before that game was washed out.
Baylor hasn't often experienced good news this year when it comes to injuries. But the Bears should get a lift this week, as Rodriguez labeled junior third baseman Davis Wendzel "very probable" to play. Wendzel has missed the past eight games with an oblique strain.
"Feeling good," said Wendzel, who was named Big 12 Co-Player of the Year on Tuesday. "Got some live (at-bats) yesterday for the first time in a while, and it felt good. Good to be back out there swinging. … I'm going to be back out there. I'm ready, and can't sit out any longer."
Wendzel's .385 batting average and top-drawer defense at the hot corner might be just the boost Baylor needs to do some damage in Bricktown. No matter what happens, the Bears are in good shape to capture an at-large berth in the NCAA tournament, but if they could make another run to the championship game that might build their case as a potential host site.
Not to mention, it would give them a chance to have some more fun.
"This team fights, and they've fought all year long," shortstop Nick Loftin said. "We've battled injuries, losses. We're able to bounce back and play really good baseball. So, we're excited."