When the Baylor hitters saw Shea Langeliers' name written on the lineup card Sunday morning, they felt a sudden burst of inspiration.
The preseason All-America catcher had missed the last 10 games after breaking the hamate bone in his left wrist.
"Whether or not he performs, when he's in the lineup it's a different confidence we have," said Baylor's Andy Thomas. "There's a maturity, there's 'Hey Shea's in the lineup, let's go. Everyone jump on his back and let's ride.'"
Langeliers collected two of the No. 21 Bears' 18 hits as they romped to a 10-3 win Sunday afternoon at Baylor Ballpark to avoid a three-game sweep by Nebraska.
After opening the series with Friday's 12-4 loss to the Cornhuskers (6-7), the Bears got just one hit in Saturday's 2-0 loss. But that all changed Sunday as Andy Thomas, Mack Mueller, Josh Bissonette and Richard Cunningham amassed three hits apiece for the Bears (10-4).
"We did a great job not letting the first couple games be dragged into this game," said Baylor coach Steve Rodriguez. "Our dugout was great and we had good energy and good personality. I was really happy to watch our guys go out there and compete, regardless of what they did the day before."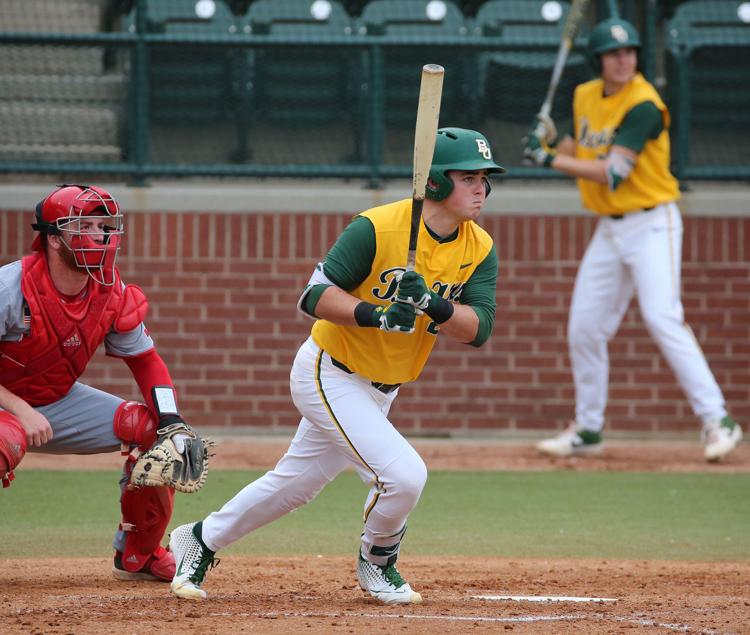 More than anything, Rodriguez was happy to get Langeliers back in the lineup after undergoing surgery for his broken wrist on Feb. 21. Langeliers was inserted into the cleanup spot at designated hitter, but Rodriguez expects him to be back at catcher by the upcoming weekend series against Cal Poly.
At least Rodriguez can get some peace in the dugout now.
"The day after surgery, he was like 'Hey, I think I can swing,'" Rodriguez said. "I'm like 'No, we can't do that.' I'm just really happy for him that he's healthy and he's back because he's been driving me nuts in the dugout."
After going hitless in his first two at-bats, Langeliers bunted for a single in the fifth inning before drilling a single to right field in the seventh.
"I was just itching to get back on the field," said Langeliers, who led the Bears with 11 homers as a sophomore last season. "Obviously I want to be a part of the team, anything I can do to help the team win. It feels really good."
Thomas, who has been catching the last two weekends in Langelier's absence, found his hitting groove by drilling three doubles and collecting three RBIs. He came into the game with just two hits in 17 at-bats in six games after missing seven games with mononucleosis.
"It's a weird thing, you just don't know when you're really fully back," Thomas said. "After today, I can pretty much say, 'Yeah, I feel like I'm back to normal.' My swing felt good today."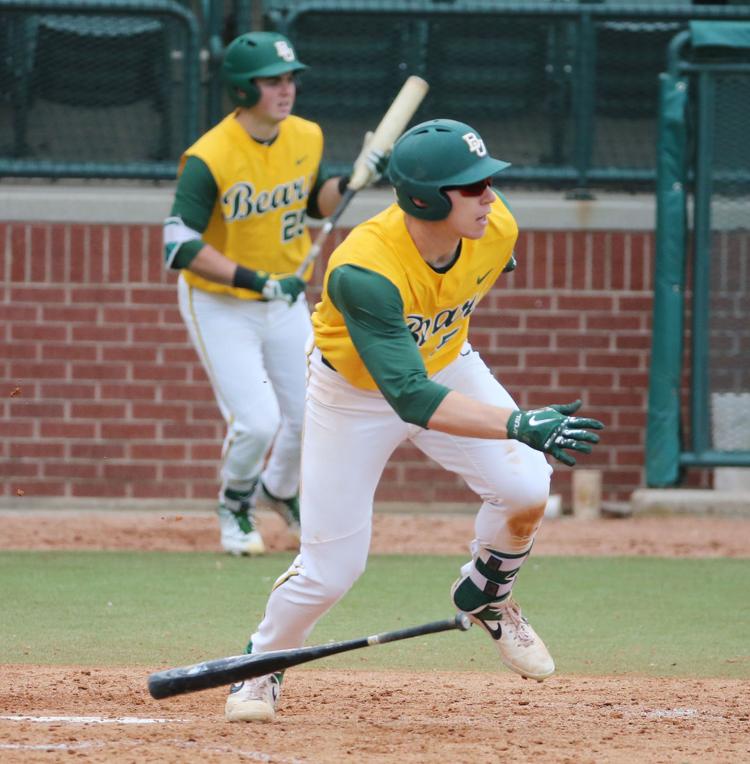 The Bears began their hitting spree in the second inning when Bissonette singled, moved to second on a wild pitch by Connor Curry and scored on Mueller's single. Thomas then drove a double to right-center to punch across the second run.
The Cornhuskers responded with a three-run third that could have been a lot worse for the Bears.
Baylor starter Anderson Needham allowed a single to Jaxon Hallmark before walking Spencer Schwellenbach and Angelo Alatavilla to load the bases with no outs.
After throwing two balls to Mojo Hagge, Needham was pulled but reliever Jimmy Winston (1-0) threw two more balls to force in a run. Aaron Palensky's base-loaded walk and Luke Roskam's single gave the Cornhuskers a 3-2 lead.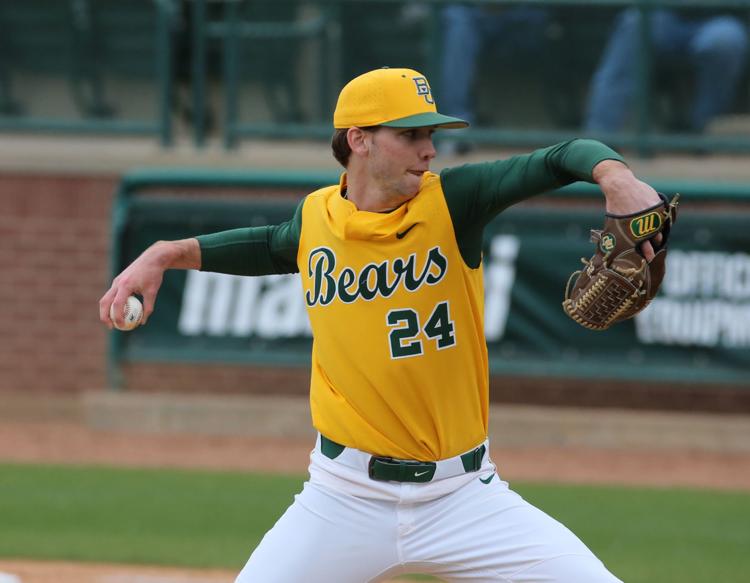 But the Bears got a break when Joe Acker grounded to third baseman Davis Wendzel, who stepped on the third base bag to force out Palensky and then threw home to get Hagge out at the plate. Cam Chick fouled out to end the inning.
The Bears tied the game in the fourth when Davion Downey singled and scored on Thomas' double off Chick's glove on the left-field warning track.
But with a five-run fifth, the Bears broke it open to take an 8-3 lead and never looked back.
Cunningham opened with a single before reliever Reece Eddins (0-2) hit Wendzel with a pitch. Langeliers loaded the bases with a bunt single.
With Shay Schanaman relieving Eddins, Downey and Bissonette delivered run-scoring singles before Mueller ripped a two-run single. Bissonette scored Baylor's fifth run of the inning on Thomas' ground out.
"Our hitters did a fantastic job today," Thomas said. "It's funny, you go back (to Saturday's 2-0 loss) and look at all the hard balls we hit. Three or four of those get through and it's a 2-2 game. Today we came out and had a lot of energy from Pitch One. We utilized the bats we have."
Cunningham and Wendzel hit singles in the seventh to bring in Baylor's final two runs. Baylor's bullpen was superb as Jacob Ashkinos, Ryan Leckich, Luke Boyd and Kyle Hill didn't allow a hit in the final four innings.
"They did a great job coming in and putting out fires and continuing what they do," Rodriguez said. "Coach (Jon) Strauss has done a great job with them coming out of the bullpen and making sure they have a role, and they know what that role is. They come in and execute what they're supposed to do and then bring the next guy in to be able to do the same thing."