Whenever the Baylor baseball team held its Senior Day ceremonies against Kansas State on May 5, it didn't include juniors like Shea Langeliers and Davis Wendzel in the farewells.
But it could have. Professional baseball should be calling their names soon enough.
Ever since he arrived on campus in 2017, Langeliers has looked the part of a future first-round pick. That future should become now on Monday, when the Major League Baseball Draft gets rolling.
Langeliers is ranked among the top prospects in the country, and should become Baylor's 11th first-round pick in program history and the first since Aaron Miller in 2009. A recent MLB.com mock draft projected the Minnestoa Twins to take Langeliers with the 13th overall pick.
Meanwhile, Wendzel – the Co-Big 12 Player of the Year, as voted by the conference coaches – also has a reasonable chance to go high in the draft. Baylor coach Steve Rodriguez has labeled Wendzel "one of the most impressive players in college baseball this year," and he's listed as the No. 47 player to watch on MLB.com's prospect list.
Wendzel has shown a steady consistency at the plate throughout his three years at Baylor, hitting better than .300 with at least eight home runs each season. His glovework is also sharp, as coming into this weekend's Los Angeles Regional he had committed only two errors in more than 90 fielding chances on the season.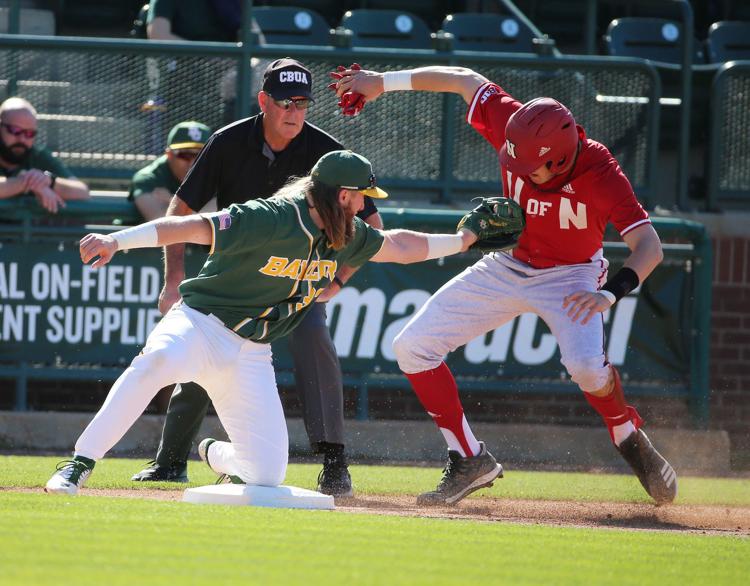 Wendzel is versatile enough that he could play almost any infield position in the pros, though he figures third base will remain his home.
"I can play anywhere," said Wendzel, who was drafted by the Boston Red Sox in the 37th round as a draft-eligible sophomore in 2018. "I can play second, third, short, infield, outfield. It doesn't really matter. I think at the next level, I'll probably end up projecting out as a third baseman. I think I'll be a top-end defender at third base for sure."
Speaking of top-end defenders, Langeliers has kept the pro scouts buzzing for the past three years with his special blend of talent behind the plate. Sure, he has good power as a hitter, with 31 career home runs for the Bears, but it's that slingshot of a throwing arm that really entices. Entering Saturday, he had thrown out 14 of 25 attempted base stealers (56 percent) on the season.
"He's obviously the best defensive catcher in the nation, no doubt, hands down, in my mind," said junior DH Andy Thomas.
In addition to Langeliers and Wendzel, other Baylor players who could be taken in the 40-round draft include Thomas, senior outfielders Richard Cunningham and Cole Haring, junior pitcher Cody Bradford, and senior closer Kyle Hill. Bradford, a 6-foot-3 left-hander, was the Big 12 Pitcher of the Year in 2018 as a sophomore, but has missed most of this season with a collarbone injury called thoracic outlet syndrome. As such, his best shot to get drafted may come in 2020.
Still, it's a solid collection of talent for the Bears, which could give the team its most draft picks since 2013, when five BU players were selected.
Across town at McLennan Community College, Mitch Thompson doesn't have another potential first-day pick waiting for an early draft call. Last year, catcher Josh Breaux was the 61st overall pick by the New York Yankees.
Thompson said that his most likely draftees are freshmen infielders Garrett Martin (.335, 9 HRs, 47 RBIs) and Jalen Battles (.320, 6 HRs, 42 RBIs). Thompson said that if either player was drafted, it would probably come on day three, but added that he wouldn't be surprised if their stock was much higher next year.
The first two rounds of the draft will begin at 6 p.m. Monday, and will be televised by MLB Network. Rounds 3-10 will begin at noon Tuesday, followed by rounds 11-40 starting at 11 a.m. Wednesday. The final two days will be streamed on MLB.com.