Throughout his Baylor career, Josh Bissonette showed superior range and an ability to pick it in the field with the best second basemen in the country.
Those are gifts frequently appreciated by professional scouts, too.
The Pittsburgh Pirates selected Bissonette in the 31st round of Wednesday's final day of the Major League Baseball Draft. The Baylor draft connections weren't done either, as recent Midway graduate Will Rigney, a Baylor signee, was taken in the 38th round by the San Francisco Giants, while BU junior reliever Luke Boyd went five picks after Rigney to the Los Angeles Angels, also in the 38th round.
That gave Baylor eight draftees in all, counting Rigney and shortstop Cody Freeman, another incoming signee out of Southern California who went in the fourth round to the Rangers. The others were catcher Shea Langeliers (first, Braves), third baseman Davis Wendzel (competitive balance A, Rangers), pitcher Cody Bradford (sixth, Rangers) and pitcher Kyle Hill (10th, Mariners).
Bissonette started 216 of 218 games in his four-year career at Baylor, mostly at second base but also saw action at shortstop. This year he hit .273 with 35 runs scored, eight doubles, three triples, four home runs and 29 RBIs. He also had a .967 fielding percentage, and made his share of press-the-record-button web gems.
Just six picks after Bissonette came off the board, another Big 12 player with Central Texas ties was picked, as the Cleveland Indians took TCU pitcher Jared Janczak, a Belton product. Janczak, a senior right-hander, battled injuries this season and made only 13 appearances, but he was one of the Frogs' top pitchers before that. For his four-year career, Janczak tallied a 17-11 record with a 3.11 ERA and 256 strikeouts in 257.1 innings.
He was a 32nd round pick by the Los Angeles Angels in the 2018 draft, but opted to return to school.
The Philadelphia Phillies selected McLennan Community College freshman shortstop Jalen Battles in the 34th round. Battles, from San Antonio, hit .320 with six home runs and 42 RBIs his freshman year for the Highlanders. He was a second-team all-conference pick.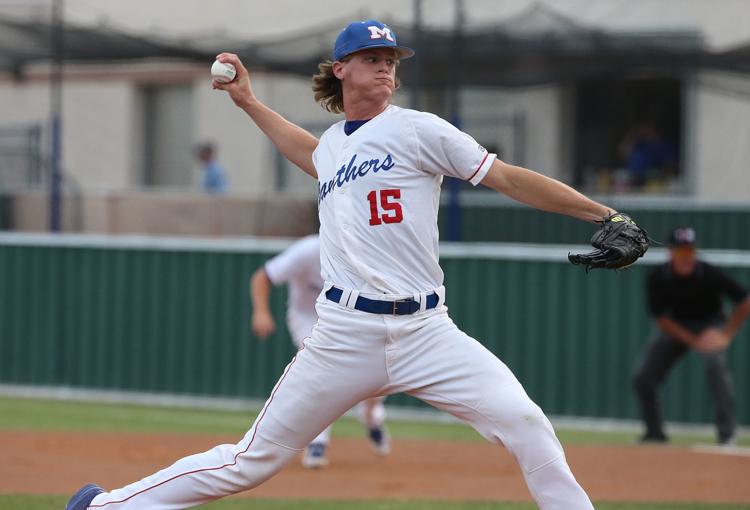 Midway's Rigney stood tall as one of the better high school pitching prospects in the country, as he was ranked 80th overall by MLB.com. He won District 8-6A Pitcher of the Year honors as a junior in 2018, when he went 10-2 with a 0.72 ERA and 117 strikeouts in 74.2 innings. He was a first-team Super Centex and second-team all-state performer that year, and played in the Perfect Game All-American Classic in San Diego, Calif., in August.
He was limited by injuries his senior year. But with a mid-90s fastball, and a 6-foot-5 frame, he figured to be an attractive pro prospect. He'll likely forgo signing and enroll at Baylor to shoot for a higher draft selection following his junior season of 2022.
Boyd, a 6-foot-2 right-hander, went 3-0 with a 2.14 ERA in 2018 for the Bears. He made 24 appearances, all but two out of the bullpen, and showed plenty of swing-and-miss prowess, striking out 41 in 33.2 innings.