On the first day of the Major League Draft on Monday, the Texas Rangers picked up one Baylor player in Davis Wendzel.
On Tuesday, the Rangers kept the green and gold pipeline going.
Texas took Baylor junior pitcher Cody Bradford in the sixth round of Tuesday's draft. The 6-foot-3 left-hander was the Big 12 Pitcher of the Year in 2018 as a breakout sophomore, but missed all but three games this year due to thoracic outlet syndrome.
Bradford was the 175th overall pick, and Baylor's third selection of the draft after catcher Shea Langeliers (No. 9 overall to Atlanta) and third baseman Wendzel (No. 41 to the Rangers). Before the day was up, a fourth BU player came off the board, as Seattle picked up senior closer Kyle Hill in the 10th round.
Bradford, a junior from Aledo, could give the Rangers nice value if he can overcome his injury and return to his 2018 production. That year, he was brilliant for the Bears, going 7-6 with a 2.51 ERA and 87 strikeouts in 96.2 innings. He became Baylor's first pitcher in school history to record consecutive complete-game shutouts.
In 2019, Bradford logged only 7.1 innings before the Bears shelved him for the season. But the Rangers obviously were still enticed by his potential. Like other non-seniors, he'll have until July 15 to decide whether to sign with his pro club or return to school.
If he signs, he'll join his Baylor buddy Wendzel in the Rangers organization. Wendzel is a native of Southern California, but he's been described as the "most Texan guy on the team" by several of his Baylor teammates. So when Texas snapped him up with the final selection of the compensation rounds, his BU pals were loving it.
"We've got a lot of (Rangers) fans on the team, so that's cool," Wendzel said on Tuesday. "A lot of guys were breaking out their jerseys last night, so that was awesome. I feel like I'm from Texas in my heart, so it's awesome that I get to play for Texas."
Wendzel won Big 12 Co-Player of the Year from the conference coaches this year after leading the league in hitting with a .385 average in the regular season. The guy that shared that honor with him? That was none other than Texas Tech's Josh Jung, who the Rangers took with the No. 8 pick.
Jung played primarily at third base until this year, when he switched to shortstop. But the Rangers had him projected as a third baseman, which is also where Wendzel has been stationed.
But Wendzel said that he's comfortable moving around, if needed.
"I didn't get here by playing one position, and I'm not going to start just playing one position," said Wendzel, who also played some shortstop and outfield during his BU career. "I can play anywhere in the field, and that's where they see me, too. They see me as a bat, and I can play anywhere in the field. That's what they like about me, and that's what I love to do."
Langeliers didn't have to wait long to hear his name called on Monday. Projected as a first-round pick all year, the Braves scooped him up with the No. 9 overall selection. The catcher was surrounded by friends and family to watch the draft on TV, and when he received word that Atlanta was picking him he could feel the tears well up in his eyes.
"A lot of people say when they get in situations like that, it's indescribable, and I'm right there with it. Can't put a lot of words on it," Langeliers said. "Your body just floods with emotion, it's one of the happiest moments of your life. To see that all the hard work you put in for the majority of your life is paying off, and to spend it with everybody you love and care about, they're there with you, it was a very special moment."
Langeliers and Wendzel made history with their selections. They became the first Baylor teammates to both go as first-round picks in the same draft.
Both players felt like that says something about where Baylor's program sits today. They were part of Steve Rodriguez's first signing class, and in their freshman year of 2017 they both started on a BU team that made an NCAA regional for the first time since 2012.
"We take a lot of pride in that," Langeliers said. "We got here, and it had been four or five years since they'd made the postseason, and our freshman year we got straight into a regional, and did that for three straight years.
"So Baylor is definitely going to keep going up, and they're going to keep getting better every year. It's cool to know that we were that first class that came in."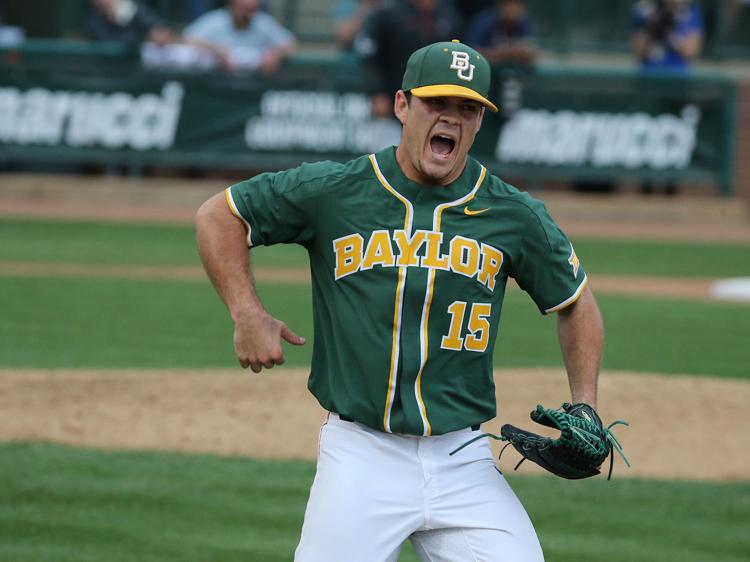 As for Hill, he couldn't have turned in a more perfect senior year. He went 6-0, tying for the team lead in victories, and led the team with seven saves, while tallying a 0.00 ERA in 23 appearances. Batters hit only .109 against him.
Baylor's four selections in the MLB Draft are the program's most since 2013, when five players were taken. There will be additional opportunities for more Bears to be drafted on the final day of the draft Wednesday, which features rounds 11-40. The most Baylor players ever taken in a single draft came in 2005, when nine Bears were selected.
Other BU players who could be taken include senior outfielders Cole Haring and Richard Cunningham, junior DH Andy Thomas, and junior pitcher Hayden Kettler.
Other area players of note who could get a draft call on Wednesday are recent Midway graduate and Baylor signee Will Rigney, McLennan Community College infielders Jalen Battles and Garrett Martin, and Auburn pitcher Bailey Horn, a former West High School and MCC standout.