Even when you're the standard everyone else is chasing, every day brings another opportunity for someone to knock you off your perch. As such, you've got to go out there and set the standard all over again.
The top-ranked and four-time defending national champion Baylor acrobatics and tumbling team performed a variety of clean stunts with impressive, well-schooled exactitude in spurning fourth-seeded Quinnipiac (Conn.) University, 278.025 to 269.485, in Friday's NCATA semifinals at the Ferrell Center.
Baylor head coach Felecia Mulkey said that the Bobcats pushed the Bears mightily, and ensured that they'd have to be on top of their game.
"There was no promise of tomorrow. The whole team knew that," Mulkey said. "We had to go in there and perform and execute to the best of our ability, because they're really, really good. So, it's always good to be pushed, and I think it pushed us to a place of clicking. And I think we saved up – we're going to peak, I always say peak at the right time, but we've set ourselves up to peak on the right day. That's what we're going to try to do."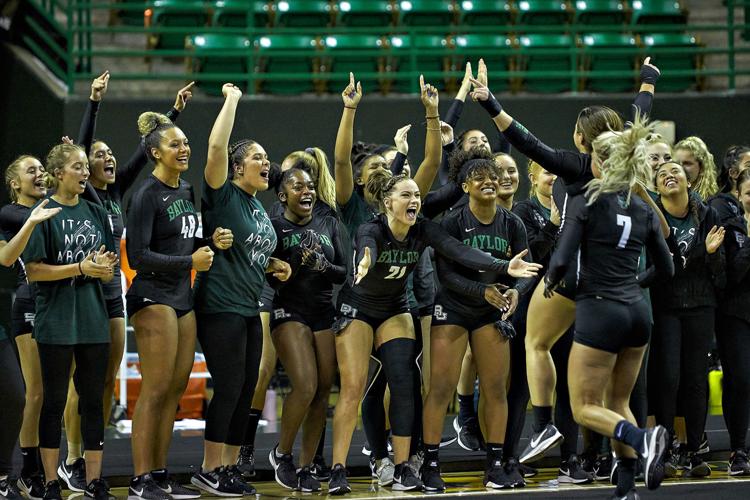 The Bears' win sets up yet another championship clash between Baylor (11-0) and No. 2 Oregon (7-2) in Saturday's 6 p.m. NCATA final. The Ducks claimed an eight-point win over third-seeded Azusa Pacific in Friday's first semifinal. It'll be the fourth time in the past five years that the Bears and Ducks will face off for the championship – Baylor defeated Quinnipiac in last year's final after topping Oregon in the semis – and BU has yet to lose to Oregon at the NCATAs under Mulkey.
"We're our biggest competitor, I think," Mulkey said. "We're going to go out and do everything we can to score as high as we can. Oregon's awesome. They're a strong team, they've gotten better throughout the year, which is awesome to see. But we have some start values on them, which means absolutely nothing if we can't execute."
The Bears set the tone in this one with some sterling scores from the start. In the opening compulsory event, Baylor tallied a 9.825 in the pyramid heat and a 9.875 in the toss. In acro, high flyers like Alexis Amrhein, Kaylee Adams and Ashley Echelberger showed off their gravity-defying skills. Then in the pyramid event, Baylor scored 9.6 or better in all three heats, topped by a 9.875 in the inversion heat.
That one involves Adams doing a blind trust fall from the top of the pyramid into the waiting arms of her bases down on earth.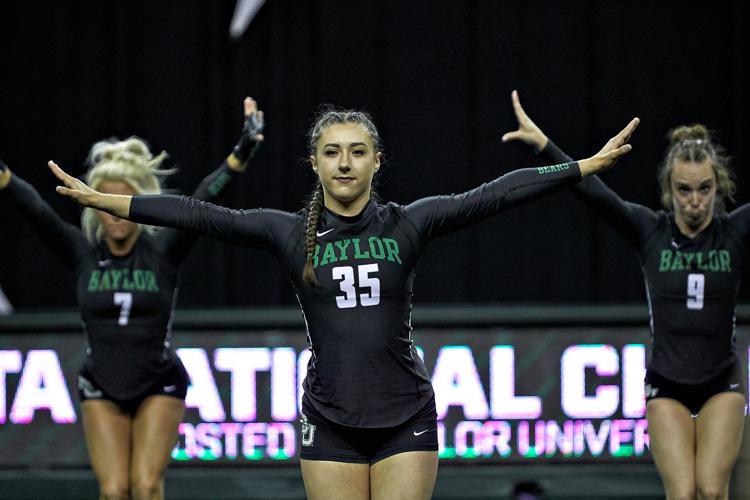 She landed in exactly the right spot, with a toothy smile.
"Trust is a huge concept in this sport," said Adams, a senior from China Spring. "You're trusting your life with these people, and they're throwing you around, especially in toss. You've really got to trust yourself, too, you've got to trust your bases and you've got to trust that they're going to do their job and they're going to do what they've been doing the whole year."
Two weeks ago, Mulkey added the versatile Adams to one of the team's toss heats for the first time all year, and that decision has paid off. Baylor also hammered home some high scores in the toss event, which Mulkey called her highlight of the day.
In tumbling, Baylor won five of the six heats, as Bailey Hollier's step off the mat in the open pass led to the team's first heat loss of the NCATAs. But the Bears still managed plenty of high scores, including a 9.70 from Hope Bravo in the aerial pass and a 9.85 from Adams in the six-element pass.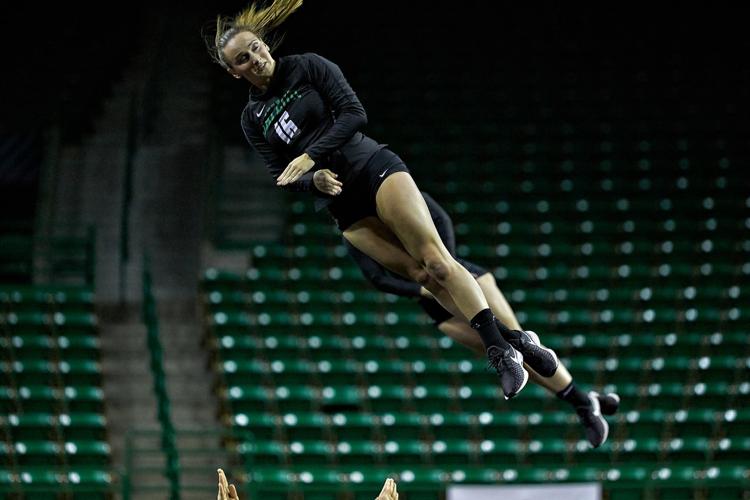 All those stuck landings and well-executed round-offs and twists and handsprings give Baylor a chance to go for its fifth straight national championship trophy on Saturday. But the Bears universally say that they're not chasing a trophy, but rather a feeling.
It's the feeling that comes with knowing that you nailed it.
"I was telling with Coach Fee earlier, it's not about the trophy at the end, she always tells us," said junior Alexsis Amrhein. "We always talk about clicking as a team, and today I felt that. And I literally have no doubt, I am so excited to go in tomorrow and just annihilate, and trust our teammates and everything."