If Kaylee Adams played quarterback at Baylor instead of serving as the nation's best utility player for the No. 1 acrobatics and tumbling team in the country, she'd never buy another meal for herself in Central Texas. She'd get mobbed by autograph seekers everywhere she went.
Consider her resume: She's a local girl, as a graduate of nearby China Spring. She's an All-American, an individual national champion, and has won more weekly honors from the NCATA than she can probably remember. And she has a shot to go 4-for-4 in terms of helping her Baylor team win a national title at this week's NCATA Championships at the Ferrell Center.
Um, yeah. That's a rather stellar career.
"Oh, man. Kaylee. She's fantastic," said Baylor coach Felecia "Fee" Mulkey. "She's like the little heart of our program. She leads verbally but mostly by example. She's a complete utility, we can put her anywhere we need to. Just last week, we had to put her in a toss in team event, and first time she hit it. … We're going to miss her a lot. We're going to miss her athleticism, but, more importantly, just her heart. She just puts it out there every time."
Soon after she could walk, Adams started having a flipping good time. She began gymnastics at two years of age, and continued in the sport through eighth grade.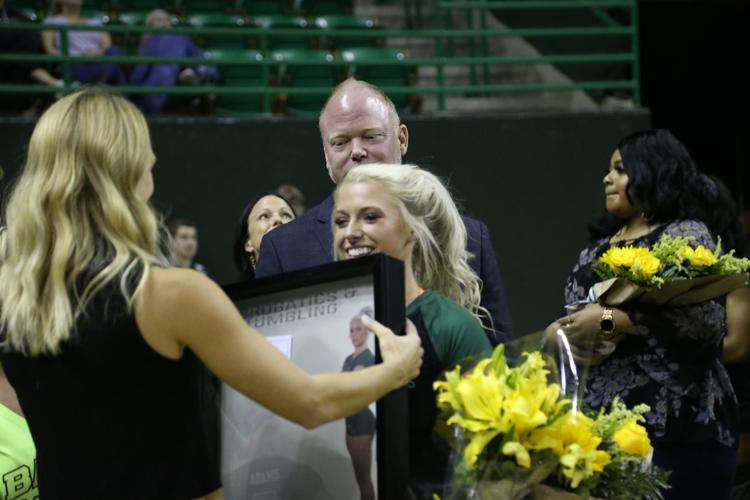 She grew up in the Austin area before moving to China Spring her sophomore year of high school. There, she joined the school's cheerleading squad in addition to competing in competitive cheerleading outside of school. She also took up the pole vault at China Spring, and her natural strength and flexibility helped her qualify for the state meet her senior year.
But A&T wasn't really on Adams' radar. She attended an A&T camp her junior year of high school, but didn't give it much thought again until a year later when the idea of competing at the college level became a reality.
"I kind of was focusing more on track, pole vaulting," Adams said. "But my senior year I went to camp again, and I thought, 'Wow, I could have the opportunity to become a D-1 athlete. How crazy is that?' That's kind of when the coaches and I started talking, and it became more of a reality for me."
Adams signed with Mulkey's Bears, and hasn't regretted that decision for a second. The ever-growing sport gave her everything she wanted as a competitor.
"I liked the athletic side of cheer, and when I came here (on a visit) my senior year I realized that this is the athletic side of cheer, exactly what I've been looking for," Adams said. "Just being on a team with 40 other girls has been crazy, but also really amazing.
"I've never been around so many people that all desire and have the same goals, and motivate one another. It's just been a really incredible experience. It's really changed who I am as a person, and who I am as an athlete, of course, but also as a woman."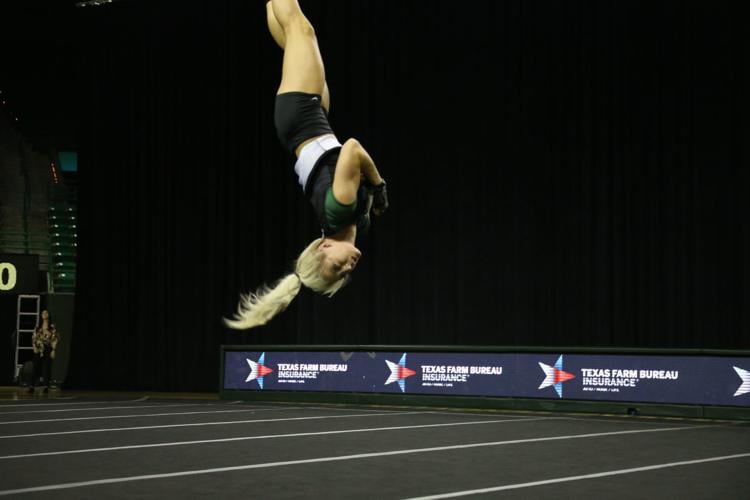 College is often the place where young people figure out who they are, where they determine their place in the world. Adams found that at Baylor. Her A&T teammates became a sisterhood, and competing with them pushed and stretched her in ways both literal and figurative.
"I think Coach Fee has a lot of input on that," Adams said. "She talks a lot about mental toughness, and I've grown to become really confident in who I am, on and off the mat. I became a lot more independent in the best ways possible. Along with the confidence, I know I can achieve what I set my mind to, which is really awesome. I'm more determined, but it's also made me more humble too, in a way.
"Being with a bunch of girls, there's all these insecurities and all what comes with a bunch of women, but also being humble and learning that you are a part of a team. You're doing it for yourself, but also for your school and your family and the people right next to you."
On meet days, Adams is hard to miss. It's not just her striking blond hair or the beaming smile she unveils after a tumbling pass or even her superior athleticism. Sure, you notice all that, but she's hard to miss because she hardly ever comes off the mat. Baylor uses her in multiple events throughout a match.
"Kaylee means so much to this program," senior Ashley Echelberger said. "She brings so many different things. You see her out there in so many different things. She can base, she front-spots tosses, she's an amazing top, she brings so much to this program and we're so happy to have her as a senior and a leader on this team."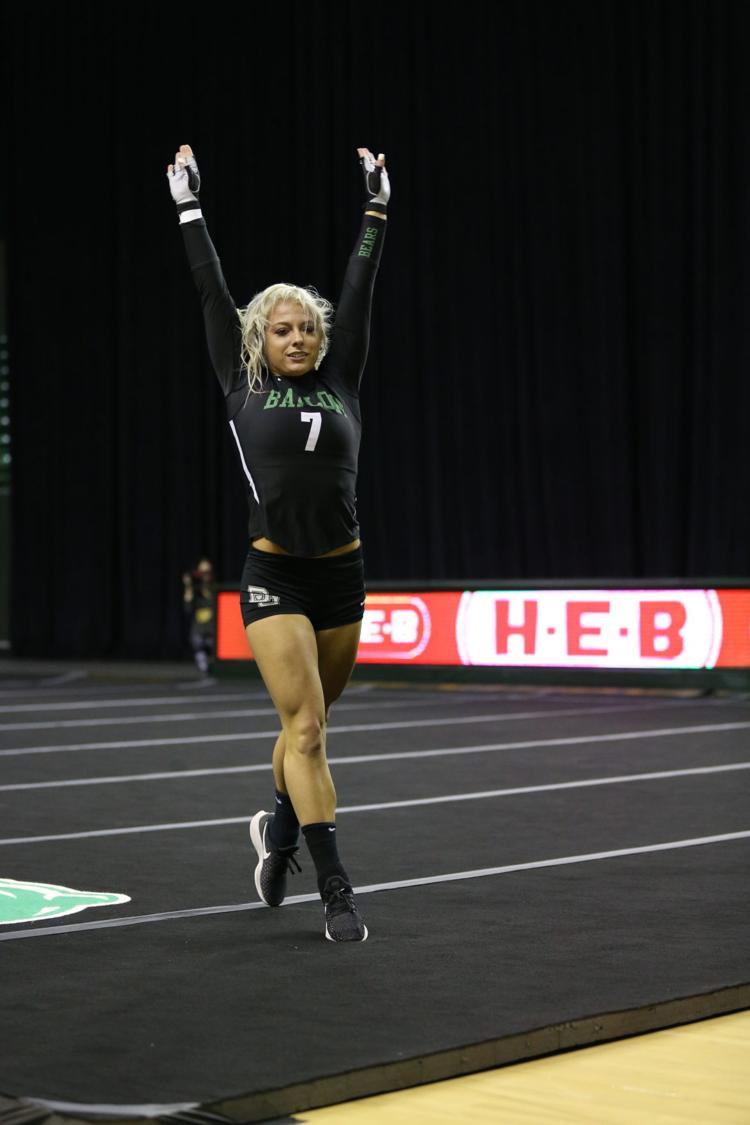 Adams said she prefers tumbling to every other A&T discipline or event, just because of the personal nature of it. "You're out there by yourself," she said.
Beyond this senior year, Adams has plans to take a "gap year," to relax and travel and get involved in some new endeavors. "I've been doing this since I was two years old, so I feel, for myself, I just deserve to have just one year off and get involved in a few other things," she said.
First, though, there's the pressing matter of trying to lead Baylor to one more national championship, alongside some of her best friends in the world. Adams said that it hit her just this week that it was all coming to an end, and she's been walking around in a surreal daze ever since.
"It's very bittersweet," Adams said. "I know I'm going to miss all my friends, and the athletic side. I don't know if there's much else in the world that will be able to push me as much as being a Division I athlete has. But my body is also excited, because it needs a little bit of rest. "
Bear Facts: Mulkey met with the NCAA on Wednesday in the latest step toward acrobatics and tumbling receiving "emerging sport" status, along its goal of eventually reaching championship status under the NCAA umbrella. Currently, the NCATA consists of 31 schools, including two in NAIA, and needs 40 NCAA schools to become an NCAA championship sport. "We're going to hit 40 and get to championship status, but we want to get to 100. Every school that adds is affording new opportunities for women, so that's why it's important to me," Mulkey said. … Baylor will be going for its fifth straight national title under Mulkey. The Bears have won 27 matches in a row dating back to 2017.