When Jarrod Barton looked up into the stands that night, he stopped and just marveled at the scene.
It was the best crowd of the season for FC Waco, against the visiting club from San Antonio, with an estimated 300 to 400 rabid soccer lovers filling the bleachers. Barton couldn't help but smile. It took a lot of work to get to that point, from bringing Waco professional soccer from an idea to a reality, but the fan turnout provided a measure of validation.
FC Waco is still very much a work in progress, something the team administrators readily acknowledge. But progress is progress.
"We've had a number of games where the stadium over at University (High School) was actually pretty full," said Barton, the FC Waco team president and general manager. "We're one of the relatively smaller communities in our league, going up against teams from San Antonio and Dallas and Oklahoma City. But we were outdrawing some of them. It's great to look into the crowd, seeing them all cheering and yelling and having a good time, wearing FC Waco merchandise.
"And it's really nice for the players to see that."
FC Waco is a local semipro soccer team affiliated with the United Premier Soccer League (UPSL), an eight-year-old league that encompasses more than 300 teams across the nation. That affiliation brings a level of legitimacy to the two-year-old club, as UPSL teams can advance through various levels of playoff competition all the way up to the national level.
Barton helped found FC Waco in 2018, hoping to capitalize on soccer's burgeoning popularity around the world and the sport's ever-widening spread across the U.S.
"Soccer is growing everywhere, and in America it's growing quite a bit," he said. "With some of the new advancements with some of the ideas the European leagues had developed, with a tiered professional system, we're seeing that grow here.
"So we basically started looking around to see if we could bring professional soccer to a community like Waco. Obviously it wasn't going to be MLS, spending $250 million a year. But we started looking around and seeing some communities our size that were making it work, and started to see that it was feasible."
Almost immediately, Barton encountered skepticism. Waco's pro sports graveyard features all manner of defunct teams, from the Waco Wizards hockey team to the short-lived Waco Marshals indoor football franchise to, more recently, the Waco BlueCats, a planned independent baseball club that faded before ever playing a game due to lack of funding.
"There were a lot of people in the community who kind of doubted that it would work," Barton said. "We had to prove we had an established business model."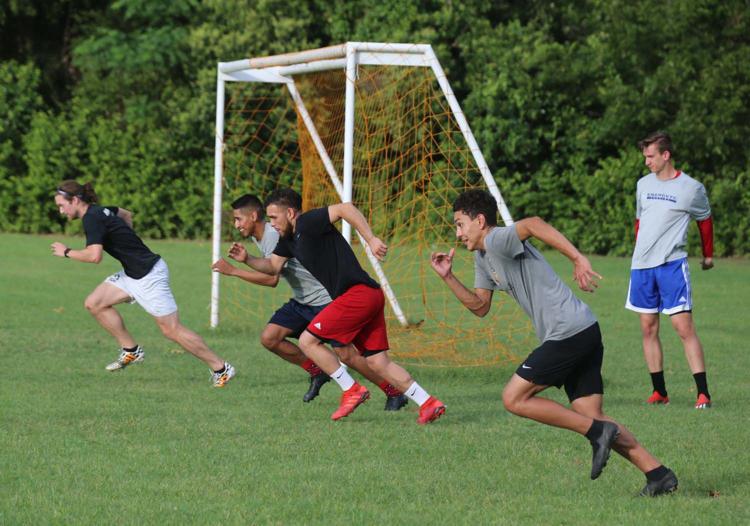 Step one was acquiring some sponsors. Once FC Waco managed to do that, it provided something of a safety net and allowed team administrators to tackle other logistical challenges.
"One of the biggest things was trying to find a place to play, having a good, home stadium to call your own," Barton said. "Outside of Baylor, Waco doesn't really have anything that is soccer specific. That first year was tough, we kind of played where we could so we could at least get some fans out. We played a number of games at the Heart O' Texas (Soccer) Complex. But now we're working with Waco ISD, played some there, as well as the field behind University High School."
If you build it, players will come. That axiom has proven true, though Barton still readily admits it wasn't always "sunshine and rainbows" in terms of constructing a roster of both players and coaches.
A major breakthrough arrived last summer when Steve Cook first hooked up with FC Waco.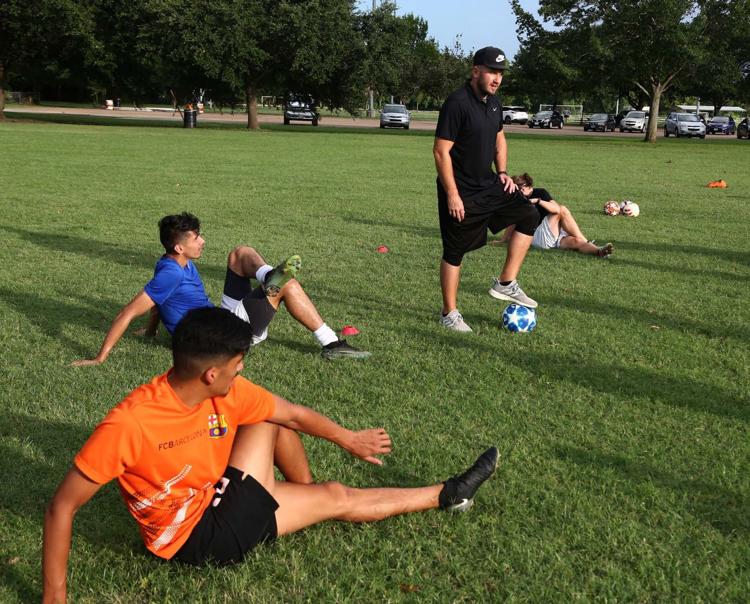 Cook had played professional soccer for nine years in Australia and the United States. He had a stint working with a youth club with Dallas when he and his fiancée decided to move to Waco last year.
It didn't take him long to sniff out FC Waco.
"Me and Jarrod started meeting, talking about the vision for FC Waco," Cook said. "The men's team was there, and I started to help out as a coach, but then we started talking about how we wanted to bring this to a true organization, with a youth club as well."
That's how the FC Waco Youth Academy was born. In July, FC Waco will begin holding a series of camps in a quest to develop several select teams under the FC Waco brand. Barton and Cook said that the goal is to develop the next generation of soccer player in the city, and construct almost a farm system for the semipro men's team.
Right now, FC Waco's players aren't paid. Barton said that they hope that changes in the future, as the team potentially moves up the ladder of the professional soccer structure.
Even with volunteer players, FC Waco has rapidly developed a successful program. The team went 11-2-1 in 14 regular season matches, finishing first in its eight-team division. Talent helps — FC Waco is comprised of a collection of highly skilled players, including several that came up through the city's high school programs — but so has having a certain standard of expectation.
"Honestly, professionalism is the biggest thing," Cook said. "We've tried to set the standards a little bit higher, and that's made a huge difference. We're limited in certain ways, we practice twice a week, which with peoples' work schedules and families is about all we can do. … But I think having a professional environment has made the biggest difference with the players."
FC Waco aims to continue its string of season success into the upcoming conference playoffs. If it wins the UPSL's Central Conference, it could eventually advance to the league's Spring National Finals. The UPSL helps supplement teams with a travel budget to such events, but the good news for FC Waco is that if it makes it that far, this year's Spring National Finals will be held in nearby Weatherford, Texas.
Down the road, FC Waco hopes to ascend to the United Soccer League as part of USL League Two, another pro soccer league which is generally considered to be the fourth level of the sport in the country after the MLS, USL Championship and USL League One.
"That would help push it to the next level," Barton said.
Added Cook, "If we were able to join USL, then we'd become an official professional franchise that would be expected to be run like a professional club. There would be more exposure — the USL played two games on ESPN3 each year. That would be a move in the right direction as we work toward building a really good Waco club."