Get Waco Tribune-Herald news on your mobile device
The best and most complete source for Waco and McLennan County news, sports, enterainment, opinions and photos. The Waco Tribune-Herald and WacoTrib.com are now offering a digital experience customized for your device. The Trib's mobile app blends our in-depth coverage in an easy-to-navigate mobile experience for smartphones. Push notifications inform you when local news breaks and you can check the latest weather forecast. The Waco Trib app is free to download from iTunes and Google Play. All Access subscribers can read an unlimited number of articles. Non-subscribers will be prompted to sign up for a subscription after reading 15 articles over a 30-day period. Click the download links here to get the app on your
iPhone, iPad
or
Android
device.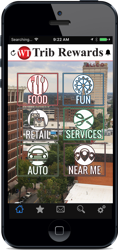 Trib Rewards app: Exclusively for subscribers
The Trib Rewards app for your phone is the best way to find deals no matter where you are:
1. Get full access the Trib with an affordable subscription.
2. Download the Trib Rewards app for free from the iTunes App store or the Google Play store.
3. Follow the installation instructions. You will need to enter the phone number that is associated with your Waco Trib subscription. If you receive an error message, it's possible that we have an old phone number in our records. If this happens, call Customer Service at 254-757-5800 or toll free at 800-792-3705.
4. Enjoy Trib Rewards and start saving today.