Editor's note: We've collected here every letter to the editor that has appeared in the Tribune-Herald over the past five weeks or so. They're in reverse chronological order, with the most recent missives first. Happy reading!
---
How about tests, Waco?
Testing? The glaring inconsistencies and inequities in the national COVID-19 testing program are highlighted by the very modest number of tests done locally.
Why can we read and view the results from tests on nine tigers in the Bronx Zoo and the results of tests performed on New York City house cats? Did the tigers and cats report symptoms of COVID-19?
Fortunately, the tigers and cats did not live in Waco, where tests seem only available for those reporting symptoms with testing requiring approval of health agencies. I might survive with the knowledge that Wacoans are less important than tigers, but are our lives less significant than New York's house cats?
Shop local
Regarding Mr. Scott's opinion "Don't pocket the cash" [Letters, April 23], I agree, in part, that we should not "pocket" the cash, but use it to stimulate our local economy. Many small and medium sized businesses have been devastated by this crisis.
In conjunction with wearing face masks and social distancing, America is asking each of us to further help in the recovery by supporting local merchants. When the economy finally reopens, many Americans who have been financially debilitated may not have the ability to spend their "stimulus" money. That's okay, use it as needed. However, for those of us who have more modest setbacks, by all means, spend it. Our local economy will thank you.
Mr. Scott, your decision to donate to charity will always be a noble gesture. Thank you.
SNAP stimulus crucial
The Supplemental Nutrition Assistance Program (SNAP) is one of the best tools our nation has to combat the coronavirus crisis.
Prior to this pandemic, more than 4 million Texans struggled with hunger. With jobs and wages lost, this number continues to rise and families are shouldering much of the burden.
In fact, Texas saw more than a million applications for unemployment benefits between March 15 and April 11 and SNAP applications for the months of March and April were twice as high this year.
SNAP is good at feeding people while also feeding our state's economy. The benefit is placed on an electronic card for families to buy food at grocery stores and farmers markets. When this money is spent it leads to more jobs, wages and local economic activity in the community.
The best part? This happens almost immediately. The vast majority of families spend their benefits before the month ends because SNAP only supplements food budgets.
I urge Congress to increase SNAP benefits for families across the nation so we can help those in greatest need and give the country the economic stimulus it needs to weather this crisis.
Praise for pols
I liked the Waco Trib editorial "Celebrating the heroes among us" [April 16], which praised the ordinary citizens of our community who are serving on the front lines against the COVID-19 virus.
The editorial says that when the history of this pandemic is written, there will be few politicians among the heroes. But among those few will be the political leaders of Waco and McLennan County.
A month ago, Waco's COVID-19 infection rate was higher than the state rate. Now the local infection rate is less than one-sixth of the national rate and about one-half of the state rate. The local death rate is also one-sixth of the national rate. Make no mistake, our local leaders are also saving lives.
If you could talk the COVID-19 virus to death, Donald Trump would have killed it by now. Gov. Greg Abbott appears afraid of emerging from Trump's shadow. But our local leaders have quietly gone about doing what needed to be done, and they told us the truth while doing it.
Waco Mayor Kyle Deaver, the Waco City Council, McLennan County Judge Scott Felton, the McLennan County Commissioners Court and Justice of the Peace Dianne Hensley have all exercised great leadership and good judgment during this crisis.
Mayor Deaver issued an emergency social distancing order as soon as it was clear there was community spread of the virus. Justice of the Peace Diane Hensley ordered a dead body to be tested for the virus, making it easier to trace potential contacts.
Partisanship and leadership are mutually exclusive. At a time when most state and national Republican politicians appear frozen by their fear of offending Donald Trump, our local political leaders — most of them Republicans — are doing their jobs.
The Waco community is fortunate to have this kind of political leadership during this crisis.
Don't pocket the cash
On March 27, President Trump signed into law the $2 trillion stimulus package that, among many other things, provides a $1,200 payment to individuals with an adjusted gross income under $75,000 on their 2018 taxes. The IRS started distributing those stimulus checks this past week.
I refused the money, and I challenge you to do the same.
I contributed nothing to society to earn this money nor am I part of the target population of COVID-19 patients and organizations on the medical front lines of this pandemic. If you're reading this, neither are you. Therefore, the $1,200 payments we are receiving from the government aren't rightfully ours to keep, even though they are ours by law.
Instead, transfer the payment to someone and something that obviously needs it most. Select a volunteer organization of your choice that is directly involved in the treatment of COVID-19 patients and send it to their relief fund. I contributed $1,200 to Samaritan's Purse, an organization that supplies and operates a 68-bed emergency hospital in New York City.
New day coming
As governors across the country ponder how best the restart their states' economies, one thing is certain: the new normal won't bear much resemblance to the old one. Many businesses and even industries will bear scars for years, or even decades, of what historians and other observers likely will judge to have been a gross overreaction spurred by a sensationalist and highly partisan media.
The shutdown could have, and should have, been a more measured, specifically targeted and phased response formulated by cool-headed reason rather than a race to do something to avoid political fallout that could impact the upcoming election.
As it is, I fear this miscalculated stoppage of commerce will constitute an asteroid-pounding extinction event for many small businesses which are the heart and soul of our national economy. The economic landscape that emerges in the coming months may find us all wondering where some of our favorite and trusted establishments went. Let us all eagerly patronize those that survived the shutdown, and welcome — with discernment — those new establishments that arise from the ashes.
Gary Stokes, China Spring
Hippie in making
Due to the coronavirus epidemic and resulting economic shutdown, we are all subject to lifestyle-changing experiences in a number of different ways.
For me, the big change is not getting a haircut since my barbershop is currently closed. This has resulted in a drastic change in my appearance. By my hair being long, I now look like those 1960 hippies, a look I never cared for.
Another lifestyle change I am experiencing is not having my toenails clipped by my nail lady (shop also closed). This has resulted in a battle of trying to keep my toenail problem in check.
I hope these shops open soon; and if not, I guess I will go on looking like a hippie with ingrown toenails.
Face masks, please!
Yesterday we went to H-E-B in Woodway for our grocery curbside pickup. This is a wonderful service since we are both seniors and have health concerns, though I long for just shopping the aisles.
While we waited, I watched numerous people going in and out of the store and never saw anyone wearing a mask. I was shocked at the lack of concern people seemed to display for the health situation our world is in. Health experts have explained the need for face masks but apparently these people believe they know more than the experts or are showing no concern for their neighbors.
Until there is a vaccine, because of my health issues I cannot go into a store where people are not wearing masks. Hopefully sometime in the near future we will be able to resume a more normal life. But in these times, please think about the people around you. Any of you could have the virus and not even know.
Target demographic
I've never been in a target demographic before. But the doctors say that those of my age are at risk. I've always been on the other side in disaster situations, able to offer help and empathize, but COVID-19 statistics place my wife and me chronologically in the higher risk group.
I am appreciative but find it curious, the attentiveness I receive from my adult children and my younger friends. On the other hand, politicians have suggested that those of my generation need to be willing to put themselves at risk for the sake of the economy. This is all so surreal!
My invincible attitude tells me that I won't get it or it will be a mild case if I do. Unrealistic, I know! My high blood pressure is treated and does not count as a high-risk condition, I reassure myself.
My initial response to [societal] cancellations was easy acceptance. As a high-functioning introvert, I could work in my shop for hours without the demands of a schedule. I do, however, need periodic infusions of social interaction. This had taken the form of going to the gym, attending workshops, church, grandkids and meeting others for lunch. But now, necessitated by proclamation and by prudence, absolutely all of that has rather abruptly ceased!
Group texts provide some contact. Comments about the progress of our corona beards and suggestions of possible toilet paper alternatives encourage a lighter perspective. Who knows when this will end and we will be able to touch our faces again?
The future seems uncertain, but I believe God offers peace in the midst of such chaos. I suspect the next few months will force a deeper understanding of just what that looks like.
Police to the rescue
I thank Waco Police Chief Ryan Holt and his staff for assisting with both of the Central Texas Food Bank's mobile pantry distributions in recent days. With the invaluable support of his officers, we were able to provide emergency food assistance to nearly 1,400 households in Waco — an unprecedented number.
We couldn't have managed without his team generously providing on-site assistance. Sgt. Chad Ashworth's patience, responsiveness and commitment while coordinating with the CTFB staff and mobile-pantry teams is greatly appreciated. As we adapt distributions to a new model under ever-evolving circumstances, it did not go unnoticed how flexible and kind Chief Holt's team has been.
We remain committed to providing this critical assistance to members of our community who are struggling and consider it an honor that the chief's team was willing to partner with us.
Derrick Chubbs, President & CEO, Central Texas Food Bank
About the rest
I appreciate the Trib editorial discussing people and companies in McLennan County making a difference in the outcome of coronavirus, but you still did not mention people without resources existing at the bottom of the ladder who make a difference. Yes, you did insert a political cartoon including these people, thank you. Following the adage a "picture is worth a 1,000 words" philosophy?
The people specifically mentioned in the editorial have been or will be included in future discussions because of their ingenuity and ability to make dramatic changes. The people I mention clean up for the rest of us and are taken for granted. When do they get the recognition they deserve? To me this is an example of the oft-mentioned division of wealth and standing in the world noticed by its citizens. I would say everyone deserves some recognition or notice for a well-done job in the middle of this crisis. At least I can say: Thank you.
Trump extends lifeline
Small businesses fuel the U.S. economy and are currently under attack by an invisible enemy. The coronavirus pandemic has left businesses closed and millions of Americans out of work. Fortunately, Uncle Sam has extended a lifeline to the country's small-business job creators.
Through the Paycheck Protection Program, small businesses can access forgivable loans to cover payroll, rent and utility expenses: $349 billion has already been allocated for the relief, but Congress is signaling more is just around the corner. The funds will help small businesses weather the pandemic-spurred challenges and be prepared to kick-start the country's economic engine once the crisis subsides.
I strongly encourage all small-business entrepreneurs to contact a local bank and apply today. Hundreds of thousands have already done so.
Unprecedented times require unprecedented action. The Trump administration has extended a lifeline. It's time to grab it.
Elaine Parker, President, Job Creators Network Foundation
Health-care equity
The state of Alabama recently decided to take down its dated criteria on ventilator rationing that "allegedly discriminated against the disabled and elderly." The criteria apparently allowed people with "profound mental retardation" and "moderate to severe dementia" to be denied ventilators.
While Alabama's decision should be applauded, let's not forget another organization that's been promoting health-care rationing since long before the coronavirus crisis hit: The Institute for Clinical and Economic Review (ICER) creates cost-analysis reports that are used to limit the number of treatments health insurance companies and pharmacy benefit managers will cover. ICER's flawed methodology for deciding a treatment's worth doesn't take into account the input of patients, doctors and numerous other factors. Therefore, drugs that often help a smaller pool of patients or an older population can be deemed not worth it by ICER. This greatly limits access to potentially life-saving treatments for the most vulnerable patients.
During this public health crisis especially, we must remember there are real consequences to valuing one life over another. Not only is it unethical, but what we do in the throes of a crisis will set a precedent for what we do when it's done.
Sue Peschin, President & CEO, Alliance for Aging Research
Yes, words do matter
In his Monday daily coronavirus briefing, President Trump announced that he has the absolute power to reopen the country or at least parts of it. New York Gov. Andrew Cuomo and many constitutional scholars have suggested that the president does not have the authority to do so. In my opinion, however, whether Trump has the constitutional power is a moot question.
What matters is the president's rhetorical power. If, for example, Trump declares that the country is open or should be opened, this will have an enormous persuasive impact. Republican governors likely will act on the president's words, carrying out his wishes. But, even more consequential, such a pronouncement may encourage a larger number of citizens, especially those who support Trump, to let down their guard, becoming less cautious and hence endangering the lives of others.
What evidence is there to support this claim? As a communication scholar, my own research on presidential crisis rhetoric discusses what I term "consummatory rhetoric" — instances where presidential discourse initially constitutes the only official reply made by the American government. Such rhetoric, as I document with historical examples, often is more influential than actions alone. Once again, we are learning that words really matter.
Richard Cherwitz, University of Texas at Austin



Shopping adventures
As I have been trying to dutifully stay at home, on those occasions I do go out to restock at a local grocery store close to Baylor University, I can't help noticing how rude some of the store employees are to the elderly. I have seen this more often just recently. I experienced it firsthand when I was scolded by an employee to step back from the person ahead of me when I was more than two baskets away, clearly six feet off.
As I stood by the credit-card machine to pay, the cashier barked that I needed to stay exactly behind the plastic shield till she was finished checking the items, then I could step over to the machine to pay, even though I was wearing a mask and was standing the proper distance from her. When she told me the amount due, it was like $50.06 or something. As I fished the nickel and penny out of my front pocket, I made a joke: "If I had any sense at all, I had 6 cents." She commented under her breath, apparently thinking I was deaf in my old age: "I doubt if you have that much sense."
Controlling the temptation to tell her where she could put that 6 cents, I sarcastically, and in a loud voice, told her to have a wonderful day, hopefully turning heads her way and at least embarrassing her a little for her pettiness.
I urge these rather self-involved young people of today to please try and be a little more patient with older folks. I do remember a time, though it is politically incorrect to do so now, when mama would cuff them in the ear for disrespecting their elders like that.
A special thanks to our local Target store for honoring senior citizens with special times for shopping. The staff was especially friendly and helpful when I went. I also commend the seniors there who were courteous and friendly (most all of us masked and gloved) with no pushing, shoving or other disorderly conducts. In short, we can all make a difference during these hard times. Target surely has exemplified that and I thank them.
Blame Obama!
Our kids seem not to mind the sudden home-schooling and chores to keep them busy. As most folks, we went to the store and there were a lot of empty shelves and all of a sudden TP has become a rare commodity! At Sam's, a couple of women got into fisticuffs. But I observe that most folks just accept the current conditions, adopting it as their new normal.
A man who lived during World War II told me that the government and people did not act as they are today; and things were much more perilous then. The reason we pulled through and eventually triumphed then was because we did not self-cannibalize our society.
It is becoming quite clear that the "cure" is causing much more damage than the coronavirus itself. The swine flu killed as many as 575,400 people globally in 2009 under the Obama regime, according to the Centers for Disease Control. Obama's refusal to do a temporary travel ban on West Africa to protect Americans allowed the Ebola plague to infect Texans. Why did the media and Dems not go berserk and have death counts and 24-hour coverage on those much more deadly pandemics? Answer: Because Dems do not let a crisis go to waste and they are trying to stop the reelection of President Trump.
Trump & Yosemite Sam
If the reaction by the Trump administration to the tragic spread of COVID-19 weren't so inept and pathetic, we would have to laugh. In grim times like these, I try to find some humor to make it from day to day.
This mental picture of Trump and his administration certainly helps: Trump as Yosemite Sam shouting lies, conflicting messages and pointing accusing fingers in all directions ("I don't take responsibility at all") from the center of a car careening down wrong roads and crammed full of Keystone Kops (for those of you old enough to remember) leaving chaos and mayhem in their wake. What complete disarray and an appalling lack of direction by this administration!
The only thing to do is to sweep the whole bunch out of government in November.
Benjamin G. Liles, Salado
Trump & FDR
This letter is for the editorial board of the Waco Tribune-Herald, not necessarily your readers. As you print whatever you wish, I try to read whatever view you offer. I seek to make sense of which way you're leaning. I accept your view and then read on. However, the April 2 political cartoon was idiotic and obscene given what is happening in our country and the world.
You can tell by my name the era in which I was born and raised. The president back then did his best during that trying time in America. Even as children, we supported him and his efforts and policies.
More recently, I voted for the person that I thought was the most qualified to do what is best for our country, no matter which party. In any trying times, I believed they would do what was best for the country. I think this president has done a good job for the country, and even if you did not get the person you voted for, you should not for the good of the country spend all your waking hours working against him!
EDITOR'S NOTE: Enclosed was a cartoon showing Trump ties, Trump steaks, Trump hotels and "Trump respirators," the latter consisting of paper bags.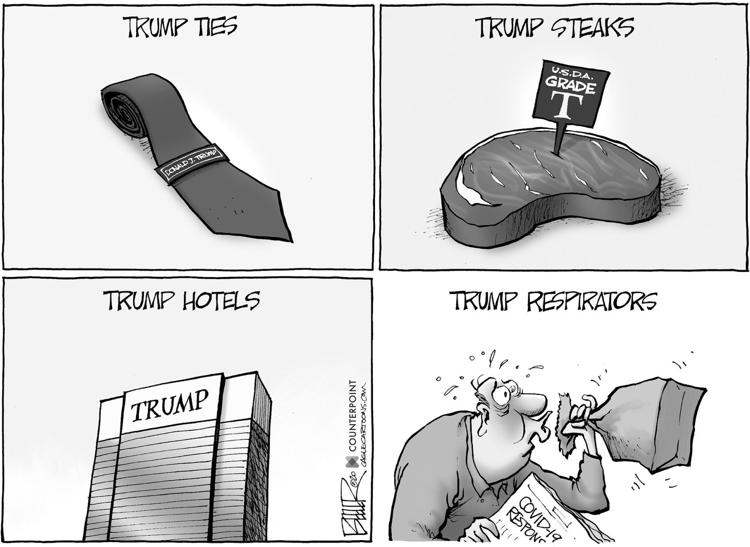 Paging Dr. Trump
Regarding your Thursday editorial on "Dr. Trump's Miraculous Medicine Show": Google a French pharmaceutical company called Sanofi. One of the products they manufacture is hydroxychloroquine, the "miraculous" cure touted by our Glorious Leader as his magic cure-all for COVID-19. Am I the only one not surprised as to who has a large financial stake in Sanofi? Yup, our very own Glorious Leader. Ugh. Is there anything he won't do to make a quick buck?
Barnyard thoughts
I want to thank the Trib for printing the John Vickrey letter [placing faith in science, not religion] in the April 4 paper. It was emotional for me because I was raised in a barn, and every time I hear an ass bray, it makes me homesick.
He'd better hope that if he falls ill with the COVID-19 virus, there are some medical professionals to administer his scientific cure. Of the researchers who developed it, of the doctors, nurses and hospital staff who charge unselfishly into that battle at great personal peril day after day, I am certain most if not all were inspired by faith in Almighty God. Take away faith and the right to pray to Him, and science will fall flat. It takes both to win wars like this. I write this as I await the Central Christian Church Palm Sunday worship on Facebook. In the spirit of Christian love, my sincere hope is that this doesn't offend Mr. Vickrey.



From your local church
When you were lost and needed direction in your life to make sense of the chaos in your life, I was there for you.
When you decided to give your life to God and wanted to be baptized, I was there for you.
When you decided to marry that special one, I was there for you.
When you brought your precious children to me to be dedicated to the Lord, I was there for you.
When you were devastated by the loss of a loved one and wanted to have a "celebration of life" service for them, I was there for you.
When you were going through a hard time in life and you needed someone to talk, counsel and pray with, I was there for you.
When you wanted to have a closer relationship with God, I was there to help you by providing discipleship programs such as Bible study classes and life-changing sermons.
When you had a need for "community," I was there providing a small-group ministry for you to get connected to fellow believers.
Now I, your local church, need you to be there for me.
I need for you to be the hands and feet of God and do kind deeds for others while I am closed.
I need for you to spread the good news of the gospel while my voice has been silenced.
As you can, I need for you to continue to financially support me so that when my doors are open again, I will have the ability to start ministering to the masses once again.
I can't wait till we're all able to meet again as a church family!
Joe A. Carbajal, local pastor and community leader, Waco
One generation passes
John Vickrey's April 4 letter insists religion is an impediment to progress, even a poison. I disagree. I have long heard this line from the "God-is-dead" ilk. At 80-plus, I have watched it from inception. It has turned education and America away from the principles she was founded on. Do we teach our youth the values which the Founding Fathers worked to leave us? Does this generation even know who George Washington was? My generation did.
Upon exiting office in 1796, Washington stated in his Farewell Address: "Whatever may be conceded to the influence of refined education on minds of peculiar structure, reason and experience both forbid us to expect that national morality can prevail in exclusion of religious principle."
No, Mr. Vickrey, God is not dead; nor does He sleep. My generation is passing but yours is center stage. I wouldn't trade places with you. I saw the nation at her peak. Now we are all closing in on the last chapter. As for me, I serve God, Who sees the end from the beginning.
To John Vickrey concerning your letter in the Trib of April 4: I'm sure you don't think you need it, but we will be praying for your soul.
Gather not too readily
To fellow pastors and church leaders: Last week, a section of the Texas governor's Executive Order GA-14 stated: "If religious services cannot be conducted from home or through remote services, they should be conducted consistent with the guidelines from the president and the CDC by practicing good hygiene, environmental cleanliness and sanitation, and by implementing social distancing to prevent the spread of COVID-19."
That particular sentence of Executive Order GA-14 was of great concern to the medical leadership and civic leadership of Waco and McLennan County including the presidents of our two local hospitals, McLennan County health officials and our elected city and county leaders. Their collective wisdom, which I trust, is that it would be a grave mistake for churches to reopen in coming Sundays. Church services and Sunday gatherings should not happen until our local officials, in conversation with Centers for Disease Control and other entities, give us the go-ahead.
Where would we be right now without the hope of the resurrection of Jesus and the promise of His return!
John Durham, lead pastor, Highland Baptist Church, Waco
The real Paine
During this time of "war," it seems that words from an earlier time are also appropriate for today. Quoted excerpts from "The Crisis" by Thomas Paine Dec. 23, 1776: "THESE are the times that try men's souls; yet we have this consolation with us, that the harder the conflict, the more glorious the triumph.
"Tis surprising to see how rapidly a panic will sometimes run through a country. All nations and ages have been subject to them. But their peculiar advantage is that they are the touchstones of sincerity and hypocrisy, and bring things and men to light, which might otherwise have lain forever undiscovered.
"I call not upon a few, but upon all: not on this state or that state, but on every state: up and help us; lay your shoulders to the wheel; better have too much force than too little, when so great an object is at stake. Let it be told to the future world that in the depth of winter, when nothing but hope and virtue could survive, that the city and the country, alarmed at one common danger, came forth to meet and to repulse it.
"It matters not where you live, or what rank of life you hold, the evil or the blessing will reach you all. The far and the near, the home counties and the back, the rich and the poor, will suffer or rejoice alike."
May we join together during these "trying times" and show patience, support and love to one another.
Completely outmatched
It would take monumental effort to handle this pandemic any more abysmally than Donald Trump has handled this one. He is so disconnected from reality that when cases grow by the thousands over the course of a single afternoon he believes his response not only has no room to improve but that he's handled this crisis better than any previous administration handled any of theirs.
How many people must die before he takes responsibility for all the time he wasted after he was warned this could happen?
He spent several weeks downplaying the infectivity and severity of this virus. His press briefings and addresses to the nation are full of misinformation, and the bottom usually falls out of the stock market after each one. He's outbidding states on PPE and ventilators. At one point, he wanted to "reopen the economy" by Easter because he thought full pews would be beautiful, even though it would be catastrophic.
He has finally encountered an enemy he can't just ignore and hope goes away, or bully into submission in 140 characters.
This crisis would have battered any previous president, but none of them would have as much praise for themselves as Trump does of himself. He is completely outmatched.
Wildlife for dinner
I write to express my concern about illegal wildlife trafficking and to urge elected officials to pass legislation to stop it. Wildlife trafficking is a commercial enterprise that entails illegal poaching, taking and trade of wild plants and animals. We now know that it is also the cause of wildlife-to-human viruses like COVID-19, the new coronavirus causing thousands to get sick.
To better restrict the wildlife trade, our elected leaders need to immediately pass legislation that prohibits the wildlife trade and trafficking in the United States. The Trump administration should enforce existing laws at home and abroad.
As individuals and as a society, we can be diligent about knowing the source of products we consume. The wildlife trade exists around the world, including here at home. Not buying products that are derived from wildlife is a crucial action we can each take.
We can prevent more wildlife diseases from infecting humans by putting an end to illegal wildlife trafficking and stopping exploitation of wildlife generally. I hope our elected officials will take action to do so.
Thank religion
I truly feel sorry for John Vickrey, the Okie from Norman or agnostic or atheist or whatever he is. His letter to the Trib on Saturday was a new low for him. I am assuming that he wrote to you since the Oklahoma papers would probably refuse to publish such trash. Perhaps you should return to your previous policy of no letters on Saturday. Fortunately you gave the opposite opinion to Vickrey a fair chance by publishing the faith-based column by Bill Tinsley. There is no reason that faith and science have to be at odds.
Two very good friends who were classmates of mine at a faith-based school in Minnesota (St. John's of Collegeville) are recognized leaders in their scientific fields. One is a chemist who is a renowned world leader in mass spectrometry at Washington University. The other is an MD who taught at Loyola of Chicago and has been a leader in the field of infectious diseases for many years. Many great scientists, engineers and mathematicians have graduated from universities founded by orders such as the Jesuits, Benedictions and Franciscans.
Great job, H-E-B
I write to give a warm thank-you to my Woodway H-E-B. Through all this craziness they are doing an excellent job of keeping supplies available, people calm and going above and beyond in so many ways. I've also noticed that none of the prices has changed during this crisis. A fantastic and welcome surprise.
For humanity
I thank the honorable mayor of Waco for his great leadership of the city of Waco and emphatically applaud his shelter-in-place order instituted March 23.
I was raised in Waco and grew up to be a physician practicing in this city. I write now to ask the mayor to extend the order till the Centers for Disease Control & Prevention and National Institute of Allergy and Infectious Diseases release guidelines on lifting COVID-19 bans. At present, Texas cases are increasing by 20% per day. We are not anywhere close to reaching the peak of coronavirus infections. The worst is in front of us.
I understand the social and economic pain of the ban. However, if we do not "flatten the curve," even more people will sicken and die, health-care workers and resources will run short and our medical system will be overwhelmed.
The impact to the entire economy will be far worse if we allow this virus to spread out of control like a wildfire. To slow the spread, we desperately need help from young people. Their invincible spirit, unfortunately, can be a public health problem as viral vectors.
I have teenagers and, despite my being a doctor, we've had to have multiple discussions (arguments) about why they need to stay at home and away from friends. Like many young people and adults, they only respond to shelter-in-place and curfew orders.
As a physician and as a parent, I am so grateful to our mayor for the shelter-in-place order. On behalf of all health-care workers and all of humanity, I ask him to extend this order to continue the fight against this virus' savage and terrible rampage.
Chia-Lien Wang, M.D., Waco
Courageous mayor
As a former resident of Waco, I have many friends for whom I am concerned as we face this horrible threat from the deadly virus. I am grateful that Waco has a wise and courageous mayor who has taken steps to protect my friends and the community.
Some will be critical, but look around the nation and you'll see the wise counsel of the scientific community confirms his wise decision to impose restrictions on movement in the city. Some tragically would put themselves and others at risk.
Raymond Bailey, Louisville, Ky.
Just don't care
We were at a veterinary clinic in South Waco the other day where the receptionist was coughing all over everyone. I brought this to the attention of the manager but was shrugged off. They are not abiding by social distancing, there are no signs up anywhere, there is no discussion, there is no cleaning and there is no care about anyone in the community. If my wife or daughter gets sick because of this veterinary clinic, I will be extremely upset.
The city must enforce the rules or scuttle them and let companies do what they want. City of Waco, please work with these companies and make them enforce the regulations not only from you but now the state, nation and county. At least one veterinary clinic in South Waco isn't listening and doesn't care and it frustrates me that the city allows this misbehavior to exist. To supposedly care about your pets while showing little regard for pet owners is frustrating. Tribune-Herald, city of Waco, citizens, let's not let these companies off the hook. They endanger us and our loved ones.
Thank science
When we get through this pandemic, it will be science that we will have to thank. It will not be faith. Science has virtually ended so many diseases of the past through vaccines and other treatments. The same will be true here. And if we are objective, we will see that religion was an impediment, especially when we think of the fundamentalists who insisted on having members attend church amidst this viral crisis. These members no doubt went back out and spread COVID-19 among the community, including their unwitting friends and neighbors.
Hopefully we will remember that the Religious Right elected an incompetent buffoon who aided in the spread of this disease by doing nothing for almost three months. Yes, science is beautiful and saves lives. Religion is a poison that offers false promises and deception. And it is an impediment to progress and the saving of lives.
John Vickrey, Norman, Okla.
Nearer to God
These events of the last few weeks
Have given us a reason to pause,
And reflect on how this virus
Can expose our weaknesses and flaws.
These changes have affected our habits,
And altered most all of our days.
Thousands of humans are suffering.
Millions are asked to change their ways.
So, now we must be ever mindful,
To be vigilant and maybe stay inside.
It's just hard to comprehend the magnitude
Of the numbers of lives that have died.
This question I ask is simple.
When will this outbreak end?
The answer is available to all —
Draw nearer to your God — AMEN.
Time on his hands
Reading local businessman Gordon Robinson's column in Sunday's paper ["Let's just call it what it is: Wuhan Chinese Virus"], I couldn't help wondering if he needs a hobby. I'd be happy to teach him to knit. The Waco Public Library has plenty of audiobooks and ebooks to lend if he'd prefer books to fill his time. I just think he's spending too much time at home watching sensationalist TV or reading outrage bait from the Hot-Take Industrial Complex on the Internet.
The fact that he really sat down in the middle of a pandemic and a national and local disaster to write that column full of laughably outdated stereotypes and desperation to shift blame to anyone but the inept buffoon currently residing at 1600 Pennsylvania Avenue confirms his excess of free time. Might I suggest he learn to sew and make some masks for the Family Health Center or volunteer to deliver meals (dare I say, Chinese take-out?) to the elderly and the infirm? One hopes he will also don a face mask to contain his flying spittle.
Elli Harris-Mevis, Hewitt
Social distance this!
I was at an H-E-B grocery store to pick up (or attempt to pick up) some staple grocery items. Had to park a distance from the entrance, as all the handicapped parking spaces were full. I can still walk, but a grocery basket is just the right height to assist an old man in his shopping experience.
I saw a young college student loading groceries into his car and slowed to a stop where he was, at the prescribed social distance of 6 feet, waiting for him to empty the basket. The young man took note of me and shouted, "Social distancing!" I simply smiled, told the young man I did not want to hug him, I only wanted his grocery basket to assist my endeavor to go into the store. Silence followed as he shoved the basket in my direction with a steely glare.
A Baylor Class of 1978 alum thanks you for your assistance!
Spaced-out, man
As if the coronavirus pandemic weren't bad enough, now we've got to put up with a new term that has become an instant cliche: social distancing. It sounds like a contradiction in terms. Keeping our distance from each other isn't very sociable. Perhaps we should call it anti-social distancing.
Whatever we call it, it will never be as annoying as the trite phrase "personal space."
Vulnerable Wacoans
The heart of a community is shown in how it takes care of its most vulnerable and downtrodden.
The vast majority of our homeless population are from Waco. They were your classmates, your neighbors and your friends before they fell into homelessness. What we've seen in the past month is we are all close to falling into the same situation that resulted in so many of our neighbors becoming homeless. Worries about paying rent, job security, access to health care, even having enough food have compounded.
Fortunately, the state and federal governments have put measures into place which will protect many of us. Right now, however, local city and county leaders need to act to ensure the needs of our homeless neighbors who experience these worries every day are also met as we respond to COVID-19.
These are Wacoans and we call on Waco to respond.
Right now there is no place for a homeless individual to isolate or quarantine. This creates an enormous public health risk for our community.
As a community, we are asking our city and county leaders to help us bring solutions to life. There are many plausible solutions that we can accomplish together.
Our city has a plethora of empty hotel rooms. We call on city and county leaders to identify hotel rooms, or other appropriate areas, for use for self-isolation or quarantining and to partner with our homeless shelters to assist in identifying and transporting symptomatic individuals to these locations.
Mission Waco and the Salvation Army have started this effort, but the community needs additional support and funding to be able to adequately respond.
Our city has recreation centers that could serve multiple needs such as shelter and resource centers. We are calling on city and county leaders to quickly make plans to work with the Heart of Texas Homeless Coalition to create resource centers and shelter for our neighbors who are homeless where they can be safe during this crisis and have access to all of the community resources available to help them out of homelessness. The city of Boston, among others, has already implemented a similar response to protect their citizens experiencing homelessness. We call on the city of Waco to do the same.
As many Wacoans are already on the cusp of homelessness, we are also calling for a prohibition of termination of utility services and evictions for the next three months to prevent another wave of people entering homelessness. Austin has implemented these prohibitions and we call on the city of Waco to do the same.
As Wacoans, we can work together to weather this crisis and grow stronger as a community as we work collaboratively to serve the most vulnerable amongst us.
Shaun Lee, Heart of Texas Homeless Coalition, Waco
Praise for Richie
Thank you for publishing Dr. Rodney Richie's fact-laden Sunday column, "Don't be so quick to blame Chinese for obscuring viral contagion," as an intelligent counterpoint to the politicized nonsense of your other guest columnist writing on the very same subject.
Stay at home!
Today I received an email from my physician father offering the front half of his and my mother's house as a quarantine area for me and my brother. Let me say that again: Sandwiched between my typical emails, my dad sent my brother and me an email that basically said, "Hey, why don't you guys come live in the front of our house (partitioned away from us), away from your families, for an unknown period of time while you go to work at your respective hospitals and take care of patients." This came with an attached New England Journal of Medicine article supporting this.
My brother is a physician who, on Wednesday, will be working in a clinic designated for COVID-19 patients and those with concern for having it. I am also a physician who on Wednesday will start a call week at Temple Baylor Scott & White. My parents understand the gravity of this virus and are doing the only thing they know to do to help decrease the spread to their in-laws and grandchildren, as well as greater Waco. My husband, two boys and I have not seen anyone in our family, or any of our friends, since March 7. Yet I drive by parks with kids playing on the playground, see stores with full parking lots and see Instagram posts of non-essential businesses posting the hours they're open.
As a doctor who cares about this community, I urge you to please stay at home. Waco hasn't yet seen the surge other cities have. And if we stay at home, we can decrease the number affected when we do see an increase in cases. Please realize that health-care workers in this country are literally risking their lives to go to work and risking bringing home this virus to their families. Social distancing is not a joke. For myself, my colleagues and our families, it may literally be a matter of life and death.
Jill Danford, M.D., Baylor Scott & White, Temple
Darn good column!
My compliments on the Tuesday column about FDR and leadership. I personally believe Franklin D. Roosevelt was probably one of the greatest presidents to sit in the Oval Office. In his three terms, this one disabled man dragged our country out of the Great Depression and through wartime to bring together all Americans, practically rebuilding our system for the better. One reason was because when he had his "fireside chats," he brought himself down to the average person's level and was honest about what had to be done. No double talk, no mincing words, always instilling the American people's trust in our government — something we haven't seen since the Nixon administration.
I laughed out loud when I read somewhere that our current president mentioned serving three terms; I thought to myself, "How dare he even consider such a thing!" Only one man accomplished that because of the trust and confidence he earned from us in those troubling times. Restoring trust and faith in our government will never happen under this current president's administration and the path taken. Not even 20 terms in office would change that.
Trump & toadies
His right-wing propagandists at Fox News are trying to bolster Trump's re-election chances by echoing his argument for ignoring the COVID-19 pandemic and returning to work so that the economy will recover. These same people who originally called virus concerns a hoax now say that virus-vulnerable seniors should be willing to sacrifice for the next generation. Not only is this argument morally perverse, it's completely inconsistent with their previous self-righteous views about the sanctity of life. It also is invalid and will have the opposite effect than they assume.
Brit Hume, Glenn Beck and other parrots of our president tried to undermine Obamacare by falsely posturing about "death squads" that would determine who would live and who would die. Their moral inconsistency has one aim only: to distract from Trump's incompetency in addressing the crisis in order to prevent the president from losing the November election because of a bad economy.
As well as being morally vile, this argument is invalid. Surely, these people do not think that returning to work during this crisis will restore the battered economy. It will only make the economy worse. Not only will our undersupplied hospitals be overwhelmed by the number of sick patients but our health-care workers will be placed at even greater risk and will be unable to attend to the masses of sick people that this policy will create.
Also, other public-service workers such as police, firefighters and ambulance drivers will be threatened. And lest we forget, the older people who are supposed to be sacrificing their lives as a legacy to the next generation will be the ones staying at home while the younger people that this policy is supposed to protect will face increased exposure as they spread the virus dangerously.
This is a new low for Trump and his toadies. They have revealed in this policy their total lack of concern for the country and its citizens. If adopted, the only legacy this policy would produce for the next generation would be that in their knowledge that they followed a misguided and perverse policy that not only did not work but was based on the sacrifice of their elders. The best policy for addressing this crisis is for this immoral and incompetent president to step down and let the experts take over.
Take your pick
There's plenty of toilet paper made in the United States for all of our needs. We just have too many people who spend too much of their time in their outhouses rather than staying in the house as directed. A crisis brings out the best in people and the worst.
Last week a young mother posted on our neighbor message exchange that the grocery store shelf was stripped of the special formula needed for her 7-month-old baby. Two others responded with help for her.
Some are trying to prove that President Obama was correct when he said this is not a Christian nation. Others are stepping up to the plate to follow the teaching of the One who said: Love your neighbor as yourself.
Continuing to frequent the local restaurants to take advantage of their takeout meals will help keep many of our local citizens employed.
It is our choice as to which kind of a nation we make: the bad or the good ol' USA!
True leadership
Hats off to public servants such as Mayor Kyle Deaver, principled men and women of courage enough to place society's well-being above public clamor, political ambition or self-esteem. His leadership in having us shelter in place will save lives.
Had such leadership resided at 1600 Pennsylvania Avenue two months ago, when scientific clarity foretold of a potential pandemic, Waco's streets might not be so eerily quiet today.
To hit the ground running
The City of Waco and other entities will choose new leaders in the next election. Cities and counties are at the forefront of the response to the COVID-19 pandemic. School districts are also involved because classrooms can be repositories of germs that are then spread to caregivers at home. Hence many businesses and schools are closed to control spread of the disease.
In this election cycle, new leaders will take office just a few days after the May 2 election. New leaders should be ready to hit the ground running. Cities, counties and other districts should start training and preparing new leaders now for the pandemic response, even with the election a month away. This could include providing emergency preparedness documents, inviting candidates to listen to webinars or teleconferences and considering a system for transferring knowledge from the existing officeholder to the new one.
This may not be normal practice, but these are not normal times. As a candidate for Waco city office, I have written the mayor asking for this training. I believe it is essential for every new officeholder to be trained for the pandemic response now, so he or she can get to work from day one.
EDITOR'S NOTE: Mr. Morrow is a candidate for Waco mayor.
What government wants
I was reading about this $2 trillion stimulus package and the $1,200 per person we're supposed to get. I am wondering how this will work, speaking for myself and my family. We have three adults here who have not filed tax returns in a number of years. So if they're using that to determine checks, then I guess we will be overlooked. I am pretty sure there are others in the same situation wondering about this. And what about the homeless? Don't they deserve the check as well? After all, you know they will (in all likelihood) spend it putting money back into circulation. Isn't that what the government wants? Money being spent again? Maybe I'm wrong on that part.
EDITOR'S NOTE: Our understanding is that 2019 or even 2018 tax returns are the primary way the government can determine one's income for purposes of these stimulus checks but not the only way. The Treasury Department is also authorized to draw information from other federal agencies such as those that provide benefits. It's basic information because the bill stipulates if you earn more than $75,000 as an individual, $112,500 as head of a household or $150,000 if you are married filing jointly, the size of those checks begins getting whittled down.
More information!
Why do our broadcast news sources keep showing full-screen maps of the United States with all states colored bright red to indicate the extent of the coronavirus spread? There's really no new information there since all 50 states were infected days ago. We already know where the states are located, how large they are and the two-letter code for each.
Instead, why not show real news such as the number of cases in each state; the number of hospitalizations; the number of deaths, etc. These numbers will not fit on top of each state in the map, but those for the Northeast can be shown in tabular form, as is commonly done.
As for the Trib's daily chart on Page One (for local, Texas and U.S.), please augment the numbers now being shown for cases and deaths with numbers for hospitalizations and on-ventilator. It would also be nice to know how many ventilator-equipped hospital rooms are available locally and the status of the personal protective equipment that is available and its rate of use. Also, what are our hospitals' plans for handling patients when patient demand outstrips the number of rooms available locally? How are people who need hospital care but are not COVID-19 patients being treated?
Of course, my sending this email to the Trib will not cause the big networks to change their ways, but perhaps the local affiliates can pass this request up the line.
Herbert R. Haynes, China Spring
Seniors, sacrifice!
I agree 100% with Lt. Gov. Dan Patrick that our economy needs to get back to normal with workers returning to work now. Yes, us seniors need to risk possible death from this virus to save the economy and ultimately our grandchildren. More than 97% of coronavirus deaths are seniors over age 80 and represent less than 1% of deaths worldwide.
My age is 87, and seniors like myself need to step aside and let our children and grandchildren go back to work and school and let our economy get back to normal.
When I say step aside, I believe it would be in our best interest for all seniors age 60 and over not currently working to stay home for a couple of weeks and let our children and grandchildren bring this economy back to its normal pace, the sort that we experienced two months ago.
If we take the advice of a number of our doctors and our representatives in Congress advising us to keep our economy shut down, then in less than six months we will find ourselves in a depression like my parents faced when I was born in 1932.
Perilous polling
Gov. Greg Abbott has given municipalities the option of postponing local elections till Tuesday, Nov. 3, 2020. The Waco City Council did not address postponing the upcoming city election during its Tuesday morning meeting. According to McLennan County Elections Administrator Kathy Van Wolfe, the City of Waco has till this Thursday (March 26) to give her its decision regarding postponing the election.
Waco Mayor Kyle Deaver has decreed that Waco residents must shelter in place. Schools and non-essential businesses are closed. Tuesday morning the council spoke about our civic responsibility to stay home so we do not overwhelm our hospitals and health-care providers, and they spoke of this lasting more than a few weeks.
Given the global pandemic, the need for social distancing, community-acquired cases in Waco, the age (many over 70) of our election workers, the difficulty in keeping people six feet apart, multiple people needing to use the same touch screen, asymptomatic people being some of the worst disease vectors and the edict of no gatherings of more than 10 people, the only civically responsible thing for the council to do is postpone the May 2 city election to November. Please do not put the citizens of Waco at further risk.
The decision to not postpone the May 2 election puts all of our community at risk. The Waco City Council is giving us two choices, put our life at risk by exposing ourselves to the COVID-19 virus or forgo one of our most precious rights and responsibilities. I have never missed an election, but as someone who has severe lung disease and is immuno-compromised, I would need to choose between exposing myself to a virus that would cause certain death or forgo my right to vote.



We're all different
To answer Tish Anderson's question in her Tuesday letter — why are grocery stores still open when they have curbside service? Many people do not have vehicles and must rely on family, neighbors, mass transit (which now only allows 10 people at a time on the bus) or walking to make grocery store visits. Many people do not have enough available cash or a credit card to call in an order and pick it up through a drive-through. Some people in our community have to use SNAP [food stamps] for grocery items.
Ms. Anderson, have you no compassion for fellow citizens suffering severe financial strain and loss of minimum-wage jobs? This time in our lives, everyone is anxious and stressed. If a single mother or father with rent to pay, mouths to feed, is released from his or her job with no benefits, there is no way of trying to find money except through the very complicated government unemployment program. Do you really think everyone has a computer at his or her fingertips? I can assure you, many older citizens and people of lesser incomes do not have this luxury. You sound like you are lucky enough to have all the necessary items to order groceries online and pick them up.
As to the stores open with people still patronizing them, there is something called personal responsibility. If people go shopping for things other than food, they are fully aware of the chances they take. The government cannot shoulder every decision people make. The onus is on them. None of us wants a police state.
So now you maybe understand why.
Grocery madness
I understand the need to try to contain the virus. However, is the panic really necessary? The long lines at grocery store entrances and the number of people in the store and in checkout lines do not reflect community guidelines of less than 50 people gathering in one place or of keeping 6 feet from others. So all other actions are nullified by grocery stores.
One solution would be to have half-price delivery for people who are vulnerable and have the store open from 8 to 10 a.m. for them and the delivery people. Then have a lottery system for everyone else limited to so many every 30 minutes with people picking their preferred three options. Until containment happens at grocery stores, there is no real containment.
Gift certificates!
One way to help out the restaurants/bars during this closure period is to buy gift certificates, many of which can be bought online. They can use that money now, and when this is all over you can use the gift cards. Let's all just keep calm and help one another out. We'll make it. Meanwhile, wash your hands and keep your distance. Cheers!
Heroes & villains
As events unfold with the arrival of COVID-19 in McLennan County, I'm reminded of an old Western movie with heroes and villains.
Heroes: All doctors, nurses and everyone in the medical/health field, especially Dr. Anthony Fauci, director of the National Institute of Allergy and Infectious Diseases.
Villains: The federal government's not responding quickly enough with protective gear and supplies.
Heroes: Governors and mayors (like our own Waco Mayor Kyle Deaver) who responded quickly and responsibly with safety measures for their citizens.
Villains: The spineless governors of Florida and Georgia who kept their beaches open.
Heroes: School administrators and teachers working to continue learning for our children. A local principal was personally delivering packets to her school families.
Villains: Parents and caregivers who don't bother to educate during this time. Yes, teaching is hard work!
Heroes: All the restaurants, businesses, etc. who are reinventing themselves for takeout, curbside service and delivery.
Villains: Those who choose not to support them, then will be surprised when these establishments don't survive!
Heroes: City workers, firemen, police, sheriffs, all first responders and postal workers who keep our community going.
Villains: People who don't appreciate them.
Heroes: The stockers and clerks at all of the grocery stores and pharmacies on the "front line."
Villains: The selfish hoarders. This is a chance for everyone to be kind and generous.
Heroes: The editors, reporters and all reliable news media people who are trying to inform us.
Villains: Any politician who insults them for asking tough questions or evades the answer.
Heroes: Anyone following guidelines, especially at a loss of income.
Villains: Those disregarding the rules. A prime example are the beach crowds, mainly the young.
At the end of this Corona-inspired movie, I hope we help one another to all become heroes.
More bills for our grandchildren
It's insane to spread a trillion or so around in an effort to keep anyone from suffering from the current financial crisis. All this does is transfer the suffering to our grandchildren. I can see some help for those on the edge of starvation, but the rest of us can just cut optional spending. Foreclosures and other penalties can be suspended for a while. Any help to businesses should be in form of repayable loans, as was done in 2009. Investors, by definition, have the resources to take losses in stride.
Help me out
Why are the grocery stores still open? I don't understand when they have curbside service. Call your order in for cash only or go online and order it. They will give you a time to pick it up. The store workers can be gathering the orders and collecting money if they need to. I don't understand why this is not already happened.
Restaurants are takeout only for our protection and stores packed with people. Help me out here and tell me why this is not in place.
Richie column reassuring
Wanted to say "thanks" for Dr. Rodney Richie's column in the Sunday opinion section on dealing with viral stress — all the more important for older people; remember, stress kills and we are already more at risk per the data. I also appreciate the page with options on where to purchase food/drinks.
Shared sacrifice
We commend Waco Mayor Kyle Deaver, Waco city staff and local health officials for the mayor's decision to close down bars, restaurants, theaters, gyms, etc. to slow the spread of the COVID-19 virus in our community. Seven cases of the virus have now been confirmed in McLennan County.
We also commend Chip and Joanna Gaines for their decision last week to cancel Spring at the Silos. It could have been disastrous for thousands of people from around the country and the world to come together in close physical proximity at this time.
We feel bad for the business owners and employees who are being hurt most by these measures. We hope the federal government will act quickly to mitigate the damage to businesses and unemployed workers.
The abrupt actions being taken to slow spread of the virus risk sending our economy into a depression. If the two of us are not otherwise seriously affected by the economic disruption, we plan to give away any additional government benefits (tax cuts or direct payments) we receive in connection with this public health crisis to benefit those who are being hurt by it. More funds will be needed by non-profit charitable organizations in our community to help those adversely affected. We hope others who are able will consider doing this as well.
We don't recall a time in our lives when there has been a greater need for all to come together (figuratively speaking) with diligence and shared sacrifice on behalf of the common good. In the words of Dr. Martin Luther King Jr., we have some difficult days ahead of us. We hope and pray that all of us are up to the challenges we face at this difficult time.
Charles and Sharon Reed, Waco
EDITOR'S NOTE: Charles Reed is a former Waco mayor.
Citizen duties
While it is imperative that we should all take precautions during the COVID-19 pandemic, let us remember that we should be helping the young become vested citizens. Help them understand the call to duty as citizens is essential to the wellbeing of our communities worldwide.
We have been drafted to serve in the battle to fight the spread of SARS-CoV-2 and the horrible disease that it causes. Being called to service is a privilege of citizenship, not a penalty.
For those of us who have experienced this in times past, whether due to disease of the body or disease of the soul, we need to set an example for the young. We must not abandon their interests and their future as we find alternative ways to conduct our affairs.
There is no question that COVID-19 is a crucible that we must endure. However, fire is necessary to refine gold. Let's not settle for doing our duty. Let's do it with thanksgiving. Let's help the young take ownership of their birthright: to serve when called. They are up to it.
William B. Poucher, Woodway
Helping out
While reading up more on the COVID-19 situation, I have seen the two major responses people have made. Some have chosen to take care of themselves at the expense of others. Some, but not all, of their decisions might be based on fear. The other response is reminiscent of Fred Rogers' address made after the attacks on 9/11. He recalled his mother telling him to "look for the helpers. You will always find people who are helping."
If you don't see helpers in your community, then take the opportunity to become one. I see helpers in my friends and some businesses willing to provide food to school children while schools are closed, or neighbors on social media offering some of their supplies to others who didn't get any at the store. Even as we take precautions on contact with each other to slow the viral spread, ways still exist to be a neighbor and a helper. There are plenty of supplies to go around if we all work together. Choose to be a helper.
In the tub
President Reagan said: "Government is not the solution to our problem. Government is the problem." Conservative Grover Norquist said: "My goal is to cut the government in half in 25 years, to get it down to the size where we can drown it in the bathtub."
Trump advocated that the government was a collection of "deep-state" employees there to impose taxes and regulations that did not represent the people. Trump said his "great brain" could easily handle the economy, health care and trade. What we have now are "acting secretaries," a hollowed-out State Department and Homeland Security. He has downsized the National Security Council. The acting director of National Intelligence has absolutely no experience in intelligence. He even hired a college senior (no experience) to work in the White House.
Trump was told of the impending virus last December. He elected to do nothing for months. Who needs experience and know-how? We are the ones who must deal with this colossal magnitude of incompetence and narcissism who never takes the blame for anything. He labeled COVID-19 as Democrats "new hoax" and said: "One day, it's like a miracle, it will disappear."
This president has no idea how government works. He has put the lives of all citizens at great risk because his "great brain" has no concept of what is happening or how to handle this looming catastrophe. Government is drowning in the Trump bathtub.
New York Gov. Andrew Cuomo announced a few days ago that the State of New York will contract with private laboratories to help administer coronavirus testing for New York residents. Cuomo stated: "We are not in a position where we can rely on the CDC or the FDA to manage this testing protocol."
It's interesting that politicians, who have longed for the day when the government finally takes over and runs health care in this country, have awakened to the realization we cannot rely on government. Bernie Sanders has made a career of demonizing "Big Pharma" and would love to shut them down. But when we need test kits or a vaccine for a deadly virus, to whom do we turn? The government or the private sector? Andrew Cuomo was unequivocal: he turned to private labs.
We don't need clueless government bureaucrats trying to run our medical-care system anymore than we need them to grow our food.
Neighborly Waco?
I am ashamed as a human being at what I saw at the grocery store Sunday morning. To have to have an armed law enforcement officer at H-E-B to keep people from acting like animals is something that broke my heart. It didn't help when a man told everyone in line that he didn't have to stand in line to go in the grocery store and left those people standing in the rain who had been there an hour to deal with it. I saw an act of courage by a woman wearing a pink shirt. They were letting people in 10 at a time and a group pushed ahead of the others; she stood at the door with the H-E-B employee and would not budge till the people who had followed the rules got in the store. As a result she did not get any toilet paper or take any that was offered. Employees at the store are not at fault but saw people treating them like dirt. I thanked every H-E-B employee I saw and heard awful stories about what they're dealing with.
We are trying to take care of our son in California where they are out of everything. We're also watching after ourselves and an elderly neighbor. I do not understand the bottled water crisis. There's nothing wrong with what comes out of your faucet, the illness is not waterborne or airborne and plain soap and water is just as effective as hand sanitizer. I have always loved living here and how polite people treat one another. But for some reason we have forgotten to take care of one another, and at the very first sign of trouble.
Know this: Children are watching to see how you cope. They will recognize when adults act like children. A little boy standing in line asked his mom if they would run out of Big Red. In his small world, the one thing he could not cope with was no Big Red. So I leaned over and said I had seen lots of it and it would not be a problem. So to every employee who works in a grocery store, thank you. Consider this a blanket apology for the people who are being jerks. I would like to use another word but they will not print it.
Find a way to help. If they close the schools, call and find out how they are going to feed the kids who depend on schools for meals. Volunteer. This will pass as everything does. There is enough for everyone if everyone will just calm down. This is not the first time those of us who are older have been through a pandemic, and this may be a good lesson for these younger generations who want everything right this second. Let's all calm down and try to behave like the Christians we profess to be on Sunday.
March Madness Sadness
68 teams will not play basketball
Because of the pandemic virus
The powers that be have all conferred
And the consensus — there's problems around us.
It appears that there's more trouble to go.
So, we're not through this mess at all.
It covers sporting events around the world,
And about everything that uses a ball.
There you have it, all you fans,
What do you think about this sadness?
The answer — start your spring cleaning,
And wait another year for March Madness.
COVID-19 doubters
Most of the public will not forget who foresaw and recognized the viral threat in COVID-19 and who among us dismissed it as a hoax to be trivialized. As an example of this societal malady, a professional sportsperson spoke angrily about a major game cancellation. The cancellation should have served as a wake-up call, but his argument against it proved one of the most ignorant comments I've heard: He "didn't see anyone with the illness."
Nor is he likely to because 1) the reported incubation period before symptoms appears to be five days but can range up to 10-12 days, and 2) people infected do not wear signs saying, "I have COVID-19!" His reaction was the perfect example of self-centered thinking.
Another fine mess
It has been fascinating to watch as President Trump has worked to remove knowledgeable people, many of them President Obama's appointees, from heading various governmental departments and replacing them with uniquely incompetent people, thus hollowing out the expertise in the government. He has surrounded himself with bootlickers, hand-kissers and other toadies telling him what he wants to hear. In the meantime Trump acts as the dispenser of knowledge — most of it wrong — on the spreading virus.
And if it weren't so tragic, it would be humorous having Mike (Prayer-is-the-cure-for-HIV Pollyanna) Pence in charge of the task force to tackle how to deal with the COVID-19 infection. Clearly the stock market has been spooked now that the rubber has hit the road. Is it going to take another Democratic administration to clean up a third major Republican financial train wreck over the past 100 years?
The first two? Think Hoover and Bush Jr.
Give it a spray!
Just reading today about the panic-buying due to the coronavirus. It would appear that there may be or already is a shortage of toilet paper. The question was asked: If that were to happen, what would people do for a replacement. Quick answer to said question: "Buy a handheld bidet sprayer and attach it to the toilet."
I find it to be a fantastic way to supplement any shortage of TP. These items are commonplace in many homes in other countries: extremely inexpensive and easy to use.
This is not meant to be an irresponsible suggestion as I know that the virus is a serious matter, but sometimes simple suggestions can do a lot to alleviate a certain amount of panic.
Mass manipulation!
It's no surprise the mainstream news media want to incite fear regarding the coronavirus. It's good for ratings, after all. Where was all this attention and congressional oversight during the 2009-2010 swine flu (H1N1)? Let me remind all of H1N1 statistics taken from the Centers for Disease Control and Prevention website: 60.7 million cases worldwide; 274,304 hospitalizations; 12,469 deaths in the United States alone. I was living in Hawaii at the time. Again, the CDC website confirms at least 2,221 cases in Hawaii. I was Case No. 792 officially from the CDC. I was deathly sick for one month. I don't recall much buzz or drastic measures taken such as quarantining entire regions, including Italy.
The CDC website states that most won't even have symptoms beyond the discomfort of a common cold if positive for coronavirus.
This is a good lesson to learn: The United States is too dependent on China for goods, trade and medicine. We should work toward independence in all sectors of our economy. New viruses will continue to appear and spread globally. So why the hype and sensationalism with coronavirus? This appears to me to be a successful social and biological experiment in controlling the masses and influencing markets on a global scale. Now that's something to be scared of.
Shame on the Trib!
Jack Crane is right. [Letters, Wednesday] Shame, shame on veteran newsmen Carl Hoover and Bill Whitaker of the Waco Tribune-Herald for never mentioning the vicious attacks against our draft-dodging president, commander in chief of some 17,000 lies who, as our fearless leader, has kidnapped thousands of migrant children from their families. Shame on the Trib for daring to print the hoax that our pathological mob boss is the only president impeached for committing felonious crimes. And it's downright naughty the Trib has revealed Donny T is now in court, trying to abolish our health care while telling us that he has this great, non-existent health-care plan for all. Shame on the Trib for revealing that he is robbing our military budget to build a phony fence to keep out helpless women and children migrants — a fence Mexico was supposed to pay for. And then there's reporting about our leader's love and affection for the mass murderer of North Korea who keeps building atomic weapons aimed our way.
And why isn't the Trib writing about our splendid economy where the average middle-class worker sees little economic benefit, often working two jobs to make ends meet. Meanwhile, some of our elderly go back to work while Donny T gives 91 corporations the benefit of paying zero taxes. I now pay $6,000 more on a fixed income while our genius jammed through a welfare tax bill for the wealthy with the help of the Republican Senate. I suppose we should resent news that Donny T is a climate denier who doesn't believe in scientists, which is lately coloring his astonishing approach to addressing what he claims is the coronavirus "hoax."
Jack Crane needs to clean up his own "idiotic tripe" and not plagiarize Trumpette talking points. To editors, writers and, yes, the Trib Board of Contributors, made up of fellow citizens in Waco, keep it coming: Truth to power through the Fourth Estate.
Inept Trump!
A recent letter denigrated Democrats using the term "ineptocracy," usually defined as "a system of government where the least capable to lead are elected by the least capable of producing, and where the members of society least likely to sustain themselves or succeed are rewarded with goods and services paid for by the confiscated wealth of a diminishing number of producers."
Inept Trump said that we only have 15 coronavirus patients in the United States. Fact: There were 89. Inept Trump said the vaccine is coming along quickly. Fact: Experts daring to defy him say it's at least a year away. Inept Trump blames the South Carolina Democratic debate for the stock market crash. Fact: that debate took place two days after the stock market crash began. Inept Trump called the coronavirus outbreak a "hoax." Fact: The administration canceled an Asian summit meeting in Las Vegas because of this supposed "hoax." Inept Trump said the flu was more deadly than coronavirus. Fact: Coronavirus is 20 times more deadly than the flu virus.
With 16,000 lies under his belt, Inept Trump has lost all credibility. He has constantly disavowed intelligence and scientific facts by those he calls the Deep State. These are people who have served our government using intelligence and evidence-based facts. Over three years he has reduced funding for the CDC and NIH and fired the U.S. Pandemic Response Team in 2018. He is responding to this potential health crisis like every other authoritarian regime. What he says is gospel and he constantly threatens the media. He attacks anyone who has the audacity to disagree with him and attacks people in government who try to help. This is the same Inept Trump who says windmills cause cancer and changes the path of a hurricane with a sharpie.