Trump & Yosemite Sam
If the reaction by the Trump administration to the tragic spread of COVID-19 weren't so inept and pathetic, we would have to laugh. In grim times like these, I try to find some humor to make it from day to day.
This mental picture of Trump and his administration certainly helps: Trump as Yosemite Sam shouting lies, conflicting messages and pointing accusing fingers in all directions ("I don't take responsibility at all") from the center of a car careening down wrong roads and crammed full of Keystone Kops (for those of you old enough to remember) leaving chaos and mayhem in their wake. What complete disarray and an appalling lack of direction by this administration!
The only thing to do is to sweep the whole bunch out of government in November.
Benjamin G. Liles, Salado
Trump & FDR
This letter is for the editorial board of the Waco Tribune-Herald, not necessarily your readers. As you print whatever you wish, I try to read whatever view you offer. I seek to make sense of which way you're leaning. I accept your view and then read on. However, the April 2 political cartoon was idiotic and obscene given what is happening in our country and the world.
You can tell by my name the era in which I was born and raised. The president back then did his best during that trying time in America. Even as children, we supported him and his efforts and policies.
More recently, I voted for the person that I thought was the most qualified to do what is best for our country, no matter which party. In any trying times, I believed they would do what was best for the country. I think this president has done a good job for the country, and even if you did not get the person you voted for, you should not for the good of the country spend all your waking hours working against him!
EDITOR'S NOTE: Enclosed was a cartoon showing Trump ties, Trump steaks, Trump hotels and "Trump respirators," the latter consisting of paper bags.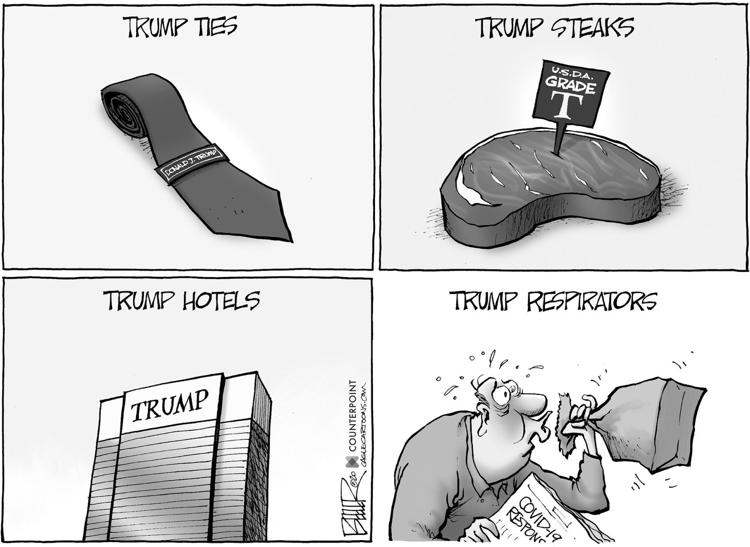 Paging Dr. Trump
Regarding your Thursday editorial on "Dr. Trump's Miraculous Medicine Show": Google a French pharmaceutical company called Sanofi. One of the products they manufacture is hydroxychloroquine, the "miraculous" cure touted by our Glorious Leader as his magic cure-all for COVID-19. Am I the only one not surprised as to who has a large financial stake in Sanofi? Yup, our very own Glorious Leader. Ugh. Is there anything he won't do to make a quick buck?
Barnyard thoughts
I want to thank the Trib for printing the John Vickrey letter [placing faith in science, not religion] in the April 4 paper. It was emotional for me because I was raised in a barn, and every time I hear an ass bray, it makes me homesick.
He'd better hope that if he falls ill with the COVID-19 virus, there are some medical professionals to administer his scientific cure. Of the researchers who developed it, of the doctors, nurses and hospital staff who charge unselfishly into that battle at great personal peril day after day, I am certain most if not all were inspired by faith in Almighty God. Take away faith and the right to pray to Him, and science will fall flat. It takes both to win wars like this. I write this as I await the Central Christian Church Palm Sunday worship on Facebook. In the spirit of Christian love, my sincere hope is that this doesn't offend Mr. Vickrey.